Hey lovelies! Welcome to my lipstick post! Hope you are having a great day! Living  in tropical country we hardly experience the beautiful fall season. I have seen the beauty of fall in pictures and movies but have rarely experienced in real life. But that doesn't stop me from loving and trying the fall makeup trends 🙂 especially with regards to lipsticks and nail polishes.
Being the lipstick lover that I am, I mostly gravitate towards darker shades as I have medium skin tone. I feel darker shades look better on me. Today I want to share the lipsticks that I have been enjoying lately in the name of fall. I have six high end and six drugstore options to share.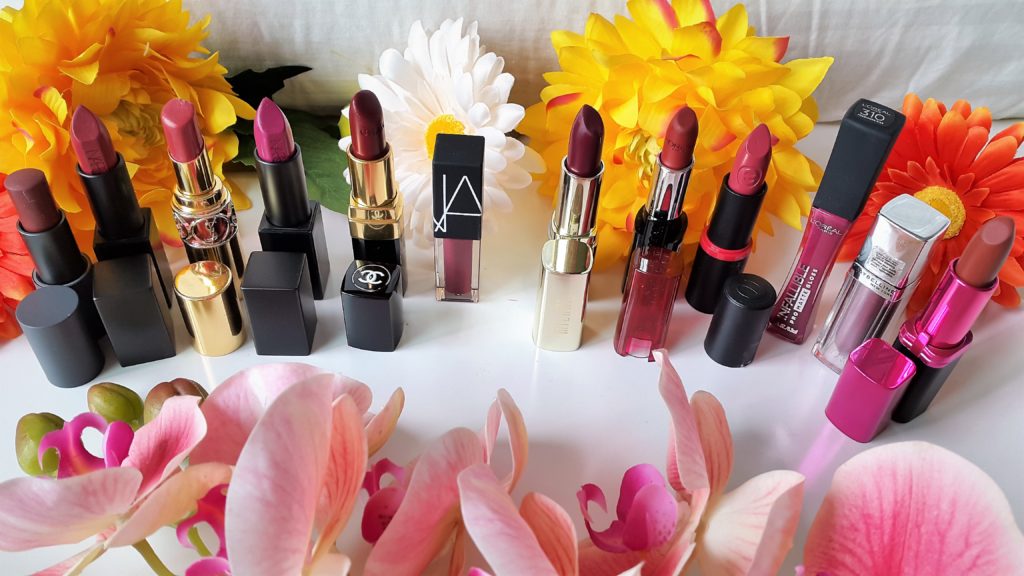 First let me talk about my favorite high end lipsticks that I am loving for the fall this year: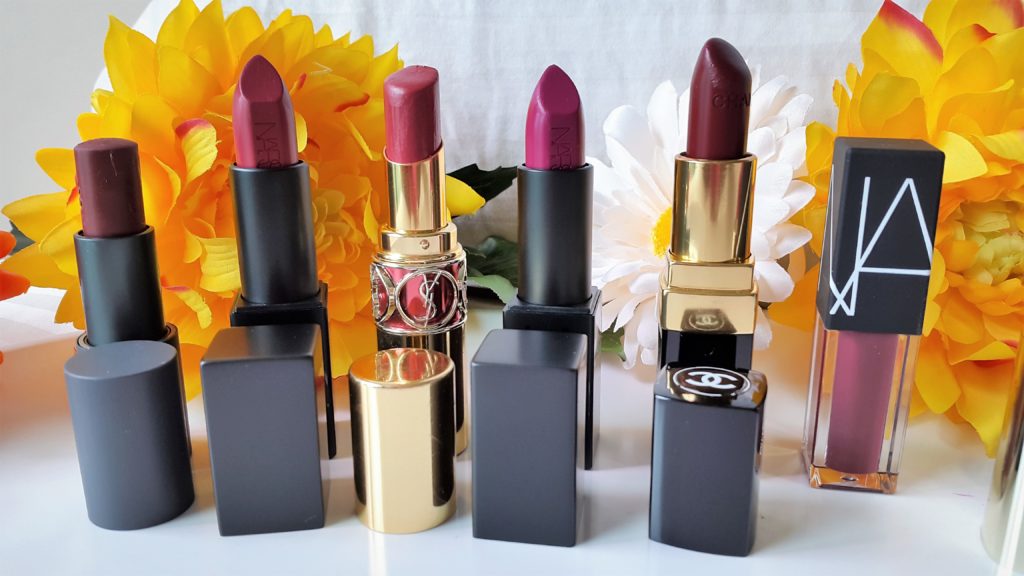 Bite Multi stick – Cerise –  This is  a dark warm brown with a hint of red. It is very creamy and glides smoothly on the lips giving a powder matte finish.  This multi stick by Bite is a great multi task-er which can be used on eyes, lips and cheeks. I have reviewed this one you can check it out.
Nars Audacious lipstick – Audrey – This is a beautiful berry shade with a hint of red. A perfect formula for a lipstick. Smooth, creamy, glides on like silk giving highly saturated color to the lips.
YSL Rouge Volupte Shine lipstick – 17 Rose in Tension – As the name suggests a beautiful rose-y nude shade which has a nice sheen to it. When blotted with a tissue its matte.  Stays a long time on the lips, fades evenly and tastes sweet. :-). I love this lipstick a lot, right from the beautiful packaging to the quality of these lipsticks it's brilliant.
Nars Audacious lipstick – Fanny – This is a rich berry color with a hint of purple. It is looking brighter in the picture than it actually is.  Perfect shade to rock this fall and winter months.
Chanel Rouge Coco Shine – 446 Etienne – This is a reddish brown plum shade with a hint of berry to it. In the tube it looks intimidating,  a deep dark berry but it swatches lighter. It has a sheen to it and is very hydrating on the lips. I always blot away the shine to make a lipstick look matte.
Nars Velvet Lip Glide – Plato's – This is a beautiful true berry. Perfect for the fall and winter months. These glide on the lips smoothly giving a velvety matte look. The color pay off is great. I have reviewed these as well, I suggest you check them out to find some more options. All the shades that I own are very fall appropriate.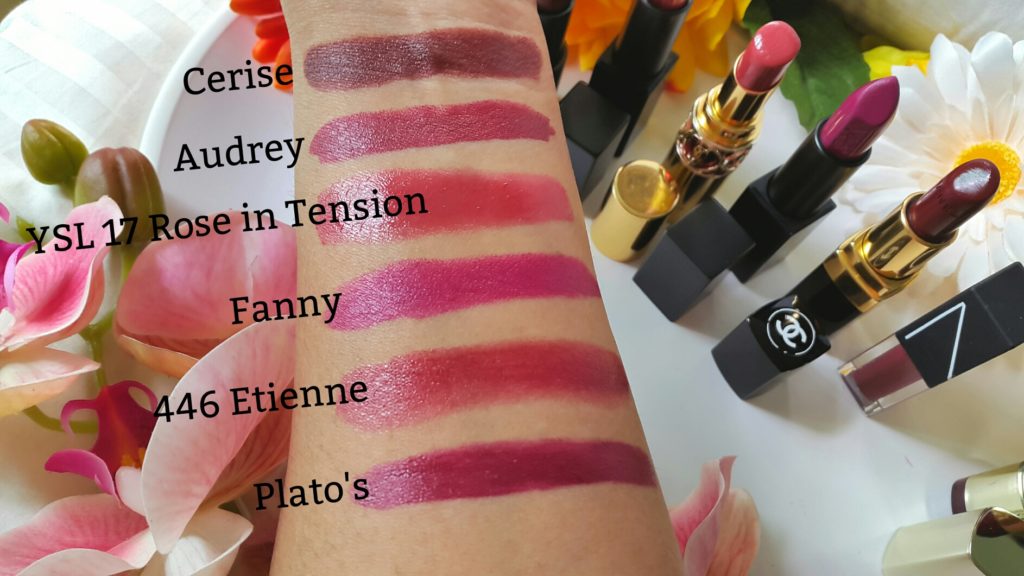 The six drugstore options that I am loving and  want to share are :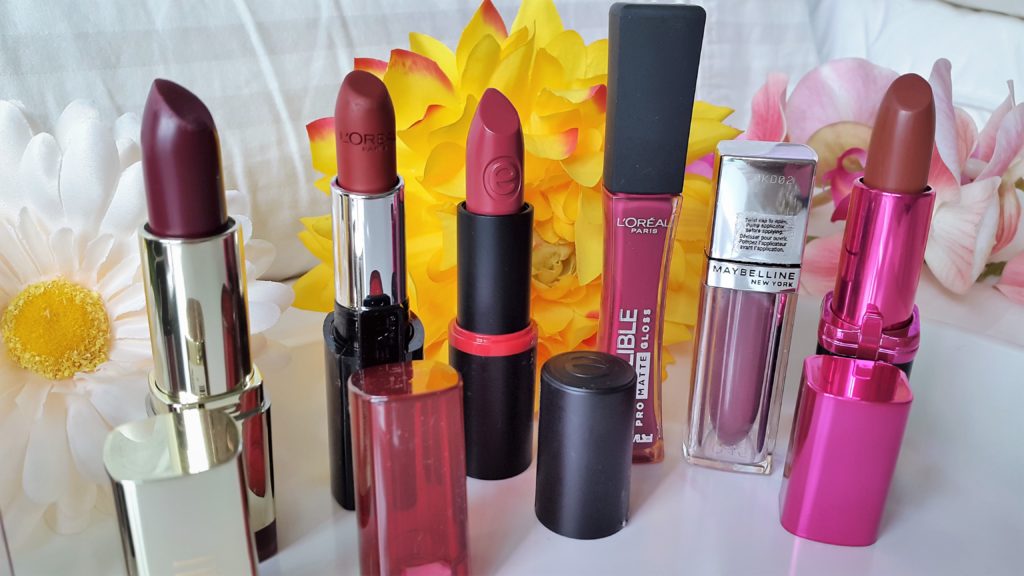 Milani – Matte Flirty – Milani is one of my favorite drugstore brand. They have a variety of lip options to choose from. This particular shade Matte Flirty is a beautiful berry color which is matte hehehe. 🙂
L'Oreal 8Hrs Long- Wear lipstick – 737  Persistent Plum – This is a reddish plum shade with a hint of brown, very fall appropriate. I have reviewed these lipsticks in detail. There is one more shade that I have mentioned there, is good for the fall.
Essence lipstick – 04 On the Catwalk – A soft pink-y nude that is great during the day time. These lipsticks are so moisturizing and inexpensive.
L'Oreal Pro Matte Gloss – 310 Forbidden Kiss – These are highly pigmented glosses that are matte. I would say these are more like comfortable matte liquid lipsticks. This is a perfect plum purple shade for the beautiful fall. I have reviewed these in detail with swatches as well if you need to check some more options.
Maybelline Elixer – 045 Amthyst Potion – Always wearing a matte lipsticks takes a toll on the lips by drying them out. Just to give some break to the lips I have included a gloss here. 🙂 The shade is a glossy berry purple, great for the cooler months and dry lips.
L'Oreal Rouge Magique – 904 Divine Mocha – A beautiful brown with a hint of red. More like a burgundy shade. Perfect fall shade. I have a detail review of these lipsticks on my blog with swatches. I would suggest to check the swatches to find some more amazing shades.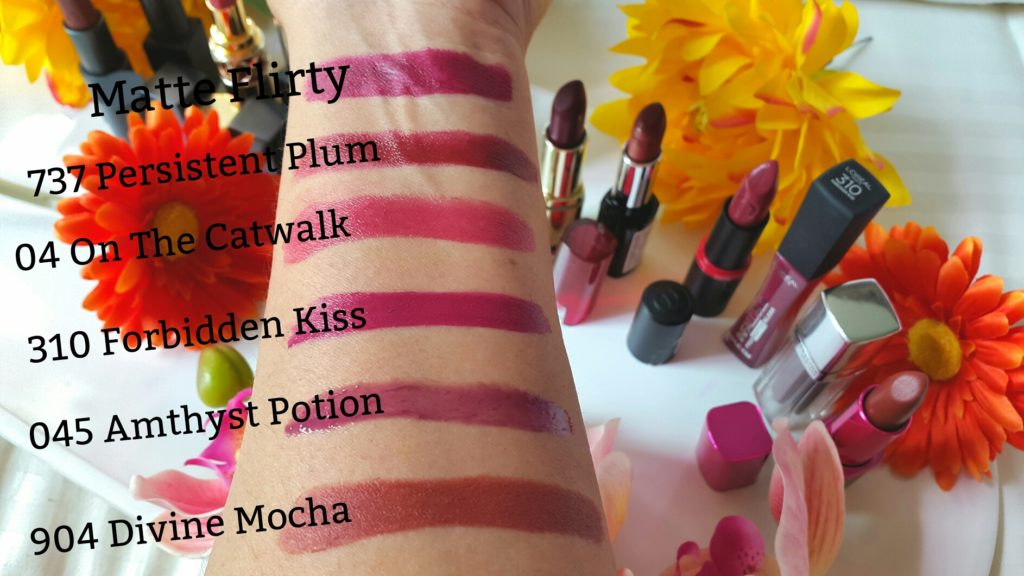 These are my current go to shades. I will continue wearing them as we step in the cooler months. Not that it is going to be cold here but you know what I mean! 🙂  Do you like to wear darker shades of lipsticks? What are your current favorites? Let me know in the comments 🙂 and thank you very much for taking the time to read. 🙂
Until next time stay bright and beautiful! 🙂