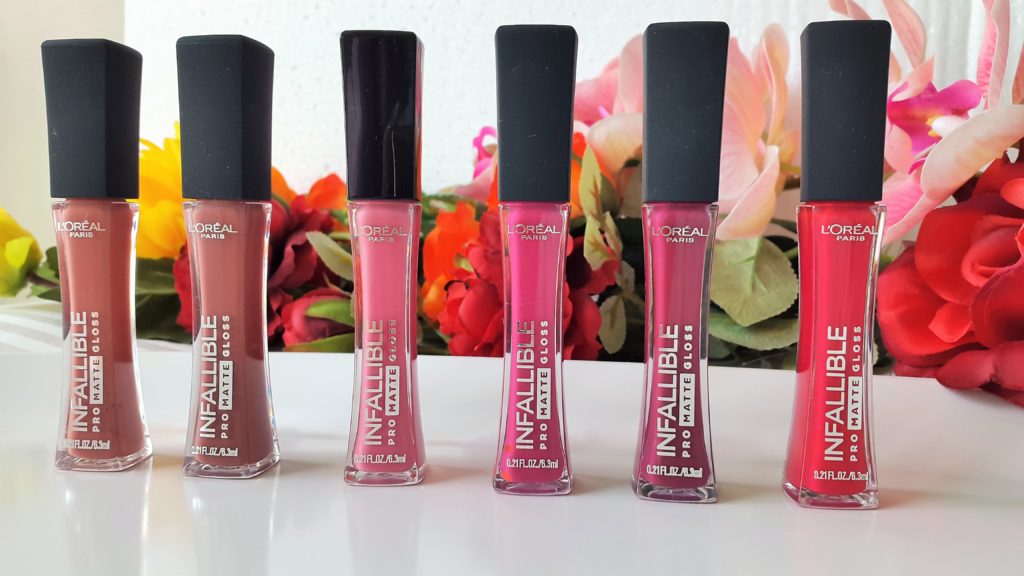 Hey everyone! 🙂 A couple of years back L'Oreal released a new line of lip products called L'Oreal Infallible Pro Matte Gloss which were limited edition. The name matte gloss was intriguing not only to me but to everyone. I wanted to try these. But as usual I was unable to find them which made me sad. It became very popular all over YouTube and Social Media. Later, L'Oreal re-released the pro-matte glosses as permanent addition to their range of lip products. A few more shades were added and I was happy that now I will be able to try them. I am not a lip gloss kinda a gal. Lipsticks and liquid lipsticks are my thing but I do own a few. I still felt the need to try the pro-matte glosses and got a few shades that I knew I will wear.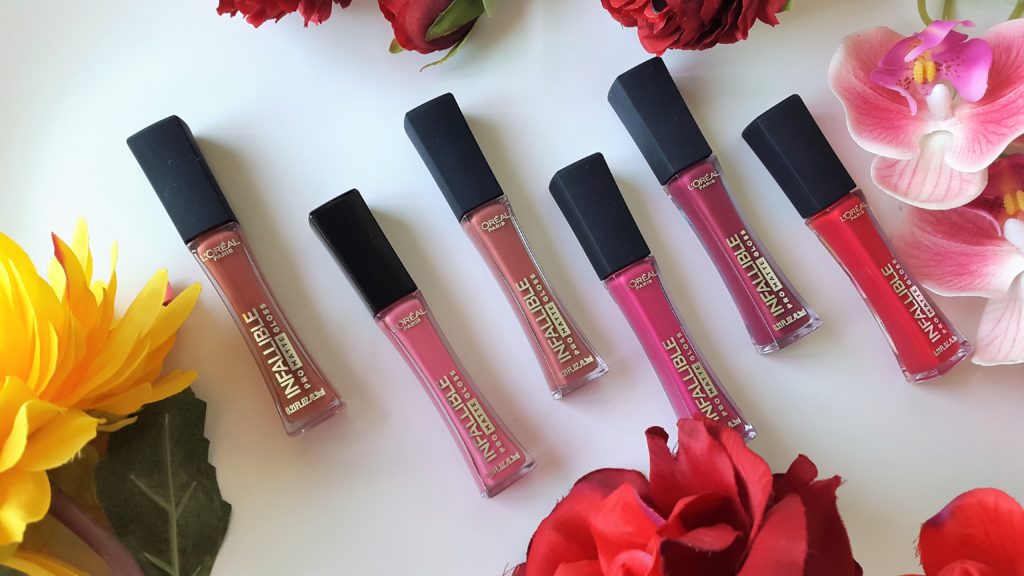 Product Description – High impact color. Velvet matte finish. All day comfort.
The Pro-Matte Sensation: Introducing Infallible Pro-Matte Gloss, our 1st whipped matte gloss. Intense high pigment shades create lasting matte color. Lush velvety texture feels soft for all day comfort. With the pro-sculpt applicator, shape and add dimension to lips. 
The packaging of the L'Oreal Infallible Pro-Matte gloss is similar to the packaging of their earlier glosses only the cap is black and has a matte feel to it. But there is one in my collection that has a black glossy cap. I like how it is nice and sleek. Well! I always like L'Oreal packaging.  The applicator is a tear drop kind of pointed and easy to use. It is soft and has a tiny hole to hold the right amount of product. L'Oreal calls it pro-sculpt applicator. It makes application smooth, easy and gets to the sharp edges adding dimension to the lips.
The color selection in this range is great. There are ten shades available in this line. Each and every shade is extremely pigmented. There is a variety in the nudes like pink-y nudes, brown-y nudes, some mauve shades and red. All the shades are extremely wearable and flattering on all complexions.
The formula is marvelous. It is whipped, creamy and thick in texture, packed with intense pigments.  On application it glides on smoothly on the lips with full opacity.  It does not bleed or sink into fine lines of the lips. It is incredibly smooth and flawless with a little amount of shine. The shine fades away after some time and you are left with a matte look. In case you need instant matte look, just blot the lips with a tissue and you are done. It lasts a long time and fades evenly. It is more like comfortable matte liquified lipstick. It feels moisturizing all day and does not dry or flake. A little goes a long way, the pigmentation is that great. We need to re-apply after meals but a little bit of color is left behind which I like. These are not transfer proof but do not wear out much. It reminds me of the NARS Velvet Lip Glide with similar pigmentation and light weight feel on the lips which I have reviewed earlier HERE.
318 – Bare Attraction – A peachy nude with a hint of brown. It brightens up the face and will look beautiful across all complexions.
316 – Statement Nude – This shade is more of a brown nude. A perfect everyday color for everyone since the brown trend is going strong.
514 – Blushing Ambition – This is a white based pink that is not too bright but perfect for pink lovers out there. A pretty pink shade for all skin tones.
304 – Rebel Rose – A not too bright raspberry pink with a tinge of purple that will look bright and beautiful on every skin tone.
310 – Forbidden Kiss – A beautiful plumy purple shade that will look stunning in the fall and winter months.
306 – Aphrodite Kiss – A red shade with strong pink to it. It is a pink-y-red shade again will look pretty on every skin tone.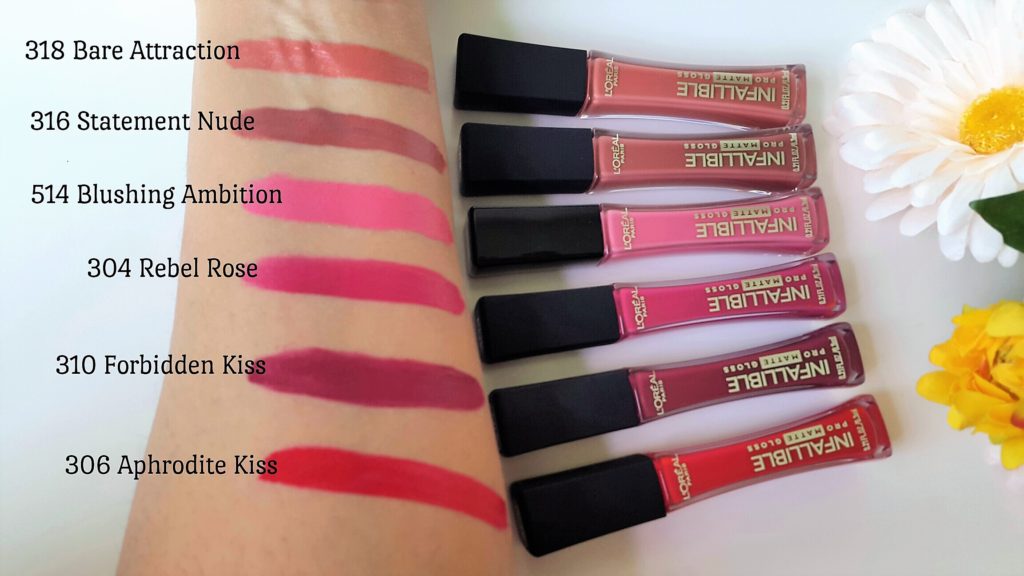 Overall, I love the L'Oreal Infallible Pro-Matte Glosses as well as the beautiful shades. If you like liquid lipstick with a little bit of shine that is also comfortable on the lips, you should definitely try them. These are long lasting and gorgeous on the lips. These have a scent to them, some people hate it, but I love the scent of the L'Oreal lip products. This is a high quality product at  a drugstore price. I think you should definitely try it, because you are worth it!
I would love to know if you are a lipstick person or lip gloss person? Have you tried these glosses? What are your thought? Let me know in the comments. I love to read and reply to them 🙂
Until next time stay glossy and pout! 🙂