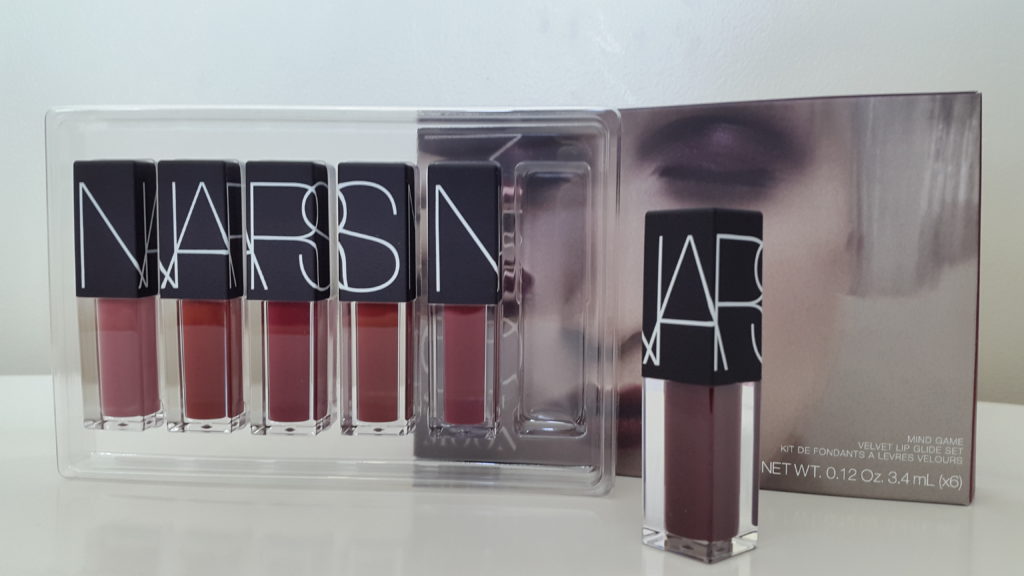 I wanted to talk about a lip product that really got me excited when I first heard about them. I tried these and it was like love at first application. These are none other than Nars Velvet Lip Glide. These lip glides are unique and compelling. I have six shades (from the Sarah Moon Gift) that I was lucky enough to get my hands on.
When I first applied it felt different. These are creamy and very opaque lip product with a little bit of shine which disappears after an hour or so of wearing and we are left with a kind of matte finish lips but it still feels extremely creamy and velvety. Overall I would describe them as the creaminess of a classic lipstick with a little bit of shine of a gloss, the staying power of a stain and the look of matte lipstick without that drying and flaky feeling.
I like the flattened doe foot applicator because they tend to hold enough product to cover full lips without having to dip in the tube again. It allows to get right up to the edges of the lips without depositing on too much product.
The shades I own are –
Bound  –  This is a pretty mauve shade so many people already love this color. This is just a very wearable color that everyone loves to have in their collection and looks good on everyone.
No. 675  –  Weird name I know!  🙂 This is a rusty terracotta kind of red like a wearable brick red shade that I see every skin tones would rock.  This shade will give some warmth to the makeup look you are wearing.
Chezclaude  –  This is more of a blue based red with a slight hint of berry. I think everyone should have a shade like this in their collection.
Unspeakable  –  It is really a dark berry color with a little very little brightness of pink when we apply. A really gorgeous shade like other dark shades it is a  great fall and holiday type of a shade.
Plato's  –  Plato's a purely berry shade that will look beautiful with some vampy makeup looks and beautiful on medium to dark complexion.
Toy  –  Toy is the last shade that I own. It is a deep aubergine more like dark (almost towards black) berry shade. These shades can look a bit streaky if you get apply too much. With dark colors like this I put some dots on my lips and then blend it out to get some staining effect and it looks lovely. Like a dark shade applied lightly :-).
                                                                   Left to Right : Bound, No.675, Chezclaude, Unspeakable, Plato's, Toy
There are tonnes of variety in this line with a few shades of nudes, bright colors and extremely dark colors as well. I think there are 3 shades in the Sarah Moon gift set that are exclusive namely No.675, Chezclaude and Plato's. I could not find them either on the Sephora's website or Nars's website. Well they all look quite similar so nothing is missed out but there are a few new shades that are added to the line which is tempting.
These lip products don't feather outside my lip line and fade evenly throughout the day. Even the lighter shade has a mild staining effect which I like. It is easy to re-apply the product if needed and it won't feel uncomfortable as we might when we are applying more product on the  top of a dried down liquid lipstick.
So again really impressive and unique line of lip product with superb formula. They are going to cost $26 a piece ( but I was lucky to have the mini gift set for $45 with 6 shades to try which are also very cost effective).
I would suggest to consider one of these as a real luxury splurge as they really are tremendous and supremely comfortable. The name Nars Velvet Lip Glide I think is a wonderful and apt title.
Which shade do you own or plan to try? Let me know. 🙂