Hi my Angels!
Welcome to another post where we can have some fun with makeup. I wonder if it is just only me or all makeup lovers love to look and admire their collection and just feel the happiness 🙂 The other day I was going through my beautiful lipstick collection and thought how much I love these lipsticks which also includes Bite Beauty Lipsticks.
Bite Beauty is the most natural brand which focusses only on lip products that are formulated with food-grade ingredients. I believe I have never heard of any other brand that makes lipsticks with food grade ingredients.
I have tried a few lipsticks from Bite Beauty of which I am a big fan for a long time. I was very excited when they released the Bite Beauty Multistick and instantly I wanted to try.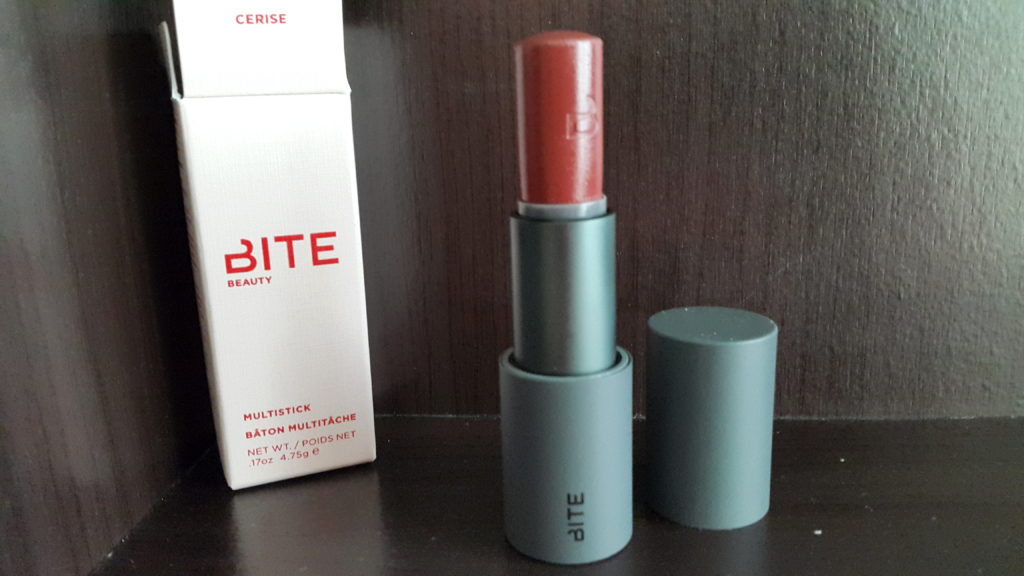 Product Description : A multistick that applies like a cream and wears like a powder for weightless color application—just apply with your finger or a brush on eyes, lips and cheeks.  
With 35 percent powder in each Multistick bullet, this silicone-free formula creates a soft focus finish that's blendable, breathable, and buildable. It features universal shades for the eyes, lips, and cheeks that compliment all skin tones and are formulated to use anywhere on the face. 
According to Susanne Langmuir  (Founder and Creator of Bite Beauty) "WOMEN HAVE ALWAYS USED LIPSTICKS ON EYES AND CHEEKS. I WAS INSPIRED TO DEVELOP A BLENDABLE FORMULA THAT PERFORMED EQUALLY WELL ON LIPS, EYES AND CHEEKS."
As the name suggests the Bite Beauty Multistick is a lipstick that is multi-tasking. We can use them on lips, eyes as well as cheeks. Isn't it amazing! These are available in 18 unique shades for every skin-tone from light nudes to darker browns and berries with a few  lilac purples for some fun.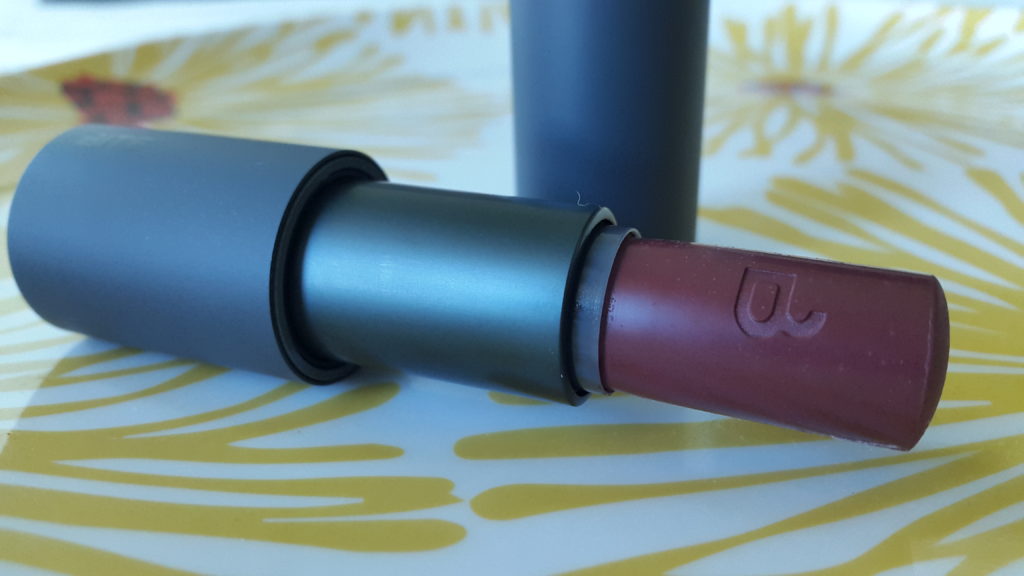 Bite Beauty Multistick – Cerise
The Bite Beauty Multistick comes in the typical black rubberized packaging as all other Bite Beauty Lipsticks. But the multistick feels a little heavy and has that magnetic closure to it. Inside the bullet is flat.
It was difficult for me to select the shade as all the shades are amazing. Finally I got the shade Cerise. Sadly I got only one shade as I was trying to control myself from buying makeup. I know you understand the sad part though :-). Well! this shade is perfect for my medium skin tone.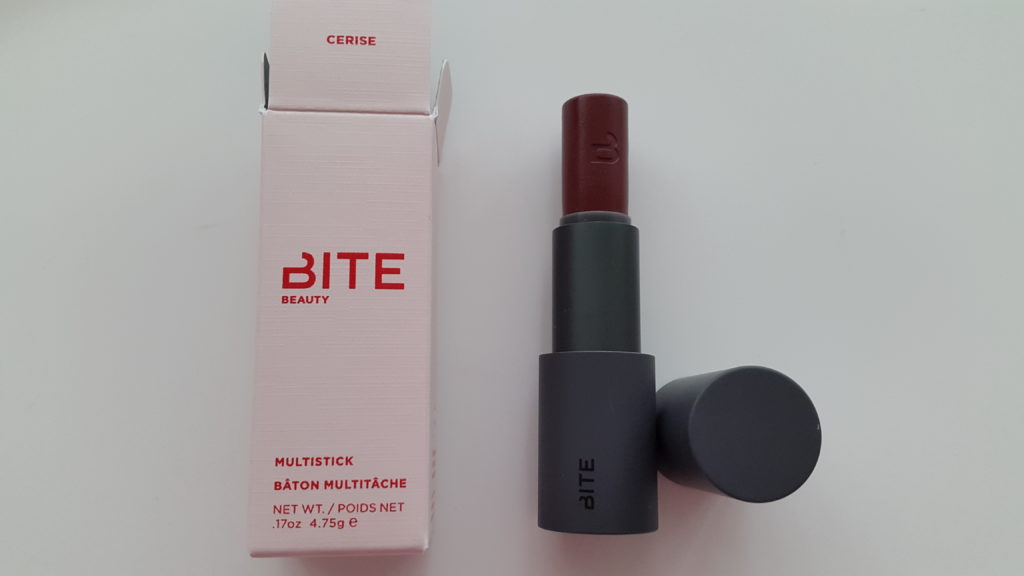 The formulation of the Multistick is  creamy and  smooth. It has this velvety powdery texture that feels light weight after application. It gives a semi-matte finish to the lips which is not drying.
These are recommended to be used with fingers or brush. As an eye-shadow we can work easily as it blends well. Just by using one shade on the eyelids we can get that monochromatic natural everyday look very easily. But the lasting power is less. As a blush we can dab a little and blend to give a slight dash of color on the cheeks for that flushed look. It looks natural and lasts pretty well to my liking. I think this Multistick as a lipstick is the best. We can apply it directly from the bullet of use fingers or brush. But the best color payoff is when directly applied. The lasting power is great. Since the top of the bullet is flat it is a bit difficult get  the cupid's bow and the edges of the lips right but we can use a lip brush to make it perfect. But I manage directly from the bullet. 🙂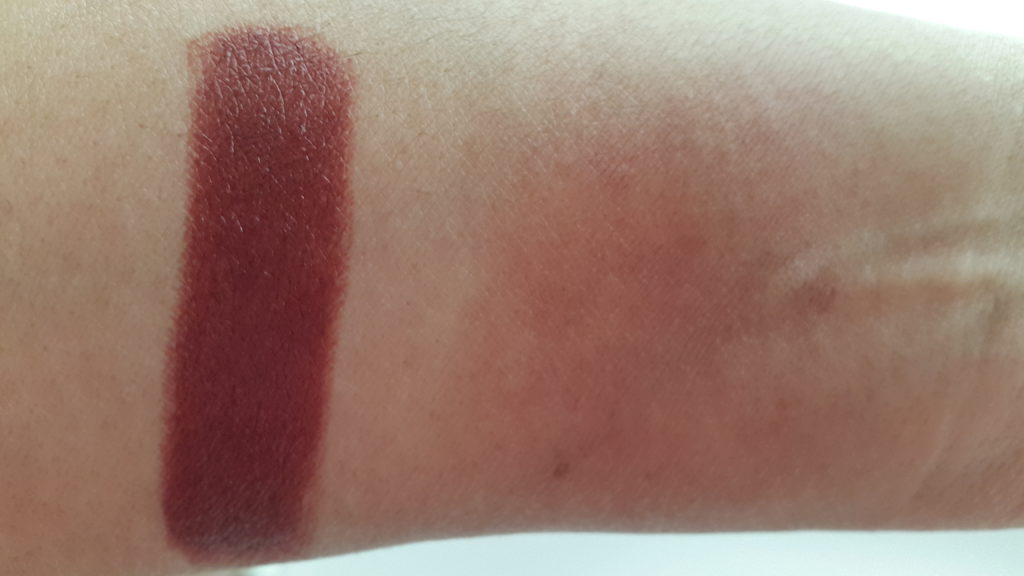 Left : Cerise direct from the bullet.   Right : Cerise Blended with fingers.
I think Bite Beauty Multistick is a great multitasker and comes handy on the go. Its like one tool does it all. It is easy to travel with as we don't need to carry multiple products. Besides using this on eyes, lips and cheeks it is also made of edible ingredients ;-).
Have you tried any shade for the Bite Beauty Multistick line? Which is your favorite shade and your thoughts about this product? 🙂
Thanks for taking the time to read this.