Hi lovelies! Hope you are doing well! Thanks for visiting. Today I have an interesting post on a liquid lipstick. Everyone is aware of the beautiful heavenly place called Sephora. 🙂 I did some research about Sephora and was really excited to learn some important facts about it.  I thought I should share with you all.  Sephora – the French Cosmetic Store was founded in 1969. It was owned by Dominique Mandonnaud who later sold it to LVMH ( Louis Vuitton Moet Hennessy) in 1997, who expanded the store globally. The word Sephora that sounds so good has a meaning – it comes from the Greek word "Sephos" which means "beauty" and from another Greek word spelled "Zipporah" who was the beautiful wife of Moses. Hence the word "Sephora."  Sephora continues to expand world wide. Sephora features a variety of beauty products from more than 100 brands in their stores.
Sephora along with the 100 other beauty brands also features its own brand of makeup, skincare and beauty tools which are at par with the other high end brands. Sephora is one of my favorite places to be and I know it is one of your places to be in as well. ;-). It's like every beauty lovers paradise.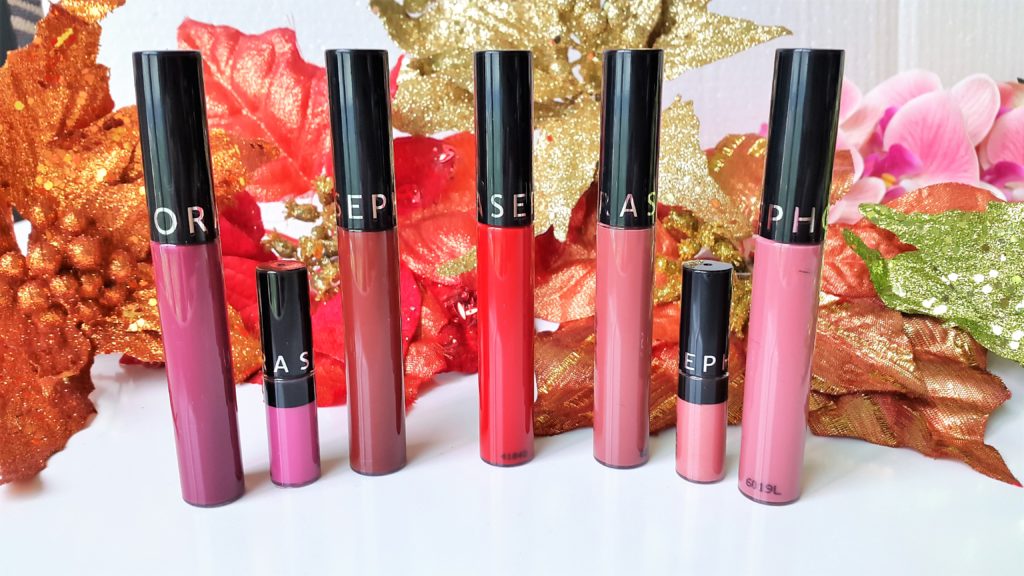 Today I want to talk about the famous Sephora Collection Cream Lip Stain Liquid Lipstick. Speaking of liquid lipsticks there are so many in the market, but Sephora Collection Cream Lip Stain has one of the best formulas. It has been around for a long time, but I never tried it. Reason being their original color range was small and not up my alley. I still got two wearable shades. I am not into too bold and funky shades. It is so inexpensive in comparison to the other brands that are sold at Sephora. Now they have added 27 more shades to the line.
Product Description – A silky, long-lasting lip stain that keeps lips covered with bold color from AM to PM – no need to reapply or touch up throughout the day. The best selling, high-coverage lip color glides on smooth and transforms from a creamy texture into a silky, light weight stain. Infused with avocado oil, the long-lasting formula delivers rich color that feels comfortable, is never sticky and won't dry out lips.
The options are (nearly) limitless! This stain comes in matte and satin finishes, and a wide range of richly- pigmented colors.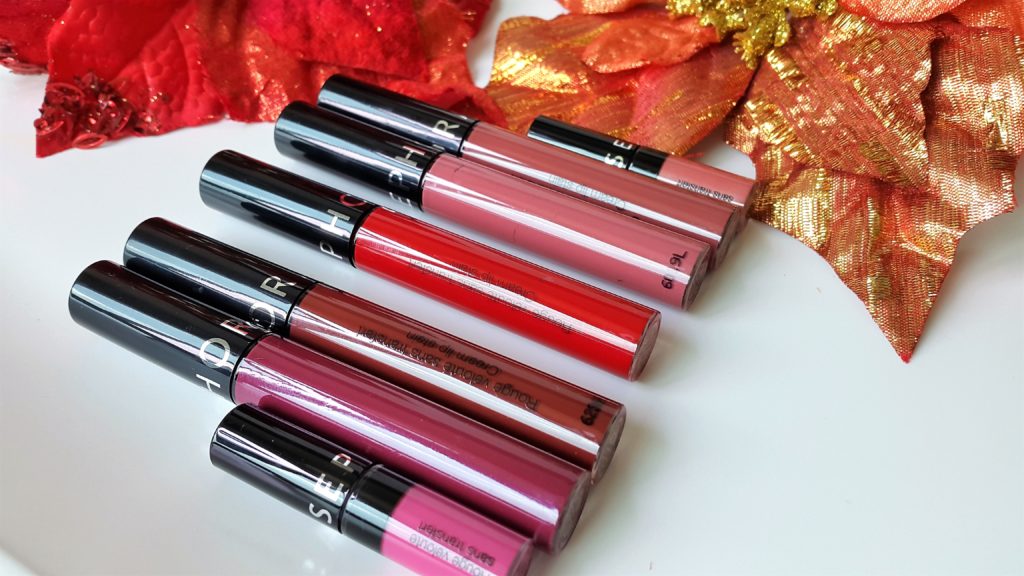 The packaging of Sephora Collection Cream Lip Stain Liquid Lipstick is very simple with no added bling to it. It is a see through plastic tube. I guess Sephora believes that the product inside is important, packaging can be simple and sleek. The name and the number of the shades is mentioned at the bottom  of the tube which is very difficult to read. The applicator is a small angled foam applicator which distributes right amount of product to coat the lips. Even though I like the applicator, I prefer the L'Oreal Pro Matte Gloss applicator.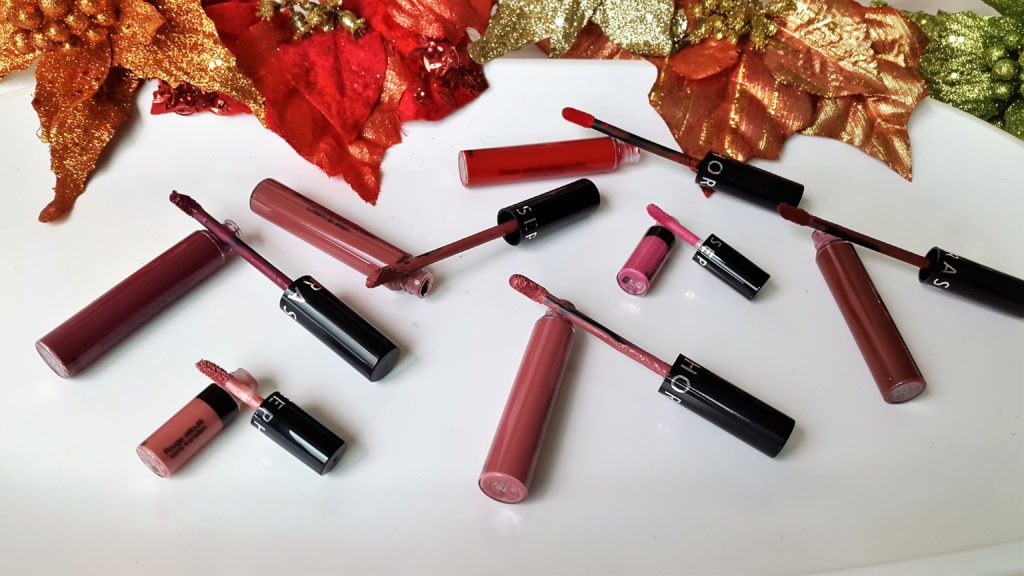 The consistency of the liquid lipstick is quiet thin and mousse like. It has a mild sweet chemically scent but disappears as soon as the lipstick is dry and sets. On application it goes on creamy and smooth on the lips and does not smudge. It dries quickly and sets into a smudge-proof matte finish. It feels like velvet and light weight on the lips. It is transfer-proof although we see very light traces on the glass. It provides perfect amount of hydration without feeling dry – thanks to the avocado oil present in it. It lasts a long time on the lips like 6-7 hours. The insides of the lips wears off a little after meal. It is easy to touch up and stays on the lips without crumbling or flaking.
The pigmentation is excellent and applies evenly. Darker shades are a little bit difficult but can be corrected by applying two thin layers. The color range has expanded significantly. There are 40 shades available in a varied variety of colors. A variety of beautiful everyday nudes -mauve-y nude, brown-y nude, pink-y nude, bright shades, some fun colors like blues and greens, a black shade too, luscious browns, purples, berry tones and a perfect red shade as well. There is a shade for everyone. The shades that I have to share with you all are – 14 Blackberry Sorbet, 07 Cherry Blossom, 42 Rose Wood, 01 Always Red, 41 Vintage Rosewood, 05 Infinite Rose, 13 Marvelous Mauve.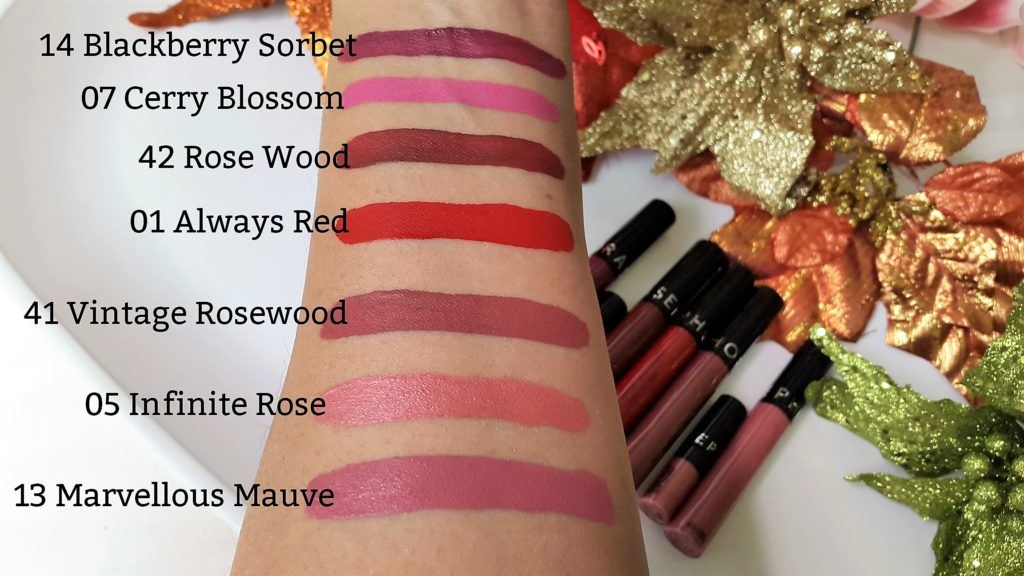 14 Blackberry Sorbet – is a dark plum berry shade. Ideal for the current fall season. This shade will look very pretty on medium to tan complexions and has a matte finish.
07 Cherry Blossom – is a bright rose-y pink shade which is a little bit muted. This is not  too in your face bright but a great summer shade. This will look good across all complexions and has a  matte finish.
42 Rose Wood – is again a pretty rose-y mauve shade with a hint of red. This shade will look beautiful  on medium to tan skin tones. Even the fair skin beauties  can rock this shade. This is again a matte finish.
01 Always Red – is a perfect red shade that every one need in their collection. It is a beautiful Hollywood Red shade that is matte and is perfect for parties and formal as well as informal occasions. In short a must have red that will look beautiful across all complexions. This was one of my first purchases from this line.
41 Vintage Rosewood – is a beautiful dusty rose-y nude shade which a little on the darker side. It will look gorgeous on medium to tan skin gals and has a matte finish.
05 Infinite Rose – is again a rose-y pink-y peach shade with some shine to it. This is a great everyday color that will look great across all skin tones. This one is in satin finish and has that light sheen to it.
13 Marvelous Mauve – is a beautiful dusty rose shade that belongs to the pink-y mauve family. An everyday shade that is everyone's favorite. This shade is perfect for every skin tone. It is a matte finish and a perfect nude shade. This one also was one of my first purchases.
Overall,  Sephora Collection Cream Lip Stain Liquid Lipstick has one of the best formulas for long-lasting liquid lipsticks that feels comfortable, light-weight, has a great  range of color selection and lasts a long time on the lips. This also reminds me of the formula of Kat Von D Liquid Lipsticks which is also my favorite. Beware these lip stains are not easy to remove. You will need a good makeup remover to remove them. I hope they don't dis-continue this line of liquid lipsticks, these are that good. 🙂
What are your favorite liquid lipsticks? Have you tried the Sephora Cream Lip Stains? What are your thoughts? Let me know in the comments.
Until next time stay bright and beautiful! 🙂