Hey Lovelies!
These days I am trying to be serious about blogging. The other day I woke up and the first thing that came to my mind was – I have not written anything about Kat Von D's Everlasting Liquid Lipstick on my blog, even though I have been using it so often. I know I may be the last person in this world to be talking about the very famous Kat Von D Everlasting Liquid Lipstick. But I can't help it as I could get my hands on this baby a few months back.  I heard about Kat Von D only a few years back when I started visiting US and browsing Sephora website on a regular basis. When I first saw her in a video I was amazed and felt she is a great example of a strong woman.
Product Description on the website – The life-proof lipstick that will no wear off! Yes, you can eat, drink, make-up, break-up and mouth-off knowing your lips are gonna stay flawless through it all!
In 43 to-die-for shades, his creamy formula glides over lips like a gloss and sets to a true matte finish. Along with 24-hour wear and high-pigment color, the next-generation formula is packed with natural moisturizers, including Vitamin E and Sunflower Seed Wax. All-day wear has never felt so comfortable!
#VeganAlert!
100% Cruelty Free Forever!
Kat Von D Everlasting Liquid Lipsticks are one of the most loved and highly raved about liquid lipsticks in the beauty world. These have been around for a really long time. I wanted to try it out for myself so I picked up the STAR shade from the collection – Lolita. I tried to get this shade for so long. Every time I visited Sephora it used to be out of stock for the longest time.
The packaging of the Kat Von D Everlasting Liquid Lipsticks is unique and original. It clearly shows the artist that she is. The long transparent sleek plastic tube with black lid and the beautiful silver calligraphic design on it makes it very pretty and cool. We can see the shade through it which is great. The applicator is a bit long but I see no problem with it. The application is easy. It distributes the product evenly giving a very precise and perfect application with sharp edges on the lips.
The color selection in this collection is great. In this collection of 43 shades there is a wide variety of nude shades from lighter nudes to darker nudes. Some bright neons if you love to rock a bold color. Some dark wine shades, a few versions of red from warm orange reds to deep dark blue toned reds – there is definitely a red shade for you. There are a bunch of dark Gothic grays and black as well.
The consistency of the lipstick is creamy and glides on smoothly without feathering. It has a liquid lipstick kind of a subtle smell which is a little sweet. It is not overpowering at all.
The pigmentation is excellent. One swipe will give full coverage and opacity to the lips. It dries in a minute or so and sets to a completely matte finish which has a velvety powdery effect on the lips.
The formula is 100% transfer proof. It feels completely matte and dry to touch. There is no tackiness like any other long wearing liquid lipsticks have. These are not drying and feels very comfortable on the lips.
The lasting power of the Kat Von D Everlasting Liquid Lipsticks on me is around 6-7 hours. I don't wear lipsticks for too long so regarding  the 24 hours wear claim, I can't comment much on it. Maybe it will last if you don't eat or drink for 24 hours  :-). After having an oily meal it does break down a little on the insides of the lips. That being said re-application of these lipsticks is very easy. We can re-apply without it crumbling or flaking off. It also fades evenly through out the day.
I have two shades to share – Lolita and Outlaw. Lolita is the shade I picked up and Outlaw was in one of my Sephora Favorites box.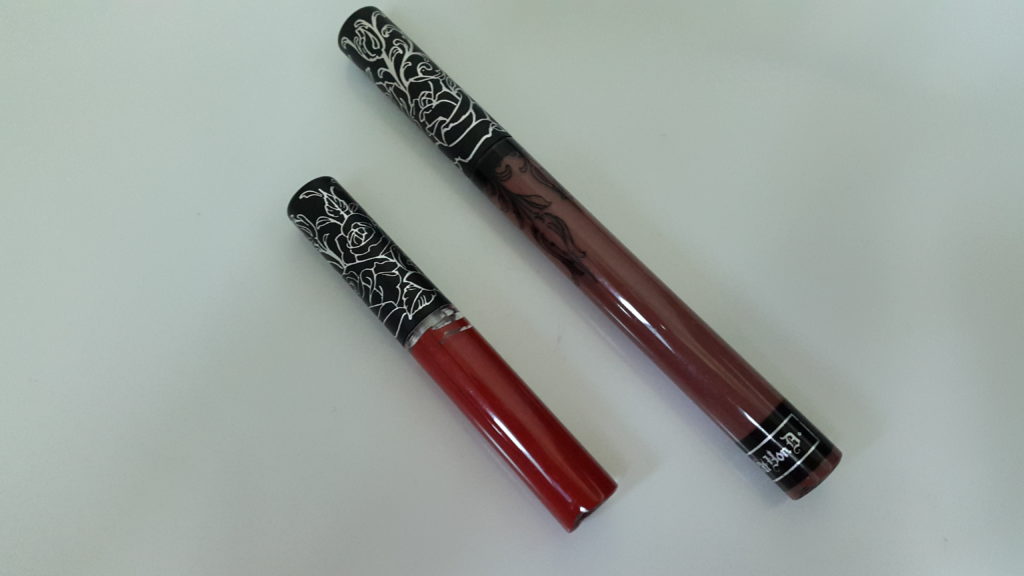 Kat Von D Everlasting Liquid Lipsticks – Outlaw and Lolita
Lolita – This is a pinkish mauve shade with some brown. On the website it is described as Chestnut Rose. It reminds me of the 90's. Well! it reminds everyone of the 90's. Lolita is the cult favorite and the most popular shade in the collection. I believe by now everyone or most of you must have tried this shade. Its looks a bit more brown on my warm medium skin tone than mauve-y-pink. I find it strange how one particular shade can look different on different skin tones. Nonetheless I love this color and reach for it more often. It looks beautiful on all skin tones.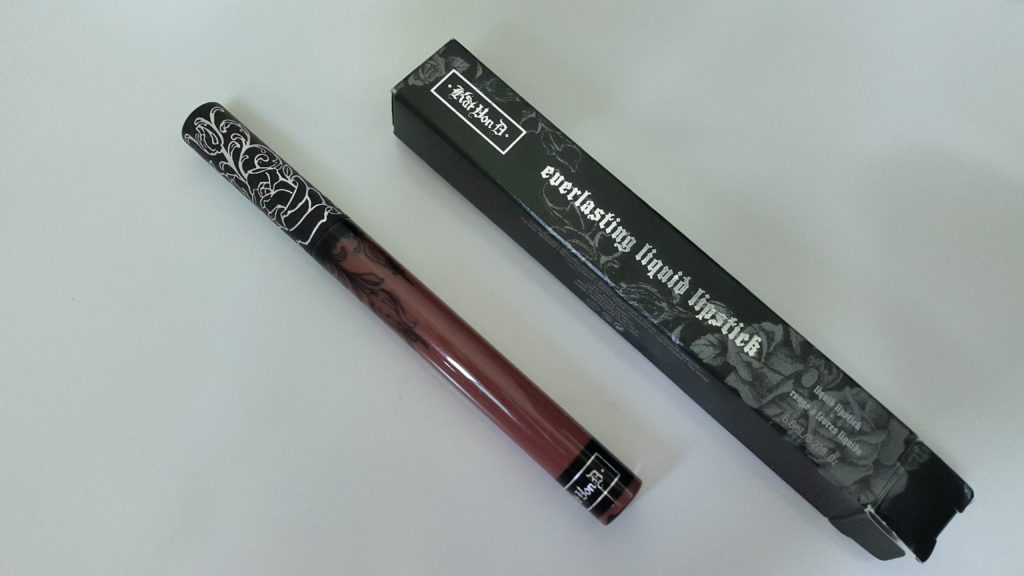 Lolita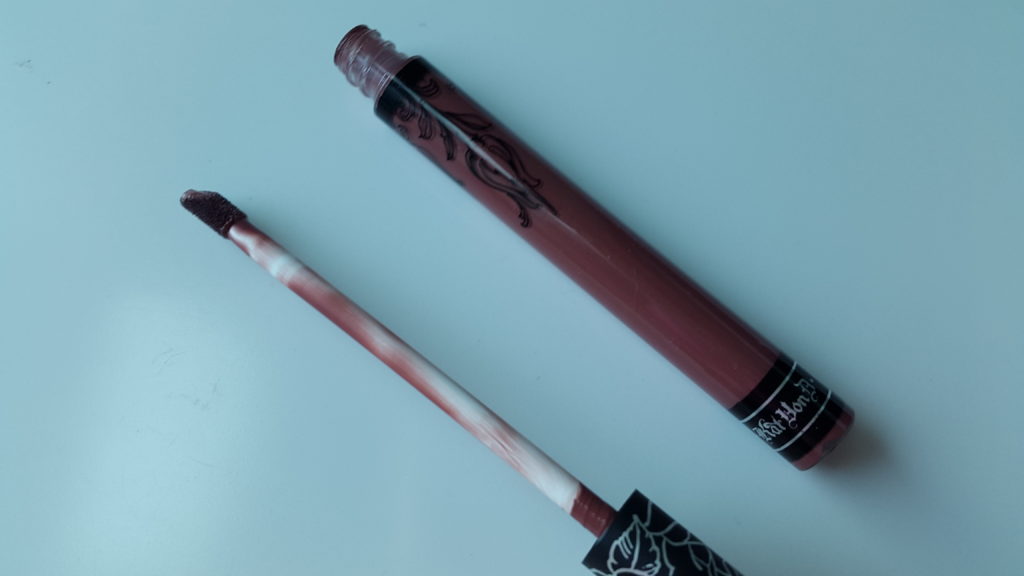 Lolita
Lolita – Swatch
Outlaw – The name is interesting as the color. This shade is a simple to describe. It is a beautiful deep red with a slight warm undertone. It looks just red and will suit all complexion.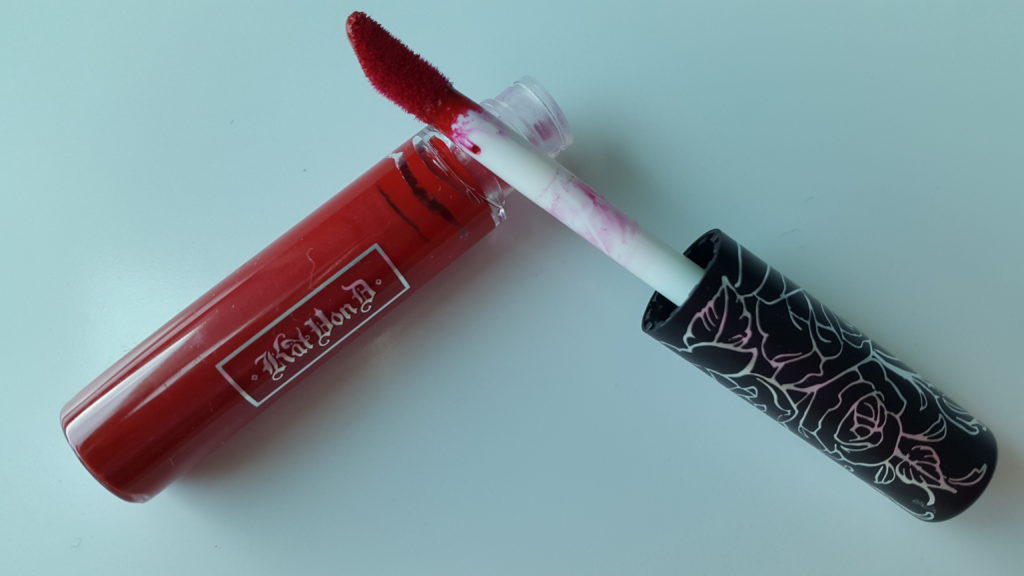 Outlaw
Outlaw – Swatch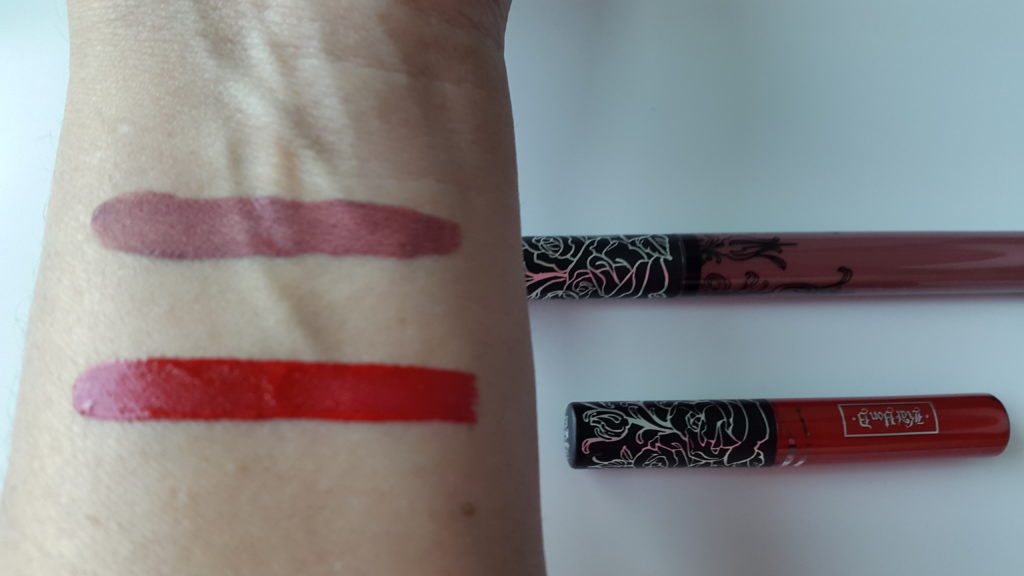 Above – Lolita  Bottom – Outlaw
Over all I love this liquid lipstick formula. It is smooth to apply and lasts a very long time. With so much variety in shade selection I am sure there will be a shade that you will like. I am happy that Kat Von D makeup has been recently made available at Sephora in the Philippines :-).
How about you have you tried these lipsticks? Which is your favorite shade in the collection? How do you fine the formula of these liquid lipsticks? Let me know in the comments. 🙂