Hi everyone! Hope you all are doing well! Welcome to another lipstick post 🙂
Wet n Wild Megalast Liquid Catsuit Matte Lipstick- Top – Give me Mocha. Bottom – Rebel Rose
Wet n Wild is one of the popular drugstore brand in America. Wet n Wild is most loved for the good quality products at a very low price. I am a big fan of Wet n Wild products since I tried their megalast matte lipsticks. This brand is available in the Philippines but I have to admit that I still have not explored the Wet n Wild counters that well. But I believe that the new launches take a long time to be available here.
A few months back Wet n Wild launched their version of liquid lipsticks called the Wet n Wild Megalast Liquid Catsuit Matte Lipsticks -well was such a long name was required? I am wondering. 🙂 Anyway, I was very excited to try them and so the mission to acquire them began. I was lucky enough to get my hands on these when I visited US a couple of months back. I guess these liquid lipsticks are still not available here in the Philippines. I picked up two shades from Amazon that I was particularly interested in.
Product Description – What glides on like butter, feels like second skin and won't budge? Our Liquid Catsuit Matte Lipstick! Made with glammed out superpowers, it goes on glossy yet transforms into a high-pigmented matte finish with some serious staying power.
Read our lips. This color is going nowhere.
Glides on glossy and transforms into high-pigmented matte finish.
Lightweight formula made with serious staying power.
Intense pigmentation without drying the lips.
The packaging of the Wet n Wild Megalast Liquid Catsuit Matte Lipstick is sturdy transparent glass like plastic tube. It feels nice and for such low price the packaging is great. There are some other brands I have seen,  that have similar packaging and are quite pricey. There is a sticker at the bottom with the name and the number of the lipstick.
The applicator is a doe foot one with a little scoop which holds a nice amount of product that is enough for the whole lips. The applicator hugs the lips perfectly while applying the lipstick.
In terms of color selection there are 13 shades available in a wide range of colors like a few nudes which are always super popular shades and loved by many, a few neon kind of bright and beautiful shades and some really dark berry tones as well. The two shades that I picked are Rebel Rose and Give me Mocha.
The consistency of the lipstick is really-really creamy. It looks like whipped but it is like thick cream. It applies creamy and opaque. It dries quickly and in a couple of minutes it sets completely into smudge-proof and transfer-proof matte finish. It does not have any smell to it, not even a faint liquid lipstick scent – nothing which is good. It dries down to a little bit tacky matte finish and not powdery matte. This slight tackiness does not leave the lips dry or parched. Even though the formula of this lipstick is creamy and thick it does not feel heavy on the lips. These fade fairly evenly and gracefully but start to wear out on the inner parts of the lips first – as most of the liquid lipsticks do. These last up to 6-7 hours when you are not eating greasy or oily food. Otherwise these last pretty well. It is difficult to re-apply until you remove it completely which is disappointing. Now lets talk about the shades I got.
Rebel Rose – This is a beautiful nude dusty rose shade. It looks a little light on my medium skin tone nonetheless a beautiful everyday nude shade.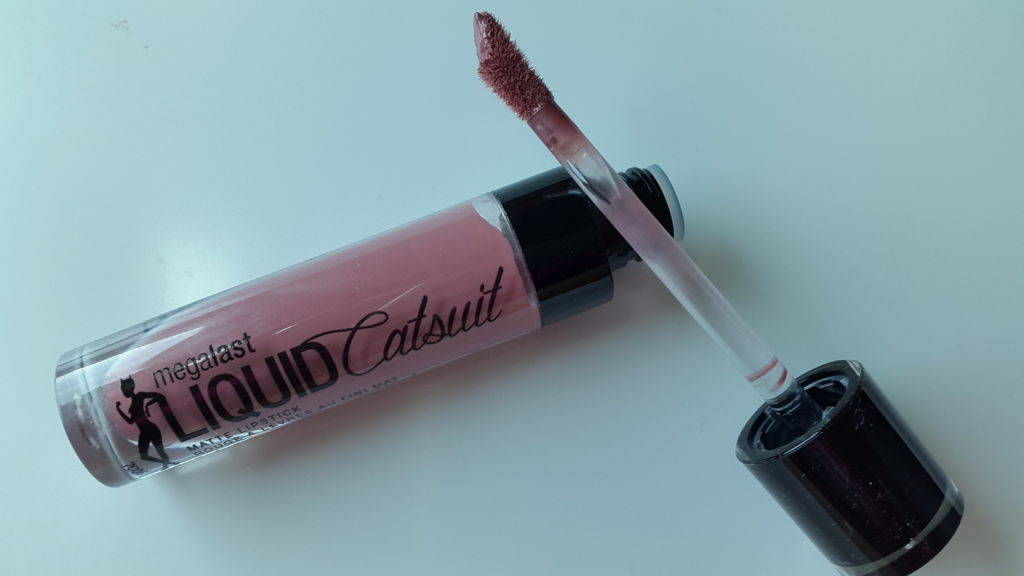 Rebel Rose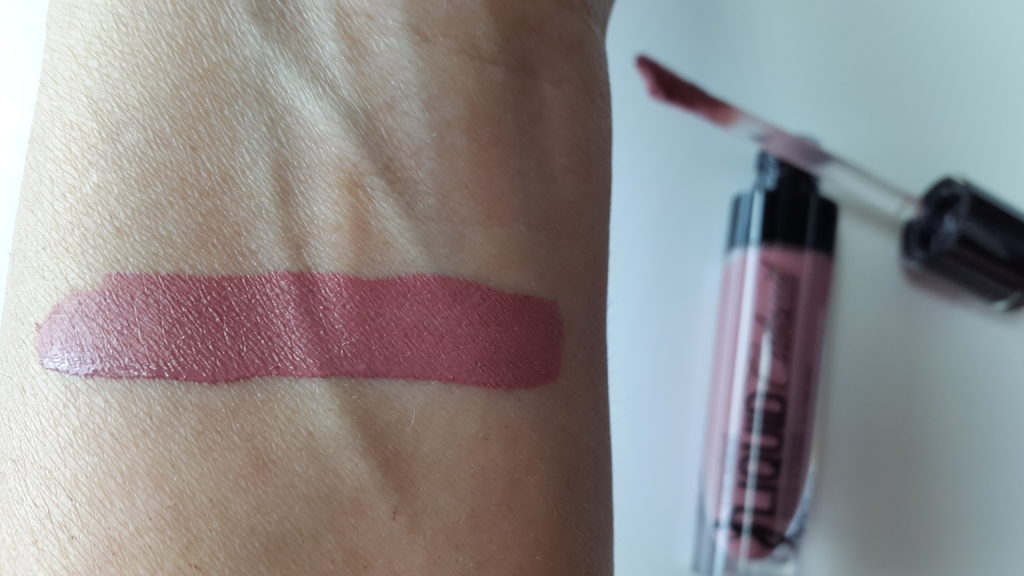 Rebel rose – Swatch
Give me Mocha – This shade was on my list right from the beginning. It is a beautiful terracotta type of a color with a hint of brown in it. This particular shade looks absolutely gorgeous on the medium complexion ( and has been out of stock most of the time). This is also the popular shade in the collection.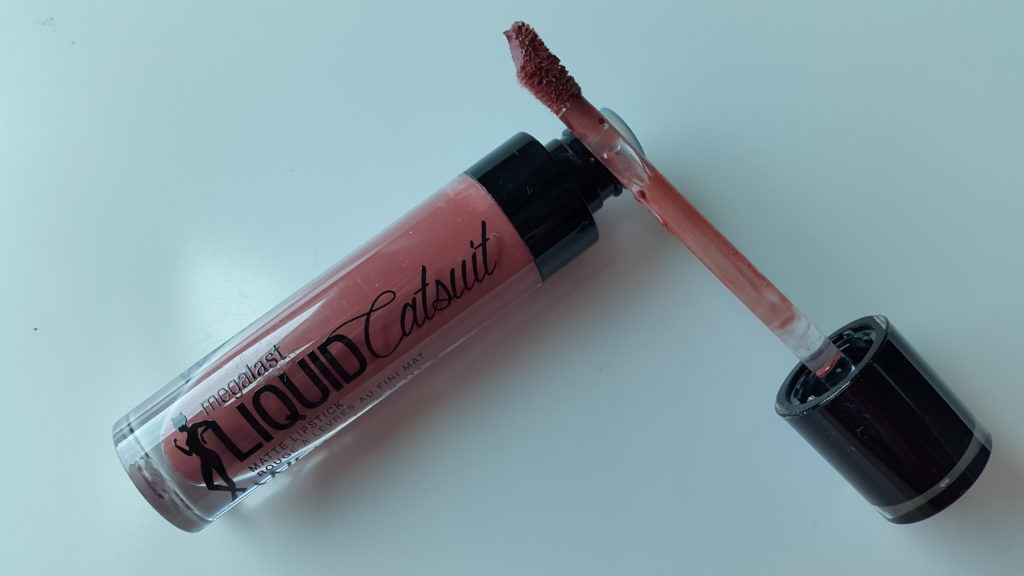 Give me Mocha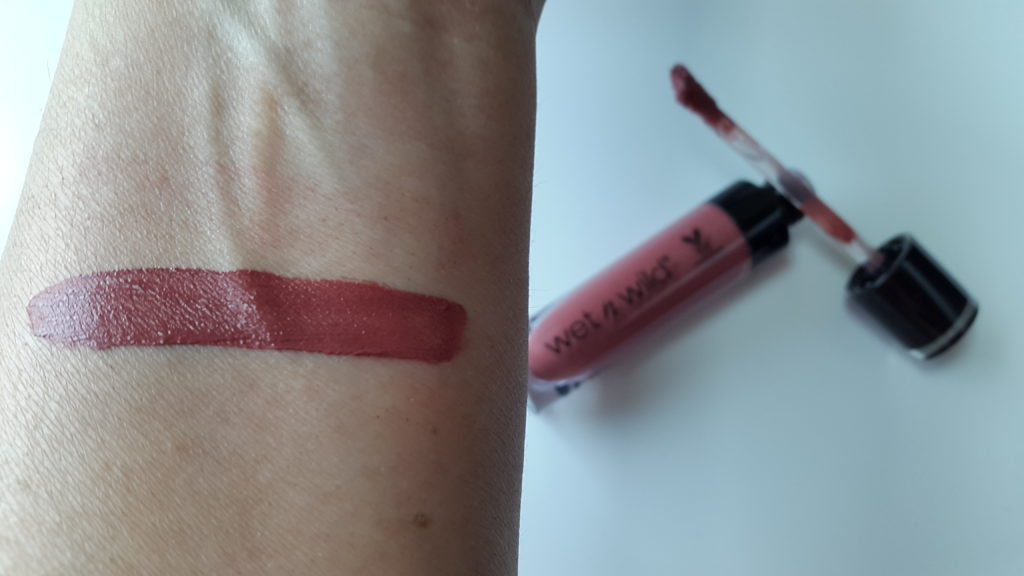 Give me Mocha – Swatch
Overall, I really like the Wet n Wild Megalast Liquid Catsuit Matte Lipsticks. Now I wish I should have got one of the darker shade as well to write about. This is no doubt one of the best drugstore liquid lipstick formula that I have tried at such a low price. I feel both the nude shades that I own will get a better wear. I highly recommend trying these liquid lipsticks even if you are not on a budget. 🙂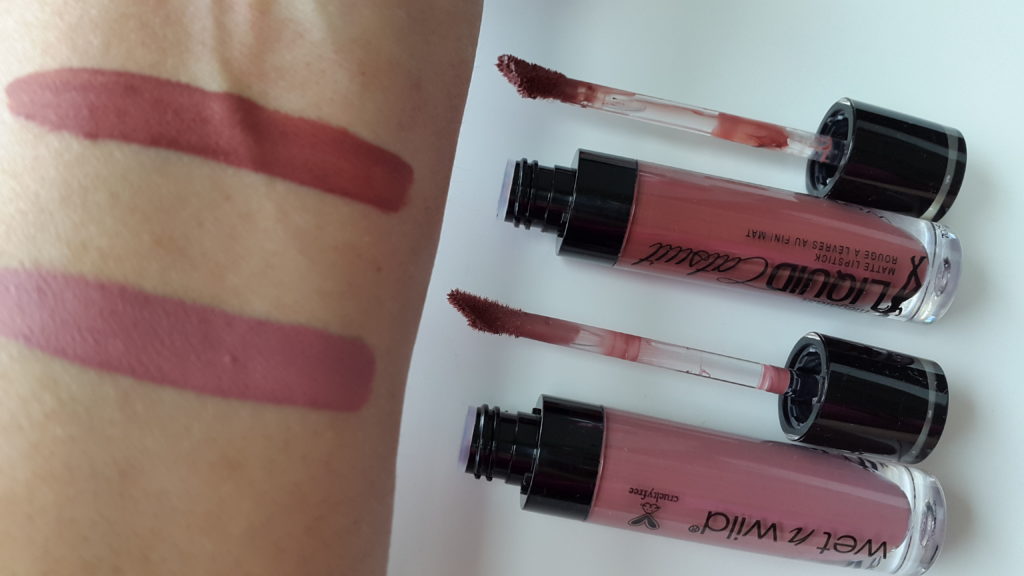 Top – Give me Mocha       Bottom – Rebel Rose
Have any of you tried this pocket friendly Wet n Wild liquid lipsticks?
Which is your favorite shade in the collection?
Put some lipstick on and stay beautiful! 🙂