Hey there! Currently there are a couple of foundations that I am liking but today I will talk about the NEW Wet n Wild Photofocus Foundation which is said to be a new skin perfecting foundation.
Product Info: Your skin, only better. Our new high-performing, skin-perfecting foundation underwent major road testing under seven different photo lighting conditions to deliver flawless camera-ready makeup every time. Specially made with a matte, light-diffusing complex to give your skin #nofilter perfection.
       High performing, breakthrough formula.
       Featuring light-adjusting complex to help prevent white cast in photos.
       Tested under 7 light conditions with and without  the use of flash.
I was intrigued to try this foundation. I got mine in the shade Desert Beige which is a pretty good match for my skin tone. There are 20 shades available with warm, neutral and cool undertones which is great. It weighs 1oz for just $5.99 which is amazing. It does come in a glass bottle with a spatula attached to the lid which I personally think is interesting and less messy. ( At least its better than pouring the foundation directly on you palms and then applying) But it would have been better if it came in a squeezy tube or with a  pump just for the hygiene purpose. But then it would increase the cost. So I am happy with it.
I have used this foundation many times now and my mind is blown. This foundation gives the most beautiful finish to the skin. It is  a medium to full coverage foundation. I apply it sheer as it gives the most natural finish. We can build it up to full coverage. The consistency of this foundation is thin and moisturizing so it does not exaggerate any dry patches on the skin. It does not dry away quickly so we have time to blend it well. The finish is like satin-matte but more on a matte side. I do set it with powder as my skin is oily.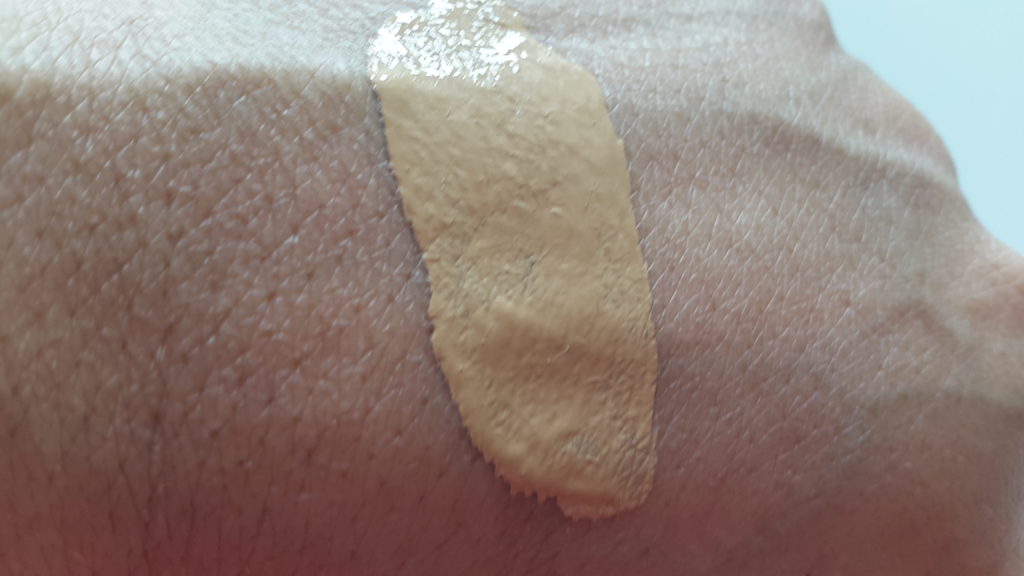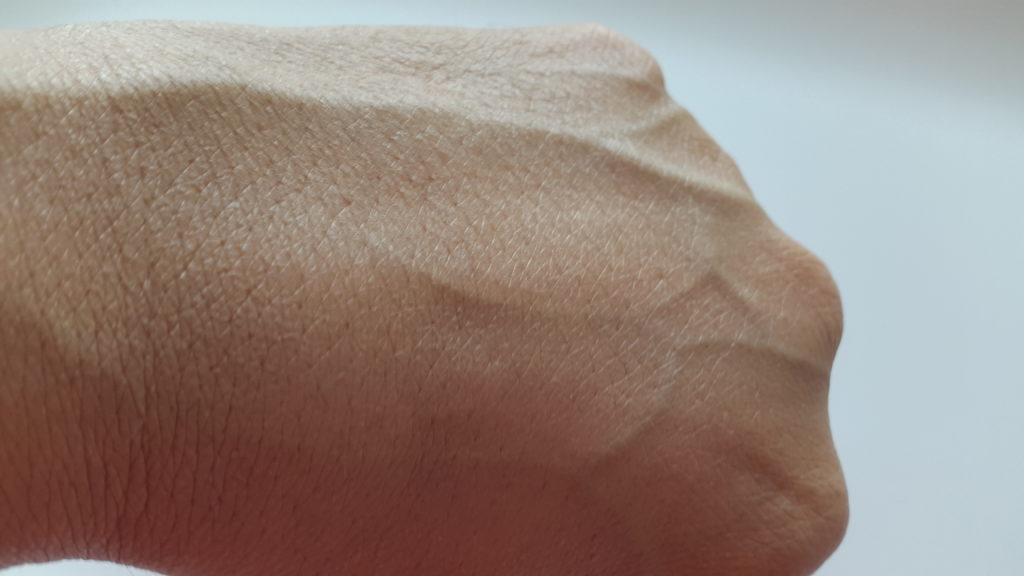 Blended into the skin.
I am amazed that it lasts pretty well on me. It does break a little around my nose as my T- zone is super oily. I like how it evens out and brightens my skin. It really looks flawless in photos. I did take a few pictures in different lighting situations during day time and night time with my mobile  and it made me look smooth and not shiny ( which is always my concern). In this "perfect picture" world of Instagram, YouTube I will say it helps to get nice pictures which I am happy about. It feels lightweight and looks natural.
One thing is there though that it smells like some paint but it does not linger for long. I can deal with the smell as the foundation is really worth it. I would rather say this is "my skin but better" kind of foundation. I think everyone should try it. I love it.