Hey Lovelies! Welcome to another post and thank you for taking the time to read! Today I want to talk about an interesting product by Hourglass.  Hourglass Cosmetics was founded in 2004 by renowned beauty expert Carisa Janes. According to their website Hourglass offers breakthrough formulations, technological innovations and unwavering commitment to reinvention. It offers makeup and complexion products with the most ground breaking active ingredients that are distinguished by sensorial textures, modern color collections and sleek and beautiful packaging. Hourglass is now available worldwide in many countries.
I became familiar with the brand a few years back when they launched their Ambient Lighting Powders. I was blown away by the beautiful packaging and the different powders available in the collection. These powders are meant to capture, diffuse and soften the way light reflects on the skin. You must have noticed how beautiful our skin looks in the dim candle light or in the warm lighting at the restaurant or in a hotel room. It looks as if our skin is glowing from within.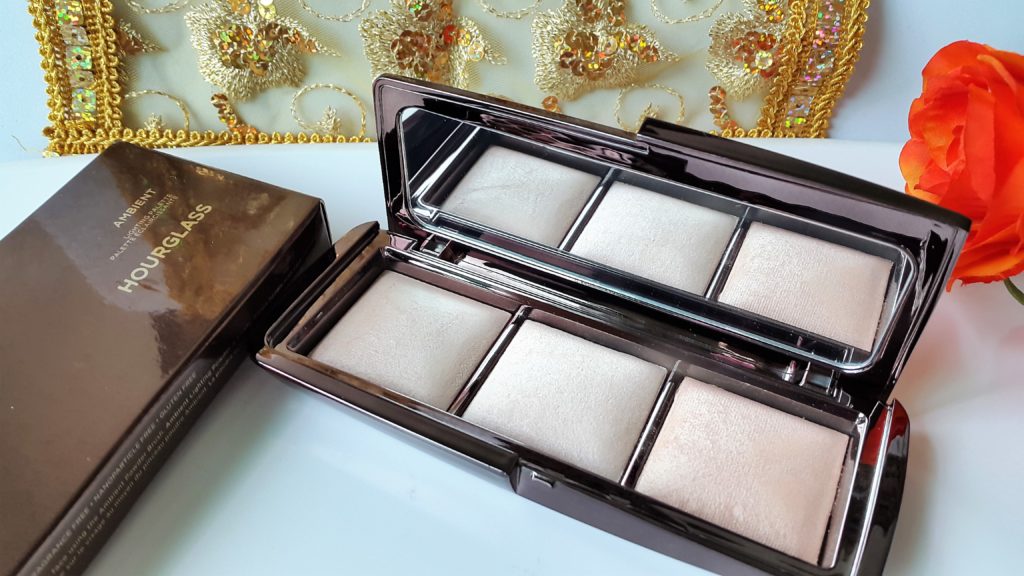 The Hourglass Ambient Lighting Powders work in the similar way. It contains some kind of technology to manipulate different lights and filter out any harsh unflattering light. These powders help to blur fine lines, wrinkles and pores. Basically, these help to conceal the imperfections of the skin. There are six shades available in the collection – Ethereal Light, Diffused Light, Dim Light, Mood Light, Luminous Light and Radiant Light. Now I also see some new addition to the collection.
Product Description on the Website – Create your perfect light with this palette featuring three shades of Ambient Lighting Powder, which utilize Photoluminescent Technology to filter out harsh light and refine the appearance of the complexion. Each of these high-tech, soft-focus finishing powders recreate an exquisitely flattering light source. The powders can be applied individually or layered to imbue skin with a multidimensional glow.
I wondered how these almost transparent powders work to defuse light and give a luminous glow to the face. Apparently, its the transparent color-correcting pigments that work in different kind of lighting situations. I was amazed by and intrigued to try these powders. But I was a little confused as to which one would work for me. I did my research and decided on Dim Light and Hourglass came out with their limited edition Hourglass Ambient Lighting Palette (which is now permanent). This palette contains three ambient lighting powders. Two powders are from their regular collection and one is exclusive to this palette, but now this one is also available in the regular collection. These kinds of palettes that are released during the holiday seasons are worth trying. We get many shades in one palette thought they are minis, these last a long time. This is one of my prized possession in my stash.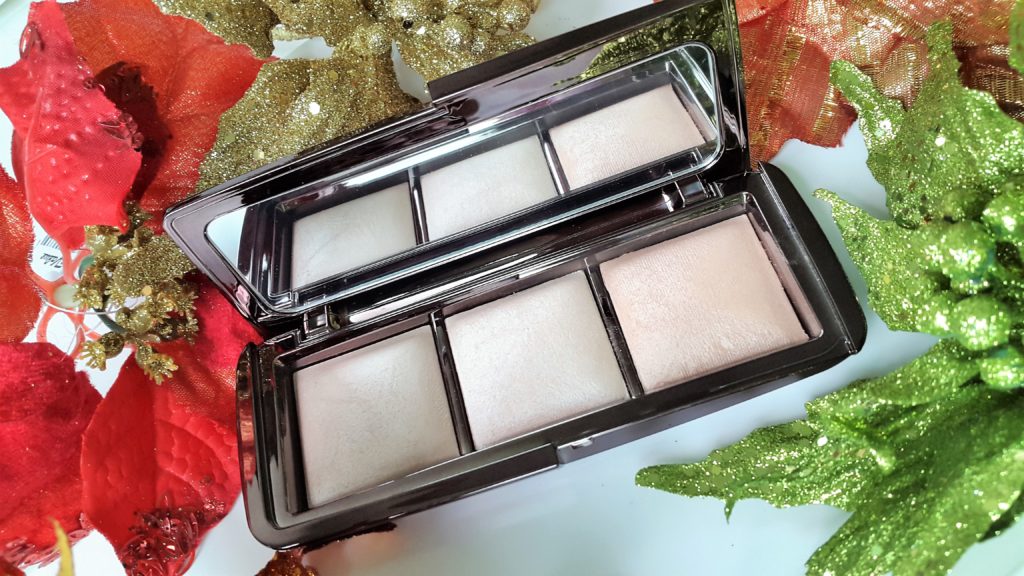 The packaging of the Hourglass Ambient Lighting Powders is absolutely beautiful. It is a very reflective plastic compact that holds the fingerprints easily. In spite of that the packaging is stunning as you can see in the pictures attached. It looks pretty on the vanity as well.  It snaps and closes securely and is quiet sturdy and substantial as well as very travel friendly. It has a mirror inside the compact which I love. 🙂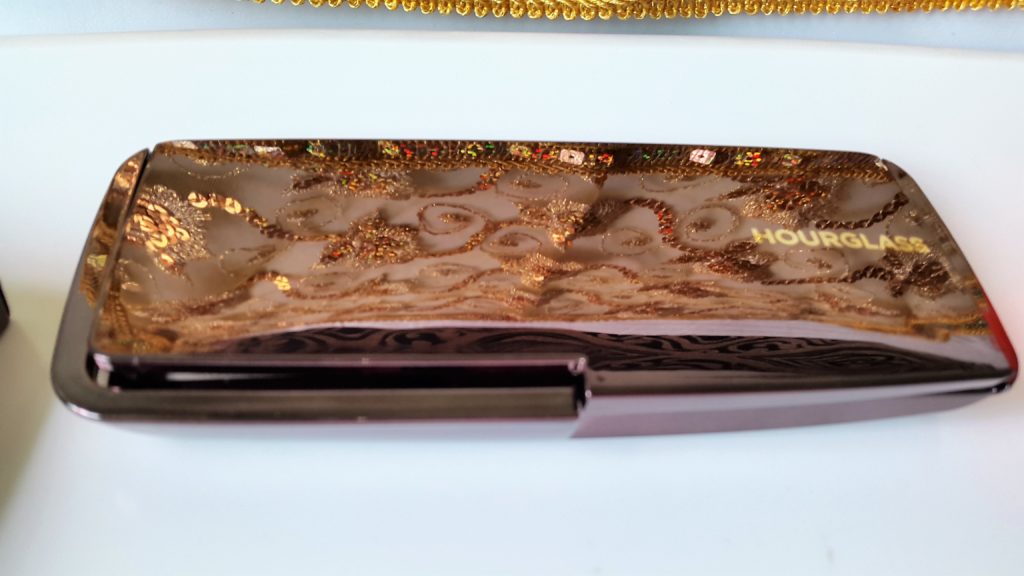 Hourglass  Ambient Lighting Palette has three soft, universally flattering, finely milled powders that will give dimension to the face by softening the effects of light on the skin. It includes Dim Light and Radiant Light that are permanent shades in the collection and one new exclusive limited edition shade called Incandescent Light which I see is now permanent to the collection.
Dim Light is a peachy beige neutral powder that leans toward warm and blurs imperfections on the skin. It makes the face look smooth and less textured. It has a subtle natural sheen to it and blends seamlessly and doesn't make you look darker or lighter. I use it as a finishing powder all over my face and looks like some filter which gives a radiant glowing skin. Dim Light is supposed to be soft focus and is a perfect balance of warm and cool tones.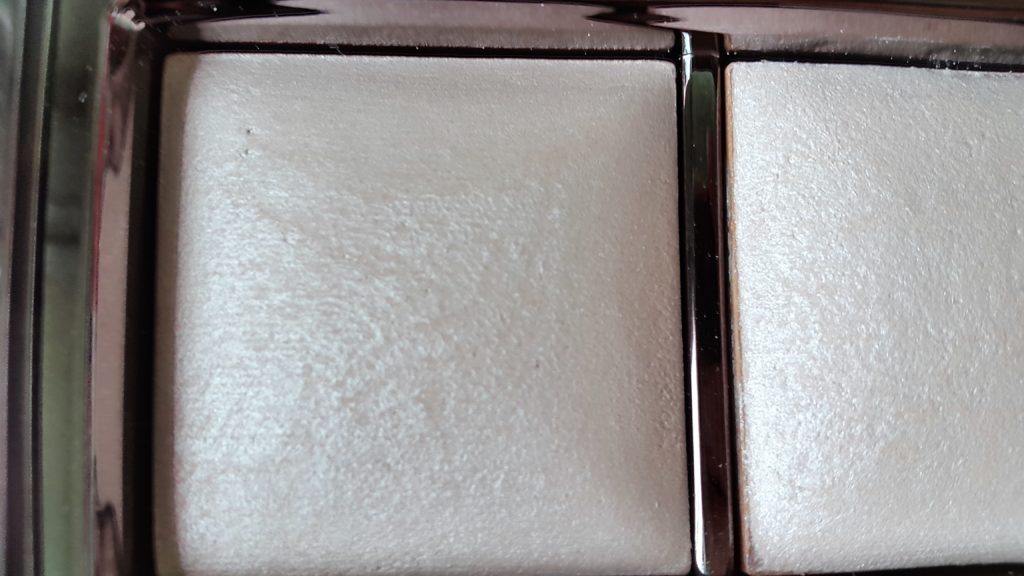 Incandescent Light was the limited edition exclusive shade to this palette. ( I just checked on Sephora's Website and this shade is now available separately). It is a pearly pale pink with some soft ivory shimmer, which I can't even see on skin. It is undetectable. It is a great highlighter which gives glow to the cheeks, when light hits. It is beautiful. It can be used under the eyes to brighten up the area, high points of the cheek bones, bridge on the nose, cupid's bow to get that instant highlighted look and brighten up complexion.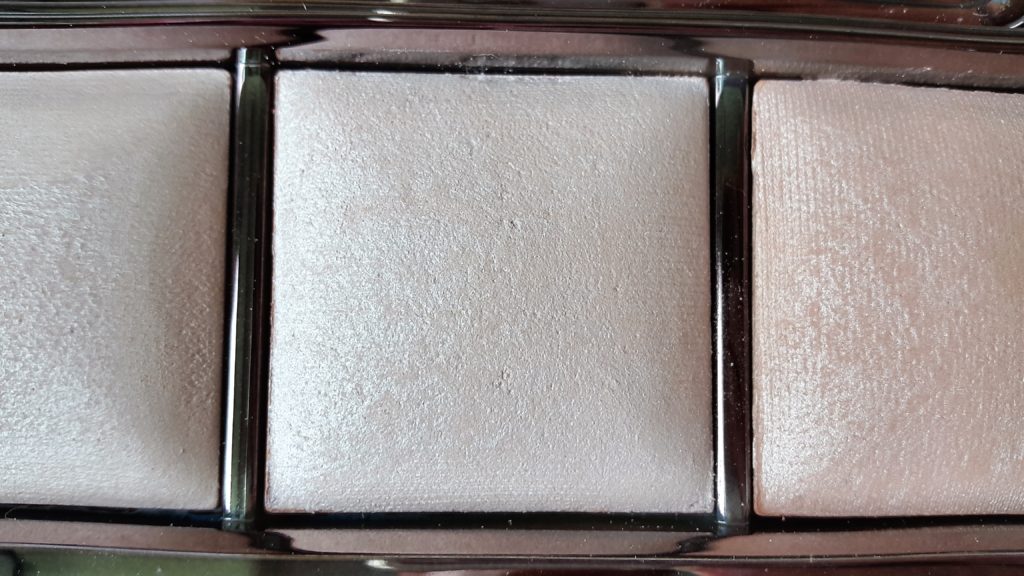 Radiant Light is a warm golden, light medium peachy orange with golden shimmer in it. These shimmers are less apparent than the ones in the Incandescent Light. It is meant to add warmth and radiance to your skin – that sun-kissed glow! This powder is to be used on the outer parts of the face like how we use the contour powder. It mimics golden light and adds warmth to the face.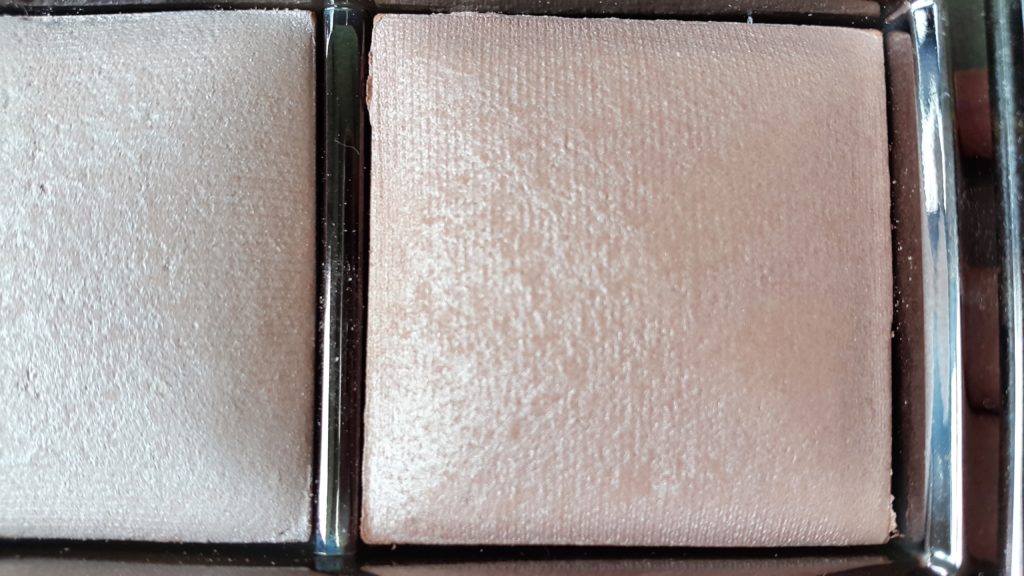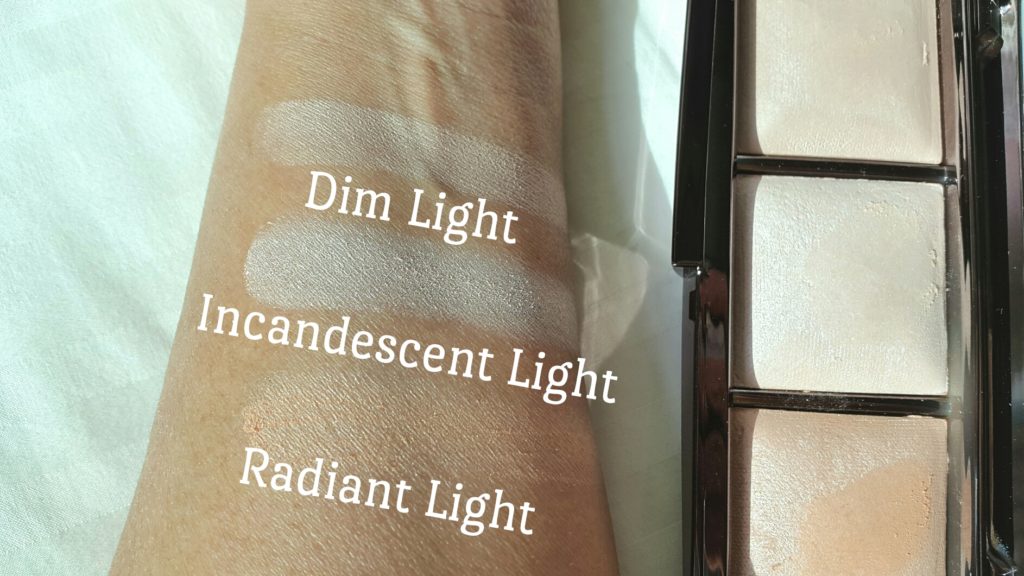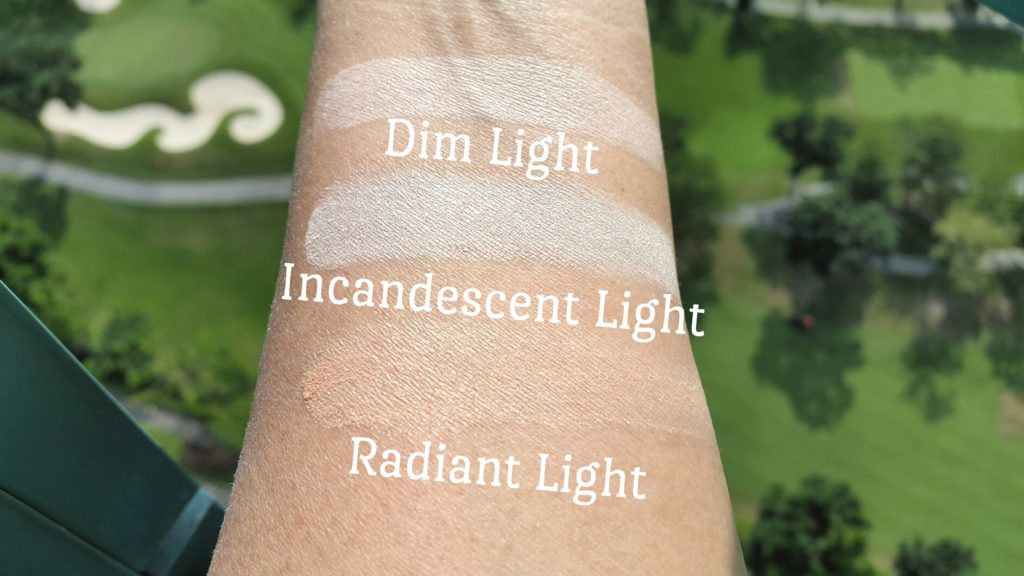 Overall, Hourglass Ambient Lighting Palette is a great bargain as we can try three powders that have a reasonable amount of product. I have been using it often but have hardly know. This will last forever. These powders do not provide any coverage or set your makeup. These are finishing powders the last step after the full makeup is done. It is strange when you dust it on the skin its like nothing but there is a huge difference in the different kinds of lights or even in flash photos. I love these powders and how it blurs the imperfections on my skin. It is one of the best highlighting powders that I have tried. We cannot mess up even if we use more. :-). It is a great palette to travel with. If you haven't tried the Ambient Lighting Powders it is a great way to try a few shades in one palette. There are many other palettes available the are too pretty to let go but are very pricey. 🙂
Have you tried the Ambient Lighting Powders? Which one is your favorite? Which is your favorite highlighter and finishing powder in general? What are your thoughts on the different  face palettes that are available by Hourglass? Let me know in the comments. 🙂
Until next time stay beautiful and keep glowing. 🙂