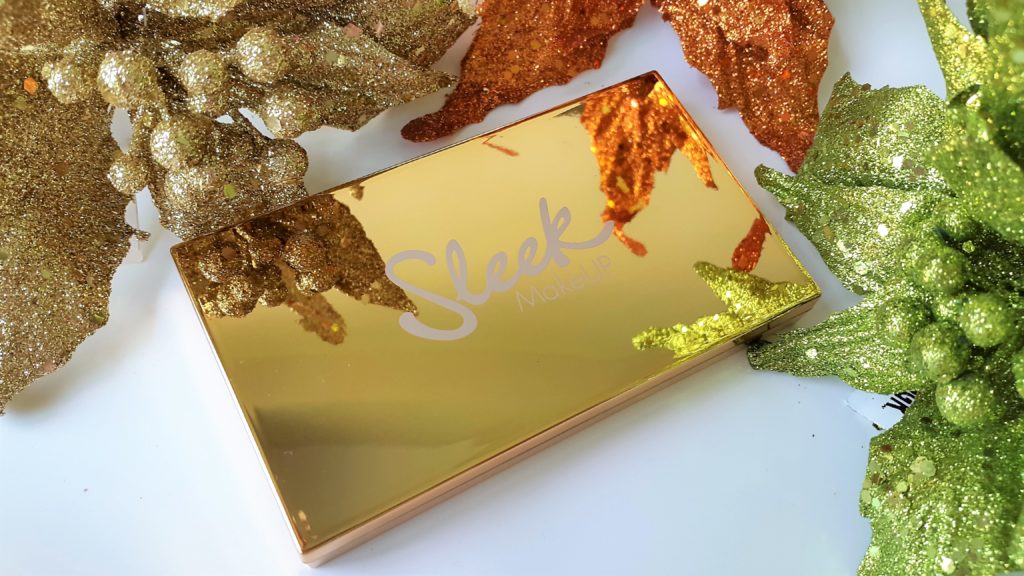 Sleek Makeup – Solstice Highlighting Palette
Happy Friday! My lovelies! Things are going great at my end hope you too are having a fantastic day. Well! Lets do some highlighting today. Highlighters are the current obsession of everyone including me. Everybody wants to have that glow from within look and there are other makeup lovers who want the intense highlighted cheek bones that is visible from the space. This trend is going no where. I am the one who likes subtle glow. I love highlighters and I want to own all the shimmering powders and highlighters in the world be it subtle or intense >:-) (just kidding). They look so pretty in the pan and I just love to stare at them (is there anyone else who likes to do the same? Let me know in the comments below).
There are so many highlighters available some are very pricey, some reasonably priced and some are less pricey. Today I want to talk about the less pricey one with the most luxurious feel, look and quality. This is none other than the Solstice Highlighting Palette by Sleek Makeup. This highlighting palette has been popular over the internet for a few years. Every time I saw this palette, it made me feel ugh! I need this! Its so pretty everyone needs to have it. After waiting for too long I got this beautiful palette.
The packaging of the Solstice Highlighting Palette by Sleek Makeup is a small, golden, shiny and compact with the brands insignia on the top. It is so reflective and looks luxuriously expensive. I absolutely adore this packaging and to be honest  the gold packaging was one of the reason to buy this palette. Just look at it, isn't it swoon worthy? Of course the product inside was highly rated everywhere. I was eager to add this beauty to my collection. At first, I thought the palette is a golden metallic compact but it is a plastic with magnetic closure. There is  a nice mirror inside. It is a perfect size palette to travel with. The beautiful glossy packaging attracts us as well as finger prints too :-).
Product Information – Solstice instantly enhances the complexion with a radiant glow, the highly pigmented metallic finishes create a gorgeous luminous sheen on the skin.
This versatile face and body highlighting palette suits all skin tones.
Includes two baked powders, one luxurious cream formula and one silky shimmer powder.
Inside the palette there are four amazing highlighting products three of which are powder highlighters and one is cream highlighter. This palette caters to fair to medium skin tones. There is a darker version of this palette for deeper skin tones too. There is a small brush included which is not bad but I am not a fan of it. The shades in the pan look quiet intimidating but when we swatch these are subtle and can be intense when layered.  I like the names of the shades too – Ecliptic, Hemisphere, Subsolar and Equinox (reminds me of the geography subject in school).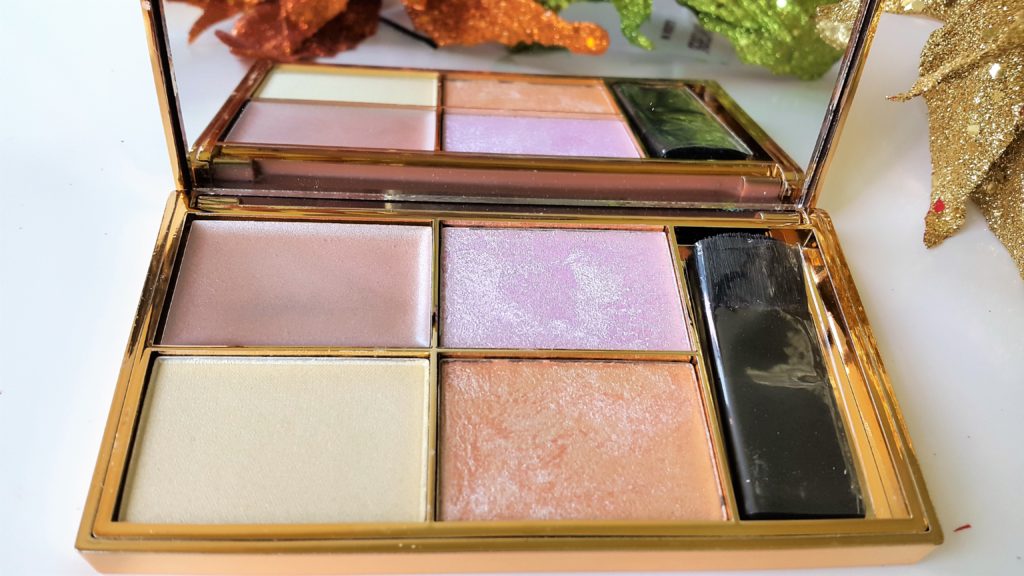 Clockwise Top Left – Ecliptic, Hemisphere, Equinox, Subsolar.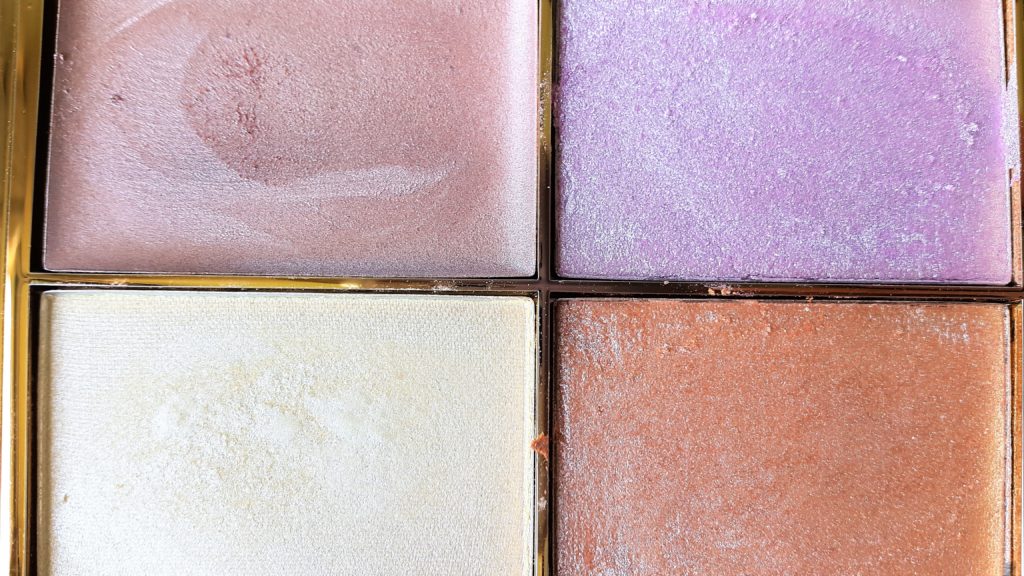 Clockwise Top Left – Ecliptic, Hemisphere, Equinox, Subsolar.
Ecliptic – is a cream highlighter which is a light-medium rose-y golden shade with some warm undertones. It has a pearl type sheen finish. The creamy texture helps to blend well on to the skin and does not look or feel greasy. This shade looks more natural and will suit light to medium complexions.
Hemisphere – is a cool toned lavender with a hint of pink and white reflection. It looks a little scary in the pan but on application it is not. It has that intensity while extremely wearable. We can see in the swatches. It is a bit dry in texture and imparts a nice glow and doesn't emphasize the pores and texture on the skin. There is a slight shimmer in it but is not glittery. This one is also for light to medium skin tones.
Subsolar – is a light almost champagne yellow shade with a pearl sheen finish with some greenish white reflective sheen which we can see at some angles. The texture of this one is very smooth. It gives the skin a subtle glow without emphasizing the pores and the natural texture of the skin. This shade will look great on fair skin gals.
Equinox – is a bright coppery peachy orange shade with metallic sheen. This shade is the most pigmented and the most reflective one in the palette. It imparts almost metallic foil like sheen ( look ) on the skin. perfect for medium to tan beauties.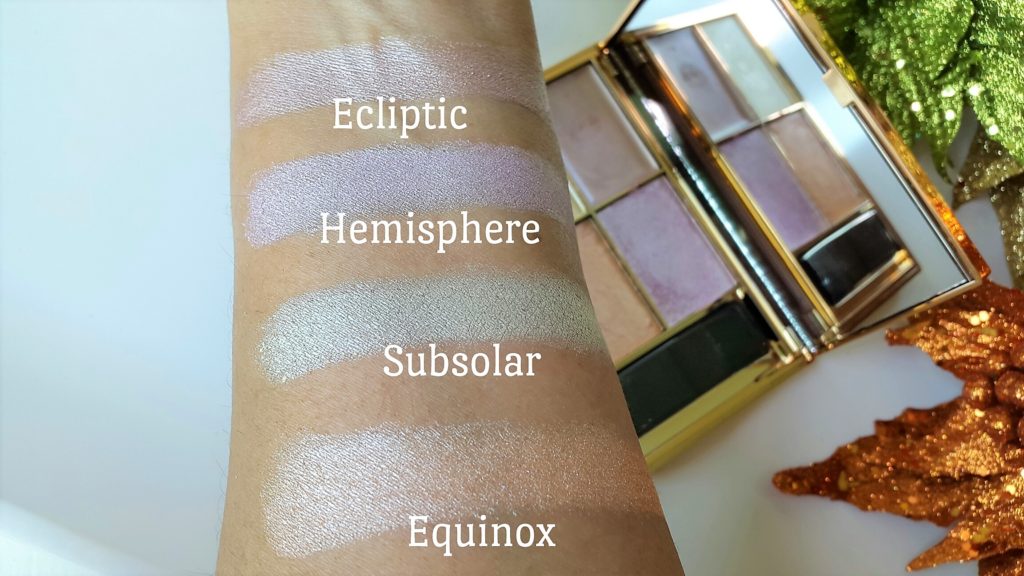 Swatches of the Solstice Highlighting palette – Indoors.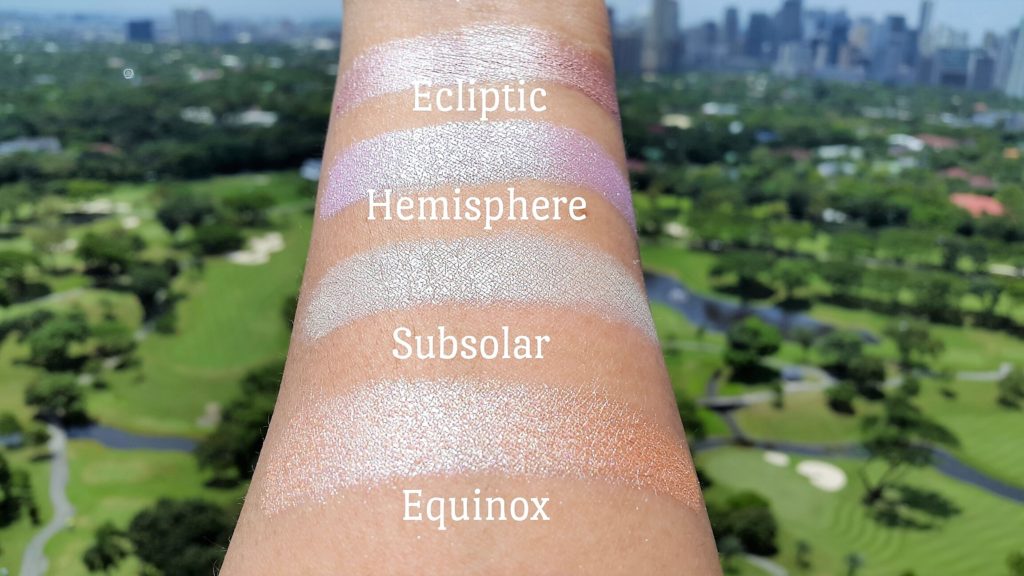 Swatches of the Solstice Highlighting palette – Outdoors
Overall, I love this beautiful Solstice Highlighting Palette by Sleek Makeup and can't get enough of this palette. Its one of my favorite drugstore highlighter. Everything here from packaging, to the shade selection, to the formula are just incredibly high quality. No wonder it has become the cult favorite of beauty lovers. These highlighters are super pigmented and have a great reflective sheen. These last a long time on the skin even on my oily skin. These can be applied sheer to look natural or bold for that intense look. These can be matched with the different makeup looks you are wearing. All the shades have that reflective white sheen with a tinge of pink, lavender, yellow and peach undertones that is very subtle. We can see the different undertones in swatches side by side. When blended, all the shades look quiet similar with a little bit of color. These are almost transparent but very reflective at the same time. I highly recommend this palette and is absolutely worth the money.
Which type of highlighters do you prefer subtle or intense? Which one is your favorite? What do you think about the Solstice Palette in general? Have you tried this palette? Let me know in the comments below.  One more thing what do you think about the picture I took? I am liking it a lot 🙂