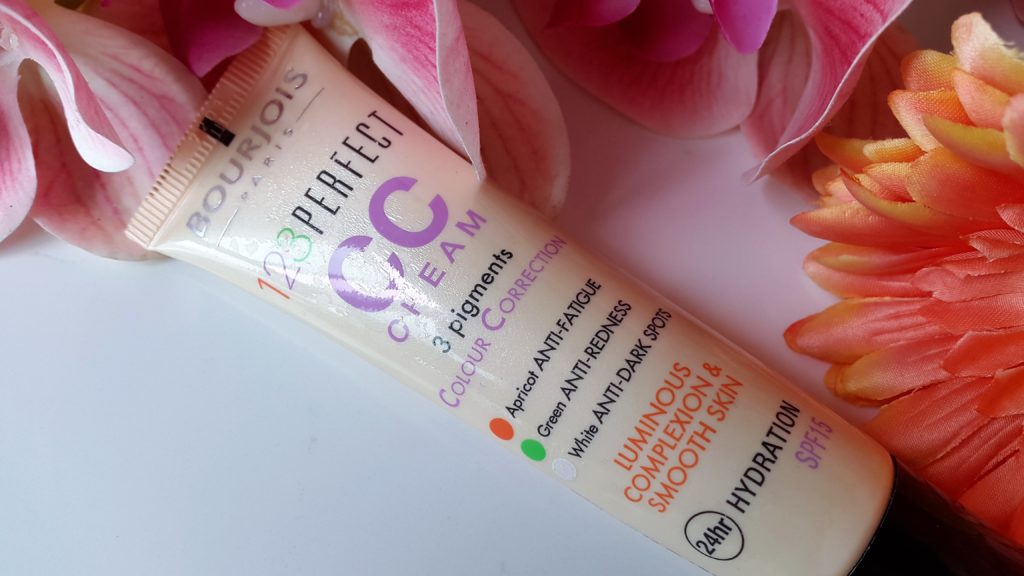 Hi!
BB creams and CC creams are doing the rounds for the past few years. These are light weight creams that offer some coverage, hydration as well as sun protection. I have been using some BB cream and CC cream as these are not heavy on the skin. But today I want to talk about my favorite CC cream that is always there in my makeup drawer. Bourjois 123 Perfect CC Cream. It is my holy grail face product that I have re-purchased a few times. I mostly wear light makeup, full coverage makeup is on rare occasions. For the light makeup, my go to product is Bourjois 123 Perfect CC Cream. Everyone is familiar with the term CC as in color correcting cream. CC creams come handy if we have some hyper-pigmentation on the skin, some redness, dark spots, discoloration, dark under eyes etc.
Product Description on the website – The skincare action of a cream + the colour correction of a foundation in one step.  
The next generation of foundation! Combining :  THE COLOUR CORRECTION OF A FOUNDATION : Thanks to its 3 colour correcting pigments that smooth away imperfections.
APRICOT pigments > anti-fatigue
GREEN pigments > anti-redness
WHITE pigments > anti-dark spots
+THE SKINCARE ACTION OF A CREAM :
24 hr hydration
SPF 15.
The packaging of Bourjois 123 Perfect CC cream is soft squeeze tube that is small, compact and easy to travel with.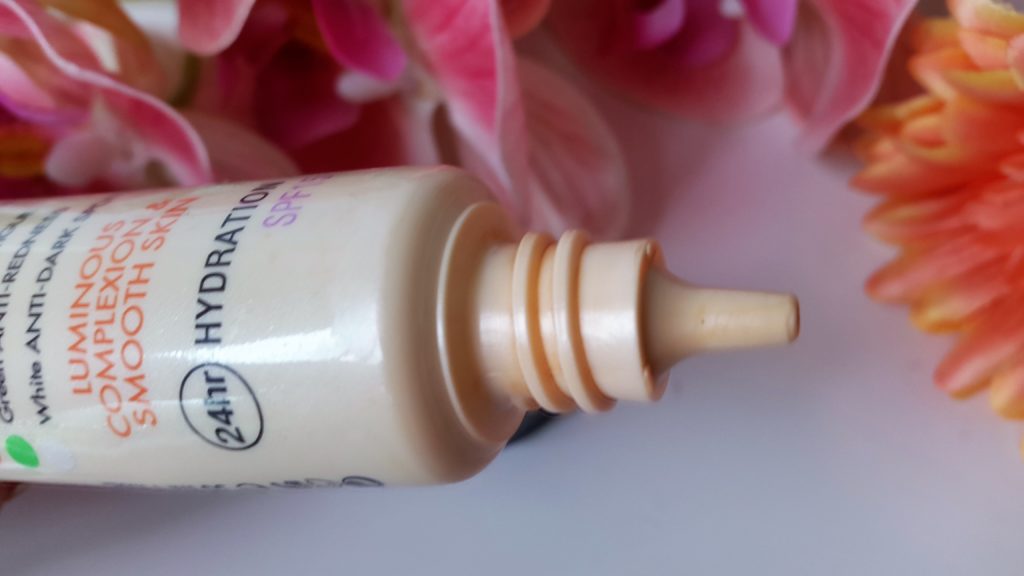 Bourjois 123 Perfect CC cream is basically a color correcting cream that is fast absorbing and light weight on the skin. This helps to moisturize the skin as well as provide some coverage that will look natural and skin like.
This CC cream has three color correcting pigments that work together to give a luminous and smooth complexion.
Apricot pigments take care to provide anti fatigue look. I really appreciate this as it helps to cover the tired under-eye circles when you don't have a good night sleep.
Green pigment is perfect to target the redness on the skin, the acne scarring etc. The green tint perfectly balances and neutralizes all the uneven tones on the skin.
White pigments present in the cream is for anti-dark spots or acne marks on the skin. It again balances and brightens the overall look of the skin making it more illuminated, youthful and refreshed. This also has SPF 15 which is fantastic, so you  don't have to add another layer of SPF. It is an oil free formula that also contains White tea which is renowned for its repairing properties. This CC cream also works as a moisturizer providing hydration all day.
The consistency of the CC cream is thin. On application it feels very creamy and moisturizing. It is not at all heavy and feels airy as if we are wearing a light tinted moisturizer. It blends very well into the skin giving a smooth complexion.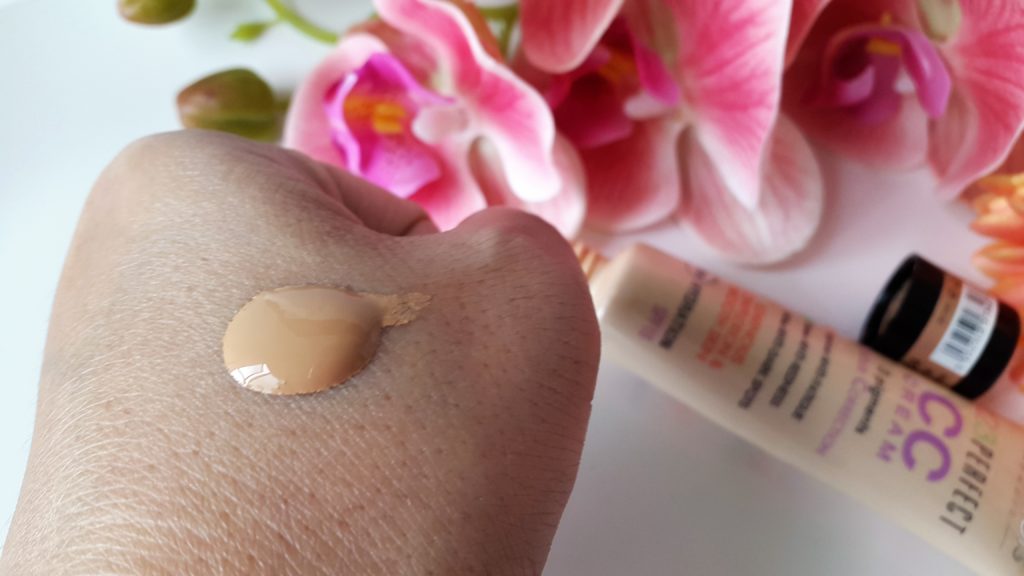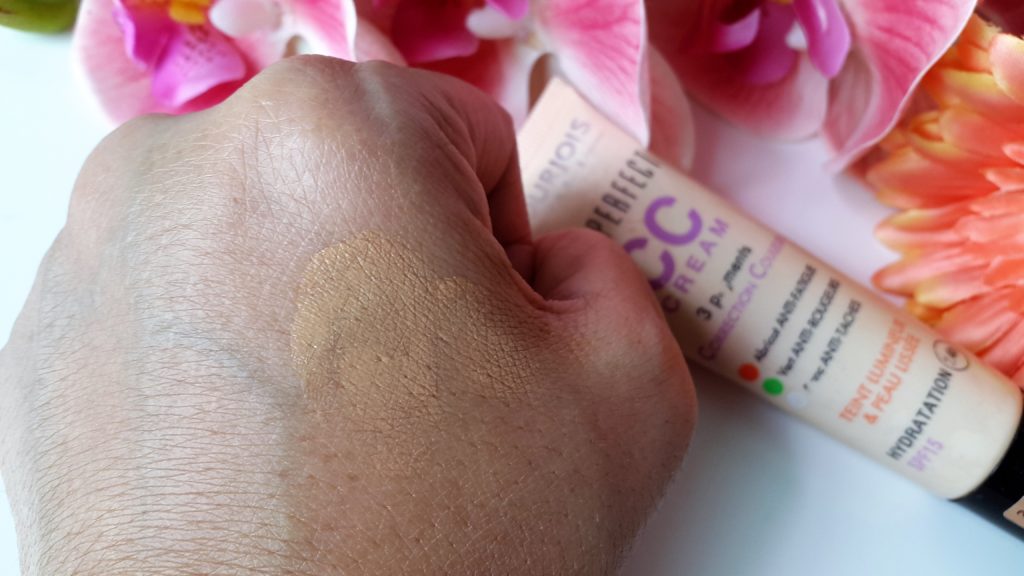 It gives a decent amount of coverage like light to medium which can be build depending on the amount product we apply. As it does some color correction we don't have to add layers of products to cover the flaws of the skin. Wearing this CC cream even under and around the eyes you rarely need any concealer. It has some luminous particles which makes the skin look more refreshed, dewy and awake, giving a radiant finish. It gives a demi-matte natural glow without looking too matte or too luminous. Having oily skin I avoid luminous face products.
It can best be applied using a damp beauty sponge or with your fingers. I find using a sponge helps to give even coverage whereas using fingers sometimes can look patchy if we use more product. It feels nice and comfortable. I see how the little redness that I have on my cheeks disappear. It lasts a long time even on my oily skin type. I wear a primer underneath if I want it to last all day.
Overall, this CC cream is a nice balance that looks like natural skin with a touch of glow. It is like all in one product that is a moisturizer, illuminator and protector with SPF 15 which also has some color correcting properties. The shade range is poor. There are only 4 shades available – Ivory, Light Beige, Rose Beige, and Bronze. I use the shade no.34 Bronze. I wish they had a better shade range because it lacks darker shades. I highly recommend this CC cream it is that good. 🙂
Do you use BB or CC creams? Which one is your favorite? Have you already tried the Bourjois 123 Perfect CC cream? What are your thoughts let me know in the comments.  Thanks for taking the time to read, until next time stay beautiful and shine. 🙂