Hey everyone! Wishing you all Happy Valentine's Day! Have a nice day :-).  Since today  is Valentine's Day I thought of posting something pretty and hearts on my blog.  You know how much we love these things. So I decided to review Physicians Formula Happy Booster Blush in the shade Natural.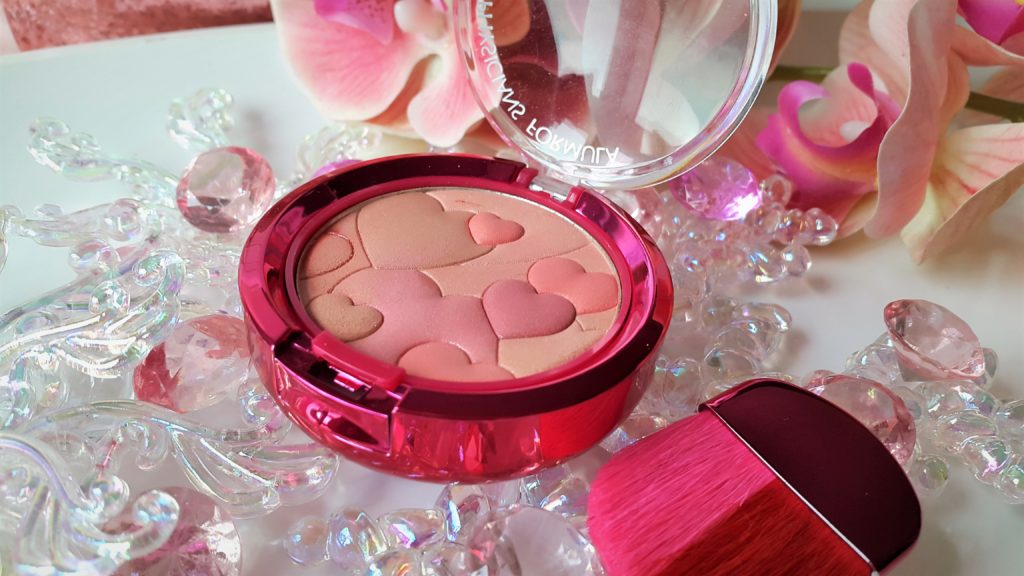 Product Benefits from the website – Ultra-soft and blendable blushing powder features a fresh and vibrant mix of blushing tones infused with a pop of color to create a healthy glow.
Multi-reflective pearls provide a soft iridescence to highlight contour and add radiance to cheeks.
Infused with our Happy Boost Blend, featuring Happy Skin and Euphoryl, natural plant extracts which have been shown to promote a feeling of happiness by mimicking the effect of Endorphins and helping protect the skin from environmental stress.
The sweet  scent of Violet provides a feeling of joy each time you apply.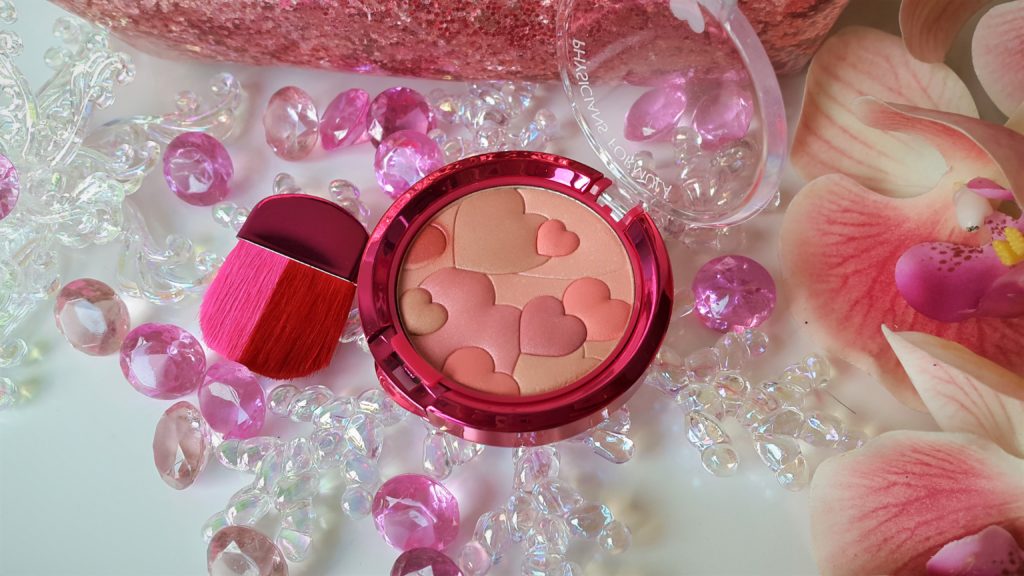 Physicians Formula –  is one of the renowned drugstore brand in the US. It is well loved for being very innovative and creative. They have a variety of makeup products that are great quality as well as beautiful to look at. I have known this brand for the 5-6 years since I started visiting US and exploring the beauty isles in the drugstores and Sephora. The offers "buy one get one half off" is even more tempting.
When I first saw the Physicians Formula Happy Booster Blush, I was floored by these beautiful blushes. I had never seen any blush with such pretty pattern on it. I was so mesmerized and fascinated by the heart embossed on it, eventually I had to buy. There was no way I would let it go. Just look at the pictures below and you will 100% agree with me. 🙂 Although,Physicians Formula is a drugstore brand it is on the pricey side. There are three shades – Rose, Natural and Warm available in the line. You can buy these from the Physicians Formula Website but I bought the shade Natural from my favorite shopping website Amazon.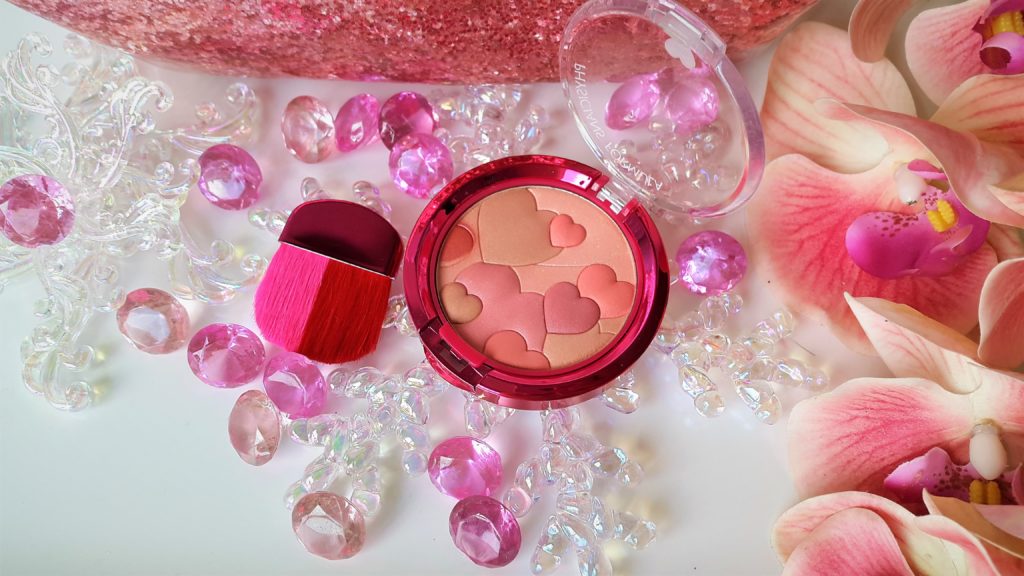 The packaging of the Physicians Formula Blush is absolutely gorgeous. I love the pink, glossy, shiny and metallic compact. There are two compartments in the compact. One for the product and the other has a tiny mirror and a pretty little blush brush. The overall look is stunning. However, some may find the packaging a little bulky, but I am not complaining. The mini brush is just pretty to look at. It is too thin and does not deposit color evenly on the cheeks but on the go you can make it work if necessary. The tiny mirror is cute. Actually everything about this blush is pretty and cute. I hope you agree. 🙂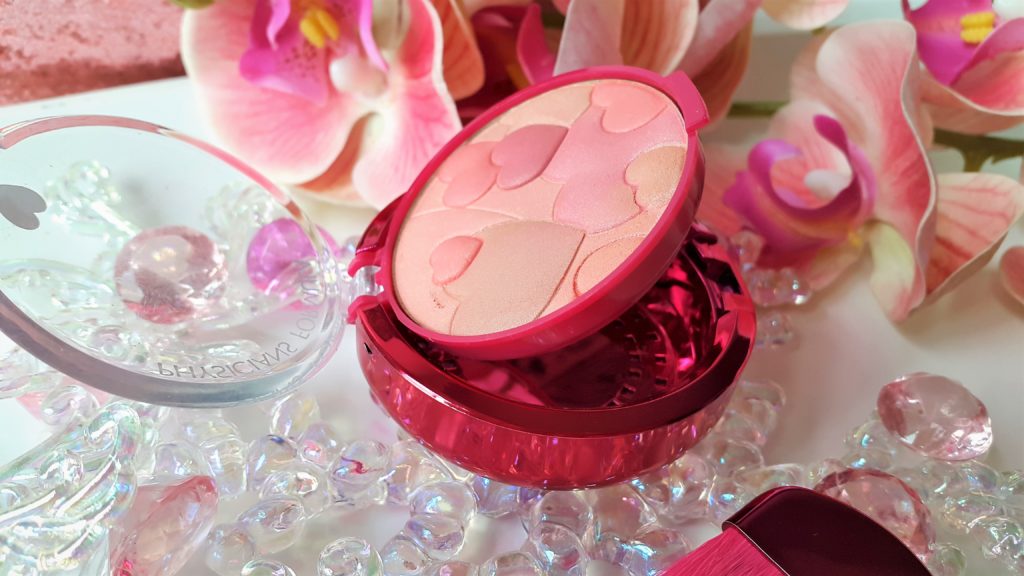 The formula of the blush is great. It is very soft and easy to work with. It feels creamy and smooth. As for the pigmentation it is not as pigmented as my Elf Studio Blush Palette in Dark or even the Maybelline Facestudio Master Blush Color and Highlight Kit. The happy booster blush is a bit sheer. It can be easily layered to give intense color to the cheeks. I love just a wash of color to give that soft flush to my complexion that looks natural. It also adds a pretty sheen to the cheeks and blends well with the highlighter. The lasting power is pretty well like 3-4 hours on my super oily skin eventually fading away. However, the lasting power will be longer on dry skin.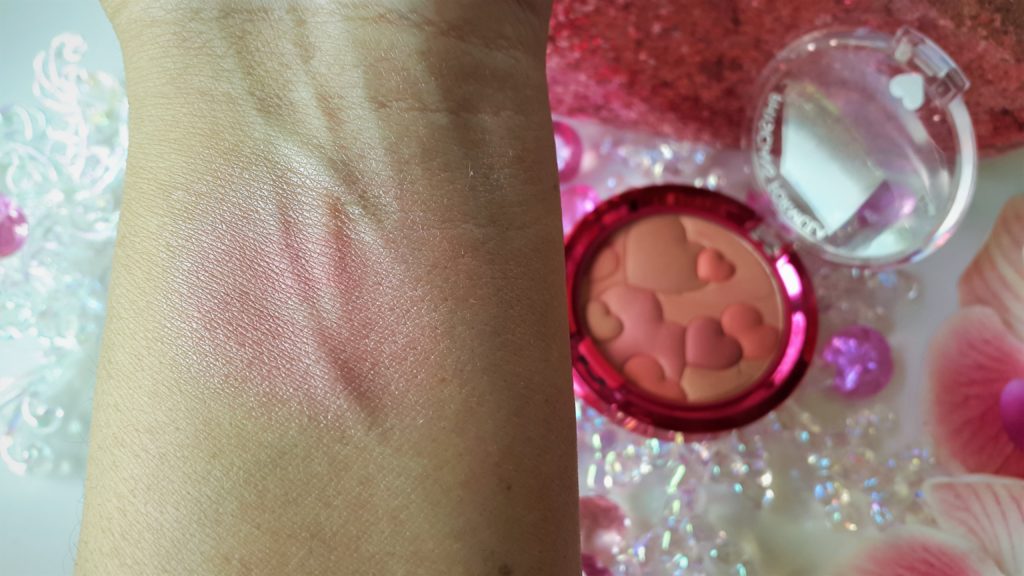 Physicians Formula Happy Booster Blush in the shade Natural is a beautiful everyday kind of blush. There are various shades and colors in the pan like pale pink, deep pink, a peachy shade, beige shade in the form of tiny little hearts. This gives the most natural peachy pink color to the cheeks.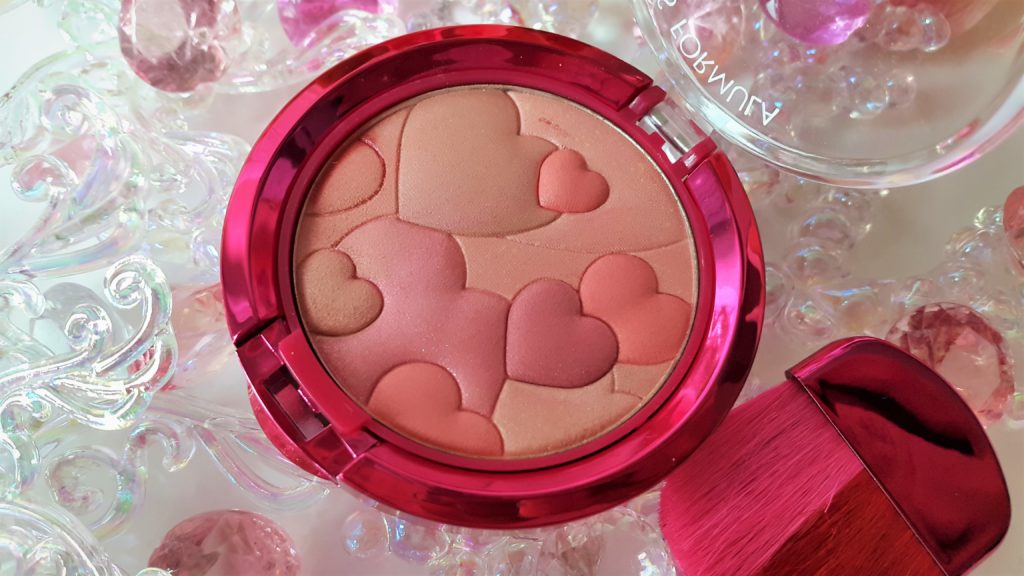 Overall, the Physicians Formula Happy Booster Blush is one of the BEST blush that I have purchased. All the shades in this line are pretty and perfect for any skin tone. It depends on our preference if you like a pink blush or a coral or a very natural looking blush. I like how unique this blush is. We can easily adjust the intensity of the blush. It depends on your preference on how light or dark you would like the blush to appear. We can concentrate the brush on that part of the compact and get the desired color. It gives a soft, satiny, luminous and glow-y looking skin. I highly recommend this blush and will be adding the Rose and the Warm shades to my collection. I hope they never discontinue this blush. Just the look of this blush actually boosts the mood.
Have you tried this blush? What do you think? Have you tried any other product by Physicians Formula let me know in the comments. 🙂
Until next time be happy and enjoy your Valentine's Day! 🙂