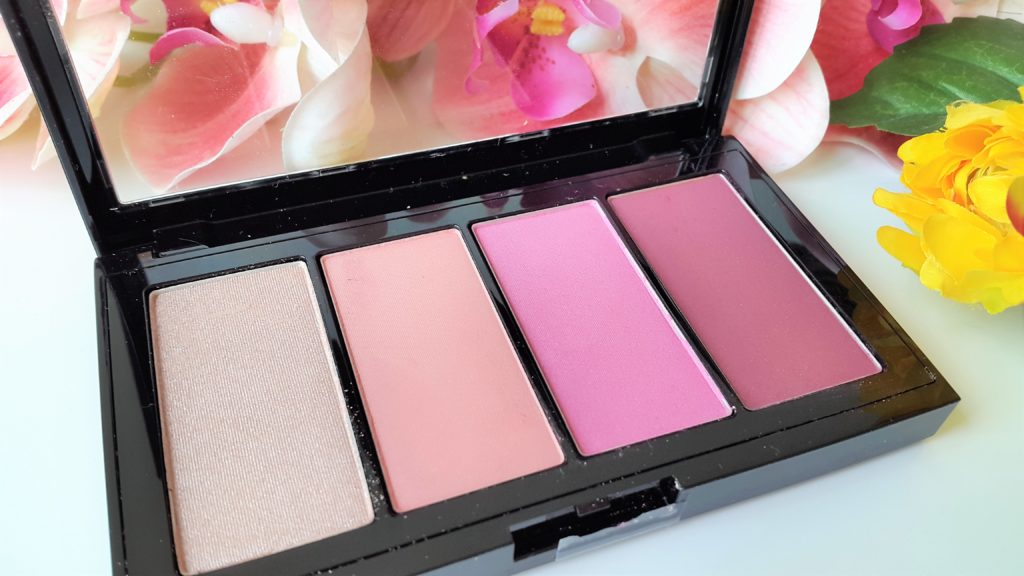 When Maybelline released the Master Blush Palette I was drawn towards it for the distinct blush shades that are included in this palette. Later this blush palette started doing rounds on social media and YouTube. As usual it was difficult for me to find this palette, eventually I saw it in Target and grabbed it. Yes! 🙂
Product description – Facestudio Master Blush Color & Highlight kit delivers unlimited artistry in a beautifully curated collection of blushes and highlighter for a versatile cheek palette.
Go beyond the highlight for vibrant and dimensional statement cheeks. Maybelline's color and highlight kit allows you to blush your own way. Use each shade alone or mix and match to create a custom cheek color.
The packaging of Maybelline Master Blush Palette is simple, sturdy and travel friendly, quite similar to the other palettes that Maybelline has released. It is a small black compact with transparent lid so we can see the product. But the downside is we do not get a mirror, which comes handy while we are travelling. Personally, I prefer having a mirror in my palette. Overall, the packaging is nice and sleek.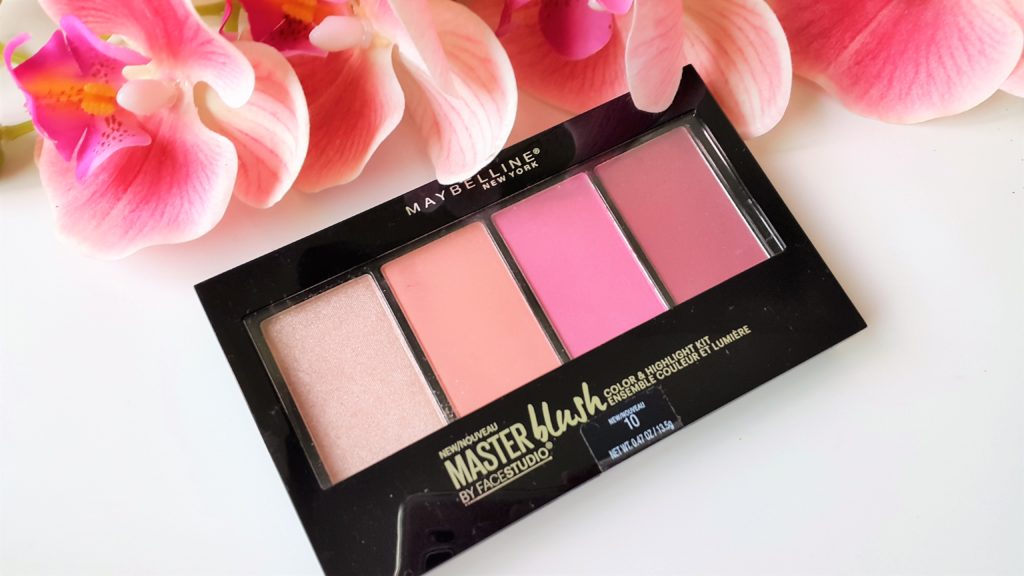 The Maybelline Master Blush Palette incorporates four shades – three distinctly different blushes and one highlighter. This palette has all the shades of blushes we basically will need. We get a variety in this palette like a peachy-pink , a cool toned pink and a plum-berry shade and it also includes a highlighter. This I think makes this palette versatile.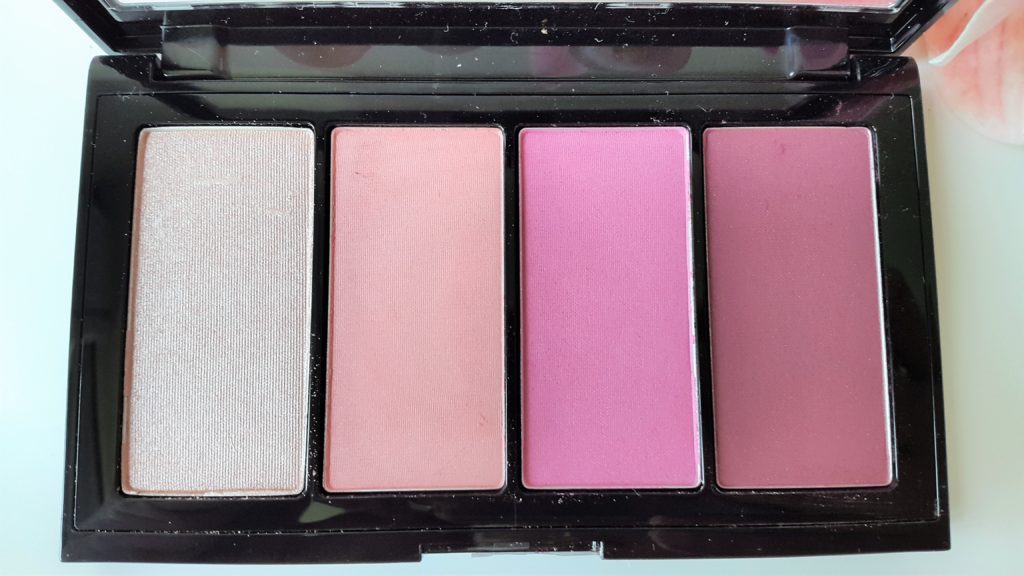 I like that all the blushes are mostly matte but I feel like there is a little bit of satin finish coming off of the plum shade. I don't notice that a lot on the skin, when applied but in the concentrated swatch I see a little. But all in all its a matte blush palette with a glow-y highlight.
All the blush shades are extremely pigmented and last a long time on the cheeks. Even though these blushes feel a little powdery, these swatch and apply beautifully on the skin. We have to be careful and be light handed due to the high pigmentation of the blushes. I think this is a palette for everyone from fair to medium to deeper richer skin tones. Besides we can mix and match the shades together to get a unique custom shade that we like. The peachy-pink shade gives a natural glow to the cheeks.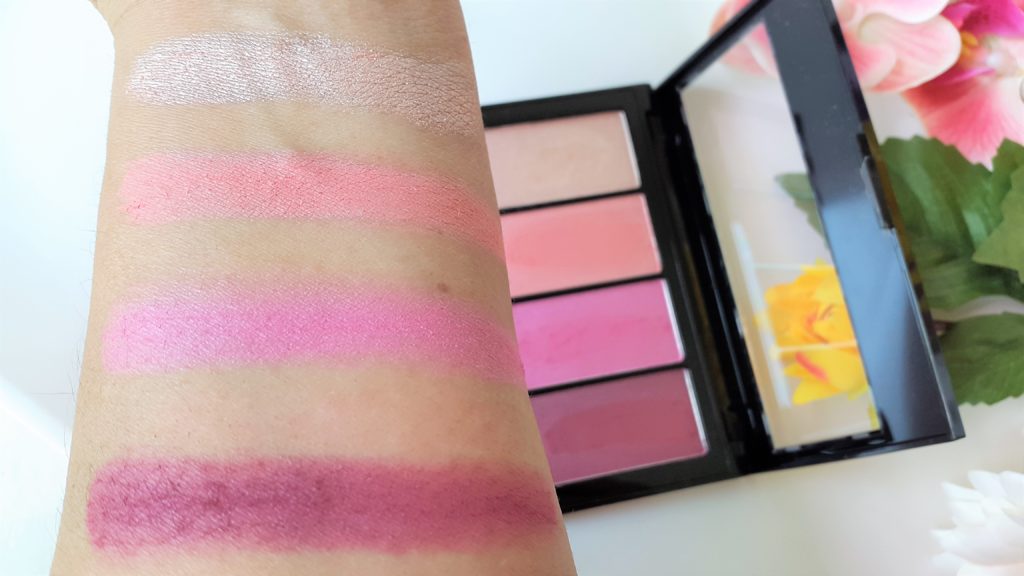 The highlighter in this palette is more of an illuminator. When we swatch, it feels a bit dry and chalky but on the skin it applies beautiful giving that lit from within glow to the skin. This is buildable to get that intense glow as well. I see this shade of highlighter can really brighten up a lot of skin tones. This can appeal to  a wider audience – one who want a subtle glow to ones who like that intense highlight.
Overall, a great palette with such varied blush shades and a nice highlighter. This will flatter any and every skin tone. The blushes can be mixed to get some unique blush shade that will suit pretty much any look. A nice palette to play with. I highly recommend this palette as it is relatively affordable in price and will last a long time for the amount of product we get in the palette.
Have you tried this palette? What are your thoughts about it? Let me know in the comments. 🙂
Until next time stay glow-y and keep blushing! 🙂