Hi Beautiful! Hope you are having a great day. Today lets talk about another blush palette, that is very inexpensive and great. The Elf Studio Blush Palette in the shade – dark that I got  when I visited  Target. I love going to Target by the way. 🙂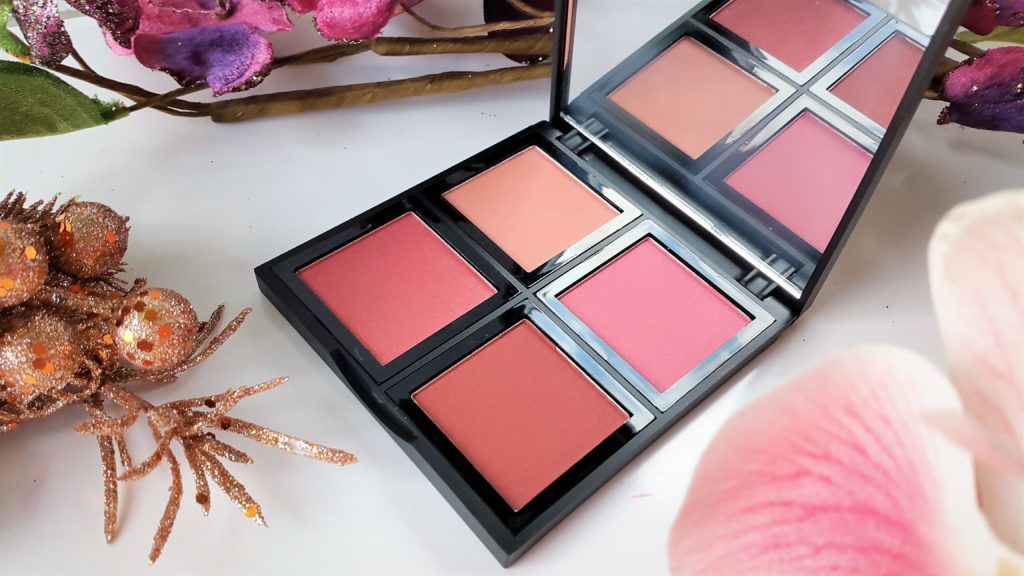 Product Details – Enjoy 4 complementing shades that allow you to mix and match to create different looks. Create a beautifully pigmented look that lasts all day.
The Packaging is a sturdy and flat black rectangular plastic case with a matte feel to it. The packaging looks classy and chic. There is a full size mirror in the compact which is great. There are four decent sized pans of blushes placed inside the compact. These pans are removable which makes this packaging unique and travel friendly. Elf has a few similar sized compacts for different products like blush, contour, highlighter. If you own these various palettes, it is easier to pop out the pans and place your favorites and customize your palette according to your needs. Its like you are creating your own custom four shades palette. It's such an impressive and genius idea. Can't believe all this costs only $6. The blush palette comes in two shades – Light and Dark. I got the dark one but looking at the shades and the quality, the Light palette will soon join the party.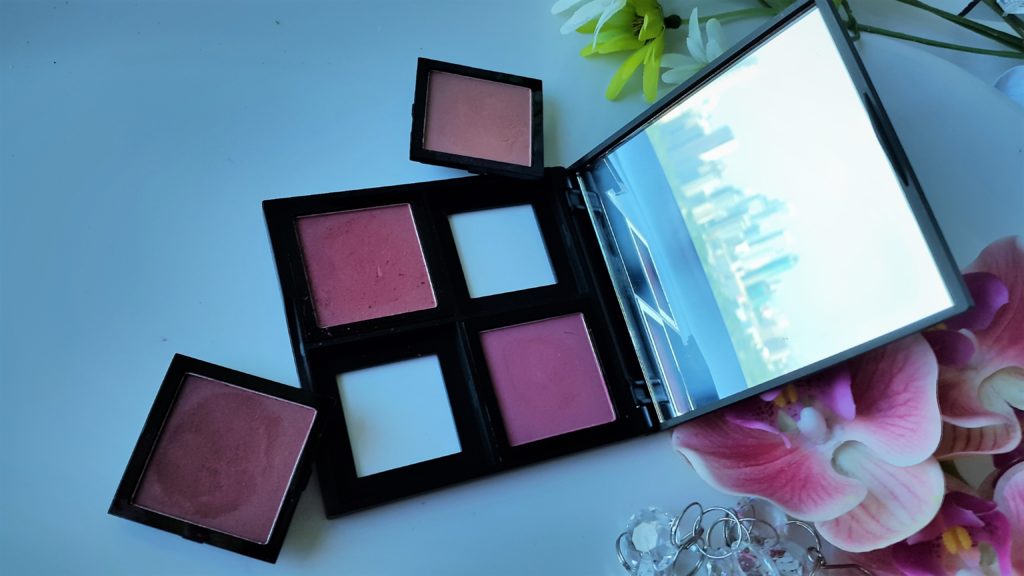 The Elf Studio Blush Palette consists of four shades of blush in the compact. There are three matte and one shimmer shade. The shades are from pretty peachy pink to dark rose-y red.
The color pay off of all four blushes is SUPERB. I don't think I have ever seen a blush that has this level of pigmentation, it's insane. The four shades of blush are a dusty peach which is matte, a raspberry pink which is again matte finish. The third shade that is the left one below is a rusty brick reddish shade with some gold shimmer. However the shimmer particles don't show up much on the skin. The last shade brownish red is also matte. The blushes in the dark palette will suit the medium to deep skin tones. Fair ladies can also use but a very-very light hand or go for the light palette.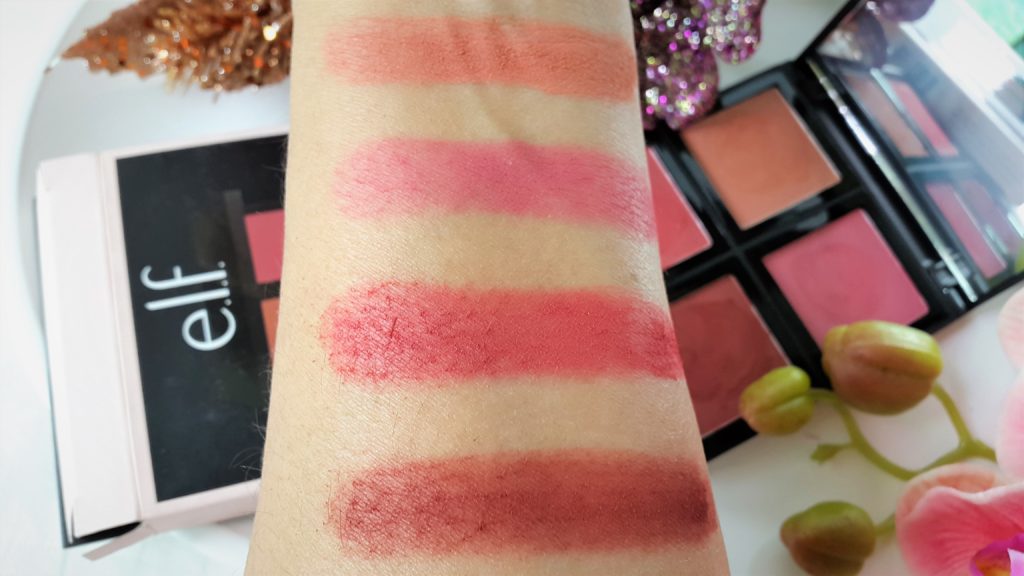 The texture of these blushes feel very smooth and silky to touch. The top layer feels dry when we first use the blushes, but after we get past the top drier layer we get to the actual smooth formula. They blend very well. These are already very intense blushes but these can be layered well, which will not be needed. The formula is soft enough to make for smooth application without any fall out. The staying power of these blushes is impressive even on my oily skin. These last 5-6 hours and fade well. This will last longer on less oily skin beauties.
Overall, the Elf Studio Blush Palette – Dark is a superb blush palette to try. The pigmentation, the color selection, the smooth and silky texture, 3 mattes out of four and the price point. The quality as well as the packaging is great. We can mix and match the blushes and create some nice shades. Elf Cosmetics is also cruelty free and vegan. There is nothing negative about this blush palette. These are just superb. If you have not tried it or have been ignoring it, I suggest you try. Sometimes, I feel when we can get such amazing products at such low price why go for higher end brands and waste money. Most of you must already own this palette, it has been around for a very long time and is absolutely loved by many. I am always late to the party 🙂
What do you think about this palette? Have you tried it already?
Until next time keep blushing, and stay bright and beautiful. 🙂