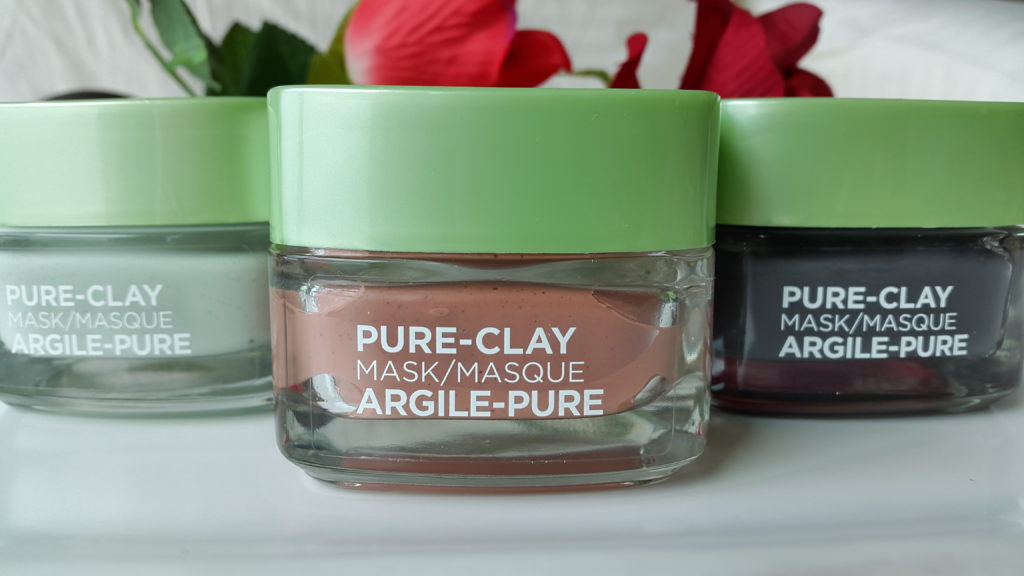 Hey everyone! Welcome to another post!
Masking is what I do on a  regular basis. Since I don't wear much makeup everyday, I "may" skip my regular skincare routine but masking is a thing that I enjoy and makes me feel I am doing something for my skin. Learning about new masks available in the market makes me feel YAY!  When I heard L'Oreal came out with the Pure Clay Masks that cater to different needs of the skin I was very eager to get my hands on them and I was able to when I last visited US. Firstly because it was L'Oreal and secondly clay masks love my oily skin :-). Earlier there were 3 variants in the Pure Clay line and recently there is one more addition. I have already reviewed the Pure Clay Mask – Detox and Brighten and Pure Clay Mask – Purify and Mattify.  Here I want to talk about the L'Oreal Pure Clay Mask – Exfoliate and Refine. The orange color one.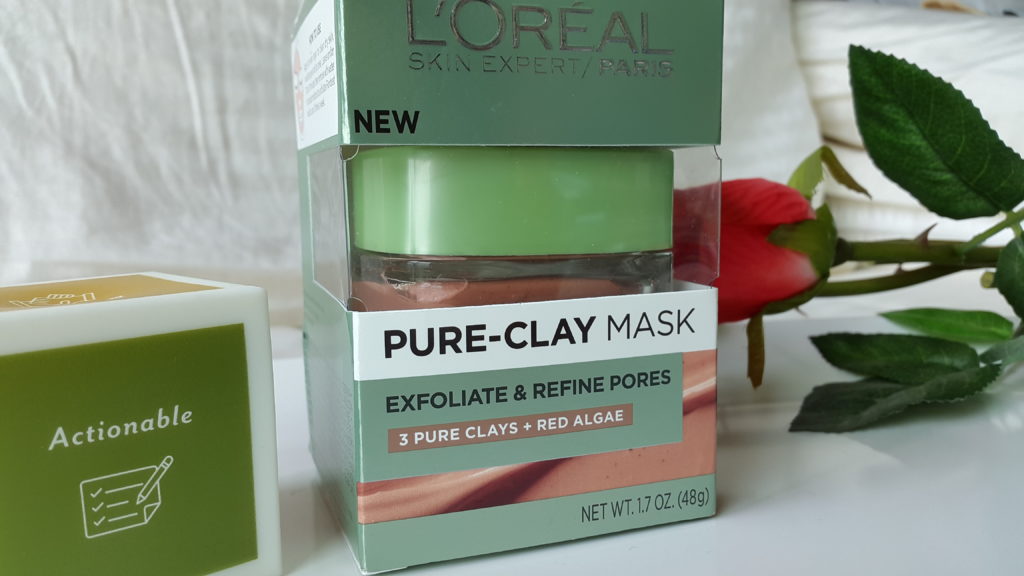 Product description on the website –  3 Pure Clays and Red Algae. Exfoliate Dead Skin Cells. Unclogs and Tightens Pores.   Indulgent. Transformative. Perfectly Clean. L'Oreal Paris skin experts have created a super-charged pure exfoliating clay mask enhanced with Red Algae Extract to exfoliate and refine your skin in just 10 minutes. Our unique and efficacious formula provides a multi-sensorial, fragrant experience while potent pure clays and volcanic rock to exfoliate dead skin on face and smooth surface imperfections. Exfoliate and Refines Pores Pure-Clay Mask addresses rough skin and deep clogged pores on face to reveal a polished, pore-minimized and smooth complexion. Immediately skin texture appears refined and smooth. Pore are visibly minimized. Facial pore cleansing removes dead cells, dirt and oil from skin. Imperfections are less visible. Not only will skin feel as though it can breathe, it will be healthy looking with a beautiful glow.
Well! who doesn't want a glowing skin. The L'Oreal Pure Clay Masks come in 4 variants. All have the base of 3 different clays – Kaolin, Montmorillonite and Moroccan Lava Clay and one other ingredient. The Exfoliate and Refine Mask contains 3 clays plus Red Algae.
Kaolin – kaolin is a natural clay that absorbs impurities and excess sebum. It is ideal for acne-prone skin, reduces inflammation, redness and swelling thus soothing the skin.
Montmorillonite – Montmorillonite clay helps to eliminate the imperfections on the skin. It also draws out impurities and has a tightening effect on the skin.
Moroccan Lava Clay –  Moroccan Lava Clay also known by many names like Rhassoul Clay, Red Clay as well as the Red Moroccan Clay, helps to clarify complexion. It evens out the skin tone, reduces breakouts and blackheads and increases the elasticity of the skin.
Red Algae – Red Algae is a plant extract with antioxidant properties – that enhances the texture of the skin making it smooth and plump.
The packaging of the L'Oreal Pure Clay Masks is beautiful and sophisticated. It feels luxurious to hold the glass jar. It has a plastic stopper and light mint green lid. I wish they would have color-coordinated the lid or the outer packaging with the mask inside the jar. Of course we can see the mask through the glass jar but it needs a little concentration while picking a particular one from the isle in the store. As the outer packaging of all the masks is the same. I hope it makes sense what I am trying to say. 🙂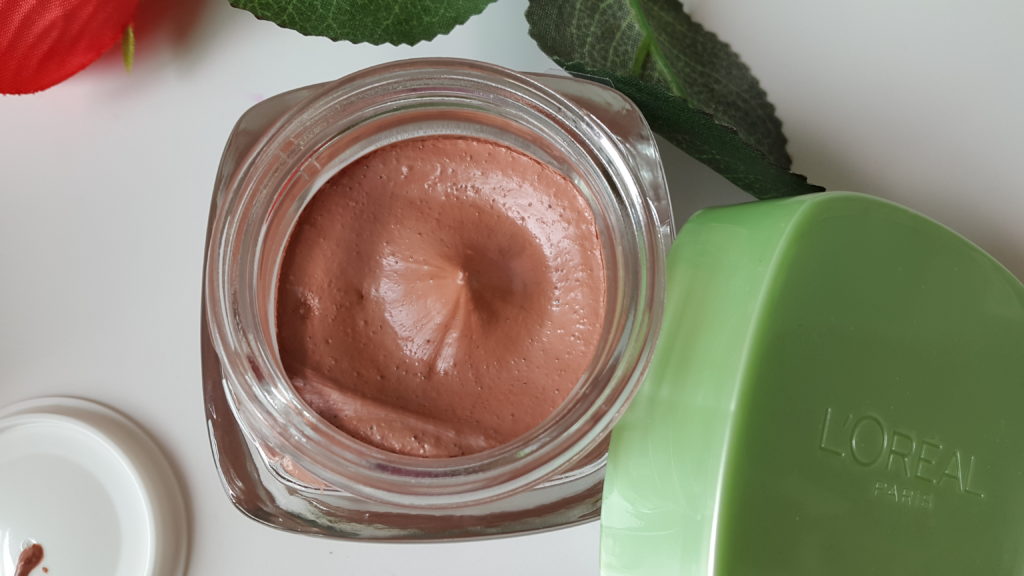 The L'Oreal Pure Clay Mask – Exfoliate and Refine is a reddish- orange colored mask. The consistency of this mask is not too thick nor too creamy its just right. ( The Detox and Brighten one is a little more smooth and glossy) It also contains some volcanic rock particles (sounds harsh but it is not) that helps to exfoliate the skin. It  reminds me of the Sephora Mud Mask which is thicker in consistency and has those grainy bits for exfoliation.
The application of this mask is easy. I usually use a spatula to scoop out the mask and apply with my fingers. It is less sticky and glides easily on the skin. When we are scooping the mask out of the jar it feels thick and heavy. As soon as it comes in contact with our skin it seems as if it melts. It is easier to spread the mask into thin or thick layer as you desire. I leave it on fro 15-20 minutes (in the packaging it is instructed 10 minutes) as usual and wash it off by lightly massaging. One thing I want to mention, I feel this mask does not dry completely. When we touch, it is dry but it does not feel that dry. It does not stretch the skin or tighten too much. I hope it makes sense. The Exfoliate and Refine Mask is a nice exfoliation treatment as home. It draws out impurities, tightens pores and smooths out the imperfections on the skin. If you have trouble with larger pores and rough texture this will help to smooth it out. Maybe the oily skin people may not like this mask as much in comparison to the other variants available in this line.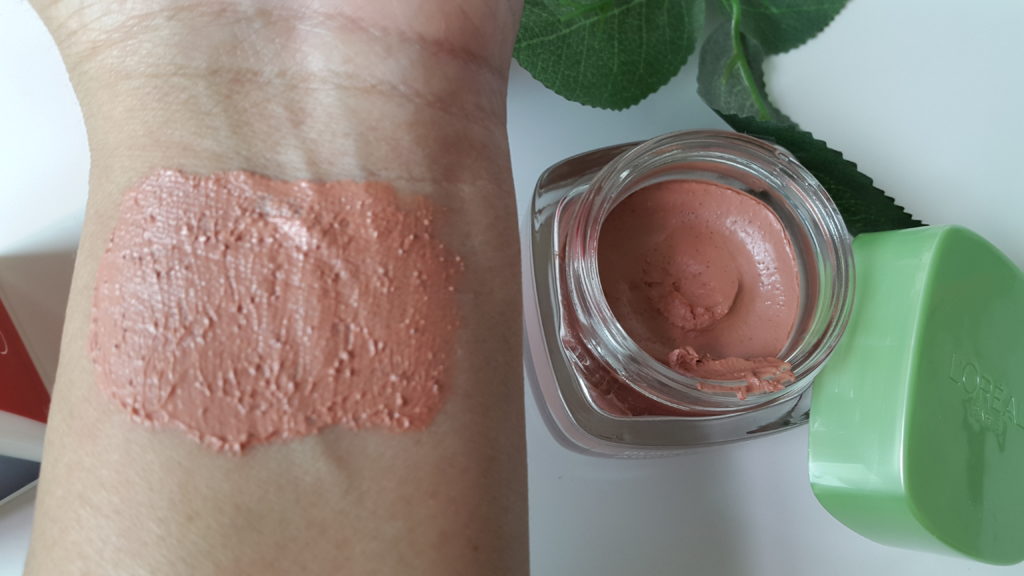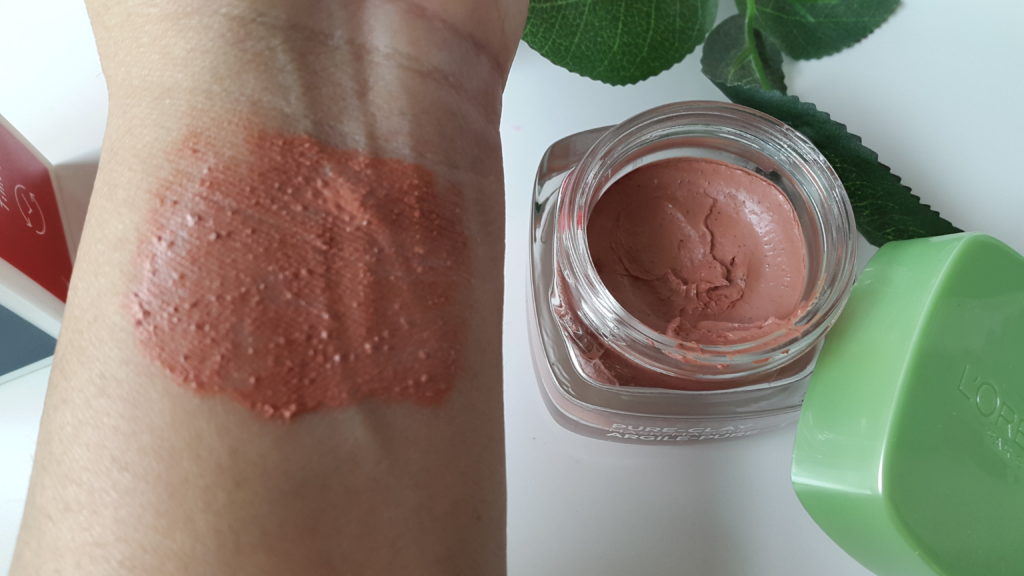 Overall, I like this mask and am very happy that the skincare brand like L'Oreal have come out with such great masks and are also reasonably priced. After using this mask off and on for a few months I feel my skin  is getting better with improved texture and I find a subtle glow. The Red Algae present in the mask provides antioxidants which protects the skin. If you are uncertain about purchasing the Pure Clay Mask I would suggest go and grab one that will cater to your skin issue. We don't need to run for high-end masks these are as that good. Well I am pleased to that these masks are now available in the Philippines, though these look like other variants with different ingredients than the ones I own, I will try these out when I run out of  my current masks or maybe even earlier I don't know :-).
Until next time keep masking regularly and stay bright and beautiful. 🙂
Have you tried any of the Pure Clay Masks by L'Oreal?
Which one is your favorite?