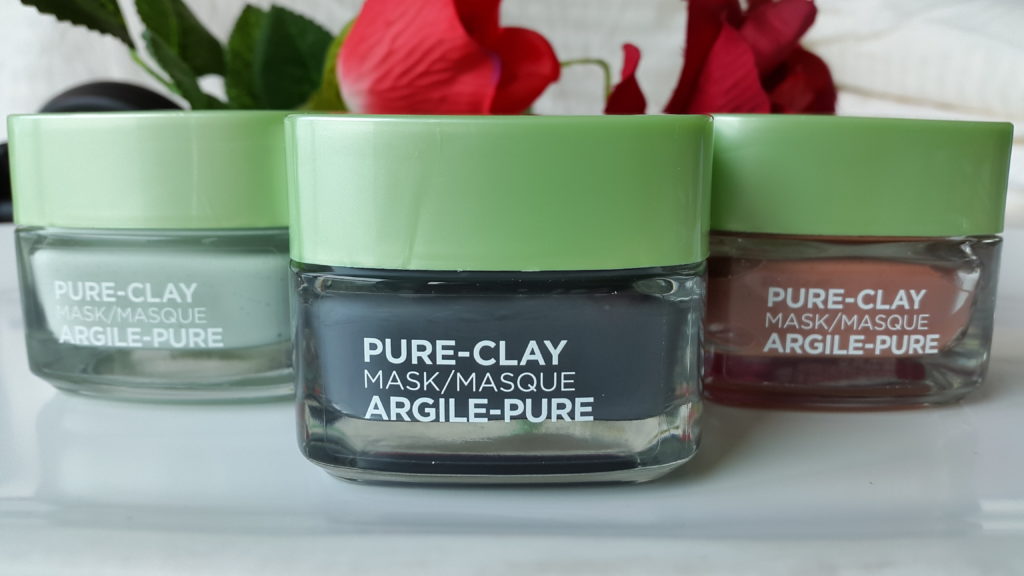 Hi! thanks for stopping by 🙂 Well today is the masking day again.
For the beauty enthusiasts that we all are I have a great passion for skincare. I have been trying out some home made masks using sandalwood, making masks at home using simple clay and rosewater, sometimes honey etc. I love trying out and experimenting with different masks and by doing this I learn what works best for my oily skin. But there are days when I feel lazy and and don't want to put in extra effort, I use ready made masks. Now a days there are so many masks that are available in the market that target a particular skin issue, which is easy and amazing to use.
I was very excited when my favorite brand L'Oreal Paris came out with some amazing clay masks. I got my hands on all the three mask when I last visited US. Having oily skin I have a special place for the clay masks in my heart as well as in my skincare drawer ;-).  The clay masks and the charcoal masks are getting very popular these days, of course for good reasons. Both these ingredients are great in drawing out impurities and clarifying the skin of all toxins. I have never used a charcoal mask before but I have heard great things a charcoal mask can do. Hence I was very intrigued to try this mask out. First there were 3 versions in this pure clay line when it was first launched but recently one more variant has been added. But today I want to talk about the L'Oreal Pure Clay Mask the Detox and Brighten ( the black one).
Product Description on the website – Transform skin in just 10 minutes. 3 Pure Clays and Charcoal. For Dull and Tired-looking skin.   Indulgent. Transformative. Perfectly Clean. L'Oreal Paris Skin Experts have created a super-charged Pure-Clay mask with the power and benefits of Charcoal to detoxify and illuminate your skin in just 10 minutes. Our indulgent and powerful formula for this detox face mask provides a luxurious experience while potent pure clays and charcoal act like a magnet to clean out pores and draw-out and capture deep impurities (such as dirt, oil and pollution). This creamy, non-drying formula leaves skin feeling clean, velvety and re-balanced. Detox and Brighten Pure-Clay Mask addresses your dull, tired skin to reveal a purified, even and radiant complexion. Immediately, skin looks brighter with a healthy glow. Deep pore cleansing-dirt, dust and pollution are removed from the skin. Skin's complexion looks fresher and more even. Use After Use, skin is clean as if detoxified. Skin feels as though it can breathe better. Skin is healthy looking and more beautiful.
The L'Oreal Pure Clay line of Masks come in 4 variants.  I have already reviewed the  Pure Clay Mask – Purify and Mattify and Pure Clay Mask – Exfoliate and Refine.  You may check them out. All these masks have the base of 3 different clays – Kaolin, Montmorillonite and Moroccan Lava Clays.
Kaolin – Kaolin is  a natural clay that absorbs impurities and excess sebum. It is ideal for acne-prone skin, reduces inflammation, redness and swelling thus soothing the skin.
Montmorillonite – Montmorillonite clay helps to eliminate the imperfection on the skin. It also draws out impurities and has a tightening effect on the skin.
Moroccan Lava Clay – Moroccan Lava Clay also known by many names like Rhassoul Clay, Red Clay as well as the Red Moroccan Clay, helps to clarify complexion. It evens out the skin tone, reduces breakouts and blackheads and increases the elasticity of the skin.
Charcoal – Charcoal has this amazing property of drawing out impurities and oil from the pores. Eventually cleaning and detoxifying the skin deeply and brightening the  complexion.
The L'Oreal Pure Clay Masks are named differently according to what a particular mask does. The Detox and Brighten (the black one) is for dull and tired skin. It has all the three clays plus charcoal.
The Packaging of the L'Oreal Pure Clay Masks as well as the packaging of L'Oreal skincare and even makeup is very luxurious and beautiful. I love everything about L'Oreal. These Pure Clay Masks come in a glass jar with a plastic stopper and lid. The shape and the weight of the jar feels nice to hold.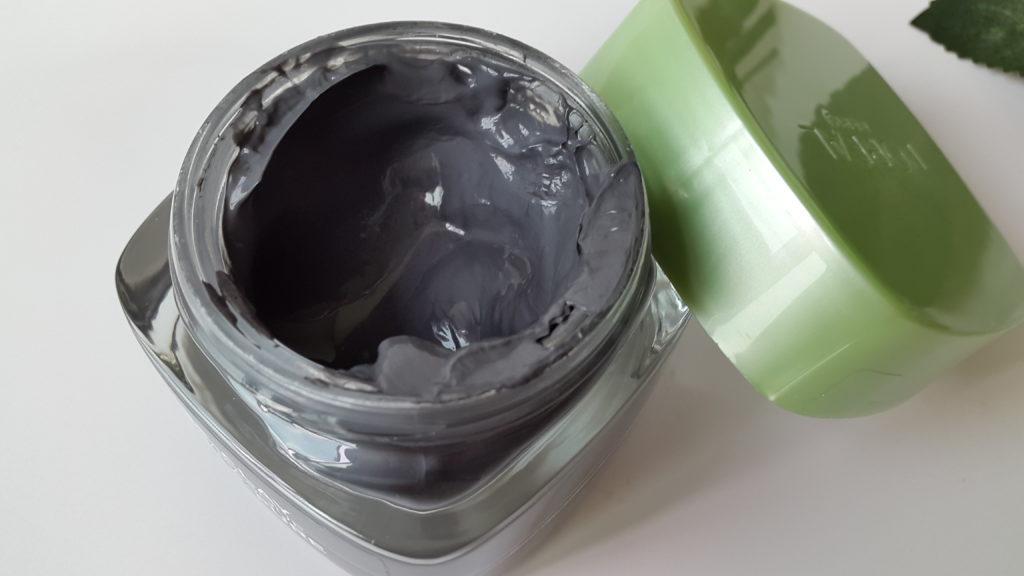 The consistency of the L'Oreal Pure Clay Mask – Detox and Brighten is very creamy and smooth. It shines like a gloss in the jar almost like it is some luxurious cream only the color is dark grey (almost black). It smells amazing. When we apply the mask on the face it glides on smoothly like butter. It dries fast in about 10-15 minutes but I like to keep my mask on for good 20 minutes.  It feels great to apply the mask and relax, while the mask is working to detoxify and clear the skin. After about 15-20 minutes when the mask is completely dry (it does not stretch or dry out the skin which is nice)  I wash it off and pat dry. Later my skin feels smooth and clean and has a subtle glow on first application itself. I like it when we see instant results. It makes the skin bright and beautiful. Regular use will brighten up the skin making it more radiant.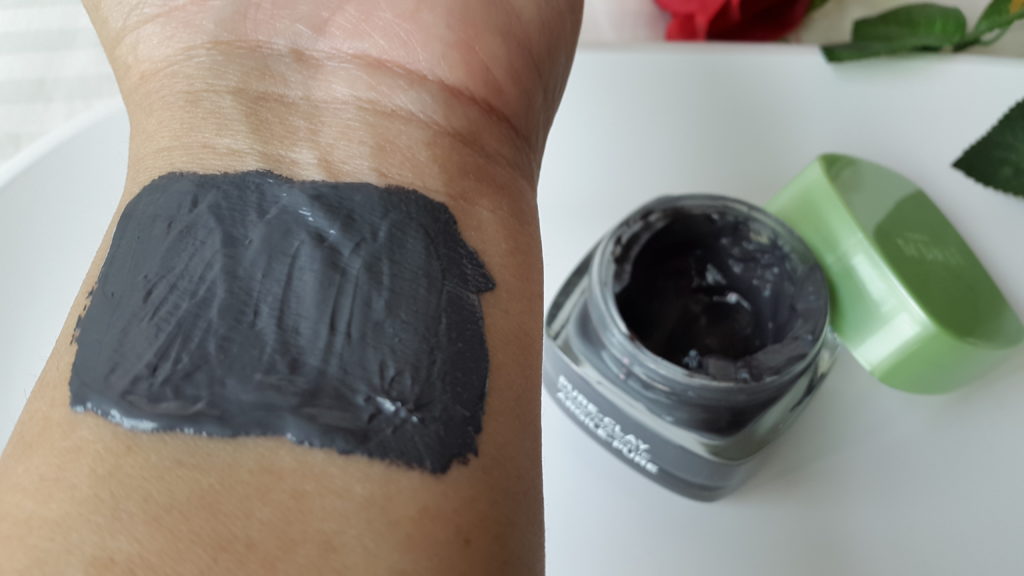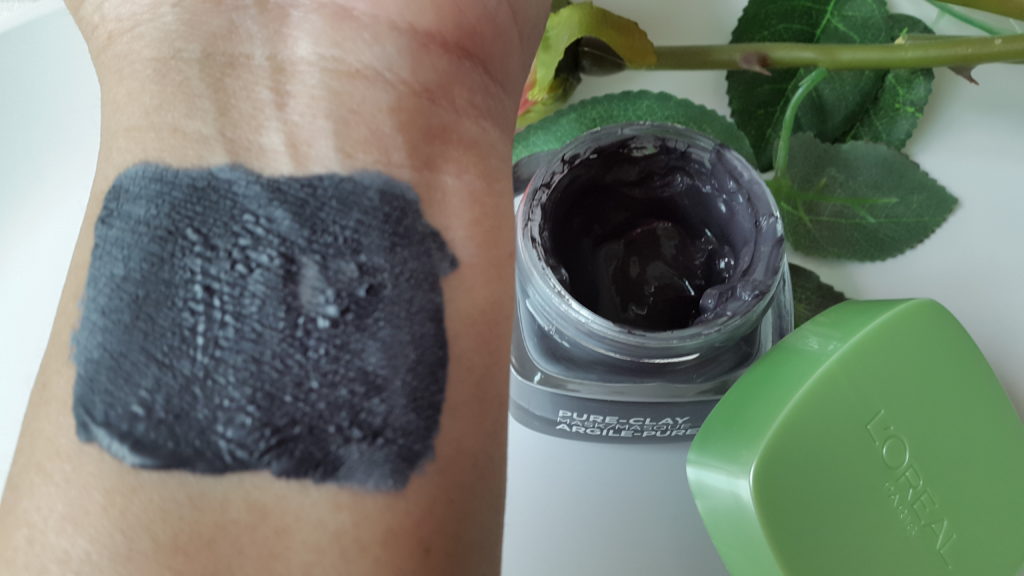 Overall, I love this Detox and Brighten Pure Clay Mask. I have been using it for a couple of months now and really like the results. It is best suited for the oily skin gals and guys. It reminds me of the Sephora Mud Mask and the Glamglow Mask in the white tub. The L'Oreal Pure Clay – Detox and Brighten is similar to the Sephora and the Glamglow one but not the exact dupe though. I will continue using this mask and highly recommend it to detoxify and brighten up your complexion. I am very happy that these masks are now available in the Philippines. I did some research and found that the Pure Clay Masks that are available here in the Philippines are different variants with different ingredients in comparison to the ones that are available in US and also in India. I guess I will have to try out and then decide if these are similar or totally different.  Until next time – Stay bright and beautiful! 🙂
Have you tried these L'Oreal Pure Clay Masks?
Which one is your favorite and which one suits your skin type?