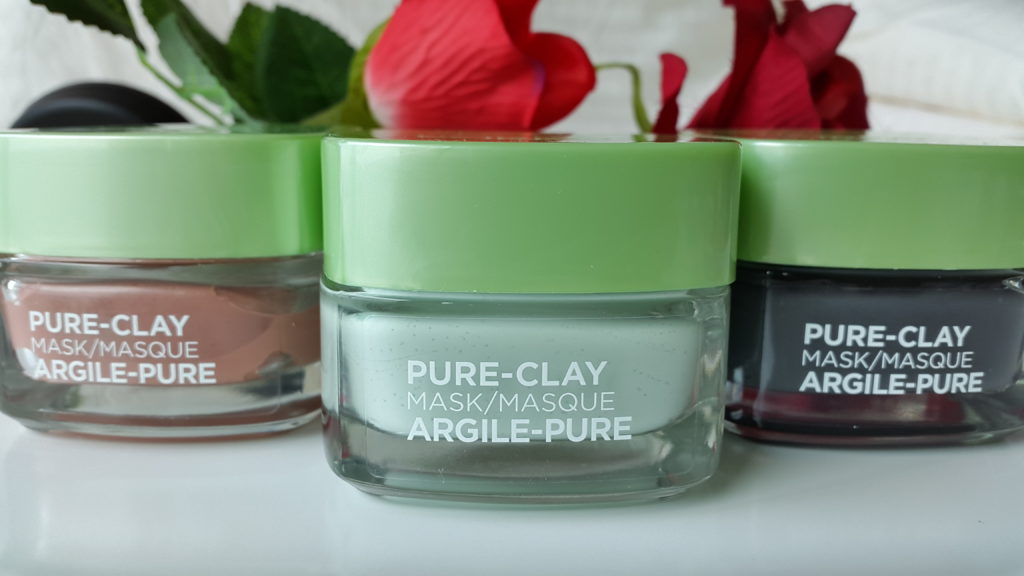 Hello Beauties! Welcome to another skincare post.
I believe masking is important to achieve healthy and luminous skin. If you have beautiful and flawless skin you may not need much makeup or if you love wearing makeup it will look flawless and perfect. Regular use of masks along with some serums and potions, helps us achieve flawless skin. It takes some effort and some time but its not impossible. Choosing a right mask for our skin types and the different skin issues we have is important and sometimes complicated. But the availability of ready made masks in the market helps.
These days there are a variety of masks available in the market for different skin types (dry, oily and combination). Nowadays, there are even specific masks that cater to the different skin types as well as different skin issues like – having texture on the skin, dull and lifeless skin, clogged pores that result in blackheads then acne and pimples etc. Here steps in the mother of all brands L'Oreal Paris. L'Oreal has done all the research and hard work for us and has come out with some wonderful face masks that are great for the different skin types as well as for the different skin issues, isn't it great!
L'Oreal has launched the Pure Clay Mask line which has 4 different masks that cater to different needs of our skin. Today I want to talk about the  L'Oreal Pure Clay Mask – Purify and Mattify (the mint green one). I have already reviewed the Pure Clay Exfoliate and Refine and Pure Clay Detox and Brighten. There are 3 world renowned clays – Kaolin, Montmorillonite and Moroccan Lava Clay plus Eucalyptus in the light minty green mask.
Kaolin – Kaolin is a natural clay that absorbs impurities and excess oil. It is ideal for acne-prone skin, reduces inflammation, redness and swelling thus soothing the skin.
Montmorillonite – Montmorillonite clay helps to eliminate the imperfections on the skin. It also draws out impurities and has a tightening effect on the skin.
Moroccan Lava Clay – Moroccan Lava Clay also known by many names like Rhassoul Clay, Red Clay as well as the Red Moroccan Clay, helps to clarify complexion. It evens out the skin tone, reduces breakouts and blackheads and increases the elasticity of the skin.
Eucalyptus – Eucalyptus is a very potent natural ingredient that has some amazing properties like anti-inflammatory property, works as a decongestant, antiseptic, anti-bacterial, antispasmodic where it relaxes the muscle spasms and smells great. I just love the smell of eucalyptus oil. It is very calming and relaxing.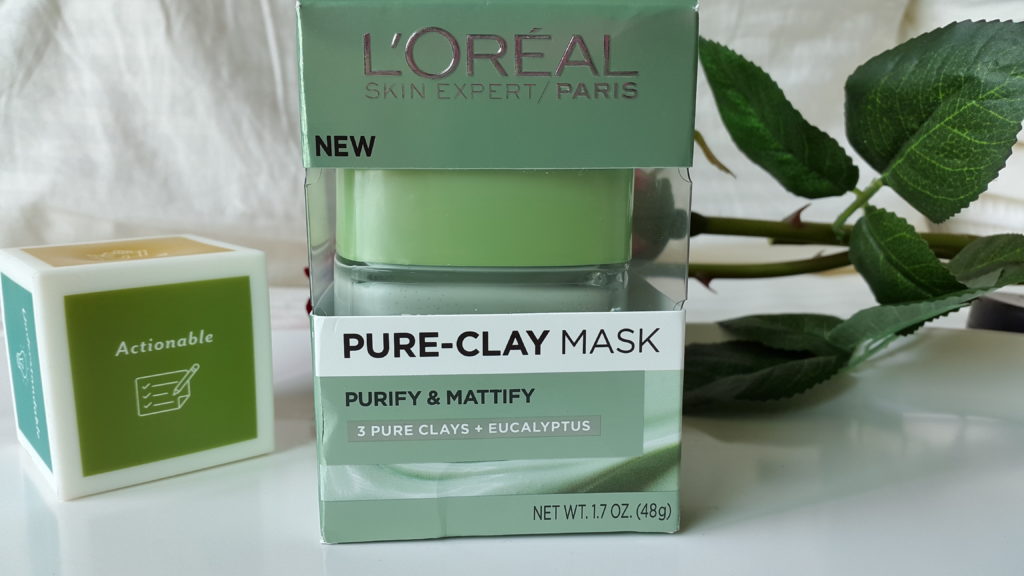 Product Description on the website – Transform skin in just 10 minutes. 3 Pure Clays and Eucalyptus. For Oily and Shiny Skin. Indulgent. Transformative. Perfectly clean. L'Oreal Paris skin experts have created a super-charged Pure-Clay face mask for clogged pores with the power of Eucalyptus to purify and mattify your skin in just 10 minutes. Our fresh, indulgent eucalyptus skin care formula provides a soothing and refreshing spa-like experience, while powerful pure clays penetrate deep to remove impurities and unclog pores. Purify and Mattify Pure Clay Mask addresses your shiny and oily skin to reveal clarified, mattified and refreshed complexion. Immediately skin appears purified and healthier. Skin looks less shiny and excess oil is reduced. Pores seem tightened and less visible without over-drying. Use After Use. Skin looks re-energized and refreshed. Skin complexion appears fresher. Skin is visibly healthier and more beautiful.
The packaging of the Pure Clay Masks line is similar to the skincare line, sleek and simple glass jar which looks pretty and feels luxurious. It has a plastic stopper and light mint green cap. It is pretty.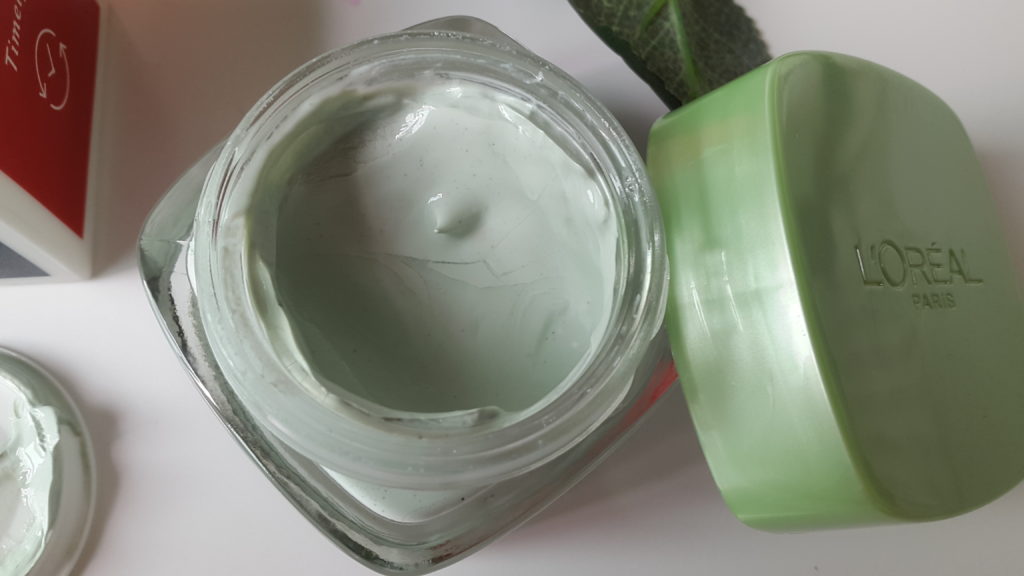 The mask inside is a light mint green colored mask. The consistency and the texture of the mask is creamy and buttery. The application is also easy and smooth. It smells amazing and spa-like relaxing. This mask is basically for people who have super oily and shiny skin. All the 3 clays plus eucalyptus together work wonders to keep the skin oil free and shine free for longer time.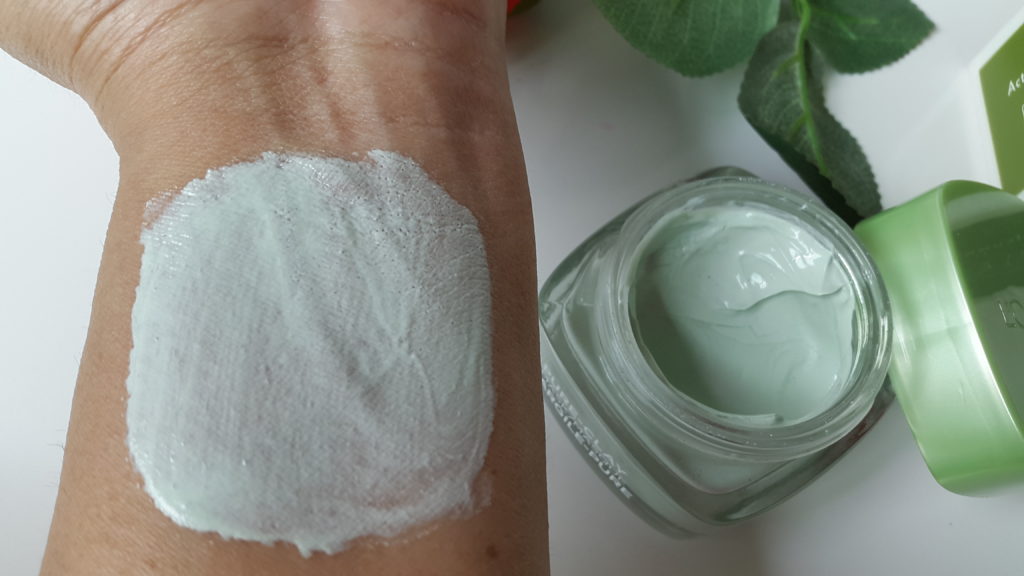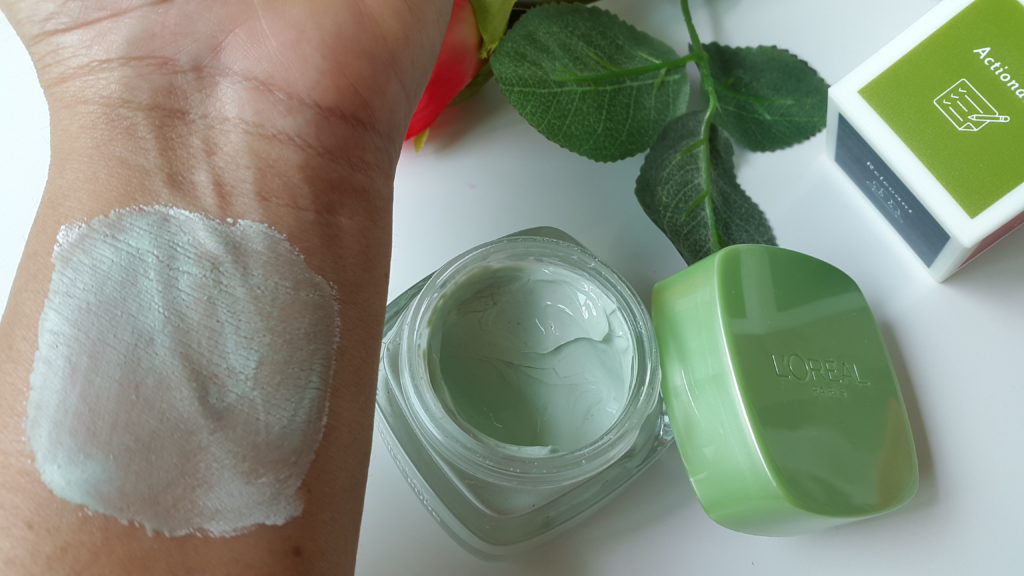 This is the first time that I am using a clay mask with eucalyptus in it. I apply the mask and leave it on for 15-20 minutes. This is my standard time unless my skin is feeling dry or flaky which is rare. It feels a little cool on application and when it is dry it gives a sense of firmness. The skin does not dry completely or stretch too much, which is good. Then wash it off and my skin feels smooth, pores are reduced and my skin is less greasy and shiny. If you have some special event to attend this mask is great to prep your skin before applying makeup. Regular use will clear the complexion making skin more brighter and beautiful.
I am enjoying these masks as my skin is loving it and will keep using. We can do multi-masking by using all these masks together by targeting different areas of the face. L'Oreal Pure Clay Masks are available at the local drugstore and are very affordable.
Have you tried these masks or are planning to get any?
Which one is your favorite? Let me know.. 🙂