Hi! 🙂
The Himalaya Drug Company was established in 1930 by M. Manal. It is an Indian Company based in Bangalore, India. It produces health care and beauty products under the name Himalaya Herbals. These products are available in 90 countries across the globe.
Himalaya Herbals have been around for a really long time and I rarely cared for the brand. I used to buy their masks occasionally – The Fruit mask and the mud mask but not on a regular basis. Then we moved out of India. During our visit my husband once picked up 2 tubes of the Purifying Neem Mask. He used it a few times and it was lying on he shelf forgotten. One day while I was arranging my messy shelf I noticed that the mask's expiry date was in a couple of months. Hence I decided to use it instead of letting it go waste and I saw the difference on my skin.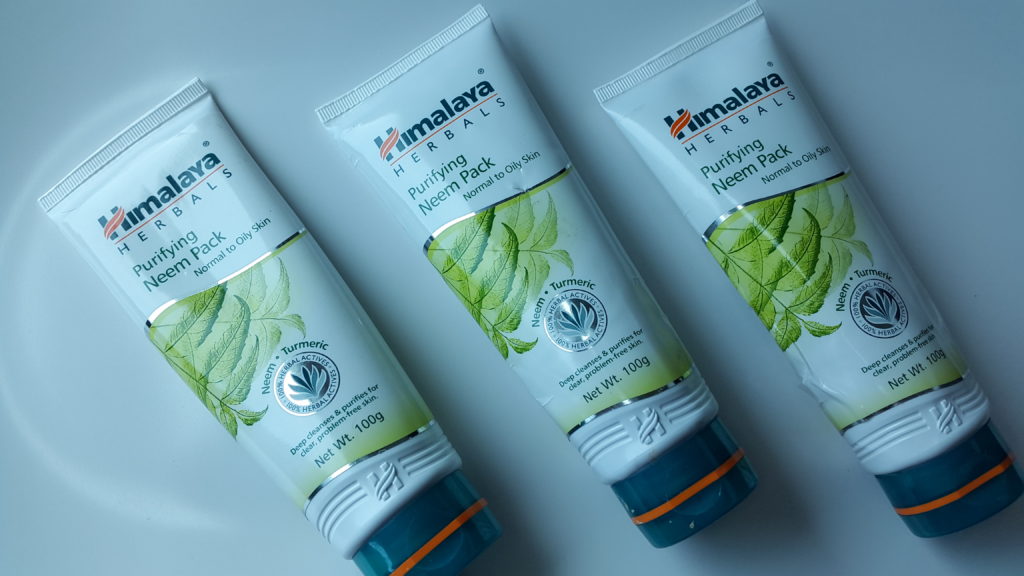 Product Description on the website – A purifying mask that helps to regulate excess oil secretion, cleans clogged pores and prevents the recurrence of pimples. Neem, well-known for its purifying and antibacterial properties, helps in controlling acne and pimples, and their recurrence. Combines with Turmeric, it helps remove acne-causing bacteria. Fuller's Earth (Multani Mitti) cools and soothes the skin, improving skin texture and leaving you with clear, problem-free skin.
The key ingredients in the Purifying Neem Mask are Fuller's Earth, Neem and Turmeric.
Fuller's Earth helps to soothe and firm the skin, controls oil and regular use improves the texture of the skin making it smooth and supple.
Neem is regarded as the powerhouse of health and beauty benefits. Due to its anti-inflammatory, antibacterial, anti-fungal and purifying properties neem has been used to treat various health and skin issues for a long time.
Turmeric is also know for its antiseptic and anti-inflammatory properties has been used for ages to treat various health and skin problems. It also helps to soothe and even out skin tones.
The packaging of the Himalaya Herbals Purifying Neem Mask is a simple squeeze tube with a green flip-top cap. The white and green leaves design on it looks and makes us feel close to nature. I find the tube packaging more hygienic, practical and travel friendly.
The face mask inside the tube is dark green in color. The consistency of the mask is neither too thick or too runny. There are some grainy particles in the mask that help in exfoliation. It spreads easily on the skin on application. There is a strong herbal scent to the mask. It smells natural to me like we are in some organic herbal spa in the woods which is quite relaxing.
I have oily and a little acne prone skin and I use the Purifying Neem Mask once a week and if my skin needs more – like if I see some acne then I use it twice a week to attack the acne and it works. There are a few other face masks that come to my rescue when I have acne so it depends which one I choose. I do have some great masks to choose from but I see myself choosing this one more often as it is easy to apply and gets rid of my acne most of the time. This is the most tried and tested mask for my acne problems.
Sometimes actually most of the time my skin gets super oily which makes my large pores more prominent – if we look closely I see oil around my pore and its not a pretty site. (Even though I believe oily skin is a boon that will keep wrinkles away for a longer time, it requires good care and maintenance.) I apply this mask, lie down and relax for 20-25 minutes. It removes the dirt and oil and works by tightening my pores and reducing the oil. When I wash it off m skin is super smooth and oil free. I always apply a good moisturizer after masking.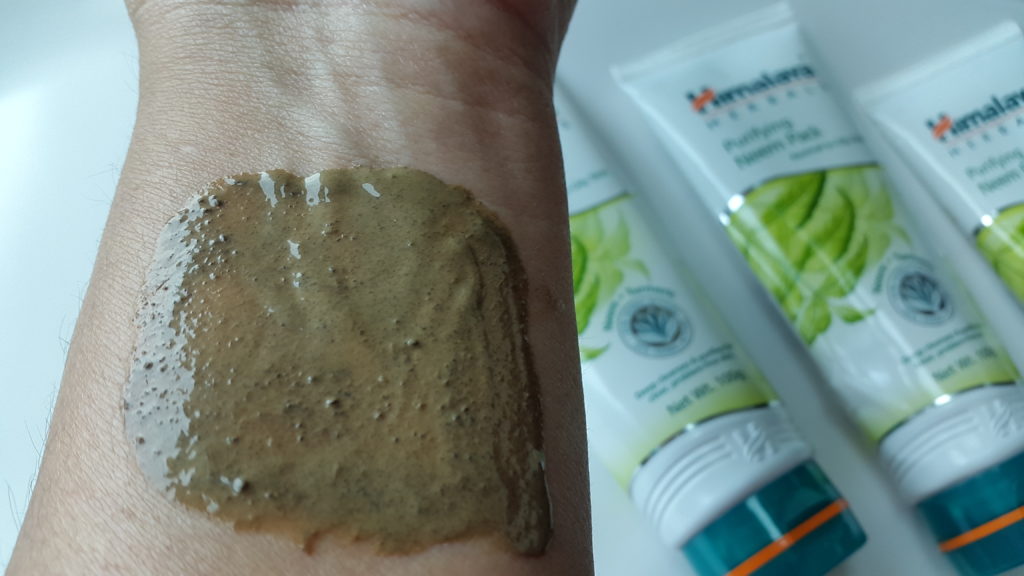 I apply the Purifying Neem Mask first by gently massaging all over my face to make sure it reaches as deep as possible and not just sit on my skin. By doing this the grainy particles that are in the mask helps to exfoliate the skin and then I apply a layer of mask after massaging. It has a little cooling effect and some tingling sensation on application but it goes away in a couple of minutes. I leave it on to dry for about 15-20 minutes. Then I take a small round flat sponge, wet my face and start to wash it off in circular motion. This helps to further exfoliate the skin very well by removing all the dirt and dead skin. In the process it also gets rid of the white heads and black heads visible as well as the invisible ones -this is what prevents the acne formation in the long run, if used regularly. It leaves the skin smooth, clean, bright and beautiful.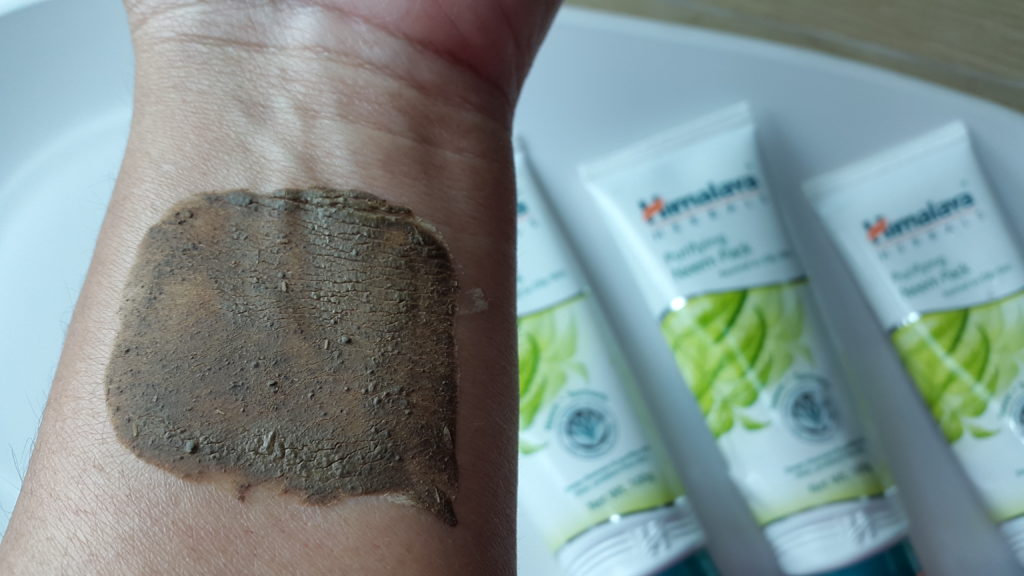 I have been using this mask for many years now and I see the difference it has on my skin. The Himalaya Herbals Purifying Neem Mask with all the natural ingredients in it makes it an amazing face mask that benefits our skin to a great extent. This is a MUST HAVE for me. It makes me feel sad that this mask is not available here in the Philippines. I have seen some Himalaya products like the face wash, baby shampoo etc but not the masks. Whenever I visit Bombay I purchase 4-5 tubes that lasts a long time, almost a year.
Overall the Himalaya Herbals Purifying Neem Mask is a great-great mask for oily, combination and acne-prone skin. It reduces blackheads and acne to a large extent. I have tried and tested it for a really long time besides it is so inexpensive. However dry skin people should be careful while using it. I suggest dry skin people can use it once a week and not leave it on for longer time as it will dry out the skin even more. Using a moisturizer is a MUST after washing off this mask or any clay-based mask in general. I will always keep using this mask. One more thing if the mask is kept unused for a long time it tends to separate inside the tube, so before using it try to shake it well or squeeze the tube a few times and it will be fine.
How about you have you tried this Purifying Neem Mask? What are your thoughts? Let me know. Until next time, stay beautiful. 🙂