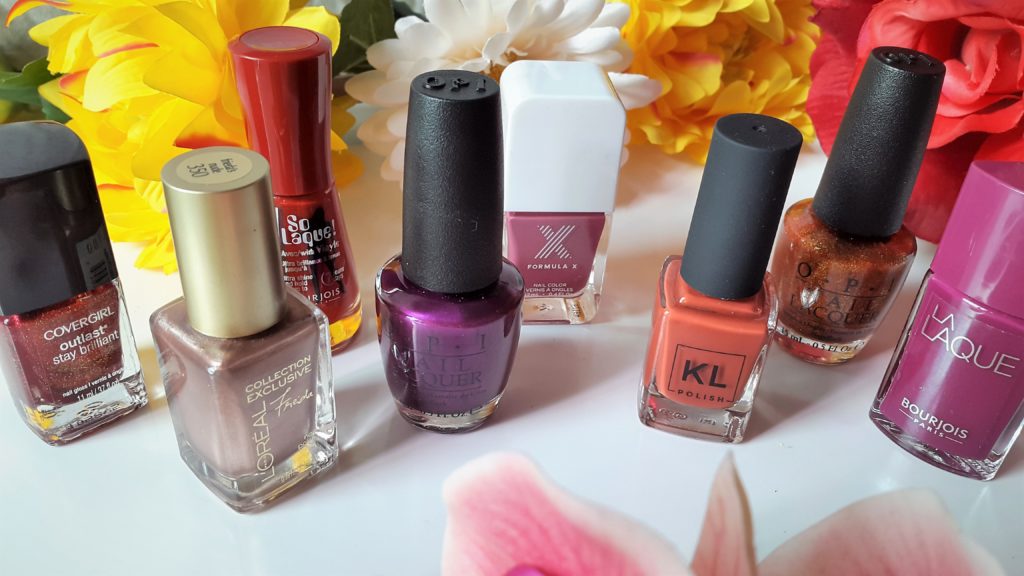 Hi my friends! Thanks for visiting! Today I want to share some nail polishes that I am loving for the fall season. Fall reminds me of the rich jewel toned shades that mimic the changing colors in nature – greens, golden, yellow, orange, browns, berries, purples. I went through my collection and came up with these shades.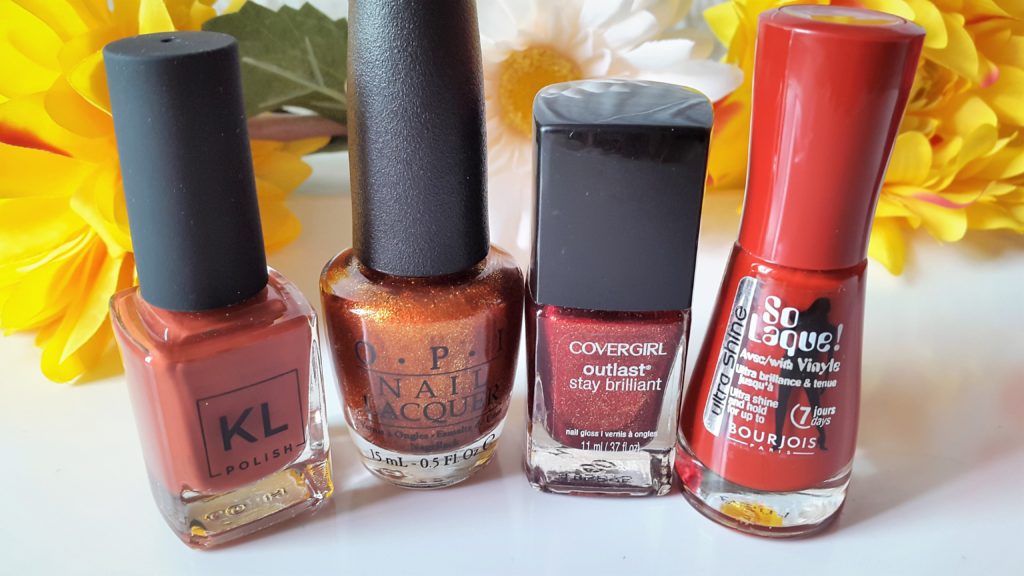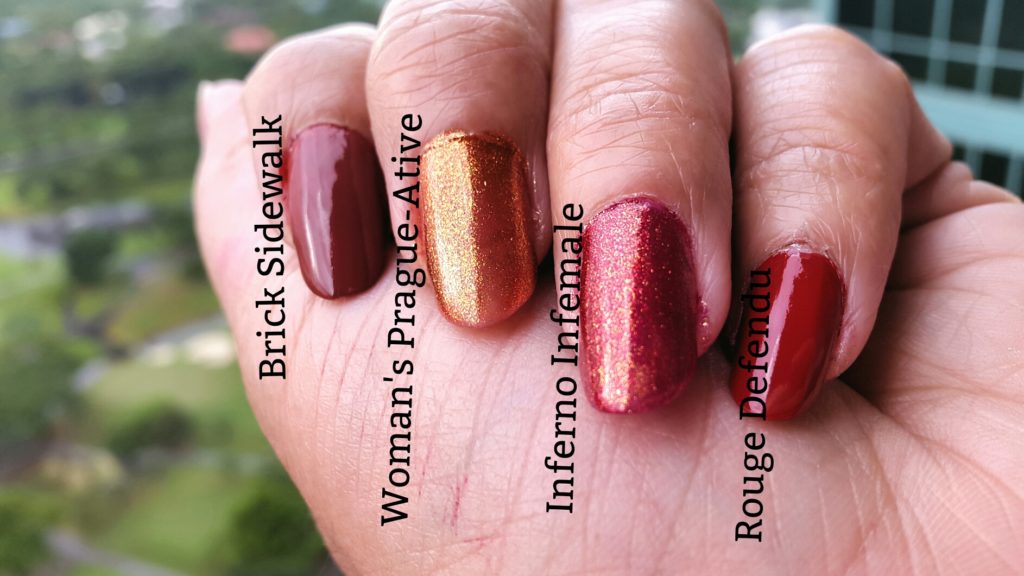 KL Polish – Brick Sidewalk – This one is a cream polish. A beautiful rusty brick red shade that is perfect for this time of the year. The formula of these polishes are amazing. I have reviewed these polishes earlier you can check some more beautiful options for fall.
OPI – Woman's Prague-Ative – This is a beautiful orange-y golden shimmery shade. It resembles the golden orange color of the leaves when sun shines on them. I absolutely love this color and the finish. OPI polishes are one of my favorite formulas too.
Covergirl – Inferno Infemale – A lovely berry toned red with the fiery gradient shimmers in golden, orange and red. Great color pay off in one coat and a nice formula at the drugstore price.
Bourjois So Lacque Ultra Shine Polish – Rouge Defendu – A burgundy red shade with teeny tiny hint of brown. This cream polish is fully opaque in one swipe with high shine.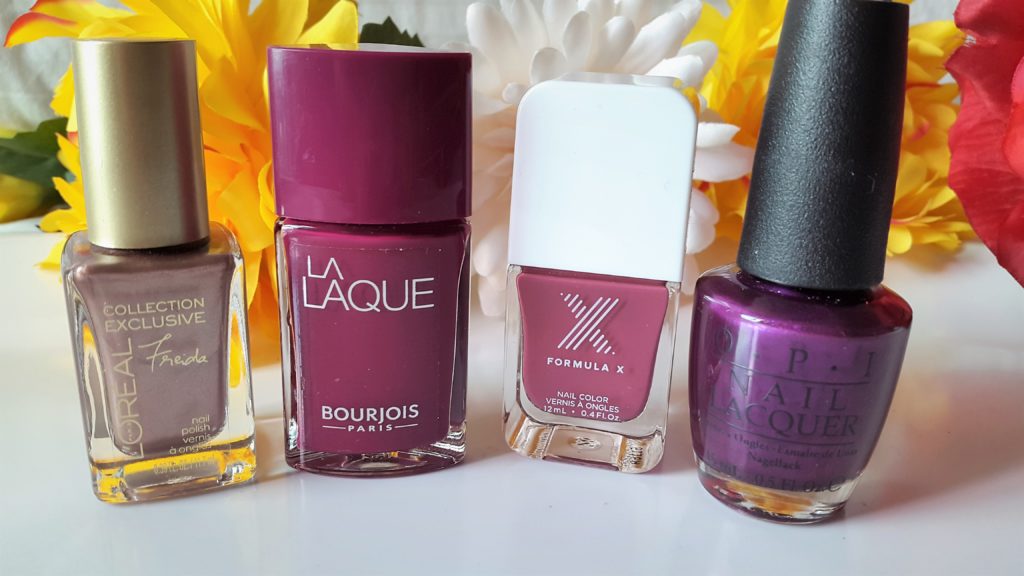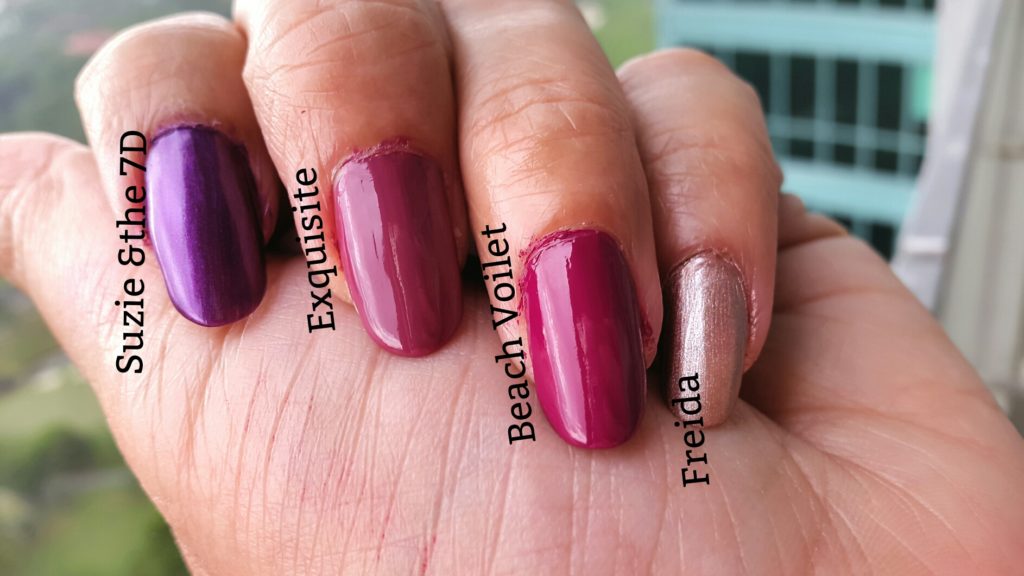 OPI – Suzie & The 7 Duseeldorfs – This one is a purple with pearl finish. It is more shiny in the bottle than on the nails. A good top coat will give this polish the shine that it needs. This one requires two coats for full opacity.
Formula X Nail Color – Exquisite – A muted rose shade with some berry-ness to it. Highly pigmented cream polish with great color pay off in one coat. This one is a great option for people who don't like very dark shades.
Bourjois La Lacque – Beach Violet – A darker purple berry shade. It is looking a little red in the picture but its not. This polish has a good color payoff in one coat. These also have high shine to them which is great for a cream polish.
L'Oreal Collection Exclusive – 350 Frieda's Nude – A lovely shade with pearl finish. This shade is more like rose gold with a hint of gray. Beautiful nude shade for olive skin gals.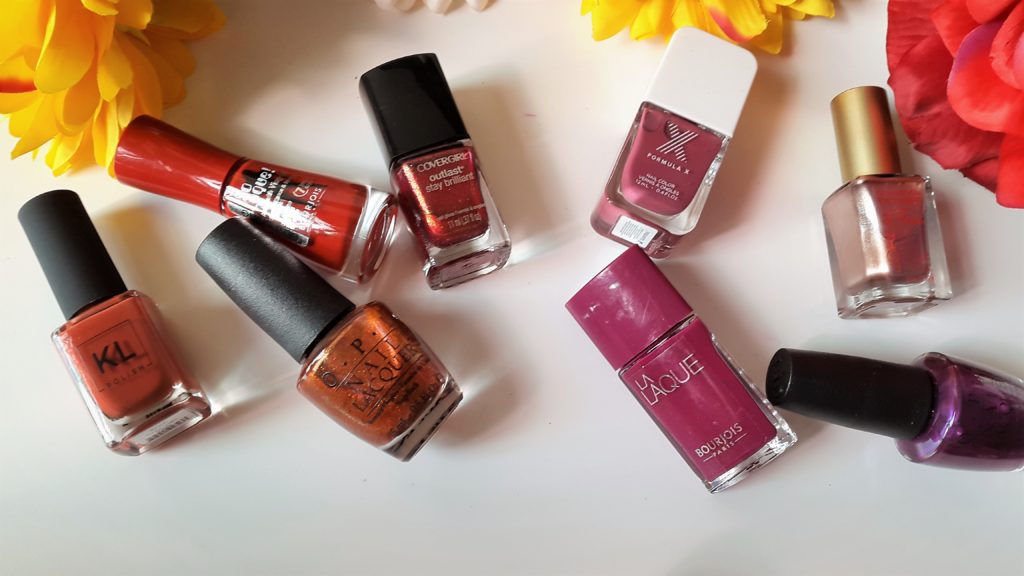 I would have loved to include some greens and blues but  the one's I own are more brighter. I hope you liked my take on fall polishes and sorry for the sloppy application :-). In the pictures I have just applied two coats of each with no top coat so you can see the true colors and the finshes.
Do you like to wear darker shades on your nails? What are your current favorite polishes? Let me know in the comments. Thank you so much for taking the time to read.
Until next time stay beautiful! 🙂