Hey Friends! Hope you are having an amazing day! This is my last palette in the Milani Everyday Eyes Eyeshadow Collection Palettes reviews. Today I have the 05 Earthy Elements Palette.  I like all of them but I think this one is the favorite of them all. This palette was always out of stock when this line of eye shadow collection was launched. I could get it only recently on Amazon. The other palettes that I have reviewed are 01 Must Have Naturals and 04 Plum Basics. There are the three palettes that I will be using a lot. The other shades are pretty as well but these are the colors that I am most comfortable with.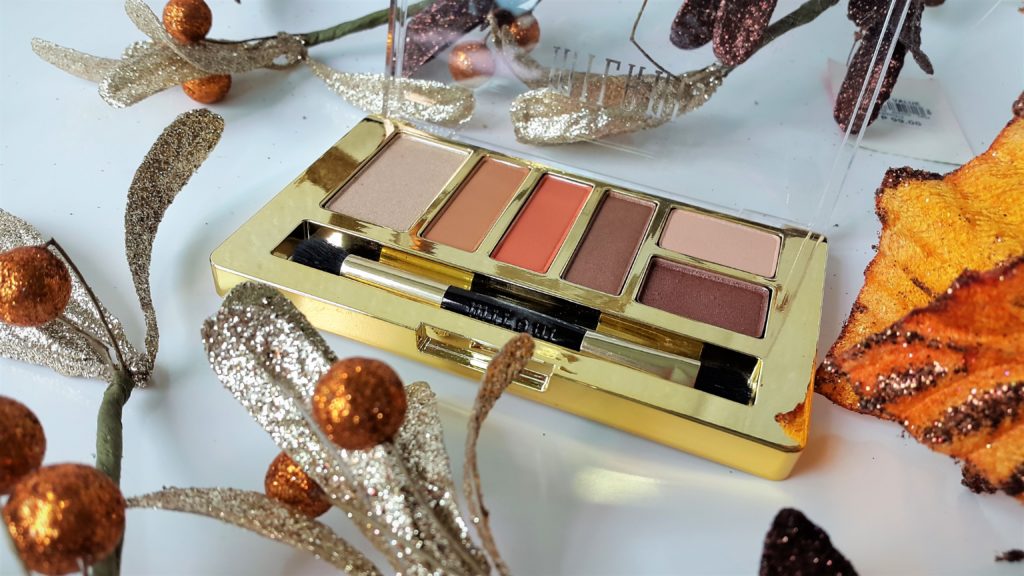 Product Description : Contour, color and create endless looks with a first-of-its-kind eye contour and highlight collection. Each Everyday Eyes Powder Eyeshadow Collection comes with six richly pigmented shades and step-by-step guide for professional-looking results. Each shade is expertly coordinated to work well in any order to create brilliantly beautiful, one-of-a-kind styles. Dual-ended, pro-artistry brush included.
The packaging is small, sleek, golden and travel friendly except we don't have a mirror, which I would have preferred. Nonetheless, I love the golden packaging as it makes the palette look expensive and high end. At the back of these palettes there is a step by step picture tutorial for the beginners which is really appreciated. I shouldn't be repeating but the packaging is pretty cute with a clear lid. We can see the shades that makes it handy while storing. It comes with a double ended brush which is okay but can be used on the go, in case you forget to get your brushes :-).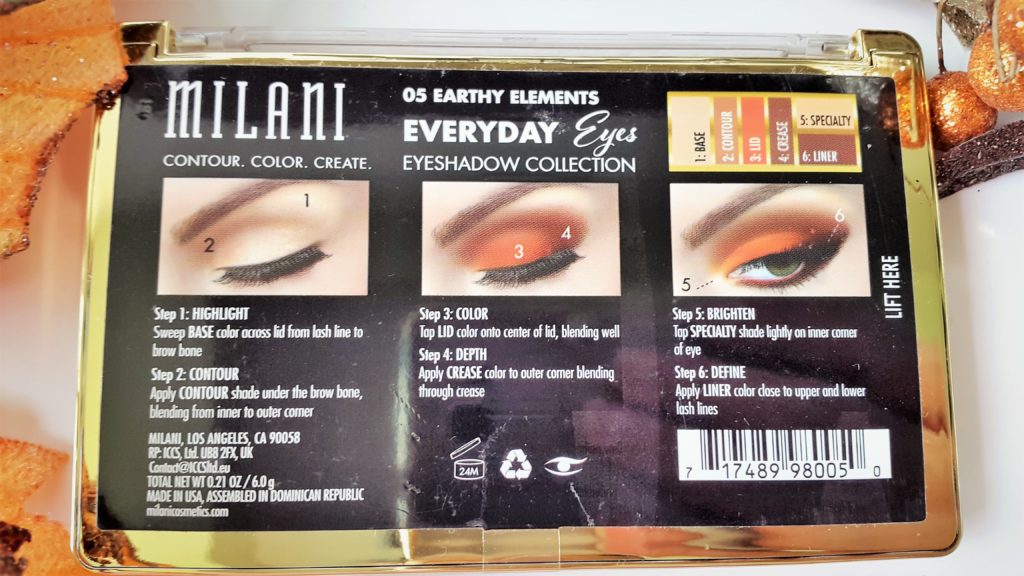 The eye shadows in this Earthy Elements Palette are soft and smooth to touch and blend well. It contains six eye shadows beautifully placed in the palette. This palette has some pretty warm brown shades. I would say it is a palette for the warn earthy tone lovers. There are four shimmers and two matte shadows. The level of shimmers in the four shimmery eye shadows is different. I feel the more shimmery one is softer than the less shimmery ones in formula. The shimmer shades in this palette are more like sheer shimmers with some shimmery sheen and not over the top metallic, which is great for  every day eye looks. The matte shades are highly pigmented.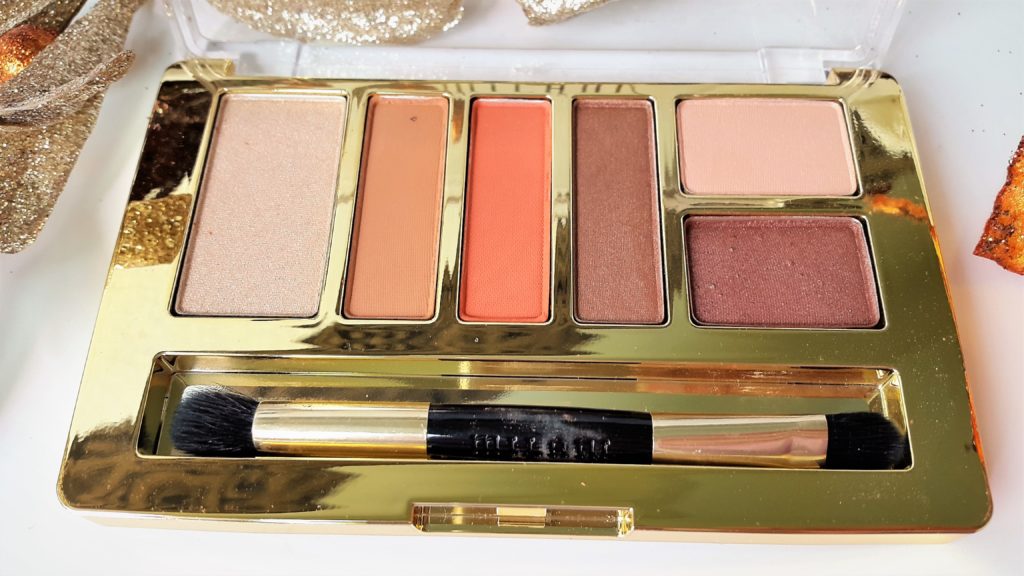 The base shade is a nice champagne color with less shimmers and great for brow bone highlight as well as a nice overall lid color. The transition color is a nice light brown matte shade, great for blending in the shadows. The matte dusty orange shade is the stand out shade of the Earthy Elements Palette. I was drawn towards this palette for this particular shade. It can be used sheer as well as build to get brighter intense smoky looks. The specialty shade of this palette is pretty champagne with a hint of pink is beautiful for the inner corner highlight. It can also be used as a highlighter as well. The liner shade is darker brown with some shimmer. It completes the look. These shadows last a long time on the eyes.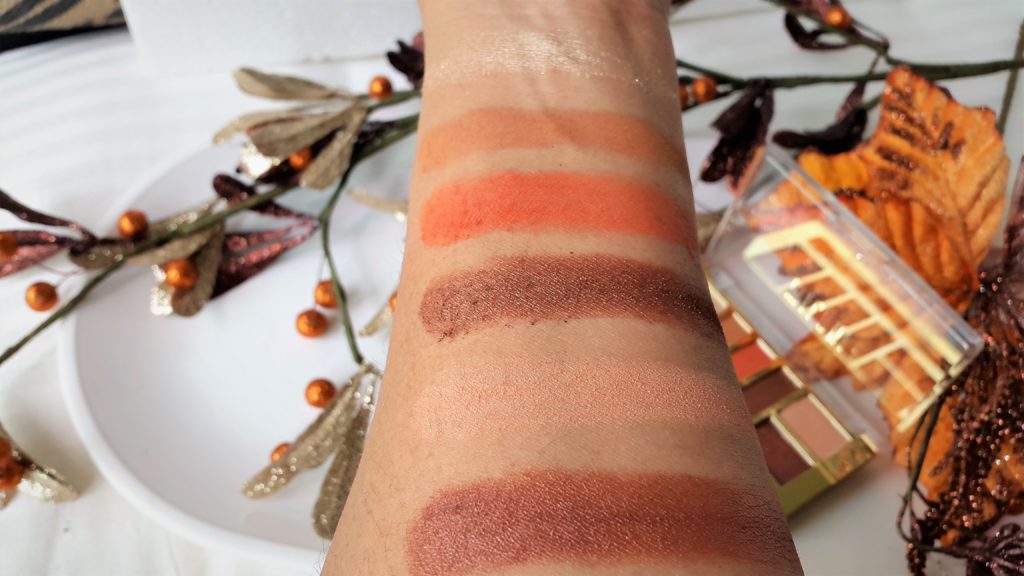 Overall, a nice palette that will suit any eye color. I highly recommend the Earthy Elements Palette to those who really like warm toned shadows with some extra shimmer shadows in one palette. 🙂 The color selection in all the palettes are complementary and work well together.  The palettes in this collection come in  varying colors, that would cater to the likes of everyone. Earthy Elements Palette is a perfect palette for fall and winter.
Have you tried any of the Everyday Eyes Palettes? Which one is your favorite? What do you think of these palette? Let me know your thoughts.
Until next time take care and stay beautiful! 🙂