Hey lovelies! Hope you all had a wonderful thanksgiving.  Today again lets talk about another Milani Everyday Eyes Powder Eyeshadow Collections Palette. There are 8 palettes available in this line from neutral to warm earthy to cool to smokey and colorful tones. Today I have the shade 04 plum Basics to talk about. I have already reviewed the 01 Must Have Naturals Palette which you can check. The shades in the 04 Plum Basics Palette are pretty and can be worn on an everyday basis. I wear eye less shadows hence I do my research before buying an eye shadow palette. I mostly  go for good drugstore options but love the higher end as well. Milani is a great cruelty free drugstore brand with some nice products to their line. Especially their lipsticks are beautiful.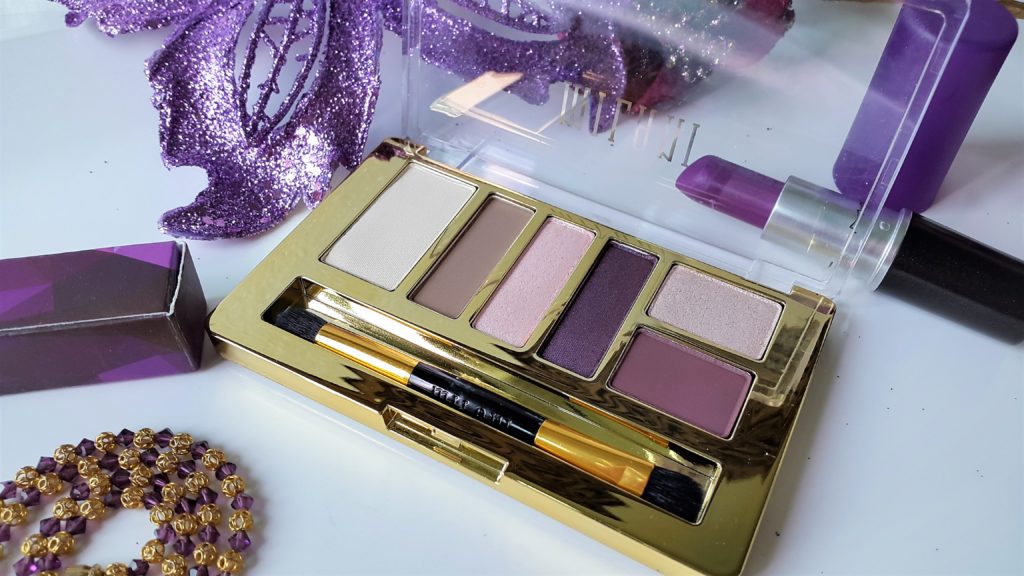 Product Description : Contour, color and create endless looks with a first-of-its-kind eye contour and highlight collection. Each Everyday Eyes Powder Eyeshadow Collection comes with six richly pigmented shades and step-by-step guide for professional-looking results. Each shade is expertly coordinated to work well in any order to create brilliantly beautiful, one-of-a-kind styles. Dual-ended, pro-artistry brush included.
The packaging is a sturdy plastic case that is golden with a transparent lid. Well, there is no mirror but still I like the packaging. But now I understand the convenience of the clear lid as I own a few palettes it makes it easier to select which one I need. Behind the palette there is a step-by-step picture tutorial for beginners. This is an awesome feature for those who want to learn how and where to place the shades. I personally like it as it is very helpful.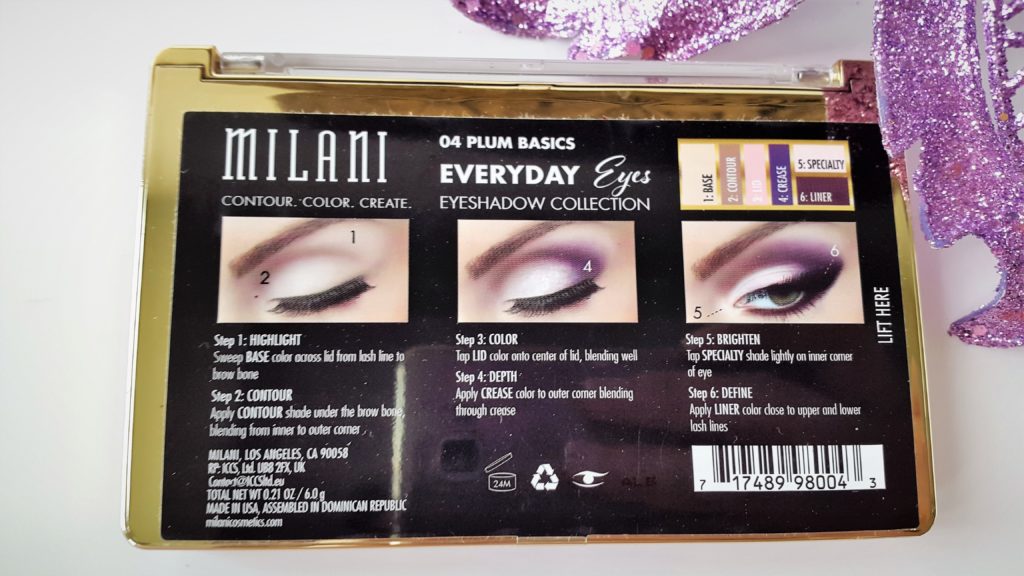 The Milani Everyday Eyes 04 Plum Basics Palette contains four matte shadows and two shimmers. Even though the fourth crease shade looks matte it has some sheen to it. But the picture on the website shows it shimmery shade. All the shades compliment each other so well and belong to the  purple family. The best part about these palettes are that they include everything that is needed to create a complete eye look.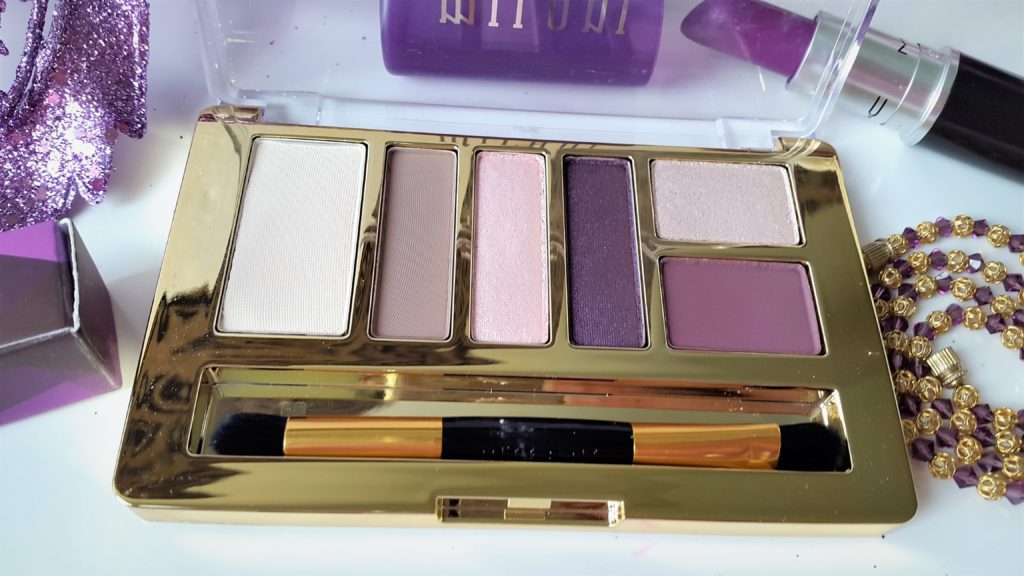 The formula of these eye shadows is great. These are soft and creamy and blend very well. The color payoff of these shadows is nice. You can see in the swatches.  The shade selection in the Plum Basics palette is great. The base shade is a very light almost bone color which is matte and perfect for all over the lid. The contour is a beautiful light taupe for the crease. The third lid shade in this palette is a nice shimmery champagne shade. The shimmers as usual are always pretty. The two darker crease and liner shades in the palette are matte and add a pop of color to the eyes in a subtle way. The specialty shade is shimmery and the best to brighten and highlight the brow bone and  the inner corners of the eyes. There is some fall out with the shimmers though. But using a damp brush is the solution.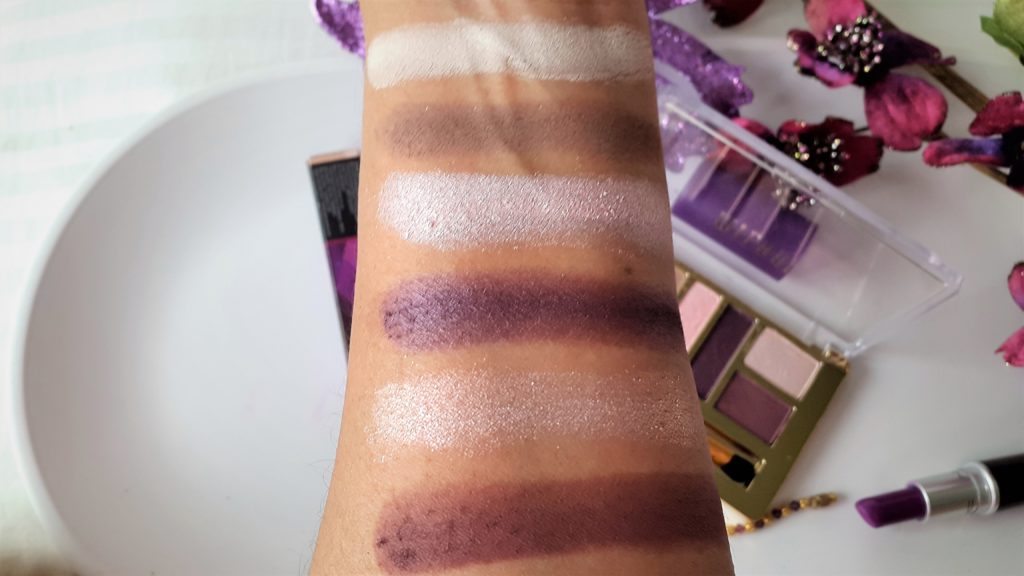 Overall, I highly recommend the Milani Everyday Eyes Powder Eyeshadow Palette in 04 – Plum Basics to those who like too try purple eye looks. The shades in here are more to the neutral everyday type, not too bright. But we can get an intense smokey eye look too with this palette.  I love the variety in this palette collection by Milani. Everyone can find a palette of their choice at an affordable price.
Have you tried any of the eye shadow palettes by Milani? What do you think?
Until next time stay bright and beautiful 🙂 and thank you for taking the time to read.