Hello friends! Happy Holidays! I am here again with some eye-shadow. Since I am not a pro at applying eye shadows, I am always looking for an easier option. Like the Bite Multisticks – one swipe and we are done.  When I learned about the Laura Mercier Caviar Eye-shadow Sticks I wanted to try. Easy application is what I want hehehe  :-). I got the mini set during the holidays. Mini sets are so perfect as we are able to try many shades in one set, no product gets wasted and these last a long time.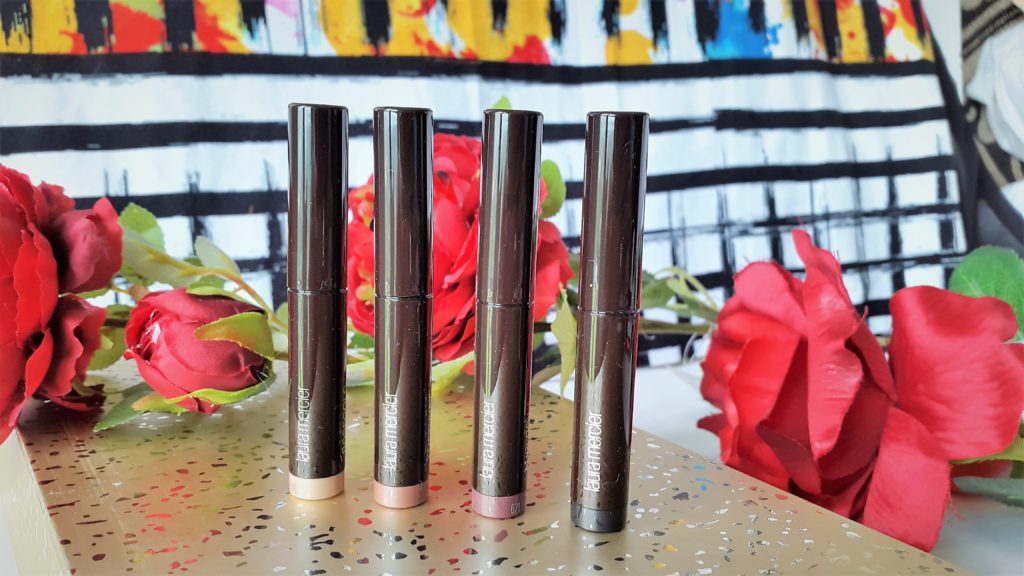 Product Description – A long-lasting, creamy eyeshadow stick that can also line, highlight, and create smoky looks. This multitasking eyeshadow stick delivers both easy application and high-definition, long-lasting color.
Long-wearing, transfer-proof and crease-resistant, the color glides seamlessly onto  lids and blends and layers beautifully with a rich pigment-payoff. It features a myriad of shades and finishes to deliver endless options for an effortlessly beautiful eyes that stand out both day and night.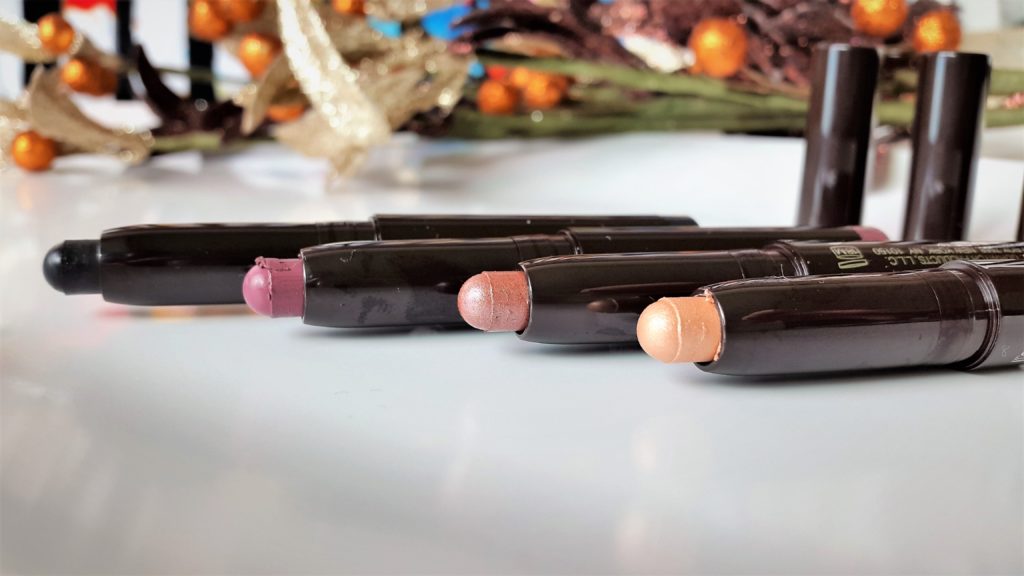 The Laura Mercier Caviar Stick Eye Color comes packaged in a nice convenient and retractable twist up pencil. It is easy to use, store and travel with. Each pencil has a dark metallic brown look. It has a different color at the bottom that indicated the shade which is very convenient and practical. The cap snaps securely and won't come loose when thrown in our purse.
The color range is great. Right now there are 25 shades available on Laura Mercier's Website and 17 shades on Sephora's Website. I have 4 shades to share.
The formula of these is very creamy. It glides on smoothly over the eyes without tugging or pulling the lids. It blends out efficiently, however we have to be quick or else the eye shadow sets and will not budge.
The application with these caviar sticks is very easy due to the soft and buttery formula. You just have to swipe and you can blend it with your fingers or a blending brush. The most impressive thing is that these do not crease and last almost 6-7 hours. But after that I do find mild fading and creasing on my oily lids.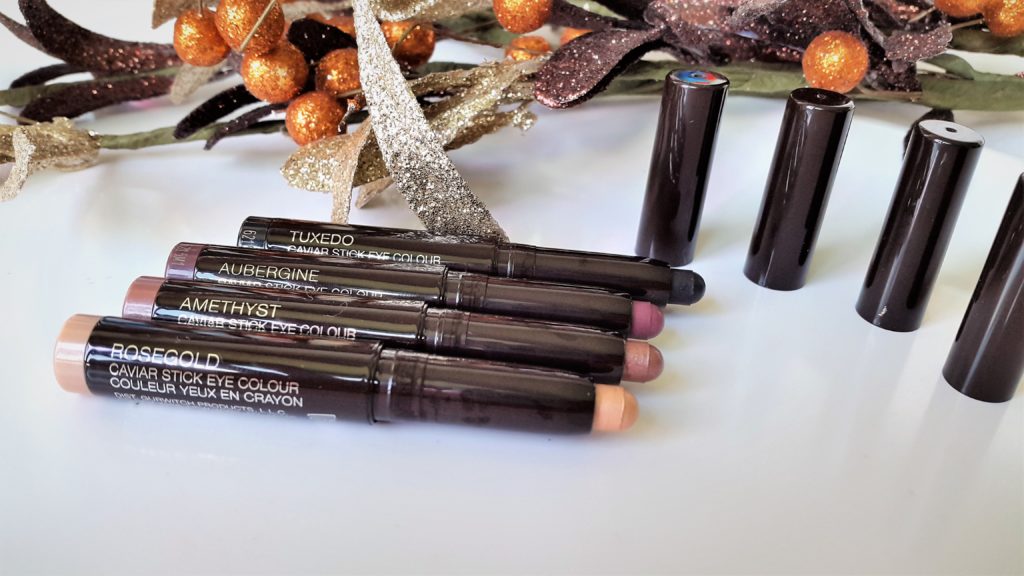 Rosegold – It is a light champagne-y, golden shade with some warm undertones. It has that metallic sheen which I like. On me it is almost similar to my skin tone with some sheen. In one swipe it is fully opaque and very easy to blend. It can also be worn as a sheer wash of color which looks beautiful.
Amethyst – It is a soft warm toned brownish mauve shade with subtle shimmery, frosted look. The color payoff is good and blends beautifully. This is my favorite shade.
Aubergine – A deep purple shade with a matte finish. It is a nice crease color and blends out well. It can be paired with other shades to create a nice smoky look. It delivers intense color in one swipe and is very creamy. I mostly use it on the waterline as well as an eyeliner using a thin brush. It stays on the lids for good 7-8 hours.
Tuxedo – This is a neutral black shade with a natural matte finish. Tuxedo can be best used to get that intense smoky eye look. I use it mostly as an eye liner as smoky eye is totally out of my comfort zone. Tuxedo is an Allure Best of Beauty award winner shade as well.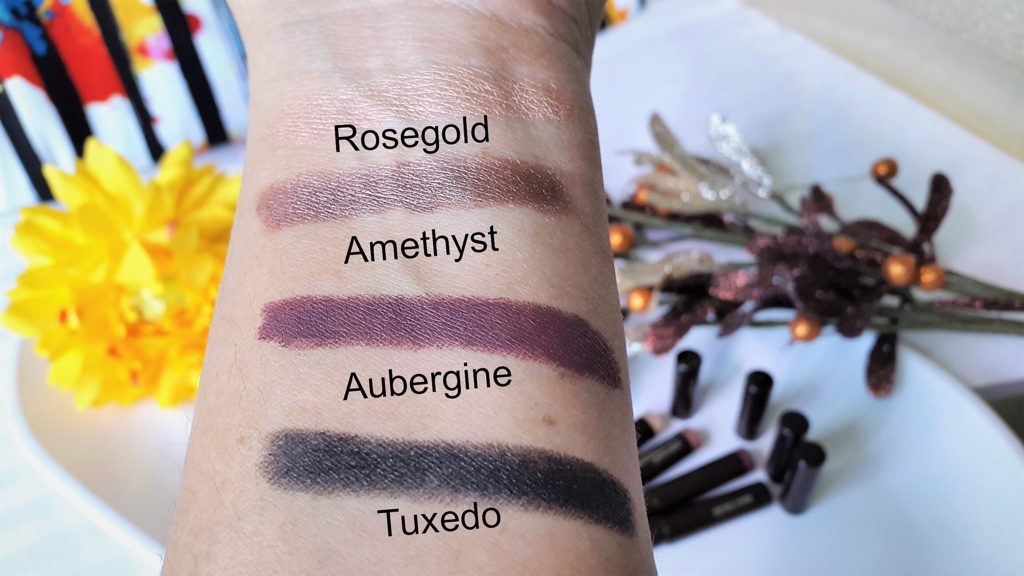 Overall, the Laura Mercier Caviar Stick Eye Color is a great product for beginners. These are creamy without the thick texture, easy to blend, opaque and long-wearing. Once set this water proof formula will not move or smudge. For people like me who struggle with eye makeup, this is a great option. I hope to find another mini set at Sephora with other shades, I would love to buy.
Do you like using cream shadows? Have you tried these Caviar Sticks? Which is your favorite shade? let me know 🙂
Until next time take care and be bright and beautiful! Have a very happy time. 🙂