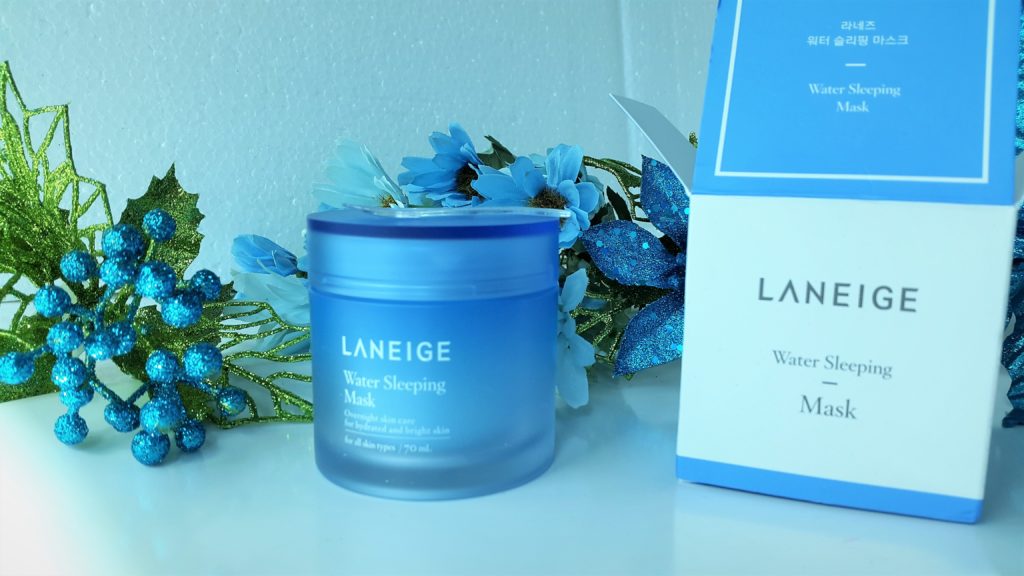 Hey friends! Wishing you all a very happy thanksgiving. I really want to thank each one of you who takes the time to read and comment on my posts. It means a lot. 🙂 Thanks again.
Well then it's masking time again. I have been addicted to skincare for the past many years. It all started earlier when I suffered with acne problem. I was ready to do anything to get rid of them. During that time, I started using different types of masks and learning more about them at the same time. Having oily skin, clay masks are an important part of my skincare regime. I love using clay masks that helps to control the oils on my face in this hot and humid climate. However, my skin can get a little dry sometimes.
I keep searching and reading a lot about skincare. In this process I learned hydration is very important for the skin and that we should apply moisturizer when are skin is still damp to lock in the moisture. I also read so many praises about the Korean Skincare. I never tried any K-Beauty products as everything on the packaging is printed in Korean. A year ago we visited South Korea, and Oh My God! Each and every person I saw there be it male or female had amazing skin – smooth, flawless, plump, glowing, hydrated and beautiful. I felt a bit out of the place :-). In the name of shopping I mostly saw skincare. Tonnes and tonnes of masks, serums, essence, sheet masks sold in bulks. There are shopping areas dedicated to just skincare products. It was overwhelming as well as motivating at the same time. I did some research and got some popular and best selling skincare products. There are so many skincare brands that are well loved and respected in the Korean market.
Laneige is one of the popular brands with many stores across Asia. It has been expanding rapidly worldwide and has become one of the reputed international skincare brand. Their products are mostly water based and good for the skin. I see Laneige products are also sold in Sephora. I went through different products by Laneige and found the Laneige Water Sleeping Mask to be very popular and most raved about product in the beauty community. I had to get it.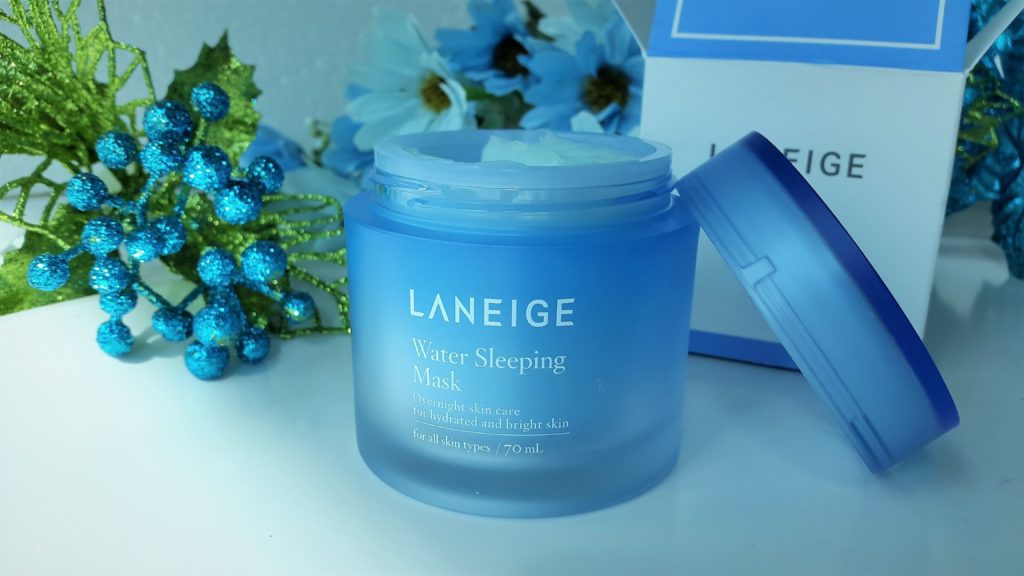 Product details on the website – Recharge dehydrated skin overnight. This innovative mask is formulated with highly concentrated Hydro Ionized Water to deliver intense doses of moisture to stressed parched skin.
Calming Sleepscent, infused with orange flower, rose and sandalwood, relaxes and comforts while apricot and evening primrose extracts brighten and purify fatigued skin.
The result : Skin looks and feels radiant, refreshed, and soft. Wake up to soft glowing skin.
The packaging of the Laneige Water Sleeping Mask is heavy, sturdy and matte finish plastic jar. The ombre blue colored tub looks like a frosted glass jar. It is very vibrant and high quality. It gives an expensive feeling and quiet a photogenic packaging. What do you all think? 🙂  The best part is, it comes sealed and comes with a spatula. There is a clear instruction manual as well.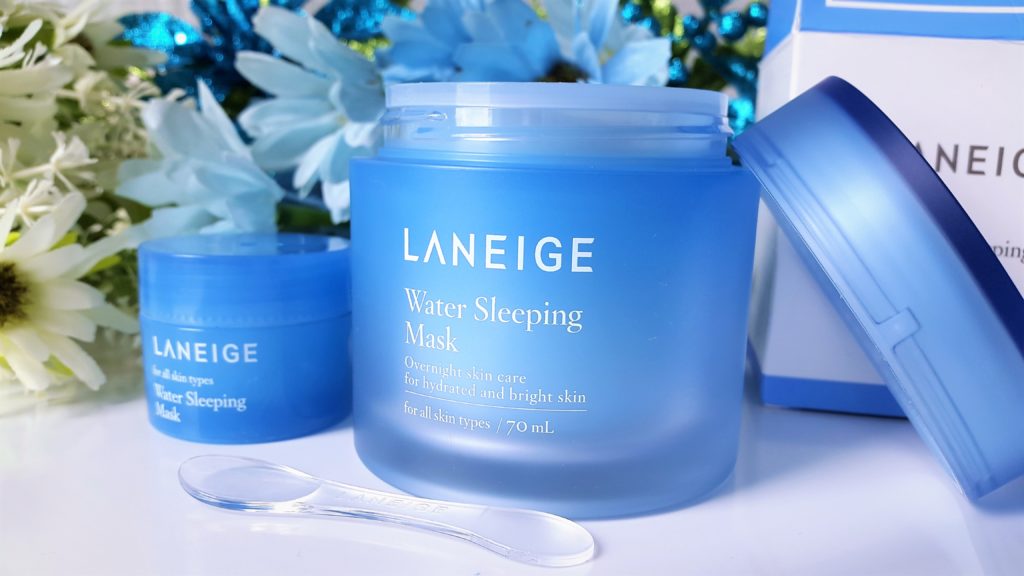 The texture of the mask inside is light weight and has a gel-like consistency. It feels very rich the moment we touch, it gives an impression of a super hydrating product. The consistency is thick and firm but when touched to the skin it melts like butter due to the warmth of the skin. It has water like smooth feeling on application. It applies smoothly and is absorbed completely by the skin. It takes about 18-20 minutes to completely dry but it feels a little sticky when we touch but it is not an uncomfortable feeling. It does not transfer on to our pillow. I have to mention here that this mask has a fragrance to it. As mentioned on the Laneige's website the fragrance is apparently the Sleepscent technology which is calming and helps us to sleep well at night. The scent is mild and it does not bother me, though I would prefer no fragrance. It does not cause any irritation to my skin , however this may be bothering to some who have super sensitive skin and those who do not prefer fragrance in their skincare.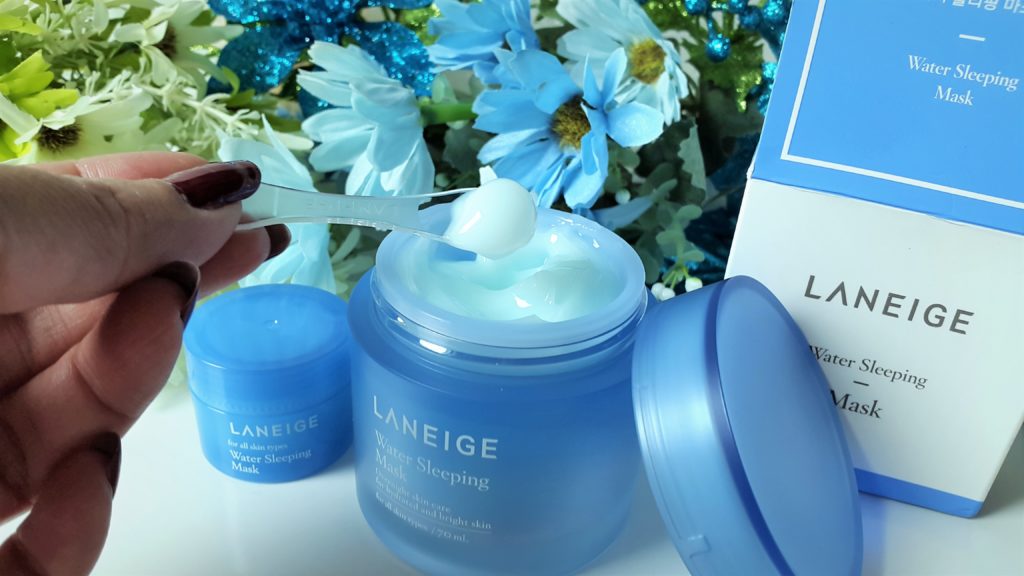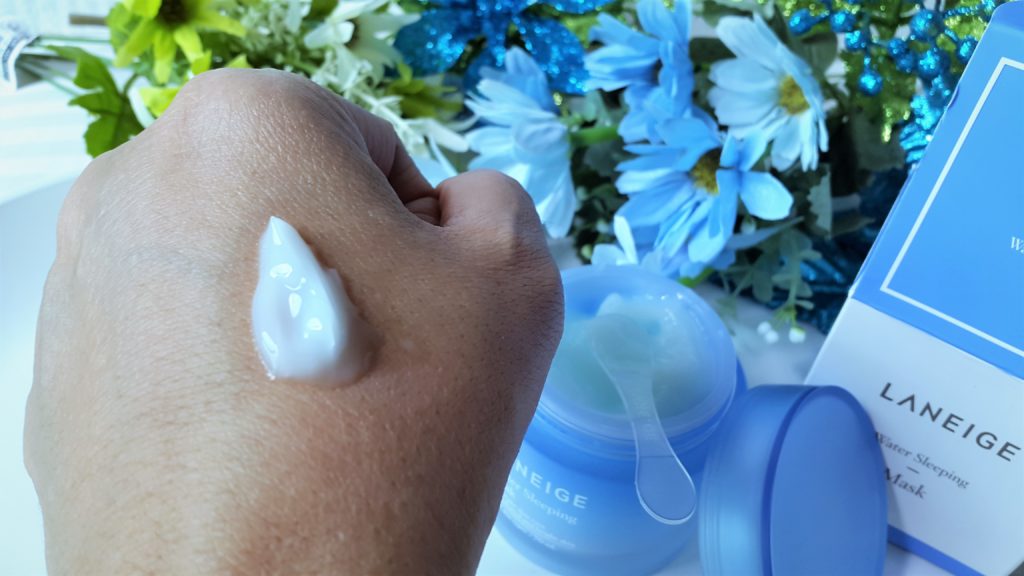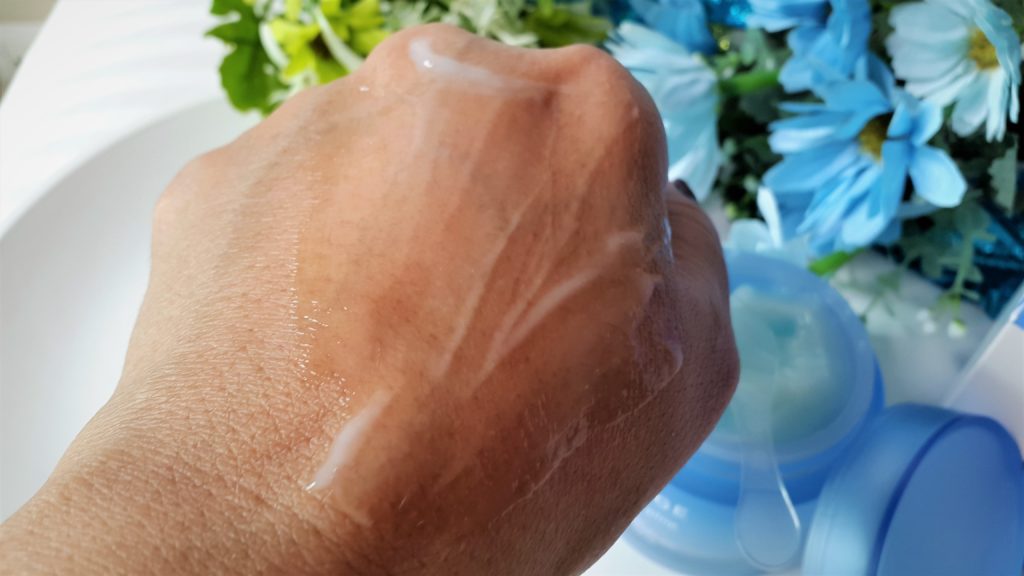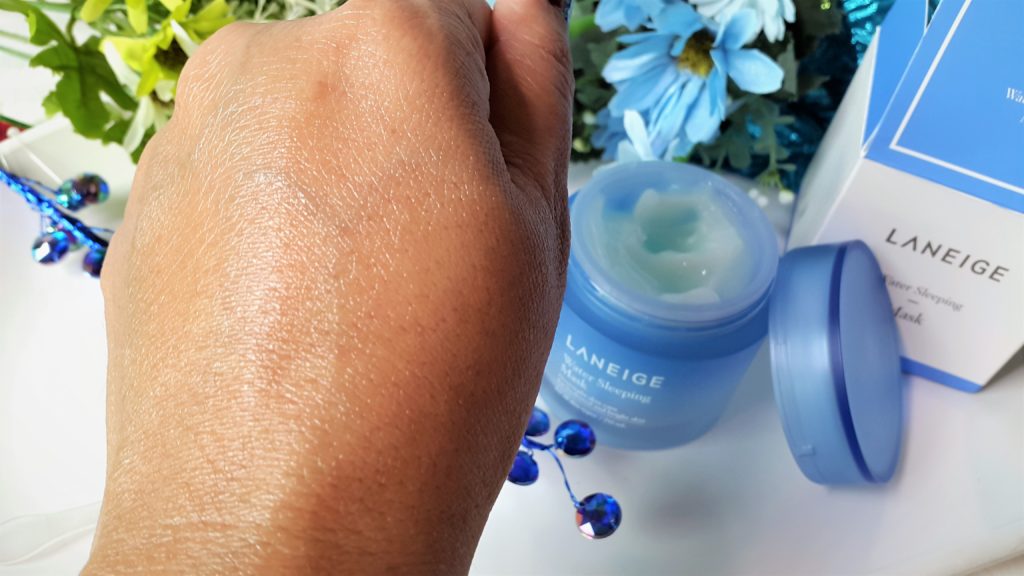 After 20 minutes of application  
I have been using the Laneige Water Sleeping Mask twice a week before going to bed. It feelings cooling and relaxing. In the morning I wash it off and my skin feels smooth and super hydrated. I see that my skin has some glowing shine, not the oily greasy shine. Okay, it gives that highlighted look without being oily, which is amazing. By the way this is my second tub. After regular use for about 8-9 months I see my skin is better and brighter. Of course I use other products in conjunction with this mask.
Overall, I adore this sleeping mask and has become one of my favorite sleeping masks. My skin is rarely dry but after using this mask it feels hydrated. It is a nice product that adds serious hydration to our skin. It locks in moisture and refreshes the skin. It does not clog pores. Since hydration is an important need of the skin to remain young and radiant, the Laneige Water Sleeping Mask is great for providing lots of hydration to the skin. This is a nice product and I will keep using it as there is a Laneige store here in Philippines too.
Have you tried this mask or any sleeping mask in general? What are your thoughts on the concept of sleeping mask?
Until next time take care and keep glowing!