Hey lovelies! Last December Colourpop released another beautiful eyeshadow palette in collaboration with my favorite YouTuber @Kathleenlights. They released the Dream Collection that consists of a 12 pan pressed powder shadows called Kathleenlights X Colourpop Dream St Eyeshadow Palette and a liquid lipstick bundle called Dream team.  Kathleenlights has created some amazing makeup products with Colourpop earlier as well. She also owns a nail polish line called KL Polish. Ever since the Kathleenlights X Colourpop Dream St Eyeshadow Palette was announced I have been super excited to get my hands of this beautiful palette and always love to support Kathleen in all her collaborations. I did not get the lipstick bundle as I had already placed some Colourpop lipstick orders.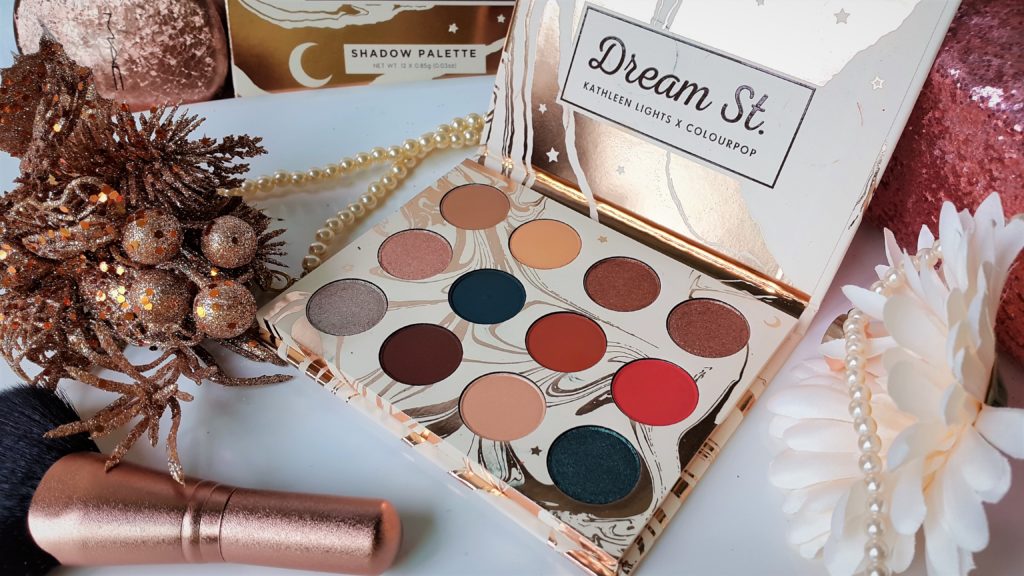 Product Description – Pressed Powder Shadow Highly pigmented shadow that applies evenly and feels ultra-velvety and silky. This long wearing formula contains a unique combination of softer powders which adheres easily to the eyes, gives a soft focus effect, and blends smoothly and evenly.
The packaging of the @Kathleenlights X Colourpop Dream St Palette is very attractive and alluring. It comes in a sturdy hard card board box like all the coloupop palettes. I generally like most of the Colourpop packaging but the Kathleenlights X Colourpop Dream St Palette is  a little prettier. I love the rose-gold marble swirl pattern with the moon and stars on it. Kathleen did an incredible job designing this dreamy palette. Now I feel the name Dream St is perfect for this palette.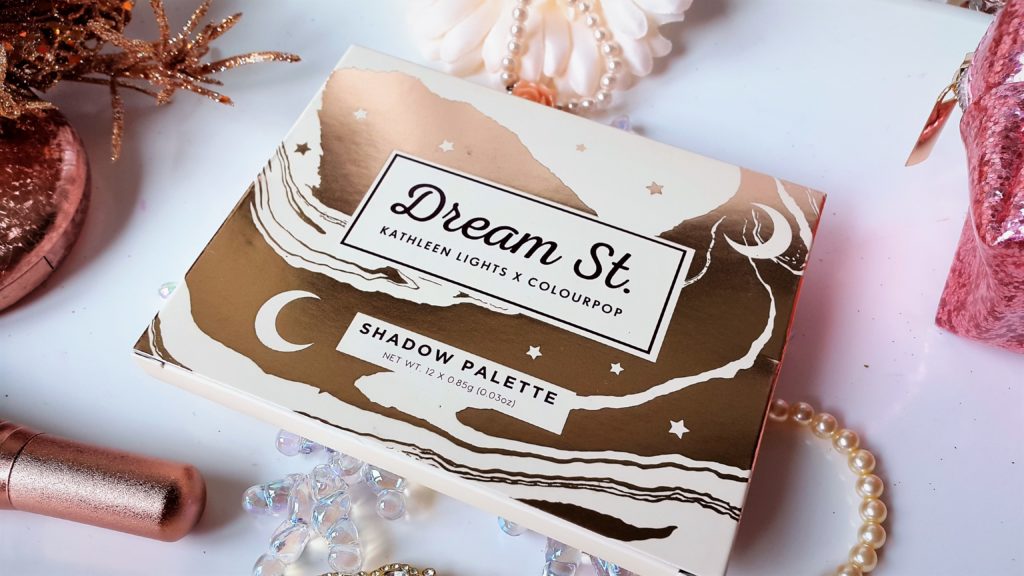 Kathleenlights X Colourpop Dream St palette is a neutral warm-toned palette with a few beautiful pops of color like the red orange shadows and the teal blue shadows. There is a nice combination of matte, satin, shimmer and metallic shadows. A bunch of light and dark shades to create several looks for day and night.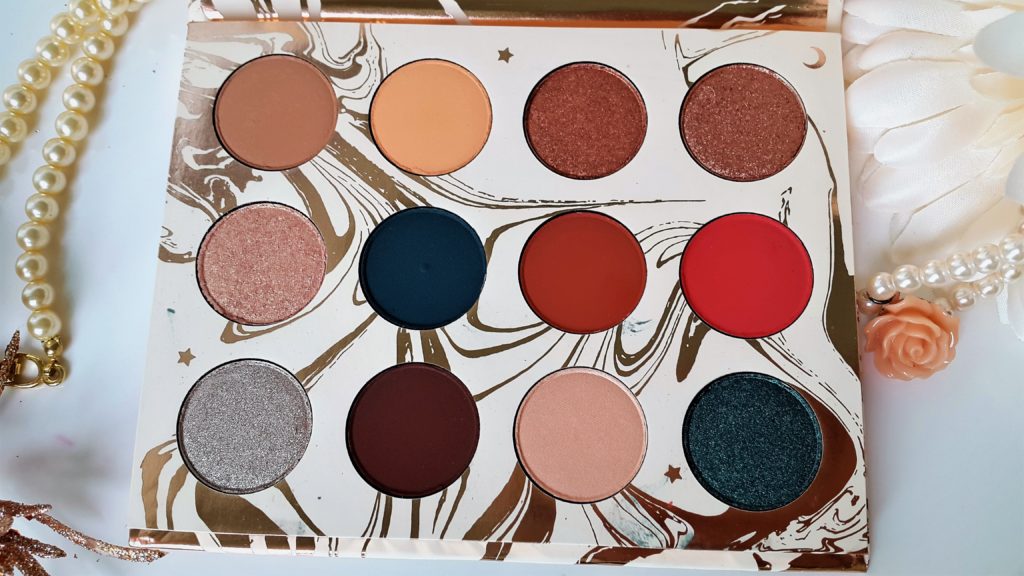 Shooting Star is a light medium brown with some warm golden undertones and has a matte finish. It is very finely milled and feels very soft and creamy as well as powdery at the same time. It applies smoothly and it very opaque.
Magical is a light peachy orange with a matte finish. It has a nice pigmentation and the formula feels velvety soft.
Star Dust is absolutely gorgeous! A true coppery brown with metallic finish. It it semi- opaque in pigmentation, but the copper reflects sparkle a lot when light hits. It applies a bit chunky but smooths out well. These type of ultra sparkly shadows look very pretty and give depth and dimension to any look. This will show its true metallic copper color when applied with a damp brush.
Twinkle is a true metallic rose gold with a hint of coppery warmth. It is quiet similar to Star Dust but is less glittery. It applies smooth and is fully opaque. This is a  shade that will give super metallic look with a damp brush.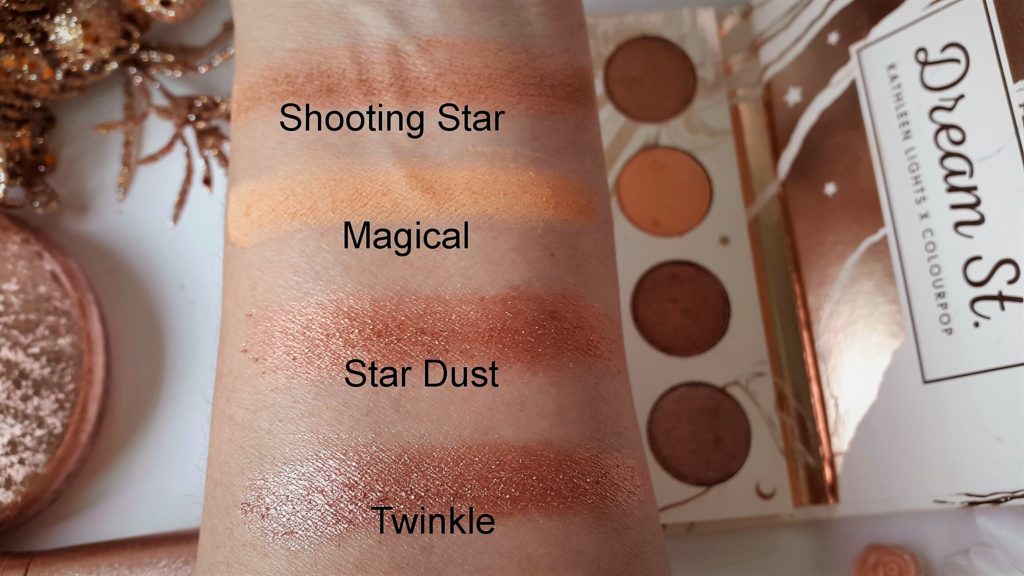 Sweet Dreams is really a dreamy shade. It is a light champagne peachy pink with golden shimmer and sparkly reflects. The pigmentation of this shadow is sheer and feels a little drier. We get better color payoff in 2-3 layers and also when we use a dampened brush. Nonetheless a beautiful shade.
Water Bearer is a dark teal blue with matte finish. It is super opaque and feels a little dense in formula but blends easily and evenly. This shade really pops and will be great to create super smoky eyes as well as adding a little to the lash line instead of an eye liner.
Potion is a warm rich, deep, rusty orange with a hint of  red-ness to it. A little bold orangey brown to amp up the neutral nude looks with a little pop of color that is not too much. This one feels a little dry and powdery to touch but one swipe gives an opaque color pay off.
Spark is a bright orange-y red with matte finish. This is one of the star shades in the palette that catches the eye and also looks intimidating. It is nice and opaque and blends well. This shade can be easily paired with any other shade in the palette. This is soft and smooth as well.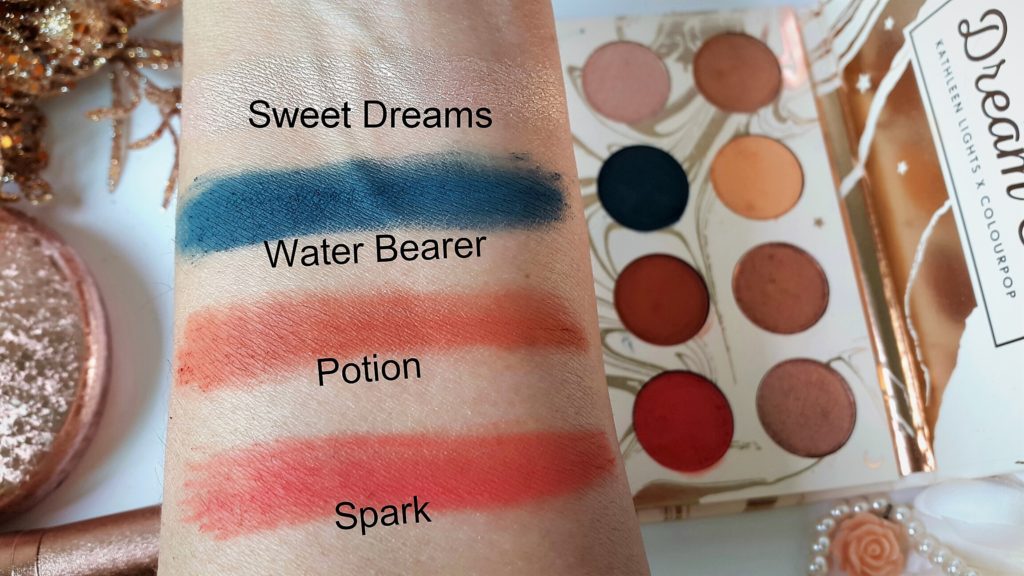 Kaleidoscope is a unique and complex shade to describe. Colourpop describes it as metallic intense silvery nude but it is more like a soft pearly silver with some gray and tiny bit of golden to it. This shade has a pearly metallic finish. It has a teeny bit green reflects at some angles. This shadow has a creamy that applies smooth and opaque with slight fall out. Using damp brush will be great.
Elfish is a rich dark brown with some warm red undertone and has  a matte finish that blends easily and performs beautifully. The formula feels a little bit dry but no fall out whatsoever. It is a great crease color.
Moony is light pinky peach with some sheen. It is very soft and smooth in texture with excellent color payoff and will look stunning as a natural highlight.
Mermaid Boy is a dark sultry beautiful teal blue shade with a pearly metallic finish. The texture feels a little dense but is ultra creamy and quiet opaque. Two layers give full opacity. This is a perfect color for smoky eyes as well as to create some warm and  cool colorful eye looks alike.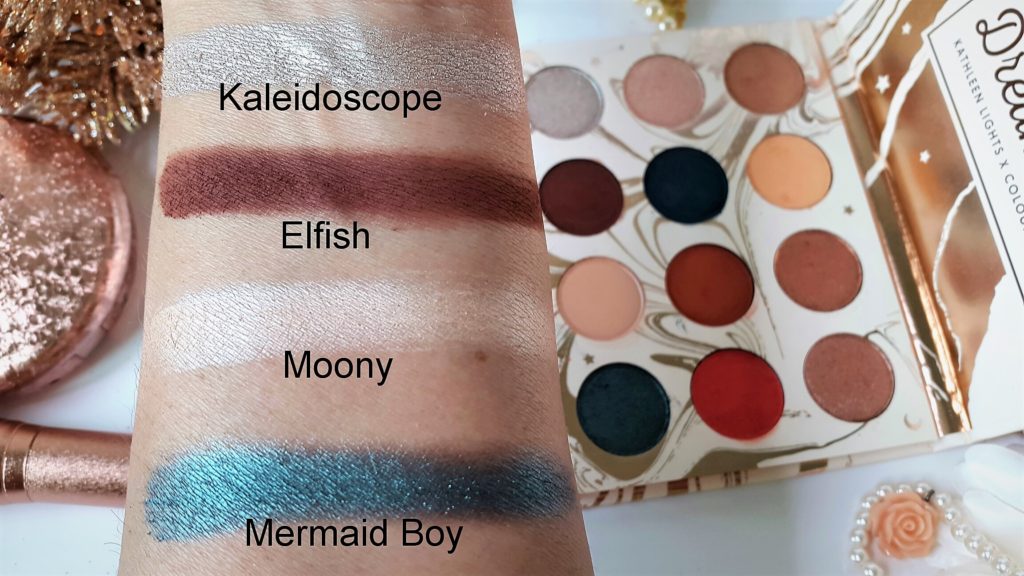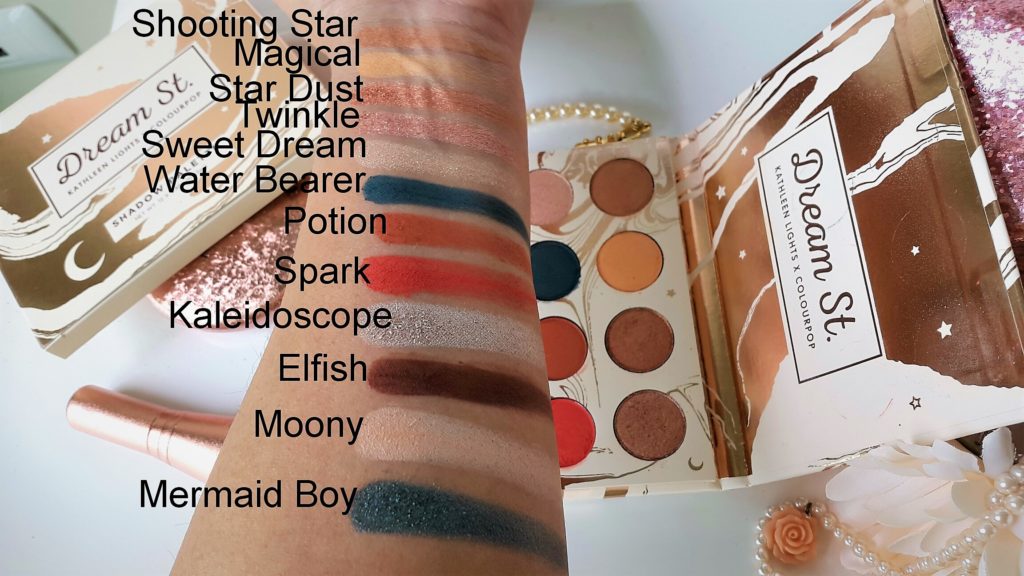 Overall, Kathleenlights X Colourpop Palette is truely a beautiful eye shadow palette with some brilliant color selection. The shadows in this palette are very velvety soft in texture and blend well into the skin. We can create some soft sweet and neutral looks along with some bold and smoky looks. The mattes as well as the shimmer formulas of these shadows are fabulous. But I will say the mattes perform better than the shimmers. We will need damp brush for the shimmery shadows to get the full opacity.  Kathleen and  Colourpop did a fabulous job creating this beautiful palette. We can create some neutral as well as fun looks with all the shades. This is  a beautiful eye shadow palette to have in your collection. This palette can be purchased from the Colourpop Website at $16. ( I have just liked the website here. I am not affiliated with them).
Have you already got this palette? What are you thoughts? Let me know in the comments.
Until next time take care and be beautiful! 🙂