Masking time again 🙂 Today I want to talk about a face pack which I have been using off and on for quite sometime. It is  Jovees Insta Fair Liquorice Glow Pack.  I have never tried anything from Jovees brand. This face pack was actually gifted to me by my beautiful friend (who has amazing skin by the way) when I visited Mumbai a long time back and since then I have been using this and need to have it in my mask basket.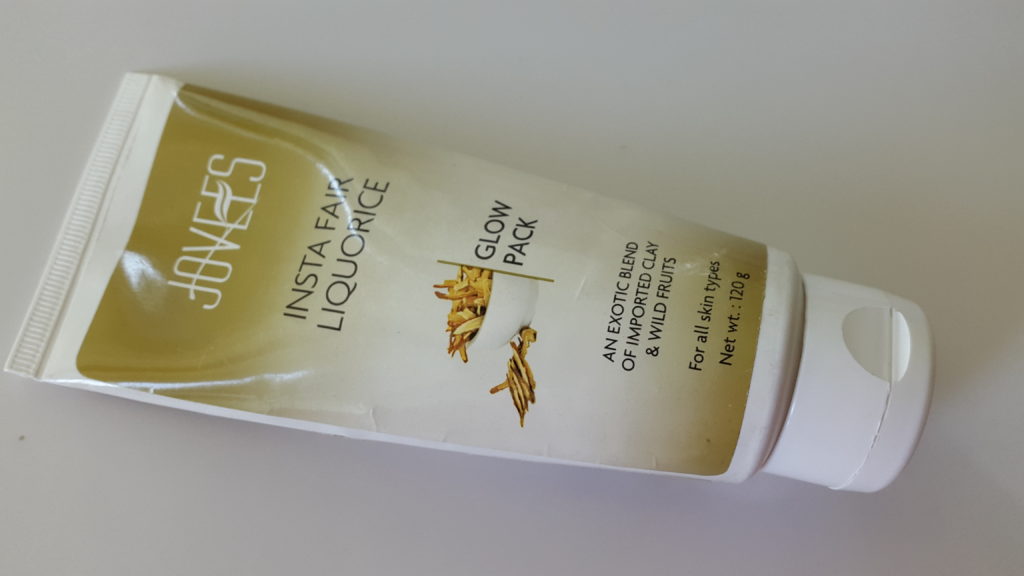 The active ingredients in this face pack being Bearberry Extract, Liquorice Extract, Arbutin Extract, Multani Mitti (Fuller's Earth), Calamine are well known to naturally brighten the skin. Here I would like to elaborate on the ingredients which are natural. I did some research about the ingredients present in this glow pack 🙂
Bearberry Extract is made from the leaves of bearberry plant. It contains the active agents arbutin which naturally lightens and brightens the skin and helps to tone down pigmentation. The bearberry leaves have long been used in herbal medicine for its anti-inflammatory, anti-bacterial and strong anti-oxidant properties that protect the skin from the visible signs of ageing.
Liquorice has been used as a herbal medicine for a long time which also helps in brightening the skin.
Fuller's Earth firms the skin as well as controls oil which is again a bonus if you have oily skin like me.
Calamine has the calming properties which helps in calming the redness and relaxes the skin.
Over all a very good mask that contains all natural ingredients with no harsh chemicals which I like. I use this mask once or maybe twice a week it really depends on what my skin condition.  First I exfoliate and then apply the mask. I leave it on for about 20-30 minutes. After it is dried I wash it off. I like that it does not tighten the skin too much like some masks do. Lastly I apply a light moisturizer and done. I love this mask and like to use it on a regular basis. I have to try the other masks that are available by Jovees.  This is available in India. I stock up on it when I visit my mum. How about you? Have you tried this mask? I highly recommend it. 🙂