Hey lovelies! Happy Tuesday to you all. Its Becca highlighter today. Whenever I think of highlighter Becca is a brand that comes to my mind, of course, Bobbi Brown Shimmer Bricks  as well. But Becca has a wide range of highlighting products in various formulas like liquid and pressed powders. They also have a wide color options.
I have oily skin and it does it's own highlighting business. Adding some more will make me look like a disco ball. I like to use subtle highlighters  that will only add some glow to the face and Hourglass Ambient Lighting powders are great for that. But why should I not try some other highlighters, they look so pretty and in the compacts. I love staring at them. 🙂 Since Becca highlighters are so popular I always wanted to try them. Becca also has some highlighters that will give a subtle glow-y look to the face. But getting a full size product was a no for me. During my last visit to Sephora, I saw the mini set while I was waiting to do my payment and this mini set (which was alone) was literally looking at me and silently requesting me to take it along with me. For the kind-hearted that I am, I said fine and here it is. The Becca Glow on the Go  Shimmering Skin Perfector – Moonstone Set. I always wanted to try the Becca highlighters and what better way than to get the mini sets. I am loving myself some minis lately. It's cheaper and we can try more products at lesser price. 🙂
Product Description – Get the secret to the iconic  BECCA glow and enhance your features with the radiance of Shimmering Skin Perfector Moonstone Glow On The Go. The Shimmering Skin Perfector Spotlight Wand and Shimmering Skin Perfector Pressed deluxe mini now feature BECCA's Moonstone shade. Perfect for creating a range of makeup look, these travel-sizes of BECCA's iconic luminizer let you customize highlighting, touch ups, and a natural-looking glow wherever you are. Layer formulas to create ultimate light and lift or wear alone for different highlighting effects.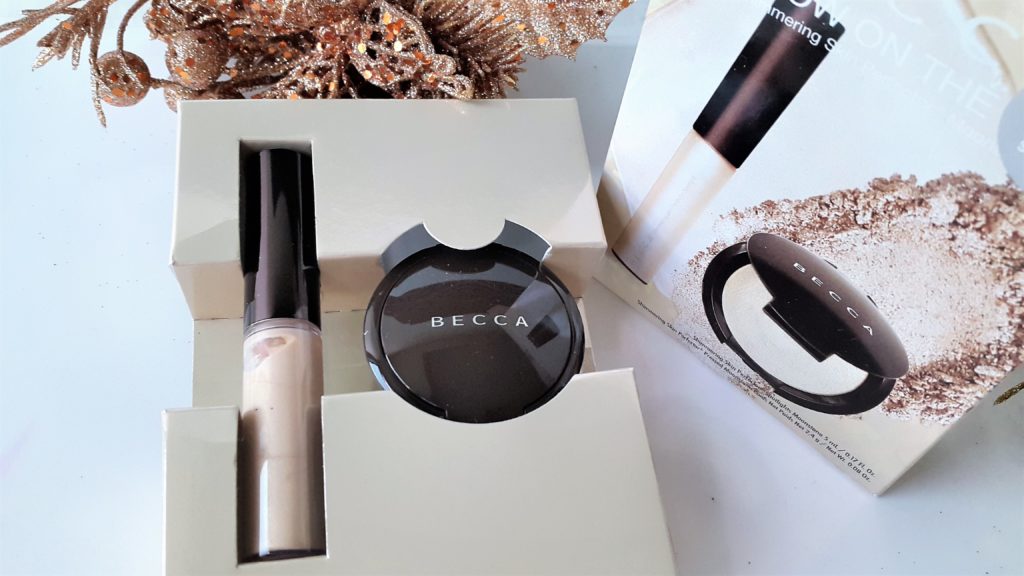 The Becca Glow On The Go Set comes with two mini sized highlighters in the same shade – Moonstone. One is the liquid version and the other is the pressed powder version. There are other shades available too at Sephora as well as Becca's website.
The packaging is the cutest – the little compact as well as the tube. The compact is dark brown, glossy and smooth. The tube is small with a wand to easily apply the product without any wastage. A great travel friendly set.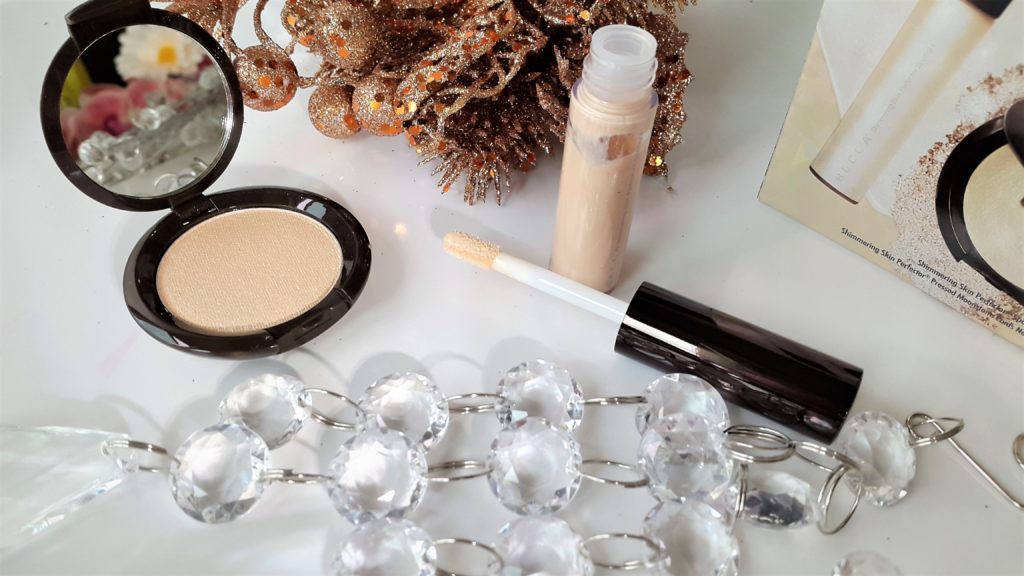 Becca Shimmering Skin Perfector Pressed in the shade Moonstone is a shimmering golden champagne with some sheen to it. It is super finely milled. The texture is absolutely smooth and soft to touch and feels like silk on the skin. It applies beautifully and the color payoff is excellent. It gives a natural glow when applied lightly. Heavy application can also result into the blinding highlighted look, which I am not a fan of. I have noticed if we apply too much it emphasizes my pores and the texture on my skin. I use it light handed just for the minimum glow. It lasts a long time with  or without foundation. It wears well for 6-7 hours before starting to fade.
The liquid version of the Shimmering Skin Perfector in the shade Moonstone comes in a tube with a doe foot applicator. The tube is similar to the tubes of lip gloss or a liquid lipstick. But it is deluxe size. The doe foot applicator is mentioned as SPOTLIGHT WAND on the website. I think this wand is better than the pump in case of highlighter, as we can place the product precisely where it is needed. and we do not waste any product.
The formula of the liquid version is creamy but more thin and runny like water. It spreads easily on the skin and blends well with our makeup. It does not emphasize pores much. It is quiet sheer but noticeable. I like that this liquid version can be mixed with our moisturizer of primer or even foundation to get that over all luminous look. This one lasts  a long time as well.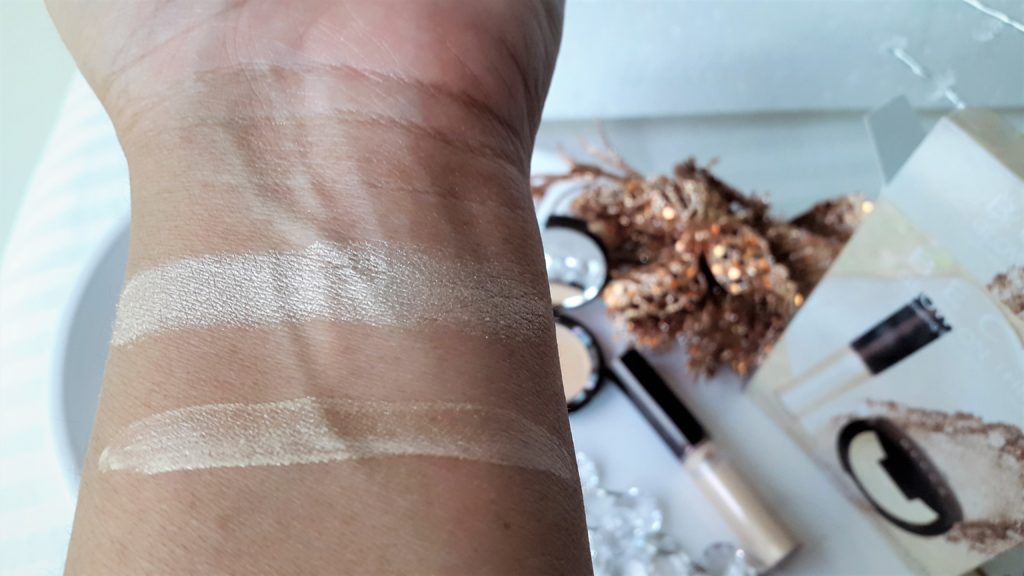 Top – Pressed Powder   Bottom – Liquid
Overall, Becca Glow On The Go Simmering Skin Perfector – Moonstone is worth the money as we get to try two products. With these a little goes a long way and will last you a very long time. Both these highlighters are fantastic. Moonstone is a universal shade and will suit across all complexions. I like that the powder and the liquid complement each other very well. The liquid creates a perfect base for the powder to  highlight and get that blinding highlighted look. Both can be used separately and for that intense highlight they work well together. I would also say that these highlighters are for everyone. People who want a subtle glow or who want to give intense shine to their cheeks. This mini set is available in different shades at Sephora and  Becca's website. If you are contemplating on getting it, try you will not regret at all and the mini sets are less heavy on the pocket. These sets are also great as a gift for anyone who loves makeup. This is the first time I  tried Becca and the temptation begins :-).
Have you tried any Becca products? What do you like the most from the brand? Let me know in the comments 🙂
Until next time stay beautiful and keep glowing. 🙂