Bobbi Brown Shimmer Bricks is one of those coveted makeup items that is high on many makeup lovers desired list. It has been on mine for ages. I remember the moment I first saw the picture of it high up in the sky. I mean in one of those shopping magazines in the air plane (4-5 years ago and after that I saw it during my every travel :D).  I was mesmerized by the beauty of it. I believe it was newly launched that time. I was in doubt about how to use this product but I always desired it. At that time I thought maybe I may not use it so what is the point in buying an expensive shimmering powder which may look too much on my oily skin, you know like a disco ball. But it always remained in my mind.
During the last holiday season Bobbi Brown released this limited edition palette with three shades and finally I bit the bullet and got it. The pans in this palette are smaller hence I got it at a reasonable price besides I got three shades (trying to justify my purchase ;-). I am now a proud owner of one of the Bobbi Brown's cult products and my first Bobbi Brown purchase ever.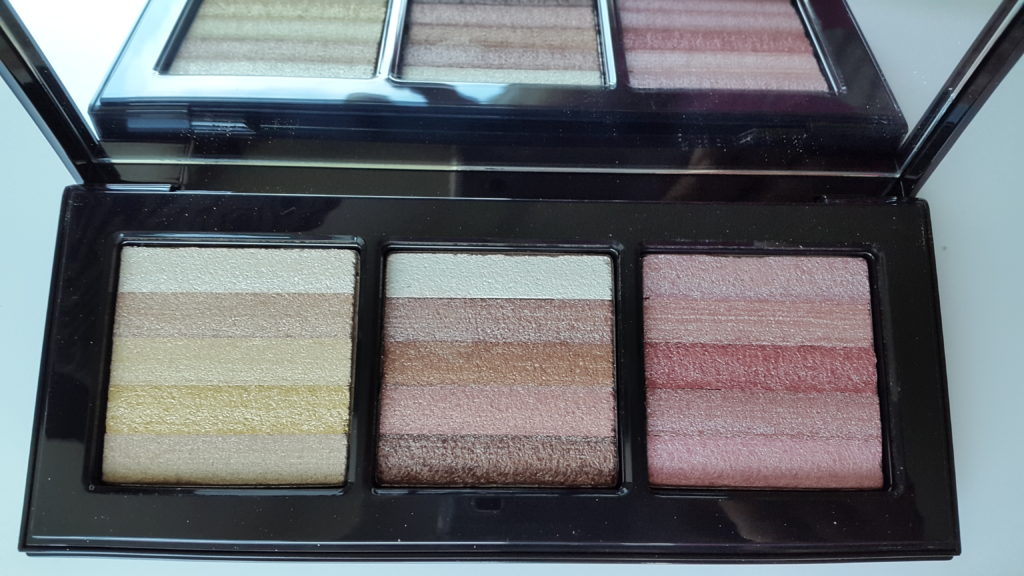 I believe Bobbi Brown  was the first to start the trend of these highlighting powders in the shimmer brick format where we get 5 shades in one compact and it also became the most duped product.
As I mentioned there are three shades in this palette – Gold, Bronze and Wild Rose. The Gold and Wild Rose were limited to this palette but the Bronze shade is available in the regular Bobbi Brown Shimmer Bricks line and is the most versatile and popular.
These shimmer bricks come in a black colored glossy compact with the gold  Bobbi Brown insignia on it. Holding it in our hand is a pleasure. The compact looks expensive and luxe. But will also hold the fingerprints. The magnetic closure of the compact makes it classy, chic and fun. The sound is so satisfying.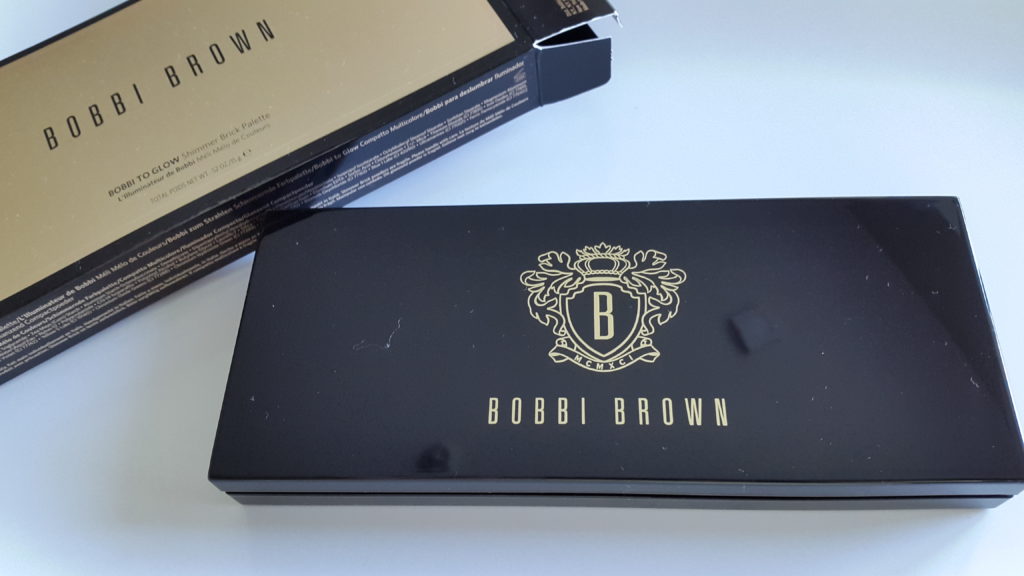 Everyone is absolutely familiar with the layout of the shimmer bricks by now. ( I know it is odd that I am even speaking about it now. But you see it is new to me and I like it so much and want to write about it.) The soft shimmering powder comes in 5 different shades in the compact. These five shades have their own color. These are highly pigmented and blend beautifully. Basically this is a highlighter that will give subtle  or intense glow to the skin according to the application. These can be used as a blush, bronzer or highlight it depends on where you place the brush and pick up the product as well as your skin tone.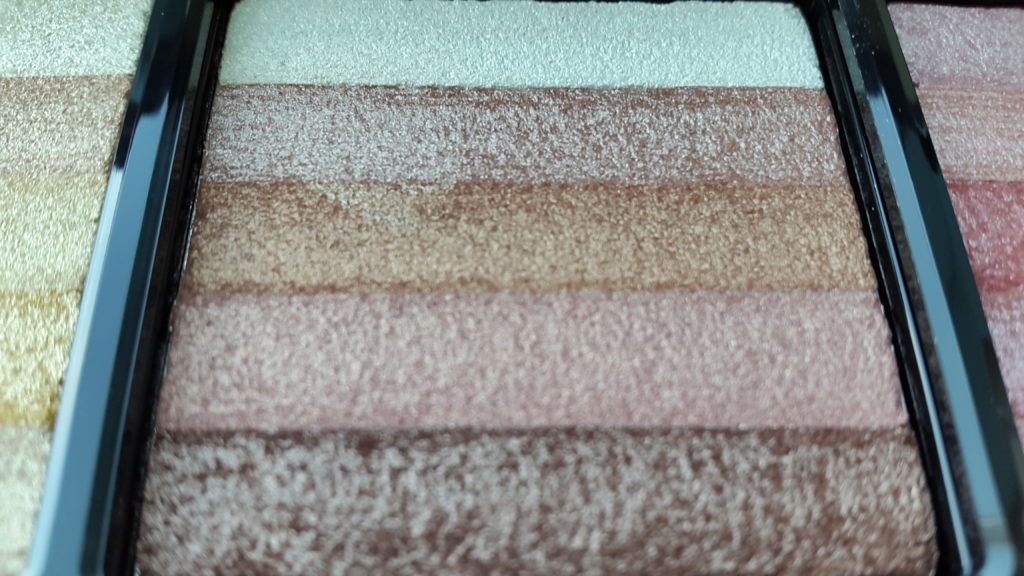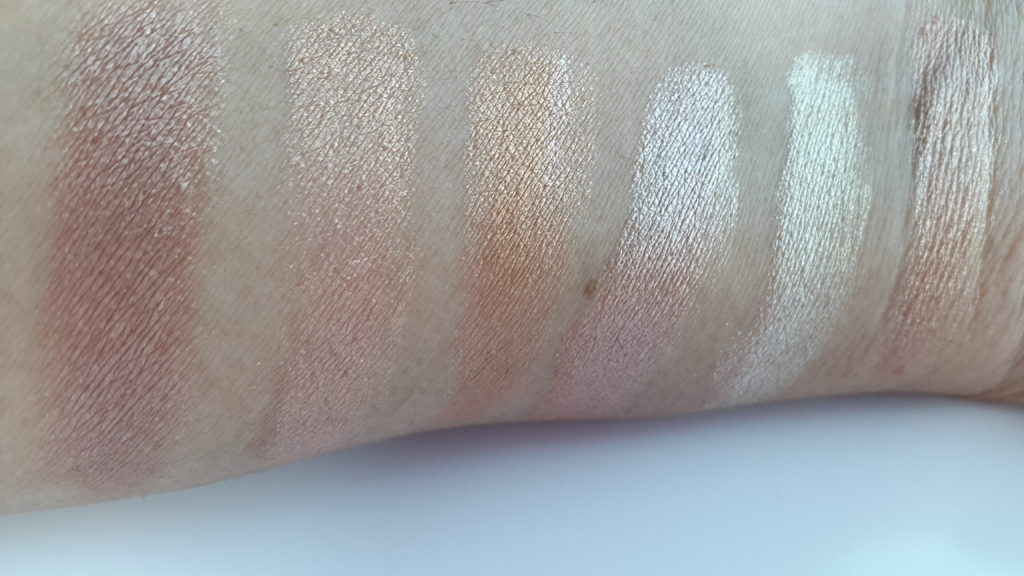 Left to Right : First five shades darker shade to the lighter and the last one is all shades mixed.
The shimmer brick in Bronze specifically can be used as eye-shadow by using single shades to create a natural everyday eye look as well as swirl the brush in all the shades to get a beautiful highlight.
This multi-tasking compact is superb. It is also very travel friendly. The other shades available in the Bobbi Brown Shimmer Brick line are – Bronze, Nectar (so tempting), Rose, Pink Quartz and Beige. I believe the Bronze shade is more suitable for the medium to ebony skin complexions. The lighter skin girls can use it as a bronzer and eye-shadow.
These shimmer bricks are very soft and fragile. These last a long time on the skin so you have that "lit from within" glow all day. There is one thing I would like to point out that these shimmer bricks have the tendency to emphasize large pores if you go overboard with it. So you really need to be careful with application especially if you have oily skin. I think Bobbi Brown Shimmer Bricks are worth the hype due to the quality of the product. We do get a good amount of product that will last a lifetime. I do recommend it. But if it is difficult to spend that amount of money on Bobbi Brown shimmer bricks there are some dupes available which work well.
Have you tried the shimmer bricks? What are your thoughts? 🙂