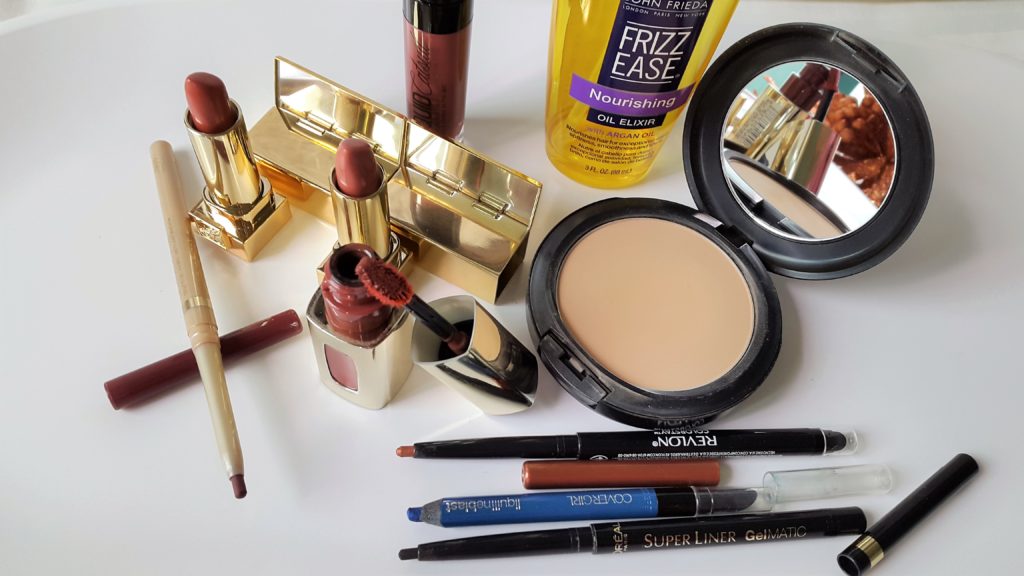 Hello! My friends! The month of September went by very fast, as usual. I wonder why the time is running so fast. Anyway, let me not blabber and get to the point. I am a little late for my September Favorites post as was a little busy with other things and just kept procrastinating, which I should not I know. I have a few products to mention that I used the most last month.
John Frieda Frizz Ease Nourishing Oil Elixir – This is a great hair product with Argan Oil. I have been using this for the past year or so. It is very light weight and does not weigh my hair down or make it oily. One to two pumps is enough for my long hair. I use it after washing my hair. I helps to ease my frizzy hair. This can be used on wet or dry hair. It makes my hair smooth and soft to touch. I have almost finished this bottle and will repurchase it for sure.
MAC Studio Fix Powder Foundation – It is a nice powder foundation for my oily skin. I just use a dense brush and buff it all over my face just to even out my skin tone and make it look brighter and a little matte. It is good for everyday light to no makeup look. I try to switch my powders every now and then so I can use them.
Eyeliners – I have been playing with my colored eyeliners a lot. I always like to use colored liners since I use less eye-shadow on a daily basis. A black one on my upper water line close to my lashes and the colored ones on my lower outer corners just to define my eyes. I have a bunch of colored liners that I try to match with my makeup or outfit. For the past month I have been using a few but here I will mention about those that I used more frequently.
Revlon Colorstay Eyeliner in the shade 208 Topaz – This is a beautiful coppery color. It looks coppery, golden brown with a little bit of a metallic sheen to it. This is a water proof long lasting liner. I love it so much I try to use it more often.
Covergirl Liquilline Blast Eyeliner in the shade Blue Bloom – This is one of my favorite to wear with  my so many blue outfits. It is a pretty bright blue which will not look too bright. In the swatch it is looking very bright but on the eyes it looks bright but subtle bright, if you are new to using colored liners you can start with this one.  I have almost finished it.
Lip products are my thing. I always love wearing a lipstick or a lip gloss before leaving home. I don't know but I love wearing something on my lips to keep them well hydrated. I have a few lip products to share 🙂
L'Oreal Coloriche Anti-Feathering Lip liner in the shade Lasting Plum. It is a beautiful rose-y plum shade with nice amount of pigments. It is creamy and matte with a nice lasting power. It does not smudge and stays put all day on the lips. It is a bit drying after a few hours of wear though. It can be used in conjunction with lipsticks as well as on its own. I mostly use it on its own as a lipstick and sometimes dab a little to get that stained effect. It has a little bit of a chemically scent but goes away after sometime. The color is very pretty on me.
Estee Lauder Pure Color Crystal Lipsticks in the shades 308 Crystal Sun and 301 Crystal Baby. I have had these lipsticks for a very long time. For a long time these were too pretty for me to use them :-). These are very sheer but super moisturizing on the lips that will give a little bit of color and shine to the lips. I would say these are like super moisturizing lip balms in terms of pigmentation. I have learned to avoid high end lipsticks that have very little color payoff. These will last a couple of hours if you are not eating or drinking. I will use these instead of my lip balms. These provide nice hydration to the lips besides the packaging is absolutely stunning and golden 🙂
Wet n Wild Megalast Liquid Catsuit Liquid Lipstick in the shade 925B Give Me Mocha. I have used this shade a lot, mostly when I am out for longer time. I have already reviewed these liquid lipstick earlier. This has an amazing formula and which is comfortable as well as lasts a long time on the lips.
L'Oreal Extraordinaire Lip Gloss in the shade 703 Caramel  Solo – This lip gloss  is a must try for everyone. It is nice, creamy, comfortable, smooth and shiny lip gloss with a perfect amount of color. It glides on smoothly giving the lips a nice shine that makes the lips look fuller and juicier. It keeps the lips well moisturized and lasts like a lip gloss would last. 🙂
I would like to know what were your favorites in the month of September that you have been loving? Do you like to use colored eyeliners? What do you prefer lipstick or a lip gloss? Let me know in the comments I love reading and replying to them.
That's all my dearies. I hope you liked my September Favorites post. Looking forward to the month of October. Hope you all have a superb October 2017.  Until next time stay happy and beautiful! 🙂