Hey lovelies! 🙂 So far I have mentioned so many skincare products on my blog but rarely anything for the lips. Our lips need to be taken care of too, right? Oils have been used for centuries to moisturize the skin. We all know using different oils does wonders to our skin. Our grandmas and even their grandmas used different oils that were available to them to take care of their skin and enhance their beauty. Now a days there is a big trend of using different oils for different treatments at the beauty spas and for various skin and health issues. So many types of oils are available, it is overwhelming and becomes difficult to choose. There are some luxury brands that make lip oils as well.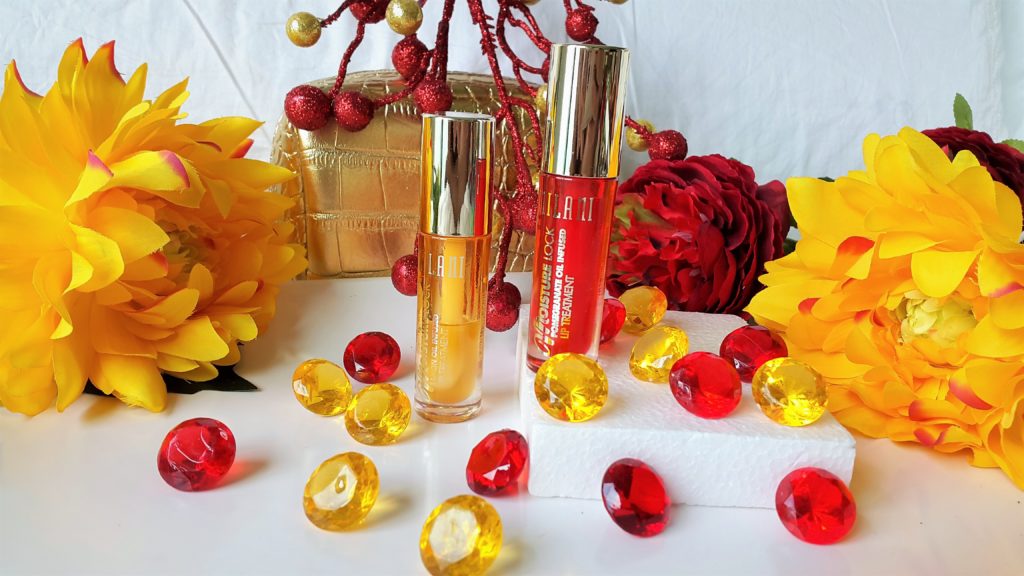 We use so many lip products on a daily basis like the matte lipsticks, liquid lipsticks that take a toll on the lips and make them dry and damaged. We need to take care by exfoliating and moisturizing them regularly with a good lip balm. But using oil on the lips provides deeper hydration which is needed most of the time. I was thrilled when Milani launched their version of lip oils called the Milani Moisture Lock Oil Infused Lip Treatment, I had to try. 🙂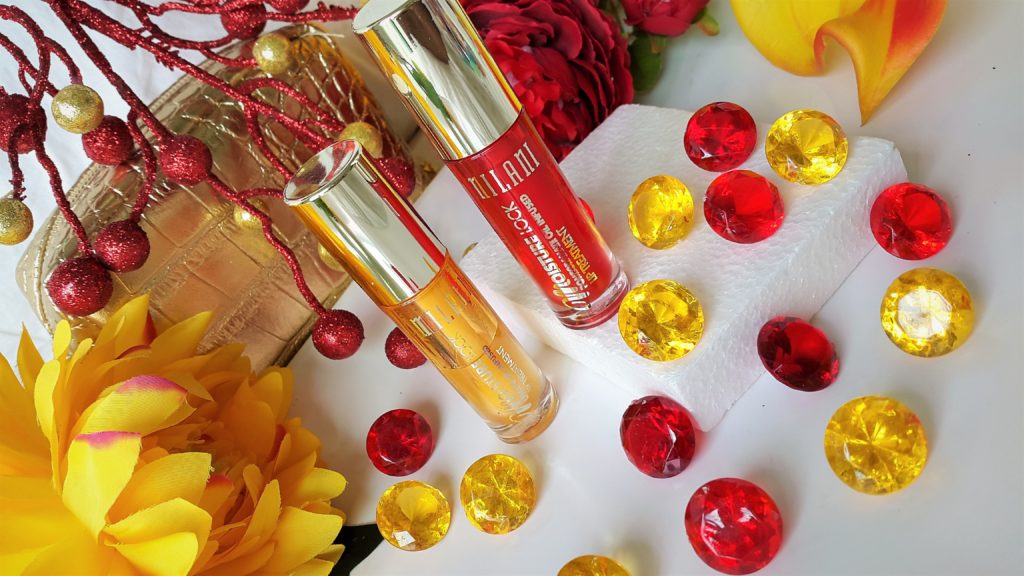 Product Description on the Website – Discover a revolution in lip hydration plus a healthy dose of shine with a first-of-its-kind lip oil in 8 addictively scented, kiss quenching shades. All lip oils are formulated with the natural healing power of Jojoba, Avocado and Tsubaki Oil. As an added benefit, each shade is infused with different nutrient-dense oils that treat specific concern. The soft, extra plush applicator hugs the curves of your lips, locking in moisture.
Milani Moisture Lock Oil Infused Lip Treatment comes packaged in beautiful thick glass tube with a large soft, sponge tip applicator. The applicator is actually quiet bulky and the moment you remove the applicator half the product is gone. 🙂 Nonetheless the applicator is nice and easy to use. It applies the product to the lips well.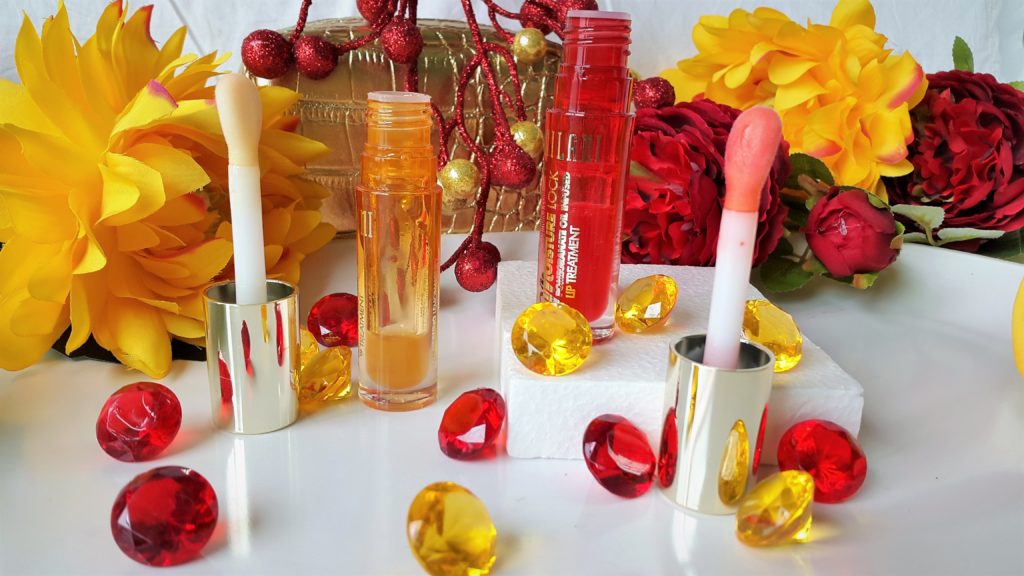 The formulation of the Milani Moisture Lock Oil Infused Lip Treatment is a mixture of Jojoba, Avocado and Tsubaki Oil. It is available in 8 different fragrances/flavors. Each one of them contain nutrient oils that treat specific concerns. ( I was wondering so many concerns like 8 of them, I could only think of  dry chapped lips and maybe dark pigmented lips what else?) It was intriguing and I jumped and got two flavors. Healing Lemon Honey and Protecting Pomegranate.
The consistency of the lip treatment is similar to that of oil or a lip gloss, but is not sticky whatsoever. These are moisturizing and shiny on the lips and don't feel goopy or even greasy. These are available in 8 flavors as well as 8 colors. The darker ones have a mild tint but when applied to the lips there is hardly any color.  You can see the swatches below. The top one is Protecting Pomegranate and below is Healing Lemon Honey. These last on the lips quiet well like 2-4 hours eventually absorbing into the skin and providing reasonable amount of hydration.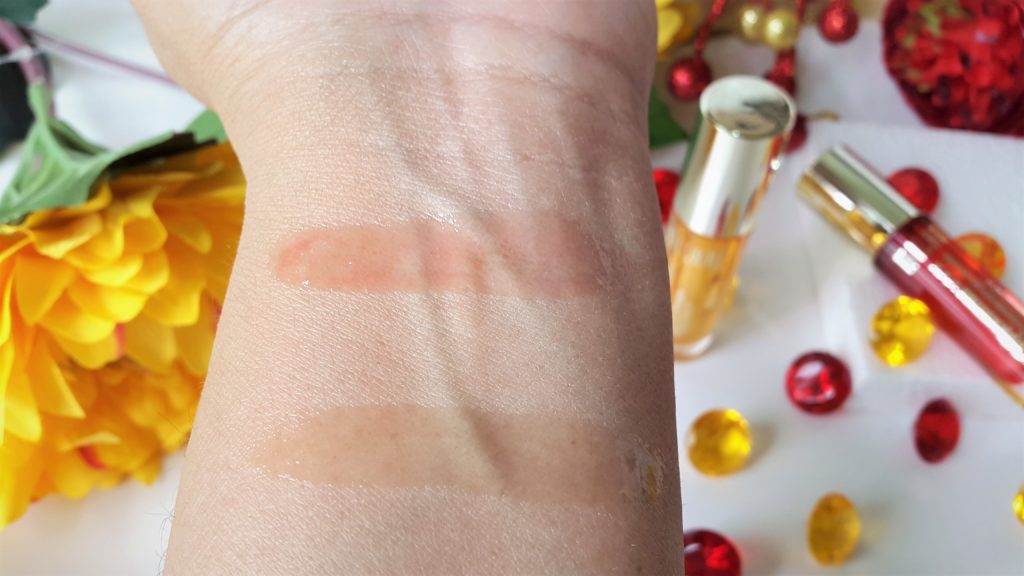 I have been using the lip oil in between when I feel my lips are too dry. Most of the time I use it at night before going to bed. This is a good lip treatment that gives instant relief from severe dryness. Milani's claim that each flavor with specific nutrient oil treats specific concerns, I don't see that. I got two different flavors and find them both to be exactly the same, only difference is the scent.
Overall, the Milani Moisture Lock Oil Infused Lip Treatment are great to use. Provide enough moisture, feel good on the lips and smell nice. If you like the wet lip look which treat and condition dry lips at the same time you should try these. I have to mention that Milani is a cruelty free brand and these lip oils are vegan. The Milani Lip Oil is a great drugstore option for other high end pricey lip oils. When I run out of these I will definitely be repurchasing another flavor/fragrance.
Have you tried these oils? Which other options you would suggest for me to try? Let me know in the comments.
Until next time stay bright and beautiful! 🙂