Marc Jacobs Highliner Matte Gel Crayons are the new reformulated addition to the already existing highliner line by the brand. These are matte as the name suggests. The original highliners are shimmery or have a bit of sheen to them. These are also available in a wide range of colors.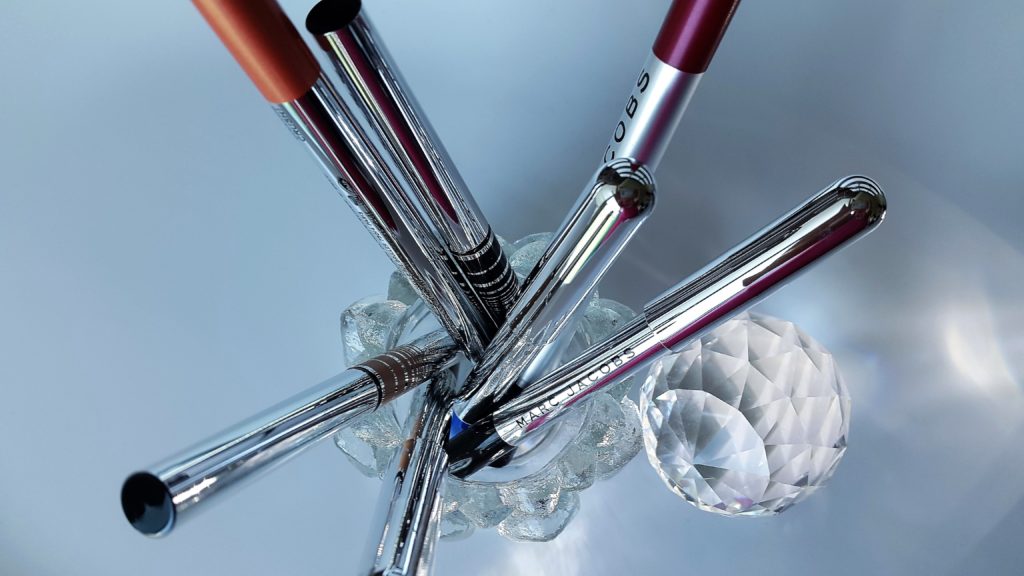 I had never tried these highliner collection until I recieved my free birthday gift set from Sephora. It included a mini lipstick and a mini black eyeliner pencil. When I tried it I fell in love with it. Later I got the mini gift set that was available during the holiday season. It included two gel highler crayons in the shades – Out of the Blue, Ro(Cocoa) and two Ultra-skinny Gel Eye Crayon in the shades Blacquer and (Nude)ist.
I have been enjoying using these highliners a lot. The color payoff and the lasting power is amazing. But I have heard that these dry down after a sometime. Mine is still going strong. I got in last December and these are still smooth and good. I am happy that these are mini size and I will use them up before they dry. 🙂 But I don't think these will dry any time soon.
Later I heard about the new reformulated Marc Jacobs Matte Gel Highliners. I was excited about it but to be honest I forgot about them until my visit to Sephora .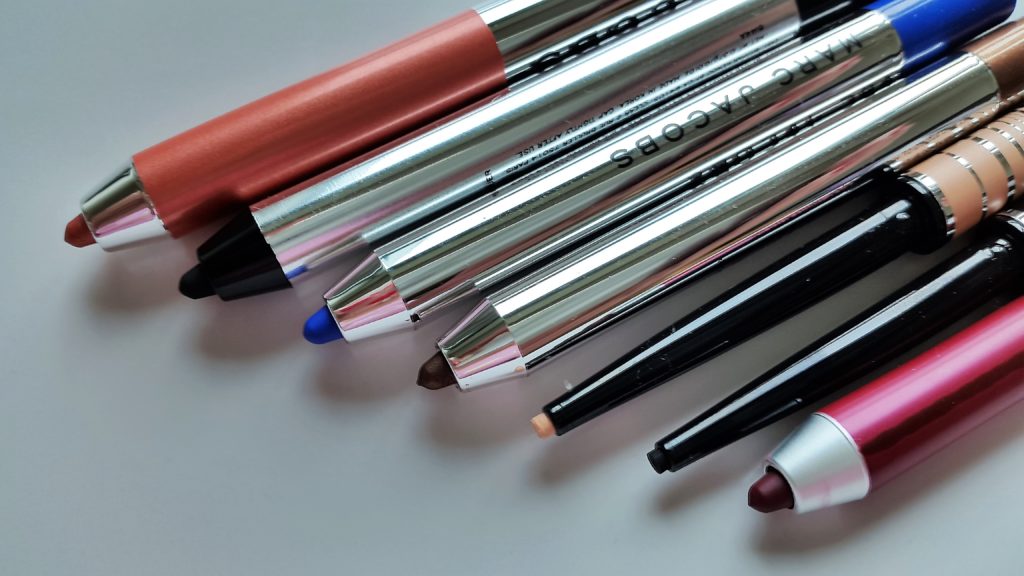 Product Description :- Experience the intense color payoff, amazing glide and 12-hour longwear of Marc Jacobs Beauty's original award-winning highliner gel crayon eyeliner-re-envisioned in a bold matte finish. The pure hues are glitter-free, intensified by super-rich pigment. Unlike other eye pencils, this malleable formula glides on smoothly for precise application and gives you 15 seconds of play time before it sets in place for wear that lasts all day.         Marc Jacobs Beauty.
The new Marc Jacobs Matter Gel Highliner collection features 12 matte shades from bright fun pastels like pinks and blues to deeper bold shades like wines and purples to regular standard shades like blacks and browns. I was blown away by how beautiful and uniques the shades were. I had to get a couple – 47 Fine(Wine) and 78 Orange Crush. Later I realised that I just got one shade from the matte range. The other one that is Orange Crush is from the regular older line.
The silver packaging is very classy and beautiful. It is a twist up eye pencil. The color on the packaging is very reminicent to the color of the eye pencil inside which makes it easy to pick up a particular color in our 100s of other eye pencils. I do want to point out that the matte highliners have a matte finish as oppose to the glossy finish of the regular highliner line.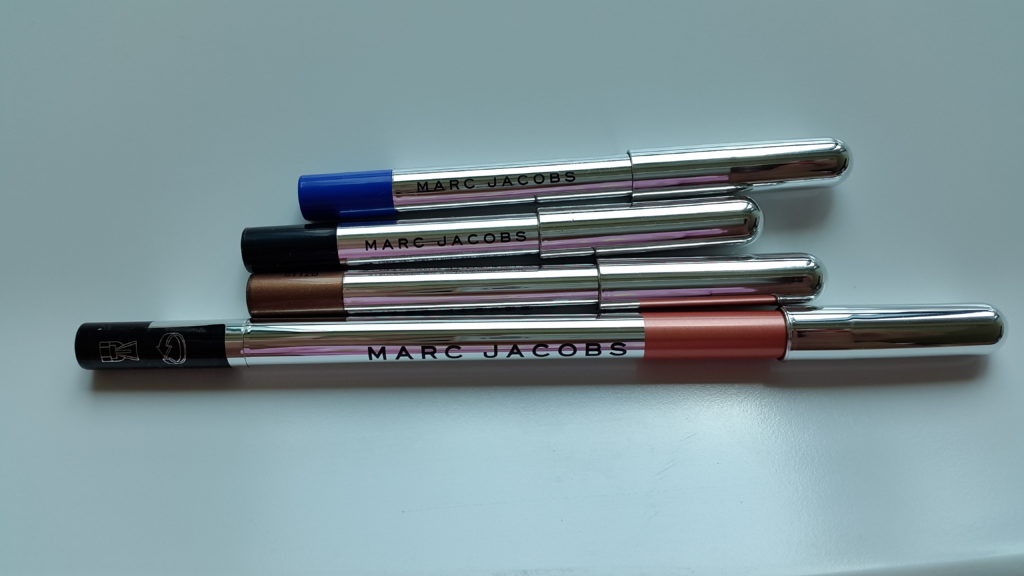 The pigmentation is to another level. The gel formula is water-proof and glides on very smoothly and stays put all day. It does not migrate or smudge or crumble in the corners of the eyes.
It is mentioned in the product description that on application we do have 15 seconds to work with before it sets. But in my experience it take a bit more than 15 seconds to set. Its good if you need to use these are eyeshadow there is sometime to blend. Personally  just use it as eyeliner just to add a pop of color to the eyes. Once it is set its not going anywhere even when you are wearing these on the waterline. There is a sharpener at the other end of the pencil if you need to sharpen the point. But I never use it as it wastes some of the product during the process and also because these being gel formula are very soft and fragile.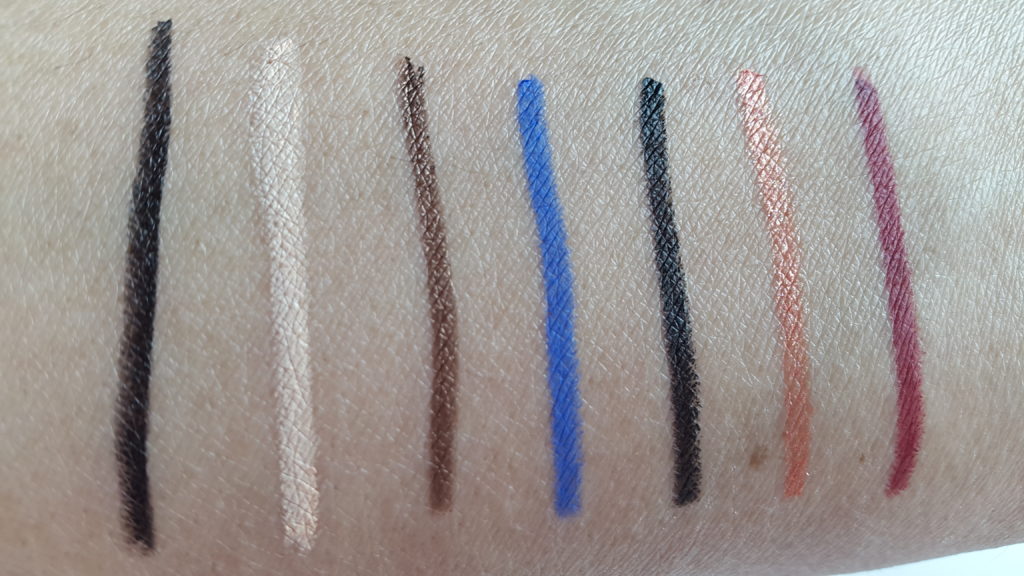 Left to Right : Skinny Eye Pencils in Blacquer, Nude(ist), Ro(Cocoa), Out of the Blue, Blacquer, Orange Crush, Fine(Wine)
These eyeliner pencils have all the qualities of what you need in a perfect eyeliner.
Smooth and silky gel formula – glides easily without tugging.
High level pigmentation – one swipe and you are done, you will not need to go over it many times.
Long lasting power – It sets and does not budge that is what we all need.
Beautiful colors – The shades are amazing and unique. I have also read that each shade of these liners look totally different on everyone depending on their skin tone. ( don't quote me on that but I have read).
Fine(Wine) :- Dark reddish berry wine shade as the name suggests. It is a rich maroon mohogany kind of color. This unique shade is very much in trend these days. Interestingly its wearable and fun at the same time. Just by adding a pop of color to the eyes. This is my favorite and highly recommeded.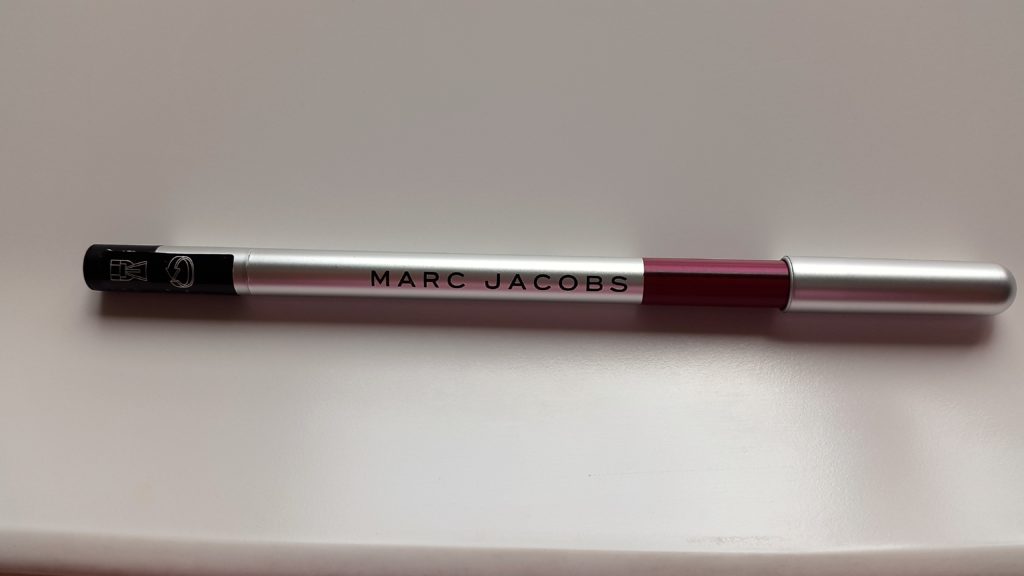 Marc Jacobs Matte Gel Highliner Eye Crayon in the shade Fine(Wine).
Orange Crush :- Is a light peachy orange shade more towards golden and a little bit of sheen to it. It does feel a tiny bit drier than the matte one. The color is really beautiful.
Have you tried these Highliner Gel Crayon? What are your thoughts? Which is your favorite shade? Which other shade should I try? let me know. 🙂