Today I want to talk about another fragrance which has also become my current favorite. It is none other than the beautiful Elie saab Le Parfum Eau De Parfum Intense. It is not a new fragrance but new to me. I know I am always late to the party 😉
Product Description –  An Oriental Floral – A sensual echo of the first perfume, the Eau de Parfum Intense turns voluptuous. Ylang-ylang is enhanced by the addictive sensuality of Honey Rose. In the base notes, the Amber-Patchouli accord reveals bewitching notes. An Eau de Parfum Intense with floral and oriental wisps.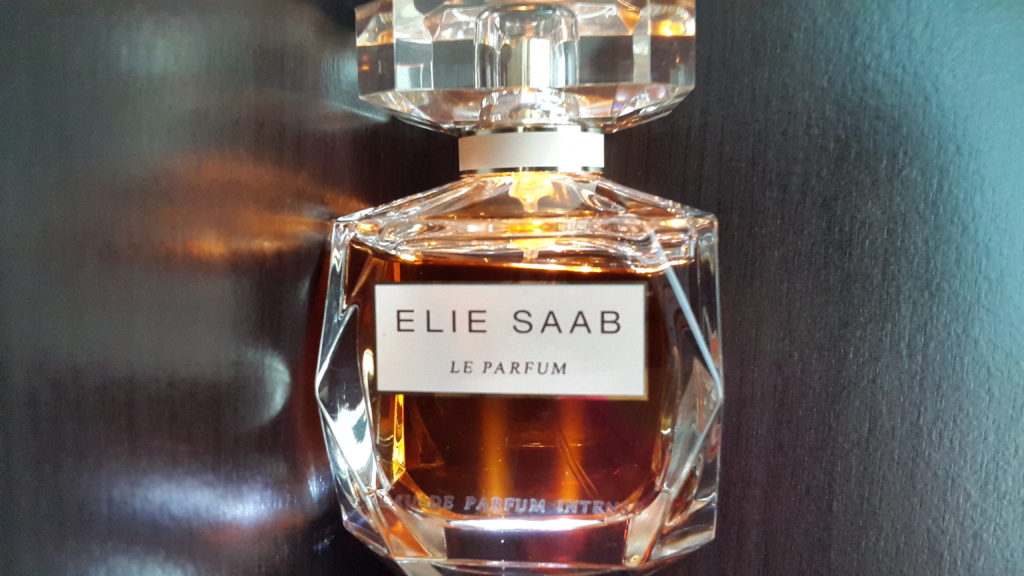 I loved the inspiration and description of Elie Saab Le Parfum Intense on the website. I am not that good at describing fragrances but will try my best. 🙂
First of all the bottle is a piece of art. It is a solid glass bottle that looks and shines like a crystal but the cap is a bit of a let down as it is of plastic (you cannot guess it until you hold it in your hand). I wish the cap was also of glass then it would have been perfect. But still it is beautiful. I like the cute shape of the bottle and it just twinkles like a star when light hits. The golden amber liquid inside just enhances the look of the bottle. It looks dazzling, stylish and pretty sitting in all its glory on my vanity which I think is important when we pay so much.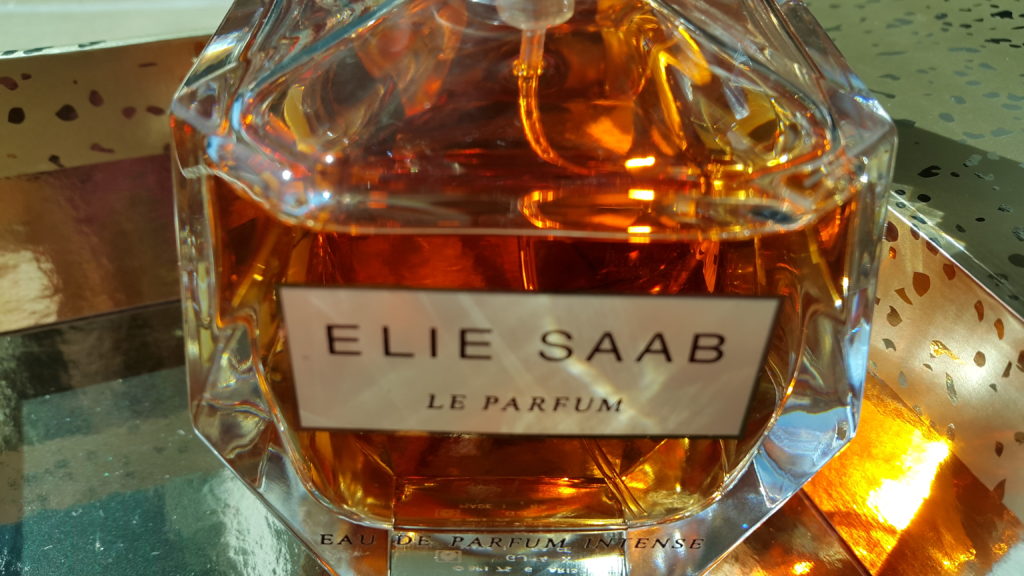 Orange blossom and Rose Honey are the signature scents of the Elie Saab Le Parfum line. This smells like heaven in a bottle – okay its a bit too much to say but you know what I am saying. The composition of it with Orange Blossom as the top note, Ylang-Ylang mixed with Rose and Honey as the middle notes and the base notes as Patchouli and Amber is quite simple but the result is amazing. It is a sweet fragrance with beautiful composition of flowers which is so relaxing. It is like a magical golden potion in a bottle from some fairy-land.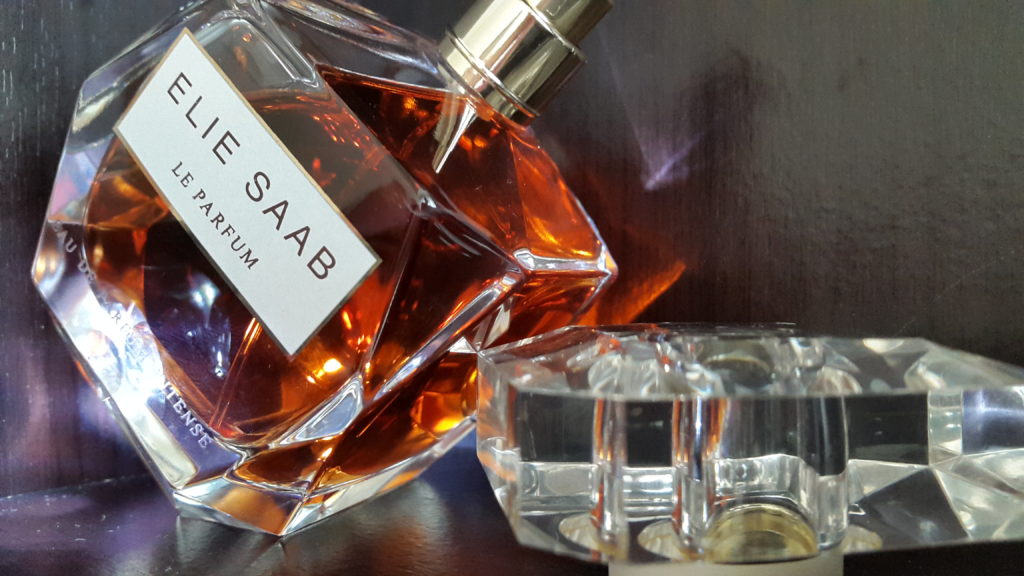 Honeyed Orange Blossom is the strongest while Ylang-Ylang and Rose go so well with it. I just can't stop smelling myself when I wear it. Patchouli and Amber make this sweet honey floral combination even richer. It does have some delicateness to it though.
Le Parfum Intense does not mean that it is an intense or overpowering perfume by any means. It is not at all strong or sharp. The main feature of this perfume is that it has a strong wafting quality which will never go unnoticed.
I think Elie Saab Le Parfum Eau De Parfum Intense is a 'special occasion' kind of perfume which you never want to forget. Great for dressed up occasions like dates, parties, weddings etc.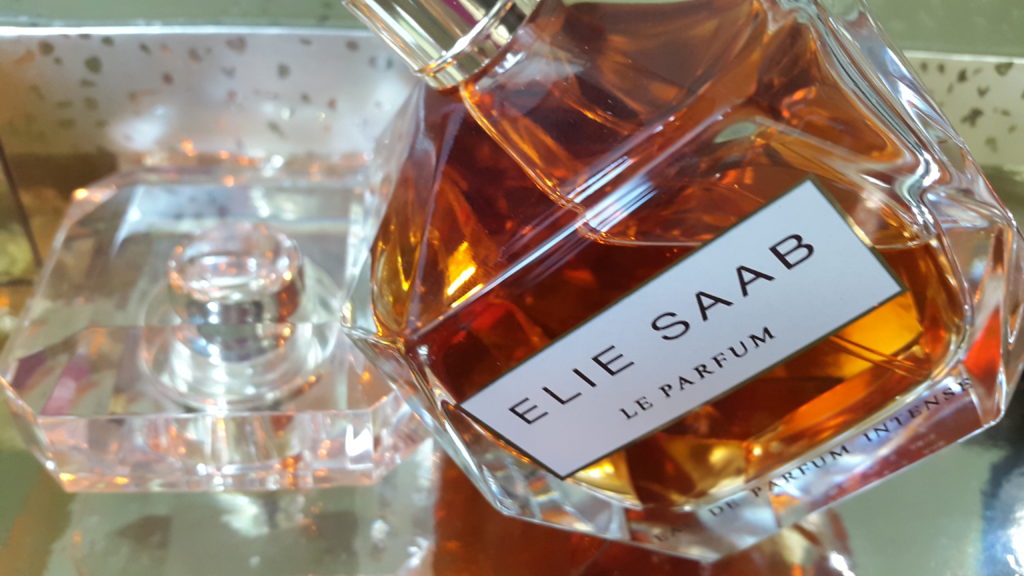 It lasts a long time without changing much. It smells divine at all stages be it wet or dry. This fragrance will make you feel elegant, sensual, classy, rich, charming, and so feminine. A perfect fragrance for women who want to spread their aura to the surrounding. It is stunning and beautiful which will make you shine like gold. I love it so much and highly recommend it as a gift for someone special or to yourself. It is a pricey fragrance but I believe it is available in 30ml, 50 ml and 90ml. Give it a try and I think all women will love it. What is your favorite fragrance let me know? 🙂