Hi! I am a big perfume lover and I cherish all my perfumes as they have a sentimental value to me. Today I want to talk about another perfume which has been in my collection for the past few years. Here on my blog I do have plans to review each and every perfume I own, and you are here checking this review that means you too like to smell good and are planning to purchase a new fragrance.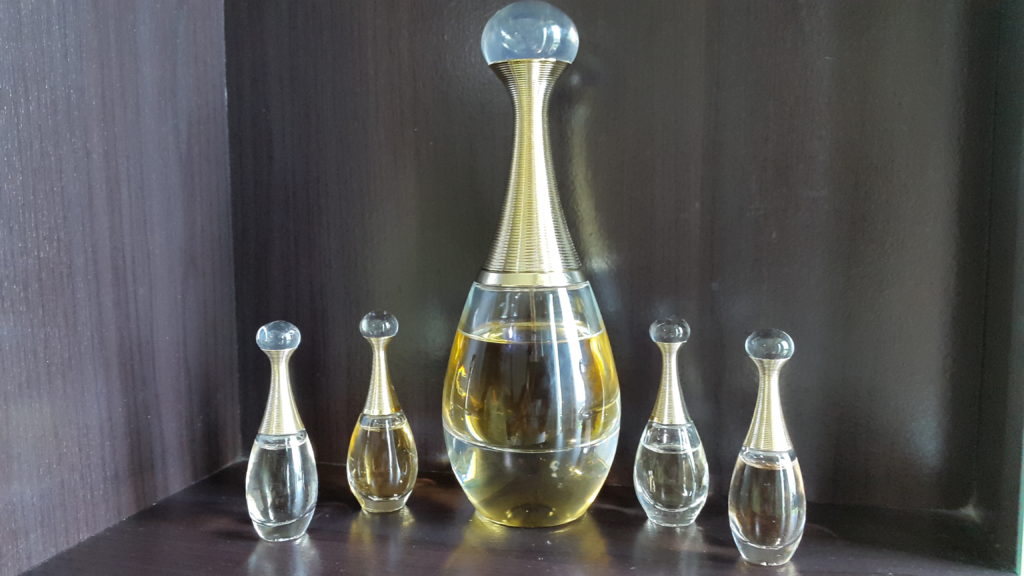 I will be sharing my thoughts about Christian Dior's J'adore Fragrance. Firstly the name is absolutely adoring and sounds beautiful as well. J'adore is a French way of saying "I adore you."
Dior's J'adore Dynasty has been ruling almost for the past 20 years now. It was launched in 1999 and was a huge success. Since then J'adore  has been Dior's "STAR" fragrance. If we look at any Dior counters J'adore is always shining in all it golden glory. The concept behind J'adore was capturing the glow of gold and the mesmerizing effects of the precious metal. The bottle, the golden liquid inside – everything is tempting and  hypnotizing.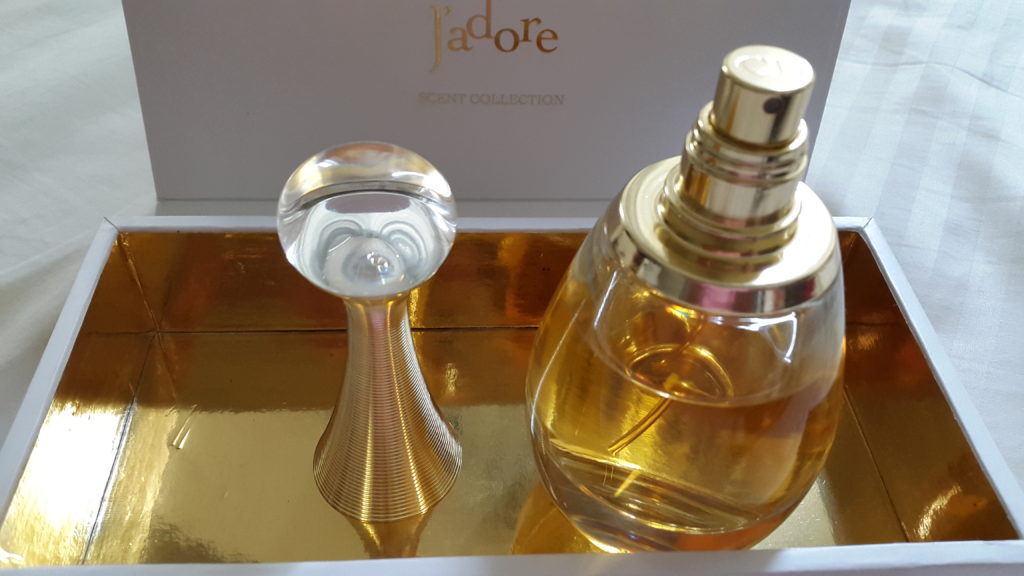 To start with the bottle is beautiful and elegant. The glass bottle feels heavy and the long cap with the golden rings like design adds sophistication to it. I feel the tall bottle resembles a queen dressed in all gold sitting proudly on the vanity is beautiful.
Since the launch of J'adore in 1999 it has gone through variety of reformulations where the original classic one got lost somewhere. There are various versions of Eau de Toilette, J'adore L'abolu, J'adore Le Jasmine, J'adore Eau de Cologne Florale, there was some non alcoholic version, J'adore Summer version, the latest one being J'adore L'or (correct me if I am wrong). Isn't it too much? One single perfume that was already a huge success why was it necessary to bring in so many variants and get us confused which one to buy. 🙂
My husband got me the J'adore L'absolu. In general he loves this fragrance a lot especially when it is stronger and sharper.
The top note is Ylang-Ylang. Middle notes are Tuberose, Jasmine and Rose. The base notes are Fruity Notes, Musk and Woody Notes. You must have already smelled this fragrance some time, somewhere by now as it has been around for so long.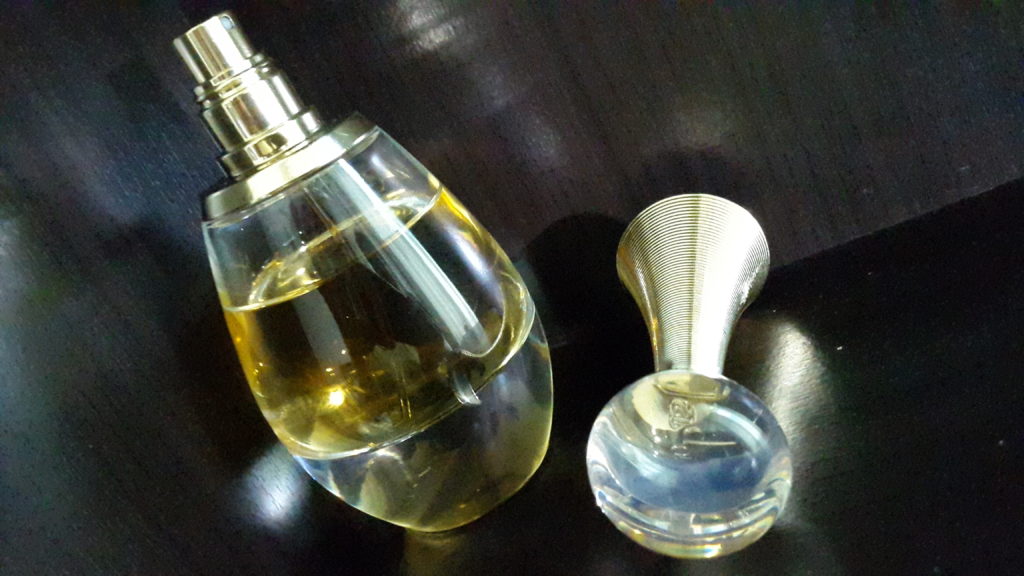 J'adore L'absolu is basically a fruity-floral fragrance. It is a bit strong and sharp in the beginning but is subsides in an hour or so. All notes mixed into each other creating a really complex and beautiful scent. Jasmine is the dominant note through out. This floral does not by any means seem cheap floral. It is strong, sweet, fresh, aquatic all simultaneously. It is difficult to find any particular note other than Jasmine. On me it just smells Jasmine in a good way. There are no surprises, it is the same throughout the day not changing much. It stays as it is without any complications. It does last a long time on me like 5-6 hours. It is not overpoweringly strong that you need to worry about. It is subtle and elegant. At the end of the day it still smells the same only a bit deeper and more sensual.
J'adore us a perfect "all occasions" kind of a fragrance. It can be worn in the day time, evenings, night outs, parties etc. There is never an occasion where it will be inappropriate. I can imagine a woman wearing it at a glamorous event or a woman wearing it even while she is taking a walk with her loved one around in the mountains or countryside wearing a lot of dangling gold jewelry or even going for a movie. It will be perfect.
J'adore L'absolu I would say is an ultra feminine fragrance that will melt into the skin of a lot of women and disappear leaving behind a rich and floral aroma. If you do not like strong or heavy perfume you should definitely check this out. It is softer and lighter but still pretty and complex. If you want to go unobserved but still be elegant and put together you wear J'adore.
J'adore fragrance can be a perfect romantic gift for your loved ones – the heart and flowers kind of romantic maybe be because of its romantic name. 🙂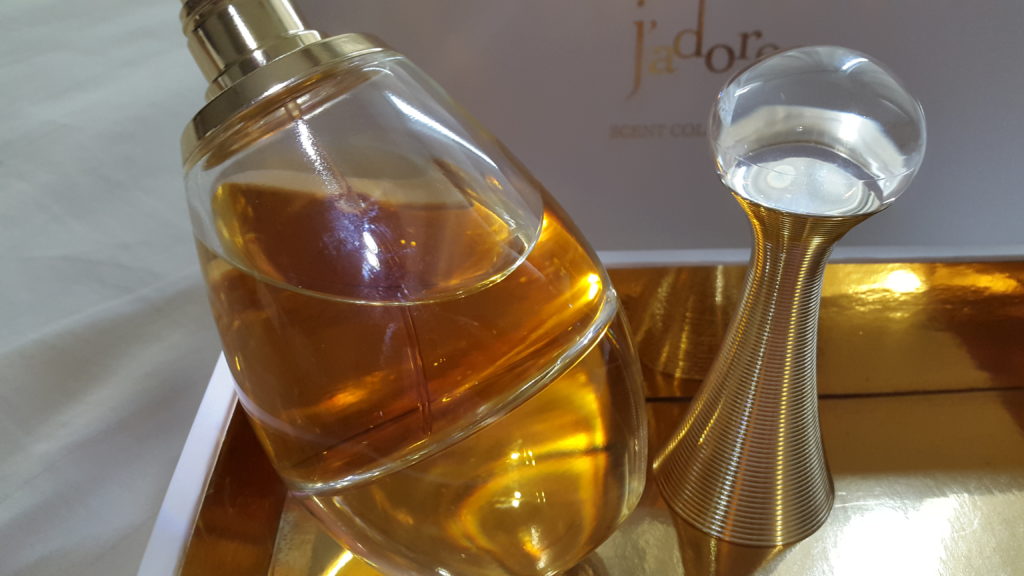 J'adore L'absolu is a very sophisticated, mature, elegant and pure luxury to wear. I believe J'adore L'absolu is the best variant of Jasmine floral that I have tried so far. It smells and feels as golden as it looks. 🙂
Have you tried this fragrance? If yes how do you feel about it? What is your current fragrance that I need to try? Please let me know in the comments. Thanks for taking the time to read.
xoxo 🙂