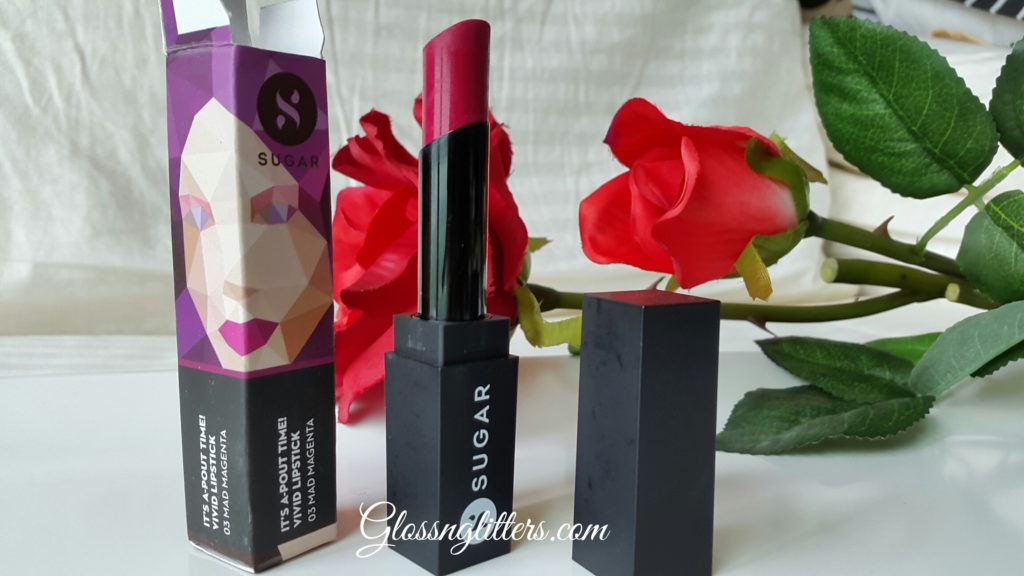 Hi! Hope you are having a great day. Welcome to another post on lipstick 🙂
When I last visited my mum in Bombay I was there for a long time, after a very long time. My sister-in-law has registered for some monthly beauty subscription box. When her box arrived she gave me a lipstick in a black packaging saying she cannot wear such bright shades to her office. When I saw the bright pink color I felt it was too bright for me as well but I thought I can make it work by mixing some other shade and muting it down.
On the outer packaging it was written Sugar It's A-Pout Time! Vivid Lipstick. The name sounded interesting but I thought it is some new brand as I have never heard about it since I moved out of India. I rarely updated myself about the new brands and launches in India. It came along with me to Philippines. It has been sitting on my vanity for a long time until one day I was planning to wear a bright pink top that I remembered the lipstick as it would match perfectly. I like to match my lipstick to the shirt I am wearing. When I wore this lipstick the color was bright but it looked very pretty on my medium skin tone. I loved the shade and as usual searched this brand online and found some beautiful shades and some interesting products. There are 11 stunning shades available in this collection.
Product Description on the website – Creamy and moisturizing. SUGAR It's A-Pout Time! Vivid Lipstick combines the look of a classic matte lip with the benefit of incredible comfort. Enriched with micronized pigments and silica micro-beads, this matte lipstick glides on easily and settles to a gorgeous matte finish. FDA approved, this lipstick is free of mineral oil and parabens.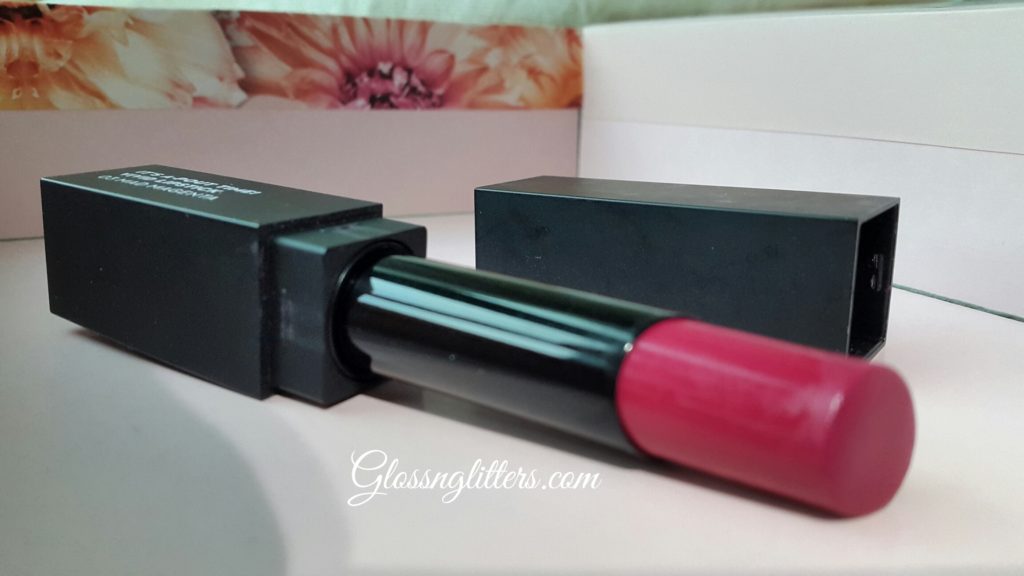 The packaging of the SUGAR It's A-Pout Time! Vivid Lipstick is a matte black plastic case. It is sleek and longer than any other regular lipstick. The tube is a long rectangular cube with sharp edges. It is a bit different. When we twist the bullet to remove the lipstick and then again when we twist it back in, it clicks. The click sound is fun ;-). Since the shape of the lipstick is unique and different it is easy to locate it in my purse. The one problem with the packaging is that there is no where on the outside of the tube that we can see the color of the lipstick. The name and number is printed very clearly on the side of the tube but most of the time we tend to forget the name. Even on the sticker at the bottom the color is missing. Right now I just own one lipstick from the brand so its okay, but when we have multiple shades, it will be difficult to search a particular shade until we open each one of it.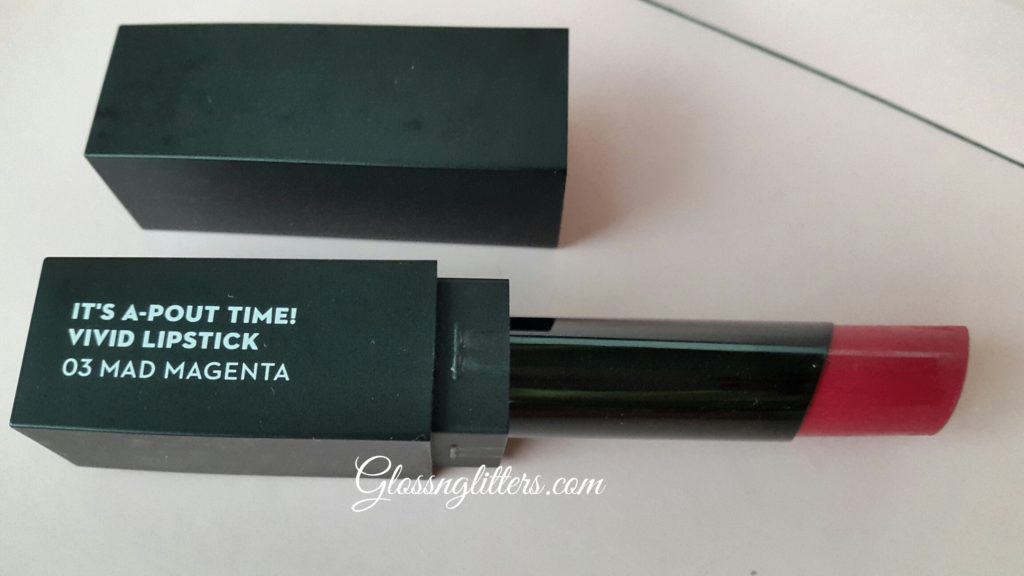 The formula of the Sugar lipstick is very matte. It glides on beautifully on the lips and eventually sets to a somewhat powdery matte finish. It does not accentuate or settle into the fine lines of the lips.
The pigmentation is on another level. One swipe and there is intense color on the lips. Even if your lips are pigmented or a bit darker the coverage is fully opaque. It does not require any lip-liner as it does not feather or bleed. It lasts a very long time around 6-7 hours surviving food and drinks. It has no smell or taste whatsoever and does not transfer much once it is set. At the end of the day it fades beautifully leaving an even and beautiful stain behind. We need a makeup remover to remove the lipstick completely but I like the stain :-).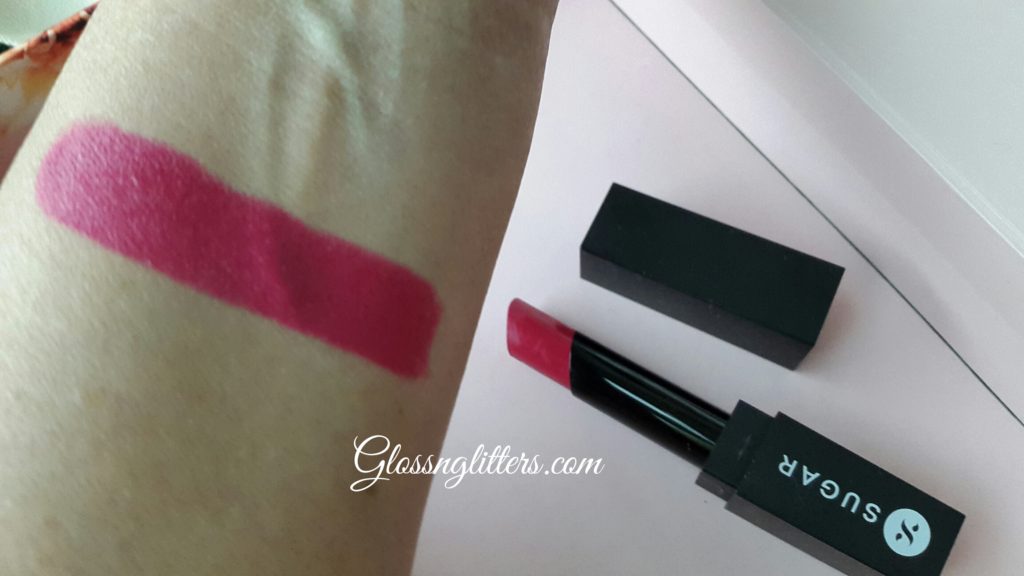 03 Mad Magenta is a bright and deep magenta pink shade. It is a bit of a bold but beautiful shade which is not for the faint hearted. In spite of being so bright it is a unique pretty pink shade that will look beautiful on all complexions. You need to try. It can also be worn by just patting on the lips like a light magenta pink lip stain.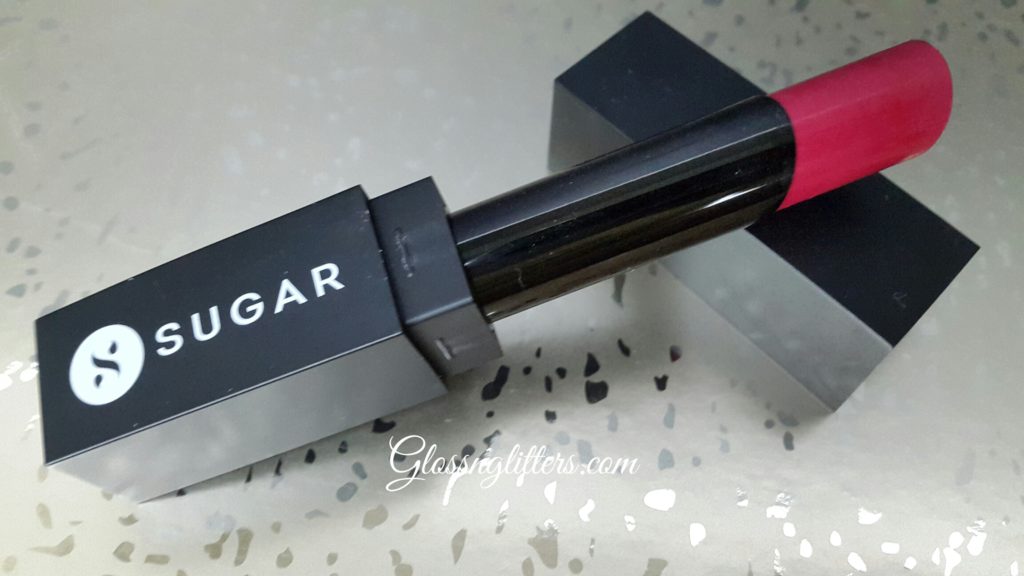 Overall, I am so impressed by this lipstick that I want to try some other shades as well. I love this lipstick and wear it more frequently. It is a bright summer shade but I wear it whenever I feel like and living in Asia is like bight and sunny and summer always. I have explored the website and see some interesting products to try as well as it is so inexpensive. During my next visit to Mumbai Sugar Cosmetics is on top of my shopping list. By the way SUGAR sounds so Sweet!
Yes, I know many of you have already tried the Sugar Cosmetics products which ones are your favorite?
Which lipstick from Sugar have you tried that I should buy, let me know?
Until next time put on some color on your lips and stay bright and beautiful! 🙂
XOXO Ms Via.