Hello lovelies! We see different makeup trends every season. But red lips is timeless and forever. Choosing a red lipstick may feel tricky and tiring, however I believe that red lipstick looks amazing on everyone. Color is the matter of personal preference and what suits you. With red lipsticks I believe the texture and finish as well as the intensity of the red color is important. With red lips everything has to be precise and perfect like applied perfectly, stays on the lips without bleeding or feathering and the color payoff is good. The warm toned reds scare me a little but I love a good blue toned red. It makes my teeth look white and I feel more confident wearing darker reds with some brown and berry tones in it. I have a few that I want to share and maybe you find a red shade that you will love to wear during the holiday season.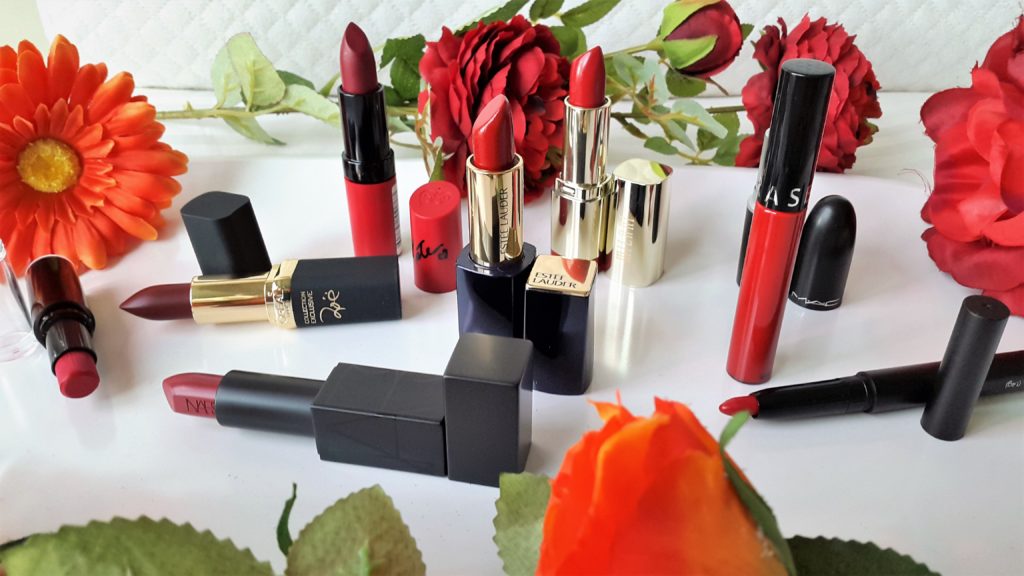 Wet n Wild Megalast Lip Color 911D  Spotlight Red – This is a very inexpensive lipstick with an amazing formula and pigmentation that is very well loved. This is a pure red shade that is not dull or too bright. The matte formula is comfortable and lasts all day without any fuss. I am pretty sure everyone has already tried these lipsticks.
Rimmel Lasting Finish Lipstick by Kate Moss 107 – This is more of a berry shade with some red. I love to wear this shade in the name of red hehehe. As I have mentioned earlier I don't prefer a warm orange toned red, so this one is a great option for people like me. This shade looks beautiful across all complexion. It has a comfortable matte formula and lasts pretty long on the lips.
Estee Lauder Pure Color Sculpting Lipstick 350 Vengeful Red –  This is a perfect red shade with a little bit of berry undertone. It looks brighter in the tube than  in the swatches. It's a comfortable satin formula and we need a lip liner. This is highly pigmented lipstick delivering intense color to the lips. Lasts on the lips a good 5-6 hours and fades evenly.
L'Oreal Collection Exclusive 406 Zoe's Red – This bold red shade is again a berry toned red quite similar to the Kate Moss 107. This shade is for everyone. This feels light weight on the lips and does not dry the lips. However, we need lip liner with this lipstick. I believe L'Oreal makes some really good lipsticks, do you agree? Let me know!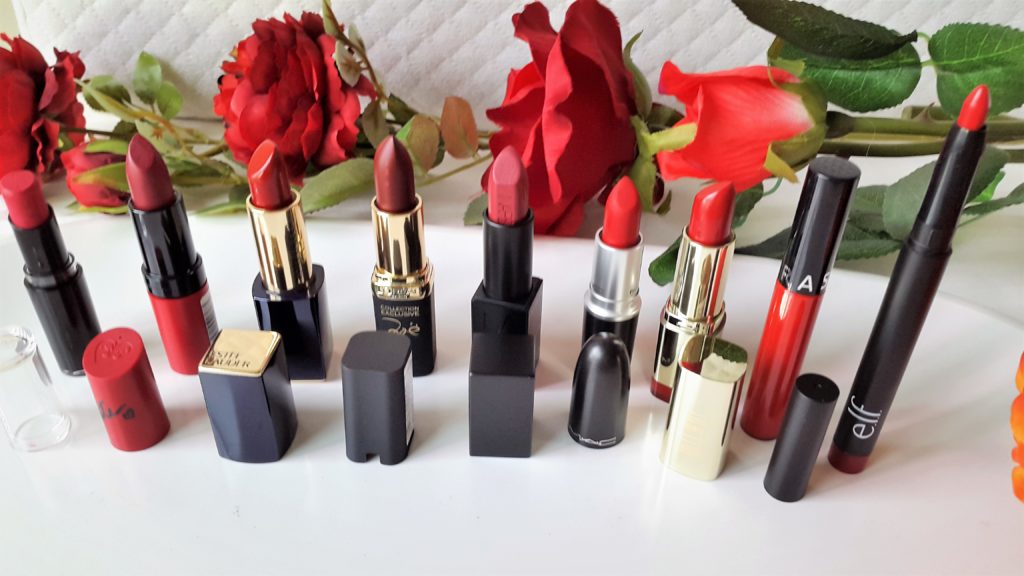 NARS Audacious Lipstick Audrey – NARS Audacious Lipsticks have one of the best formula. These glide on smooth with rich color payoff. It has one of the most luxurious texture that lasts a long time on the lips. This shade is a perfect berry red that will look gorgeous on everyone. I love this shade as it suits my medium skin tone perfectly and is not too bold and bright.
MAC Retro Matte Ruby Woo – Ruby Woo the classic matte red shade by MAC. This is the PERFECT RED for every skin tones. This is the statement red that stays on the lips really well due to it's super matte formula. However, this dries the lips like crazy. We need to exfoliate and moisturize the lips before putting this lipstick on. I am pretty sure most of you already own the classic Ruby Woo.
Milani Color Statement Lipstick 08 Ruby Valentine – This is again a perfect red with creamy formula and glossy finish. This is a great option for those who like a good moisturizing lipstick. I prefer mattes when wearing darker bold shades. This one certainly needs a lip liner. This lipstick is very moisturizing and  comfortable to wear. These last pretty well but need touch ups every 3-4 hours or after meals.
Sephora Cream Lip Stain 01 Always Red – This is a well loved shade in the red color category. Always red is a perfect red. If you want to wear a lipstick and forget about it, this is the one. It is light weight, stays on the lips like forever. To remove it we will need a good makeup remover.
ELF Matte Lip Color Rich Red – ELF is a great drugstore brand with some amazing products at such low cost.  Everyone needs to have a pink toned red in their collection. This shade looks intense in the tube but swatches quiet sheer.  It is also marketed as a matte lipstick but it has a satin finish with some sheen. A pretty shade who don't prefer dark, bright and bold reds.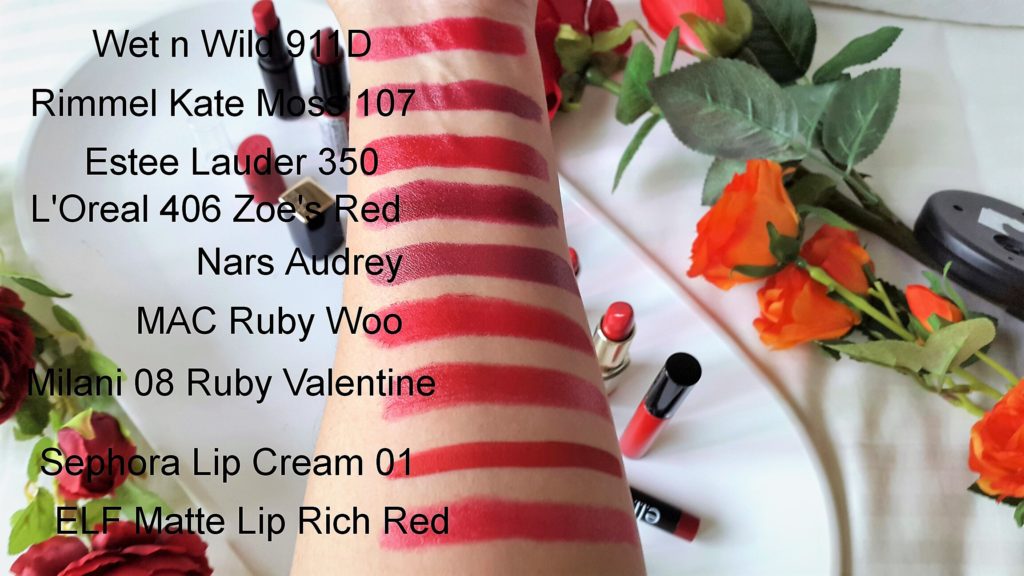 That's all my friends. I thought of sharing the shades that would be great to wear during the holiday season with so many parties and get-togethers to attend.  I hope you liked reading and found something useful. Happy holidays to you all! 🙂
Which is your favorite shade of lipstick to wear during the festive times? Do you like to wear a red lipstick? What do you prefer a warm toned or the blue toned? Let me know in the comments. 🙂
Until next time stay bright and beautiful! 🙂