Well! Well! Well! We have already stepped in the month of November. Can you really believe it? Wishing you all a very happy month of November. I really hope I plan and use this month more effectively, as I feel time is flying away. It feels like I blinked and  October is gone. I had an amazing month of October with some festive celebrations like Diwali and spending some quality time with my family. As far as my blog is concerned there was a bit of inconsistency regarding publishing blog posts. I am planning to make the best use of November and focus more on my blog rather getting distracted by the games on my iPad and watching Netflix. 🙂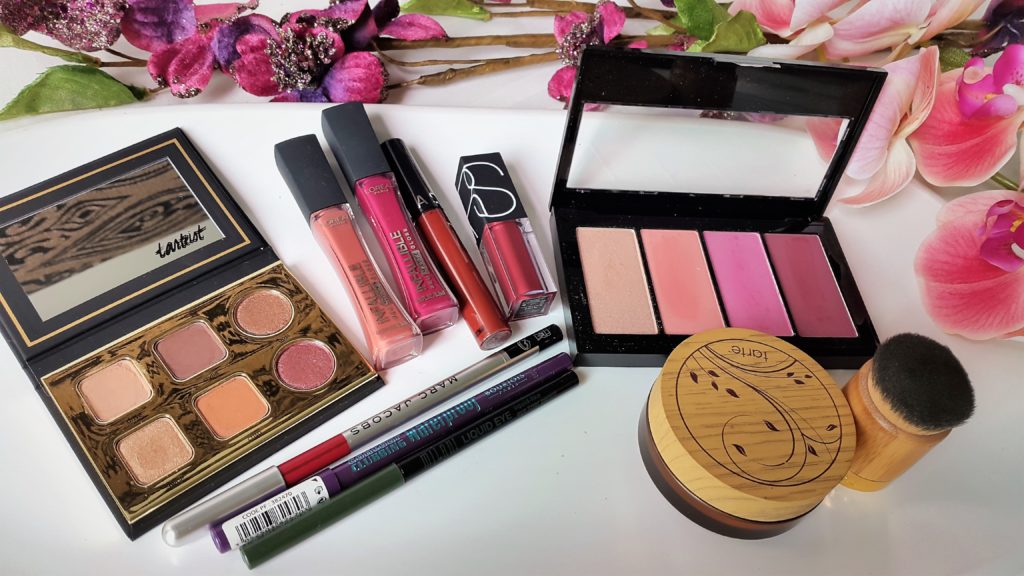 I have been using some basic makeup which I want to talk about. I use less makeup on a regular basis so you will find less base products in my favorites but more lip products and eye products. Let me start with –
Tarte Amazonian Clay full Coverage Airbrush Foundation – This is one of my favorites for long time. This is a powder foundation, that we can buff on the skin with a dense kabuki brush. I got the brush along with it and both work well together. This can be layered to get medium to full coverage. Sometimes I use it on its own or even on top of my BB or CC cream. I use it even to set my foundation as I have oily skin I need a powder foundation. This works well for me.
Maybelline Master Blush Palette – I have been using this palette quiet often for the past month. I like to mix the shades and always get a perfect blush shade to achieve that flushed look. As for the highlighter in this palette it gives a nice radiant glow together with the blush. This is  a great palette to try.
For eyes I use eye shadows less frequently, as most of the time I am at home.  I just use eye shadows to put a wash of color and a little shimmer. I use some colored eye liners that add some drama to the eyes. I forgot to include the black liner and the mascara. It is the same L'oreal Mascara and the same L'Oreal gel eye liner from my last monthly favorites.
Marc Jacobs Highliner Matte Gel Eye Crayon in the shade Fine(Wine) – This is my most loved shade. It is a beautiful reddish berry wine shade. It has a hint of brown to it and looks beautiful on the eyes. These are very creamy and once it sets it's not going anywhere. These can be used as eye shadows as well. Just line and blend, its perfect. There are many beautiful and unique shades  available in this line. I have reviewed these highliners you can check it out.
Bourjois Waterproof Contour Clubbing eyeliner in the shade 47 Purple Night – It is a nice purple shade which is not too bright or too dark. It's just perfect to add a little color to the eyes. These are again amazing and lasts a long time. Bourjois has some amazing products at the drugstore.
Milani Liquid Eye – Eyeliner pencil in the shade 06 Green – A nice military forest green color which will not draw too much attention. These kind of shades can be worn anytime and will never look too much. If you wish to start using colored liners go for shades like these and slowly transition into brighter bolder shades.
Tartiest Pro To Go Eye shadow Palette by Tarte – This is a cute little palette with three matte and three shimmer shades. All the shades are to the neutral side to get that everyday natural look. This is a pretty palette to hold and is easy to use. I have done a detail review on this palette if you wish to check it out.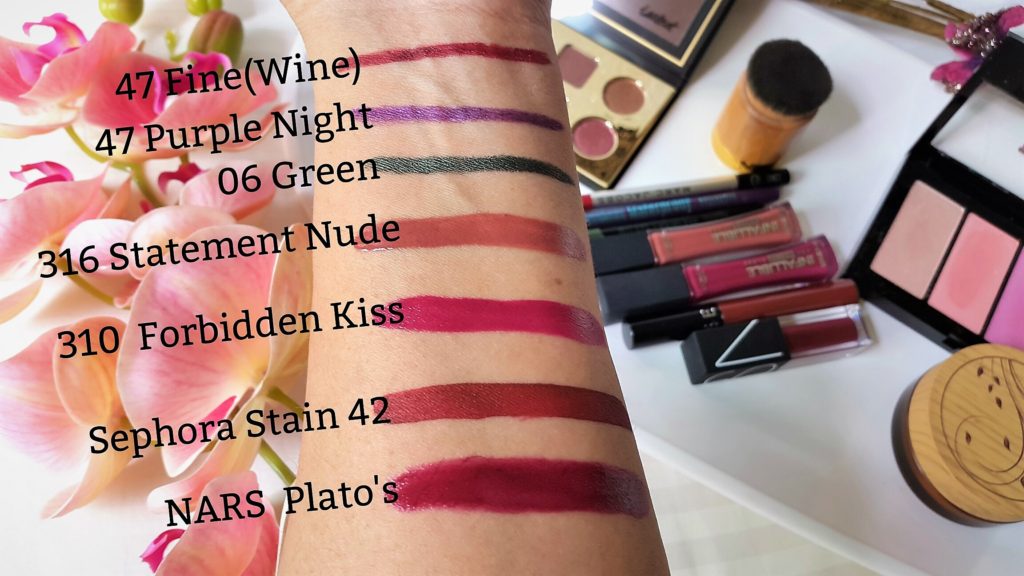 The lipsticks that I have been enjoying lately are many but I want to mention the one's that I have used the most.
L'Oreal Infallible Pro Matte Gloss in the shades 316 – Statement Nude which is a perfect every day nude color. 310 – Forbidden Kiss – I like this berry color a lot. Both these have been my frequent go to shades. I have posted a detail review on these glosses recently. You will find some beautiful shades with swatches.
Sephora Lip Stain in the shade 42 – Rose Wood – This one is a nice dusty rose-y nude shade. Beautiful for fall. Love it! I have recently done a blog post on these if you like to check. There are plenty of shades available in this line. These last on the lips a very long time.
Nars Velvet Lip Glide in the shade -Plato's – A perfect berry shade that looks beautiful on all skin tones. These lip glides are like comfortable liquid lipsticks with great color payoff. I suggest you check my blog post on these. There are some lovely shades with swatches.
These are all my favorite products for the past month of October. I hope you liked reading and found something that you will like to try. Thanks a lot for taking the time to read! I really appreciate it! 🙂
What are your favorite products, that I should try? Let me know in the comments.
Until next time stay bright and beautiful! 🙂