Hello my lovelies! Welcome to another monthly favorites post. Lets all welcome the month of festive December. Like all the other months this year, November was fabulous and went by way too fast. I am here to talk about my favorite products during the month of November. 🙂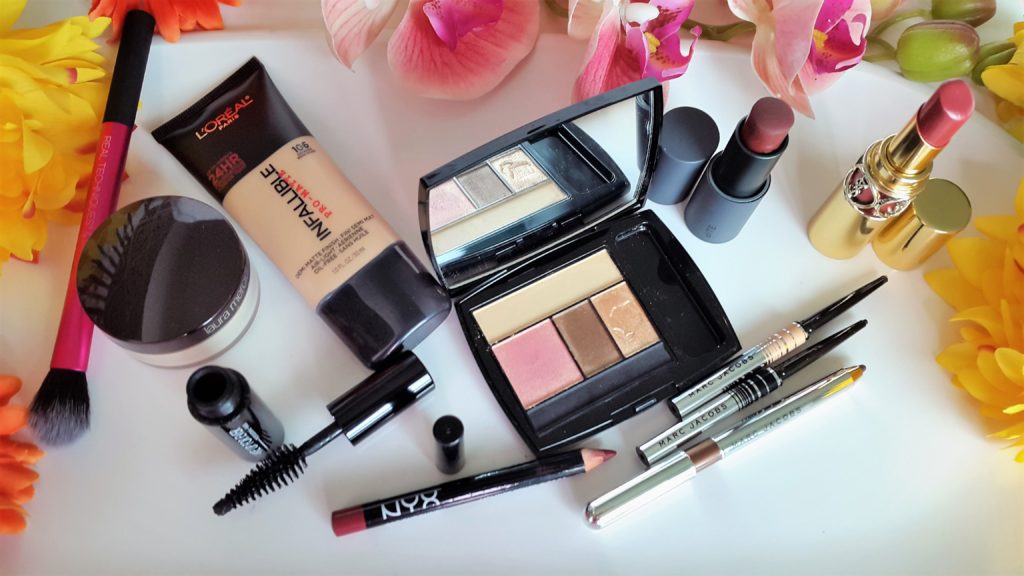 L'Oreal Infallible Pro-Matte foundation – This is one of my favorite foundations. Since I have oily skin, this foundations helps in keeping it matte for a very long time in this hot and humid climate. It provides light to medium coverage giving a matte powder finish. This foundation can be build to get full coverage as well. It is light weight and does not feel like I am wearing makeup. This has quickly become a must have for me.
Laura Mercier Loose Setting Powder – I have been using the Laura Mercier Setting powder all the time. Even though the L'Oreal Pro Matte Foundation does not need to be set, I like to set it as it makes my skin appear smooth and hides my pores. I also helps the makeup to last longer. I got a mini version and still there is a lot of product left.
Lancome Color Design 5 Shadow and Liner Palette – 212 Peach Opulence – This eye shadow palette has been with me for a few years. It was my first palette. At that time I had no idea what I was buying, I just wanted to try eye shadow and I got this one. I still remember the excitement when I got it.  The shadows in this palette is very smooth, creamy and blend well. I love using it as a wash of color or light eye look. I believe this one has been discontinued, though there are other shades that are still available in this collection. I took a closer picture of this palette.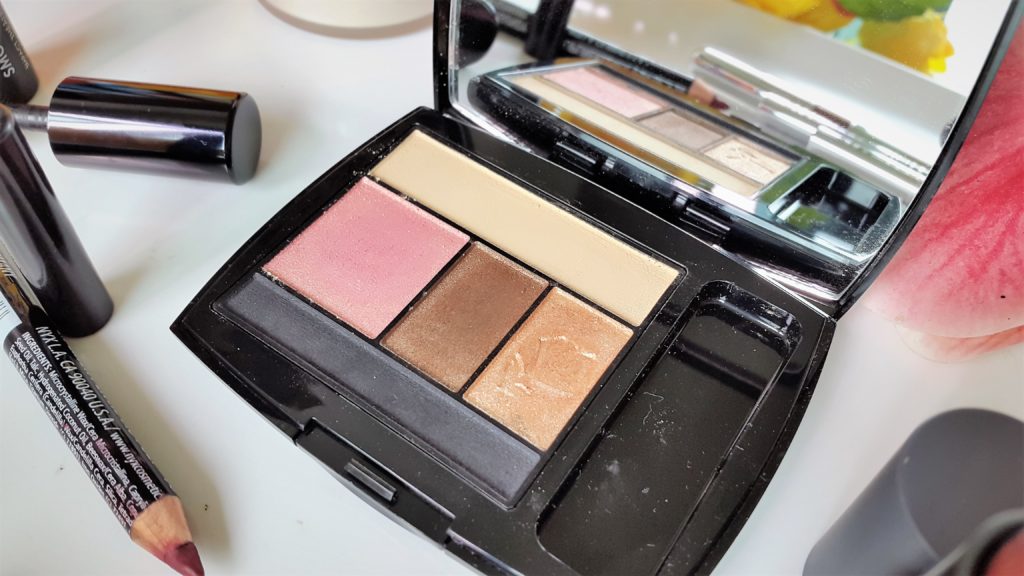 Marc Jacobs Highliner Matte Gel Eye Crayons – These three eyeliners have been my go to along with the colored ones that I have featured in my September favorites and  October favorites. The Marc Jacobs highliners are very long-lasting with great pigmentation as well as water proof. Once it sets it's going nowhere. The shades I have been using are nude, brown and black. I have smaller set of eyes and I always need a good nude liner that help to make my eyes appear bigger.
For lips my go to products are –
NYX Slim Lip Liner Pencil – Burgundy – This particular shade has been in my collection for many years. This is one of my favorite color. I use it as a lip liner as well as a lipstick. These lip pencils are very soft and creamy. These glide smoothly on the lips with great color payoff.  It lasts all day and I love it. This is my second lip pencil in this shade. One thing I don't like about these wooden pencils is that we have to sharpen it.
YSL Rouge Volupte Shine Lipstick – 17 Rose in Tension – This is my go to lipstick. When I am in a hurry or indecisive about which lipstick to wear I always go for this one. I always carry this lipstick in my purse, of course you will find many more lying in my purse, as I sometimes forget to remove them. I love everything about this lipstick. The beautiful rose-y nude color, the moisturizing formula, stays on the lips well, leaves a little color in case we didn't reapply and it also tastes sweet.
Bite Multi Stick – Cerise – A beautiful terracotta brown shade that will look pretty on everyone. It is an all in one product that can be used on eyes, lips and cheeks. A pretty blush shade just dab and blend it with your fingers and you are done. I use it as a wash of color on the lids too. It looks beautiful.
Makeup Forever Mascara – This is a great water proof mascara that makes my lashes look fuller and longer. I like that the wand is tapered and can reach the inner corner lashes well. I always like to get the mini size mascaras free from Sephora using my points, these last a good two to three months.
These are the products I have been enjoying and loving for the past month. Hope you liked  and found something that you would want to try. Thank you for taking the time to read.
What are your favorite products that you  like and I should try? Let me know n the comments.
Until next time enjoy the month of December and stay bright and beautiful! 🙂