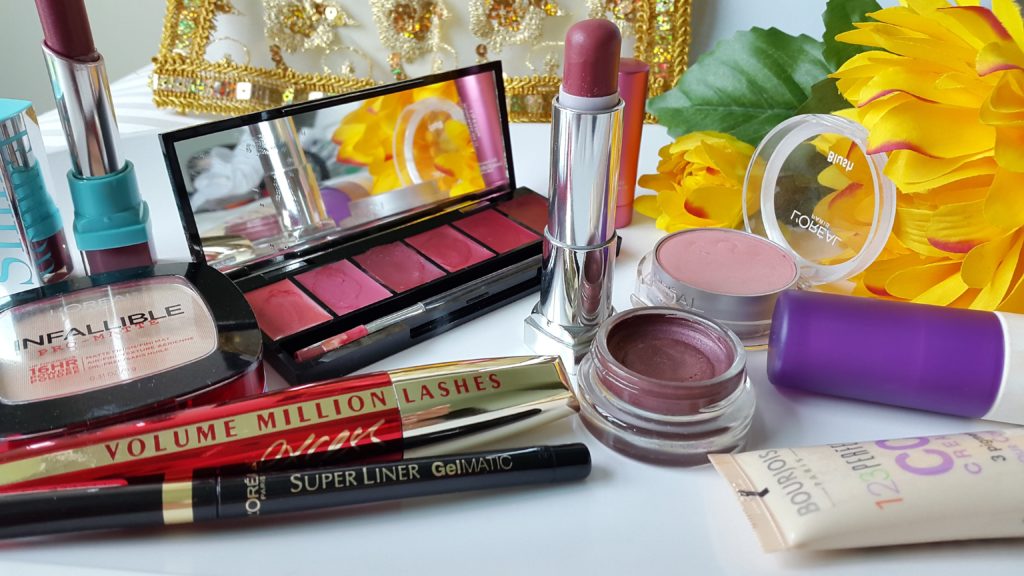 Hi my angels! Can you believe the month of August has also ended? The time is going by too fast. I have planned to do my monthly favorites, hope I am able to continue with this. August has been a great month for me. I am trying to be a little more consistent on my blog. The exciting thing this month is I crossed 300 friends on Instagram. It may be a small number for some but for me it is a great achievement. I am grateful to each and every person who supports me. I am so inspired by my Insta-friends that, I also started some coloring. Sometimes I think why didn't the blogging idea come to me earlier, but better late than never. Its time to say goodbye to August but I have a few favorites of this month to share.
Bourjois 123 Perfect CC Cream is like an all in one CC cream for everyday wear, when you don't wear full coverage makeup on a daily basis. It is a nice CC cream doing some color correcting, providing light to medium coverage, concealing the imperfections as well as working as a moisturizer with SPF 15 for the skin.
L'Oreal Infallible Pro Matte Powder Foundation (shade 200 Natural Beige) is the best powder for oily skin gals. Slight dusting helps to keep you matte adding some more coverage whilst giving a flawless finish. It lasts a long time on my oily skin. I have already used up one of my compact. The one in the picture is  a new one.
L'Oreal True Match Blush in the shade 115 True Rose is a subtle rosey pink blush that looks natural during the day. It provides right amount of color to give that flushed look.
Maybelline Color Tatoo in the shade 30 Pomegranate Punk is a mauve shade that I like and it looks great on my medium skin tone. Just dab a little on the lids to provide a little color and sheen to the lids. It is can be build to get a full on eye shadow look but I use lightly as I am just beginning to use eye shadows.  Starting off mild without giving too much attention to the eyes. 🙂
L'Oreal Super Liner Gelmatic in Ultra Black. I am a big fan of this intense black gel eyeliner which is also water-proof. I have been using this for a long time. It is one of the blackest black liner on the market with gel formula. It glides  on easily, lasts a long time without smudging. I use it on the outer corners of my water line.
L'Oreal Volume Million Lashes Mascara is as the name suggests gives volume as well as length to the lashes. Applying 2-3 coats gives a dramatic effect to the lashes. It holds the curls for longer time and is also waterproof.
Sugar Tinted Lip Treatment is one of my favorite lip balms. I have tried so many lip balms but since I tried the sugar lip treatment which I received in a mini lip set, I just want to use this one. It is amazing. There are many shades available. It is a tinted lip balm that is very moisturizing in addition to giving some color to the lips. Some darker shades look like you are wearing a lipstick. The pigmentation is intense. The shade Tulip is a beautiful nude shade that looks like your lips but better. It looks natural and also has SPF 15 which is a bonus.
Urban Decay All Nighter Makeup Setting Spray is a must for setting my makeup that lasts a long time on my oily skin. It helps to keep my makeup in place in this humid weather.
Lipsticks are my thing. I always need lipstick. I use all my lipsticks every time.  But this month I found myself using more frequently the Maybelline Matte Lipstick in the shade Touch of Spice. This is perhaps everyone's favorite nude shade that looks the best on all complexion. It is creamy matte formula the keeps the lips well hydrated.
Bourjois Shine Edition Lipstick No. 25 is a very moisturizing lipstick, almost like a lip balm. The color looks dark in the tube but is applies very sheer and glossy. Of course it does not last long on the lips and we have to keep re-applying every 2-3 hours. It is a beautiful everyday shade that will look good on all skin tones.
Revlon Unforgettable lip palette one of my travel purchases has been in my collection for a few years. It contains six super lustrous lipstick shades from light nudes to darker shades. Perfect day to night lip palette. It can be used individually as well as can be mixed and matched to make custom shade. The pigmentation is high as well as these are moisturizing on the lips. It lasts a long time as well. The shades in this palette are Rosedew, Sassy Mauve, Icy Violet, Think Pink, Bed of Roses and Mulled Wine. I have not checked but I am guessing that these shades are available in the regular Revlon Super Lustrous lipstick line.
Well that is it. These are my favorites for the month of August. What are your current favorites? Which lipstick is your favorite on a daily basis?
Until next time stay bright and beautiful. 🙂