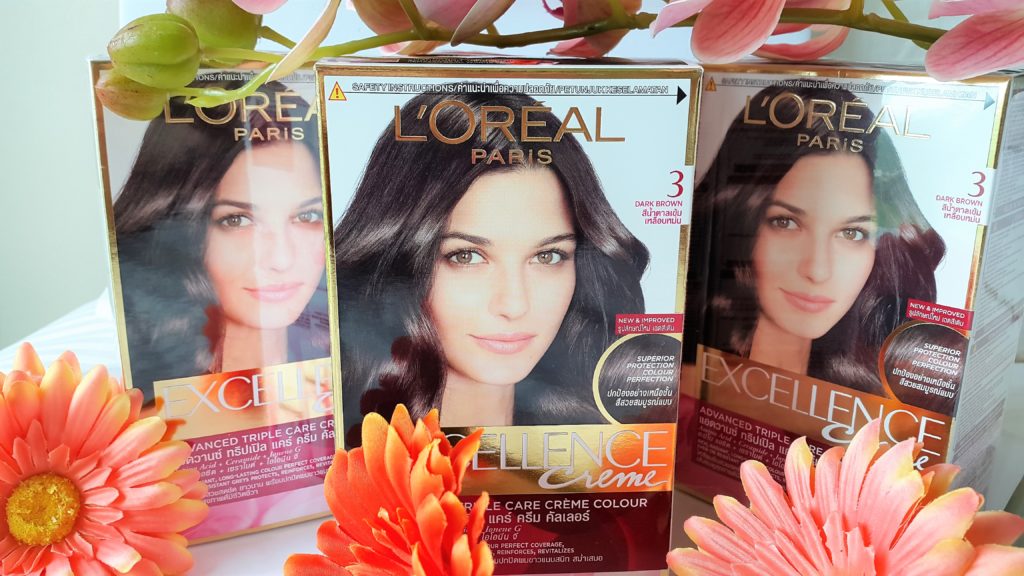 Hey lovely welcome back! Hope you are having an amazing day! 🙂  Last week I was coloring my hair, when I realized, I have been using this hair color for so long. I must share my thoughts about it on my blog. Everyone of you are familiar with the hair color that I am going to talk about – L'Oreal Excellence Creme Permanent Hair Color. This is one of the oldest hair color that L'Oreal produces. I have been using this hair color for the past decade. I love to experiment with different hair colors not too drastic, I am not that bold at heart but some subtle colors that will suit my skin tone and look a little trendy . I have some premature grey hair that I need to color and this is THE HAIR COLOR I use.:-) Besides I love the way my hair looks after using this hair color.
Product Details – Keep dull hair at bay with L'Oreal Paris Excellence Creme. With its Advance Triple Care Formula that cares as you color, you can replenish hair and refine color. Hair will feel smooth, soft and shiny while the color is amazing with no grey hair in sight!
Innovations & Ingredients – Excellence Creme is concentrated with 3 powerful ingredients:
  Ceramide that protects your hair.:-
 Pro-Keratine that strengthens your hair.
 Ionene G for intense conditioning and damage protection.
The packaging of the L'Oreal Paris Excellence Creme Hair Color is perfect. Every detail is clear like the shade name and number. It also has the color printed on the packet so we can see and easily decide the shade we want to buy.
The packet  includes protective serum, coloring creme, developer, conditioning balm, an instruction manual with step by step instructions in many languages, gloves and an additional comb applicator. Each and every step of application is printed on the instruction manual with pictures which is self-explanatory and easy to understand.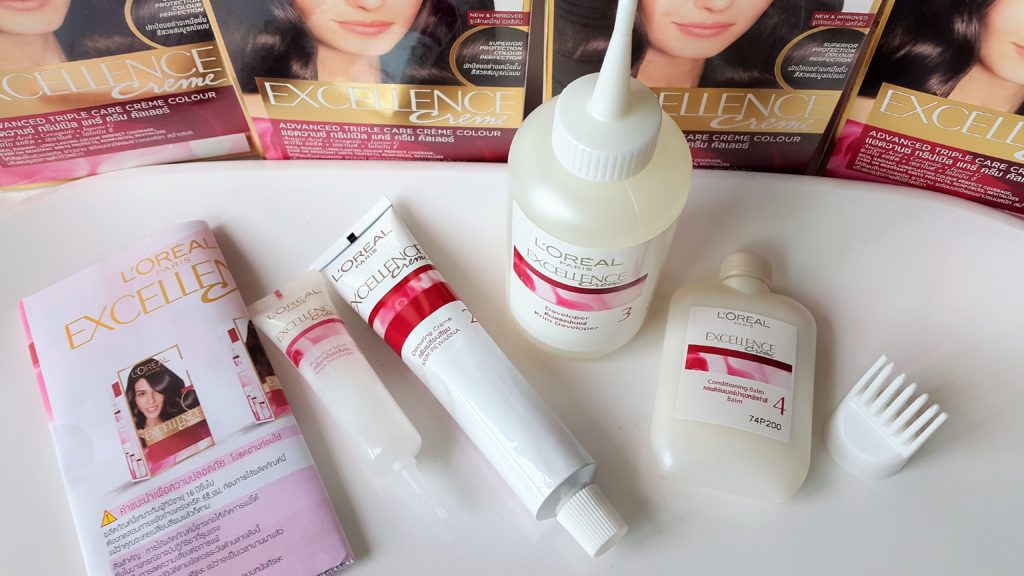 There are a few things I like about the L'Oreal Excellence Creme Hair Color. There are numerous shades to select from. It is an easy DIY hair color. We can color our hair on our own, in the comfort of our home. It is cheaper in comparison to visiting a Salon. They charge very high price plus the color they use may not be permanent. I like that this hair color is permanent. Its lasts a long time, I would say forever. It does not wash off or fade after every hair wash. I wash my hair every other day and don't want my hair color to loose its vibrancy and color. This is the main reason for me to use this hair color.
I have tried a few hair colors earlier. But since I tried L'Oreal Excellence Creme I have never used any other hair color EVER. It comes with hair protectant which is great. While coloring it does not drip or become messy. It has that chemical smell but not too strong or unpleasant. After applying and keeping it on for 30-35 minutes I wash it off and use the conditioner that is included in the pack. Let me tell you this is the best conditioner I have used. I also use it sparingly so that it lasts a long time. I want to request L'Oreal to make this conditioner available separately as well. After my hair is dry it is very soft, shiny and smooth. If you blow dry your hair it will look even more shiny, smooth and vibrantly beautiful.
Overall, I will not hesitate to say that L'Oreal Paris Excellence Creme Hair Color is the best hair color. It is easy to use and saves a lot of money. I love this hair color so much that I don't even try the other variants that are available by L'Oreal. This is the best hair color to cover grey hair as well as the best hair color if you want to change the color of your natural mane. This is the best for me and I will continue using it forever. No wonder it is called the #WorldsNo1HairColor.  I want to mention that you do the patch test 24 hours prior to using this hair color.
I want to ask you if you have used this hair color? If yes what are your thoughts on this? Do you like it as much as I do? Let me know in the comments! 🙂
Until next time you stay beautiful!