Hi there! Yes, yet another detailed mini review about J'adore Fragrances. I know there are so many variants available you can't blame me for that hehehe 🙂 I also wanted to provide as much information as I can.  Actually earlier I had planned to add this mini review to my earlier post about J'adore Fragrance but it was getting too long and you would get bored of reading. Hence I decided to keep this separate, short and sweet. 🙂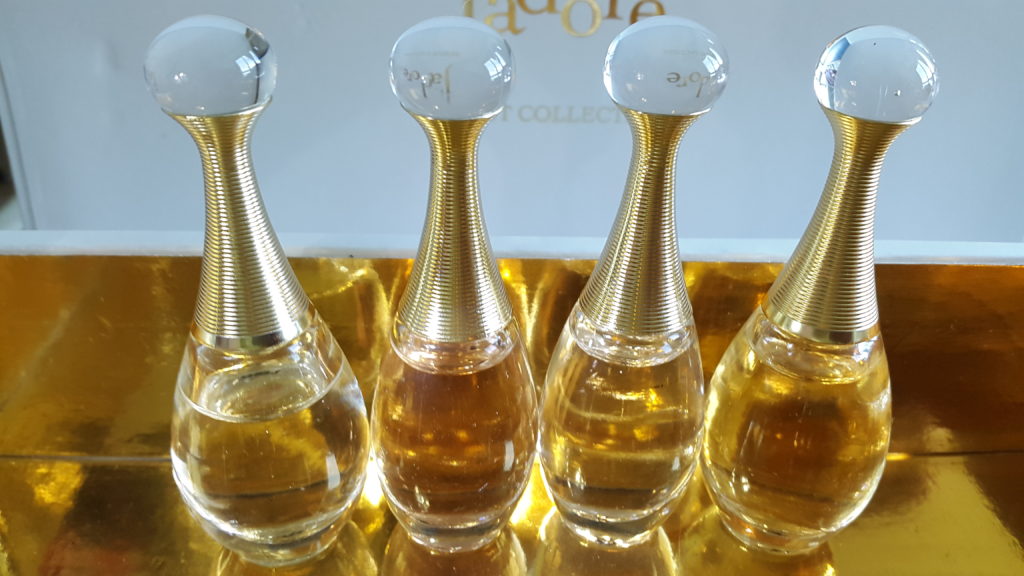 I do have the mini se if the J'adore Fragrance that are available at the airport counters. Again my husband picked it for me. I know I should stop saying that in each and every post. I thought I would share mini reviews about the variants in the mini set – J'adore Eau de Toilette, Eau de Parfum, and Voile de Parfum. The fourth mini bottle is Ja'dore L'absolu about which I already have a separate in depth review,  one bottle got leaked and the name rubbed off. 🙂
J'adore Eau de Toilette – The top notes are – Citruses, Mandarin Orange and Neroli. The middle notes are – Jasmine, African Orange Flower, Ylang-Ylang, Tuberose and Rose. The base notes are – Woodsy notes and Vanilla.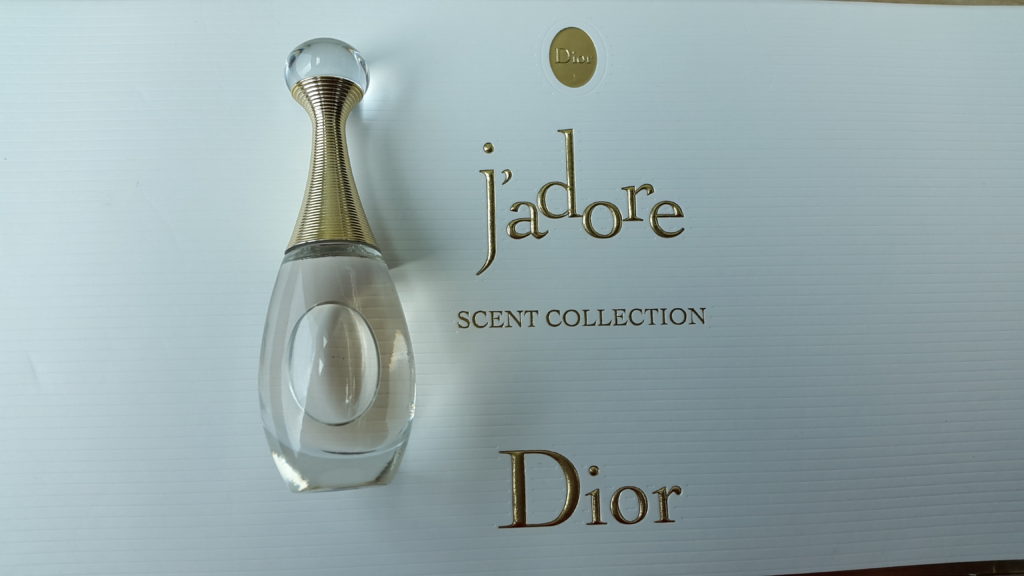 There were a couple of Eau de Toilette versions. I believe the one I own was launched in 2011. The citrus blends beautifully with the white florals enhancing it vibrantly. This makes it more fresher, sparkly, stronger and dewier. It is an excellent classic and modern at the same time. Silage and lasting power is superb being a Eua de Toilette version which is generally mild.
Eau de Parfum – The top notes are – Magnolia, Melon, Peach, Pear, Bergamot and Mandarin Orange. The middle notes – Tuberose, Plum, Violet, Orchid, Freesia, Jasmine, Lily-of-the-Valley, and Rose. The base notes are composed of Musk, Vanilla, Cedar and Blackberry.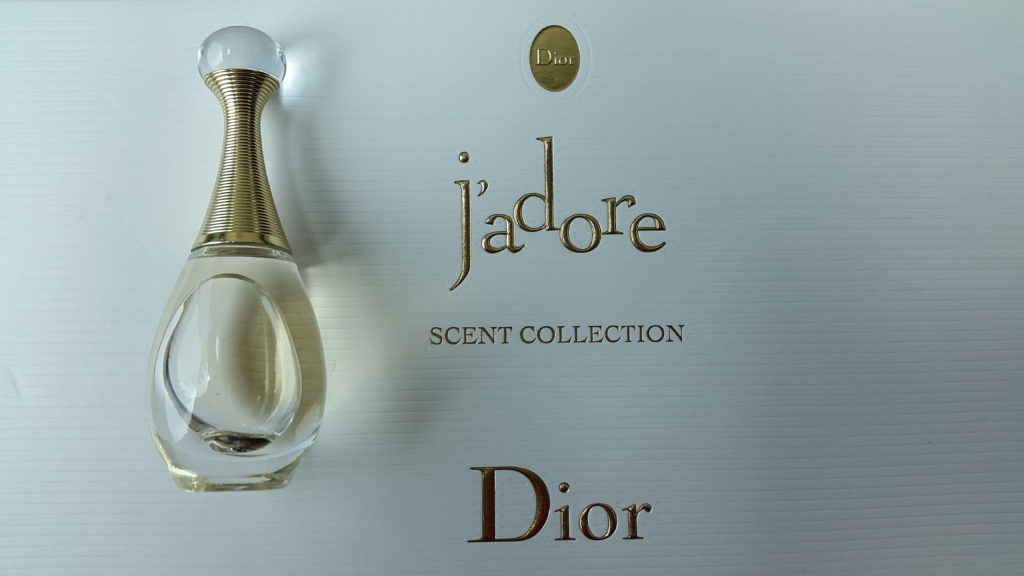 It is a very sharp, fruity floral and stays sharp throughout with a teeny-tiny bit of mildness after a long time but the sharpness is there. There is  a sharp Jasmine and Peachy feel to it, with a bit of powderiness as well. It does not mellow down even with the base notes being Musk, Cedar and Vanilla. To me the Eua de Parfum feels more close to nature with all that fruity floral notes to it. It feels as if I am carrying a bouquet of flowers with me. 🙂
Voile de Parfum – The top note is Bulgarian Rose. Middle note is Tuscan Iris and the Base note is White Musk.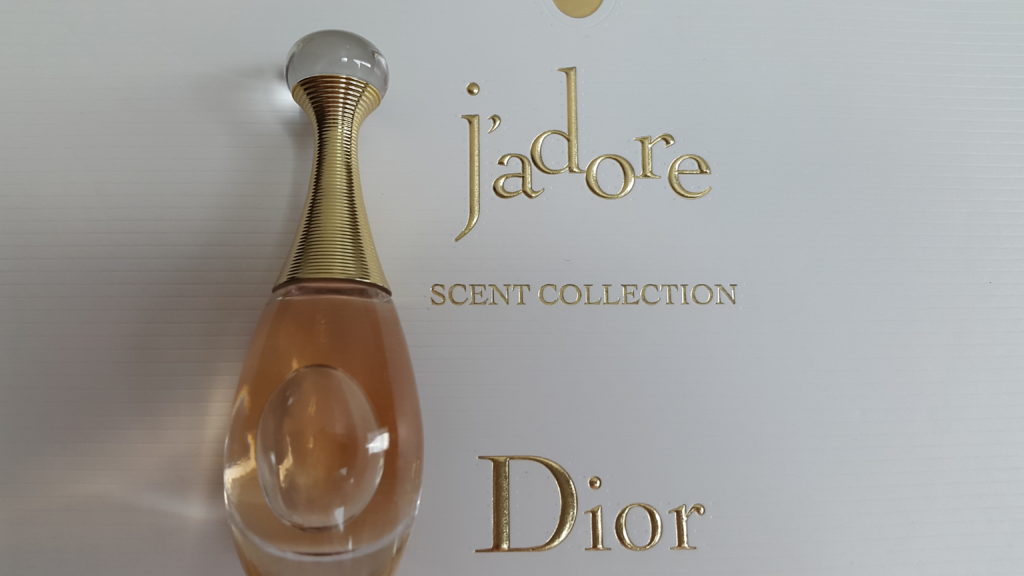 This new variant of J'adore was added to the J'adore dynasty in in 2013. Its like a veil of floral powdery musk worn after we step out of shower. It is delicate and sensual. It is really impressive that is has only three notes and it smells so good. Opening note is Rose beautiful yet complex. It goes from complex floral to powdery. The complex floral does not last long. It dries down quickly and then the heart and base notes work their magic and last a really long time. White Musk (one of my favorites) smells so feminine and with Iris its beautiful.
J'adore fragrance with all its variations is a beautiful feminine fragrance. Mostly fruity florals. All the variants are similar with just a few notes changed here and there. When we smell all of these at the same time it is a bit difficult to decide which one to choose. If you like floral scents that is not over powering you should check these out. I do enjoy them a lot.
Have you tried any fragrance that smells more of White Musk or Jasmine? let me know in the comments. 🙂
xoxo.