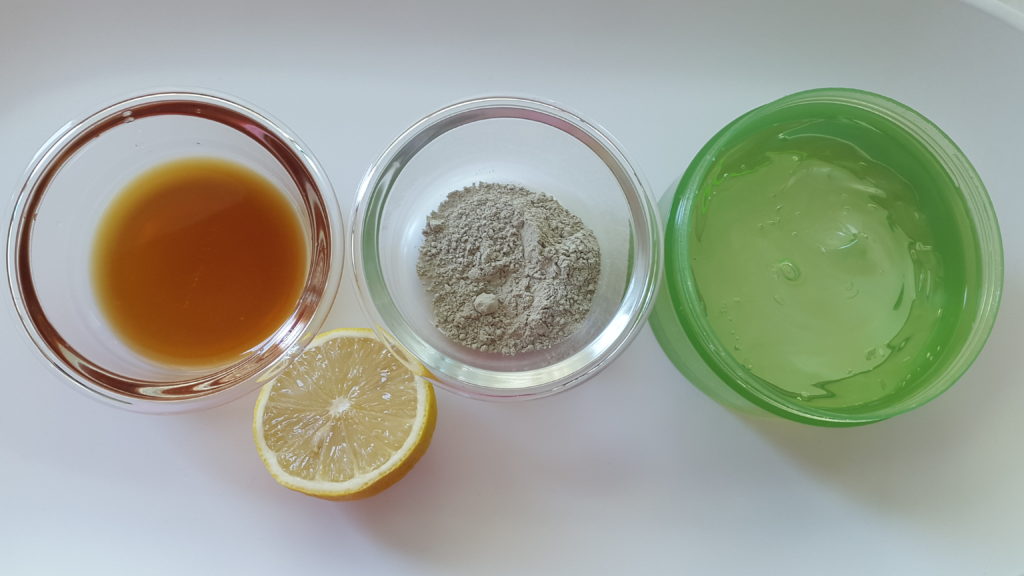 I have oily skin which behaves differently in different weather conditions. While I am travelling to some place where the temperature is low my skin is at its best and I love that. (By the way I get to travel a lot thanks to my husband :D) But when I am in some tropical place where the temperature is high  with high humidity my skin is the worst. It will become greasy with large pores and the cherry on the cake is some acne added to it. Here I have to find ways to control my oils and tighten my pores. Here clay comes to my rescue. Yay!
I like to make different variations of clay based masks at home that help me keep my skin oil-free, acne-free, smooth and hydrated at the same time. The one that I want to share today is clay based hydrating mask.
We will need-
2 tsp Clay (Fuller's Earth)
1 tsp Honey
1 tsp Aloe Vera Gel
1 tsp Lemon Juice
Mix all the ingredients together to make a smooth paste ( We can always adjust the ingredients according to our skin's need and availability).
Apply the mask to your face and never forget the neck and decollete area as well. Leave it on for 15-20 minutes. Wash it off with cold water and use a light moisturizer. By the way using moisturizer is really important as the clay absorbs the oil from our skin. Our skin starts to feel dry and thinks, "I am oily why am I feeling dry?" and it will get back to work by producing more oil. So my oily skin friends DO NOT skip on moisturizer. By regularly applying moisturizer we can fool our skin and it will produce less oil. Trust me I have learned this the hard way. 🙂
Use this mask twice a week. This will help to improve the elasticity of the skin, helps to shrink the pores, hydrates and moisturizes at the same time as it contains honey and aloe vera gel. The clay helps to absorb excess oil and keeps acne at bay. Lemon helps to brighten the skin. I would say this is super mask for oily acne prone skin. The result is glowing healthy fine pored skin.
Let me know your recipe for clay based mask that I can try. 🙂