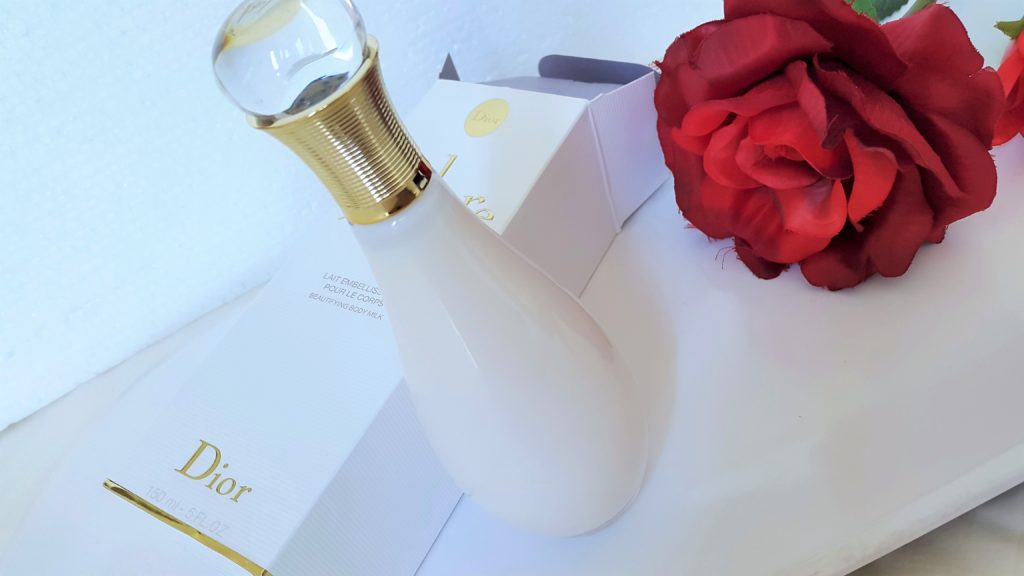 Radiant, sensual, sophisticated, J'adore is a fragrance that celebrates the renaissance of extreme femininity and the power of spontaneous emotion with a brilliant bouquet of orchids, the velvet touch of Damascus plum and the mellowness of Amaranth Wood.
Note – Madarin, Champaca Flowers, Ivy, African Orchid, Rose, Violet, Damascus Plum, Amaranth Wood, Blackberry Musk.
For the confident, sensual woman who celebrates her femininity – this is Dior's golden girl.
Dior's J'adore Beautifying Body Milk was a gift by my husband. His usual duty free purchase!  The packaging of the body milk is exactly similar to the Dior's J'adore Perfume. Since my husband always brings perfumes while he is travelling, the silly me thought that it is the J'adore Perfume which I was already using, I didn't open it for the longest time. Recently I thought of checking, which variant of J'adore is there in the box. I was pleasantly surprised to see the body milk instead of perfume. I already own the J'adore Eau de Parfum L'absolu and a few minis that I travel with. I am quiet content with the J'adore fragrance right now. (I have already reviewed the perfumes).
The packaging of Dior's Beautifying Body Milk is exactly similar to that of Ja'dore Fragrance. It is a very pretty and heavy glass bottle with a screw on golden cap similar to the J'adore cap but shorter. It looks beautiful and luxurious but less practical. The body lotion we usually use after shower. With a sleek glass bottle it is difficult to dispense the product with no pump. Besides, while our hands are damp it can easily slip and shatter. We have to be careful. Nonetheless the design of the bottle is elegant and feminine to hold.
The consistency of the body milk is light and thin. This emulsion is gentle and has a smooth milky texture which is enriched with flower extracts to moisturize and enhance the skin. This body milk is subtly scented with the luminous floral notes of J'adore  fragrance. Works best together. This is the most feminine smelling lotion. It is light enough to spread easily and is absorbed by the skin very fast. It makes my skin feel soft and smooth.  It smells wonderful all day. It is pretty hydrating on my skin, but if you have dry skin and are looking for a rich hydrating body lotion you may not like it or may have to apply a few times. But the smell is divine.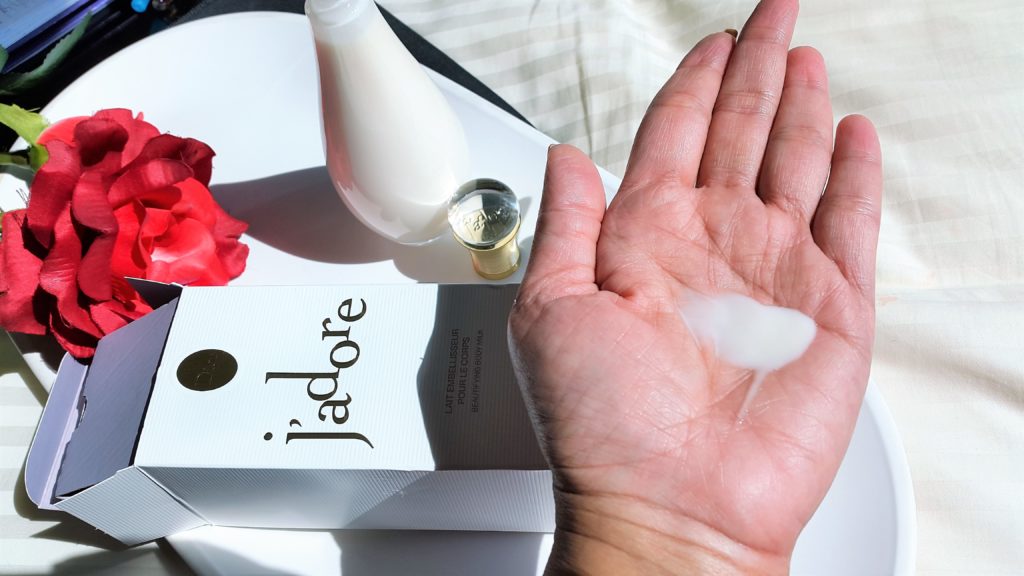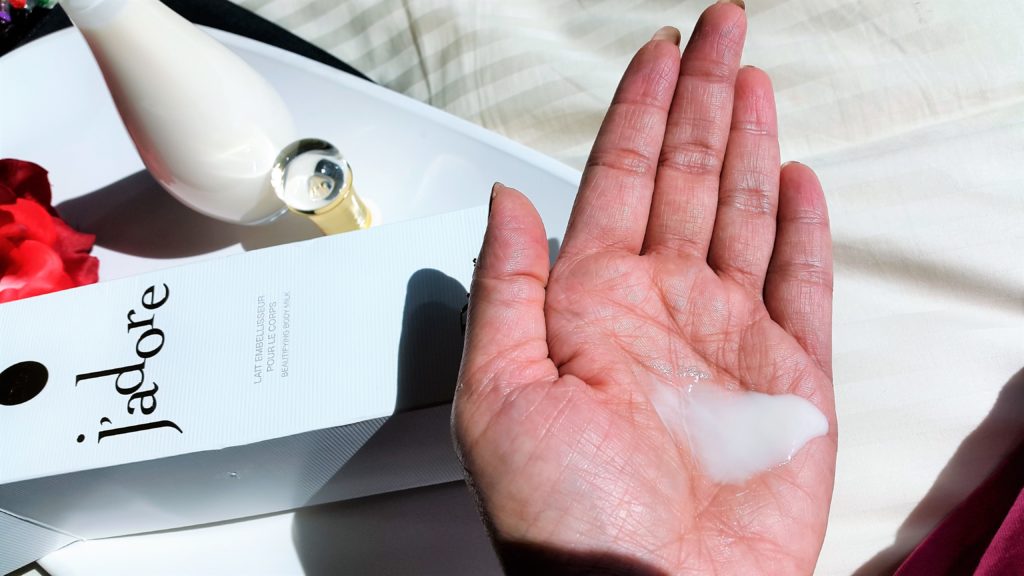 Overall, it is a great pamper product after shower. Although it is a pricey lotion I would not hesitate to recommend to those who love to use a perfumed body lotion and want to smell good all the time and don't mind spending a little extra. A total Princess Product! 🙂
Until next time stay beautiful! 🙂
Have you tried this body milk? What are your thoughts?
Which is your favorite body lotion in general? Which one are you using currently? Let me know in the comments. 🙂