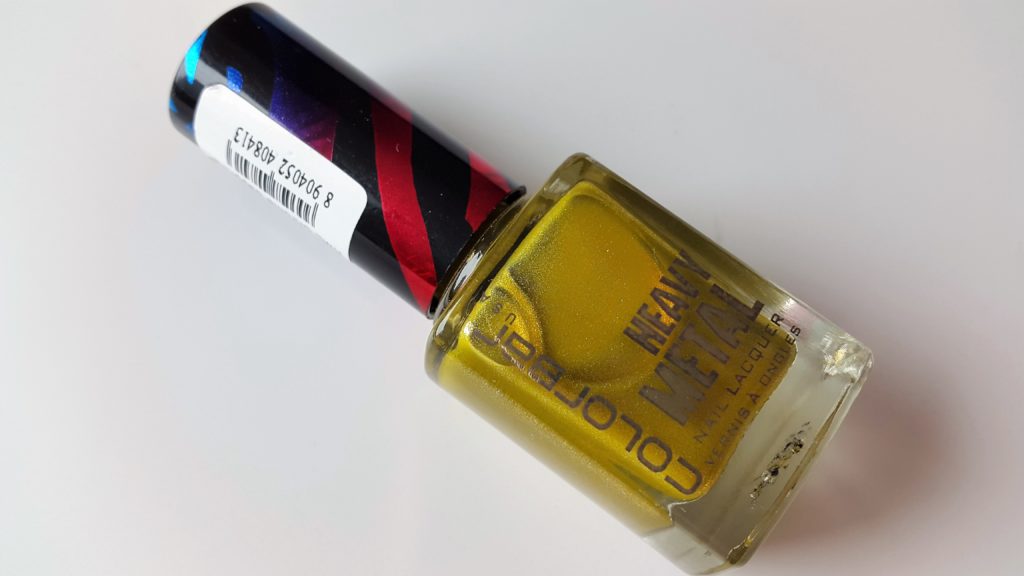 Hello! Welcome to my glossy and glittery world. 🙂
Last time when I visited Bombay (Mumbai) I was doing the relaxing activity – Shopping. Let me know how many of you find it relaxing while doing some shopping either window shopping or some serious shopping. 🙂 Well! As I was strolling around in the store I saw the Colorbar Counter. It was beautifully displayed and the highlight of the counter were the newly launched Nail Lacquer Collections – Heavy Metal Nail Lacquer and the 24 Carat Nail Lacquer. The beautifully metallic-shimmery shades were very attractive and compelling. I was drawn towards them. I could not resist and picked a few shades from both the collections – not knowing that these were two different collections. I noticed the difference in the cap and asked the girl on the counter about it, even she had no idea and just mentioned these were new.
Product description on the website – Sparkle like a gemstone wherever you go! Embrace the richness of deep and heavy pearl toned shades that add character to your nails and give that heavy metal effect. The shades reflect the personality of the popular gemstones hand-picked to suit Indian skin types. The stark contrast of the shades against your nails make them look attractive instantly and they look like beautiful gemstones. The formula is intense yet fast-drying with deep intensity of self-pearls and high shine. In just a single stroke your nails are enveloped in irresistible and trend-setting metal shades of the future. What's more is that the formula has an excellent drying time along with being 3-free, long-lasting, non-yellowing and chip-resistant.
Today I will share my thoughts about the Colorbar Heavy Metal Nail Lacquer in the shade – Chrome Sapphire. There are 7 shades available in this collection. These are beautiful shades with metallic finish available in Blue, Purple, Gold, Maroon, Pink and even Black. I picked up the gold one called Chrome Sapphire, as it was the only one that looked different and unique, plus it reminded me of some nail art designs. Besides I did not have a gold shade in  my collection. I mean the pure metallic gold that will actually look like liquid metal.
The bottle is sleek, simple and rectangular in shape. The cap is black with some wavy pattern and some red and blue ombre colors to the pattern. There is the golden sticker on the cap with the name and number. The golden print on the bottle looks pretty and gives that metallic look which resembles the liquid metal inside the bottle. The brush is descent regular nail polish brush not too thick nor too thin – just right.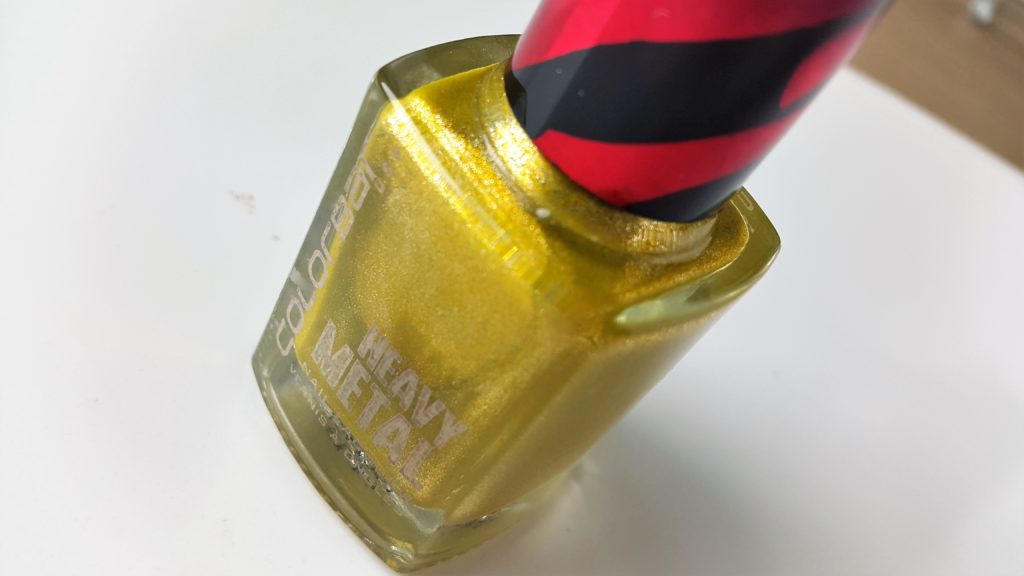 The shade Chrome Sapphire – 004 is a beautiful metallic golden shade with that pearly metallic shine. The consistency of the polish is quiet liquid-y I mean thin. It applies sheer on first coat. Its not streaky and dries pretty fast. we need at least 3 coats to get the full coverage and opacity. Since it dries fast, I don't mind applying 3 coats. The staying power is superb. I am pleasantly surprised at this formula which lasts up to 10 days without chipping.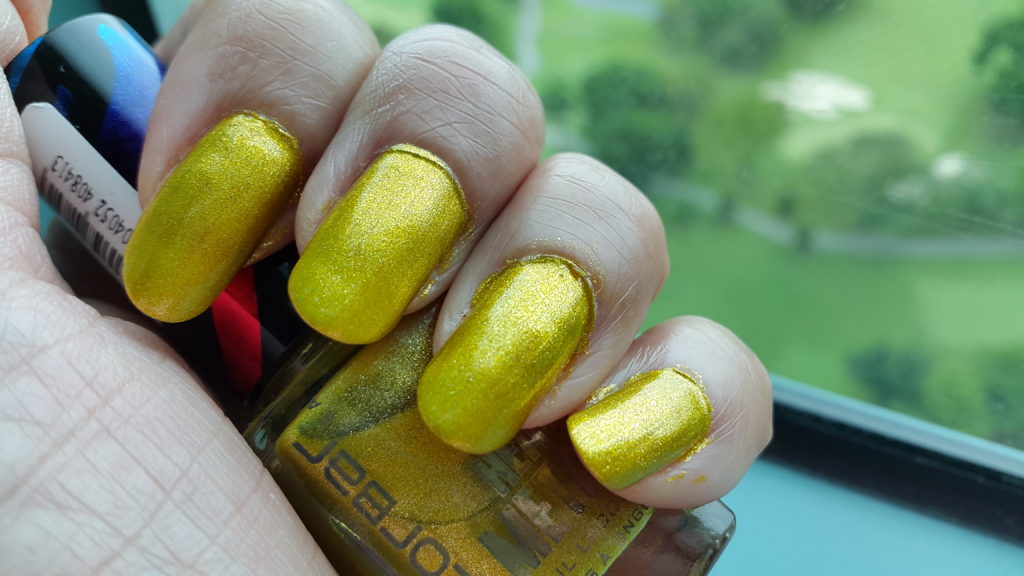 The color Chrome Sapphire looks beautiful like gold. As if we have dipped our nails in liquid gold. It is not as bright yellow as a 24 carat gold would look which makes it wearable. Sometimes I see a teeny-tiny tinge of green in here. I don't know if its just me I am not sure. You will be able to tell that by looking at the pictures below. I have not used a top coat 🙂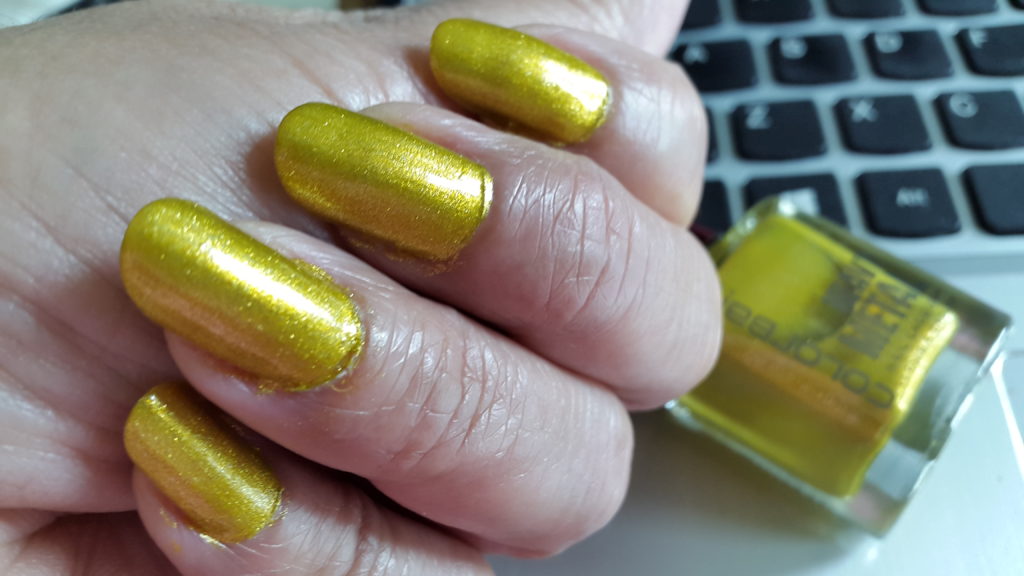 I believe this bright and beautiful metallic shade looks beautiful on our Indian skin. It is totally on our liking and preference some may feel its too loud for their liking while some may enjoy wearing it. This nail lacquer can be worn sheer just to give some metallic shine to the nails by just applying one coat that will leave people guessing whether you are wearing a nail polish or not. Chrome Sapphire -the golden shade can be worn any time whenever you wish but it will look absolutely stunning during the festive season that has already begun. When we dress in our traditional colorful attire during Eid, Ganapati, Raksha-bandhan, Navratri, Diwali etc., this shade will match and compliment any outfit. I would prefer wearing this shade mostly at night as in the day time it is a little too bright. It can also be worn as accent nail or can even be used in some creative nail art design. I believe may not be appropriate for any official or formal event. I suggest you should have a golden shade in your collection. These Colorbar Nail Lacquers are now available at half the price. If you are interested in a particular shade this is the time to purchase.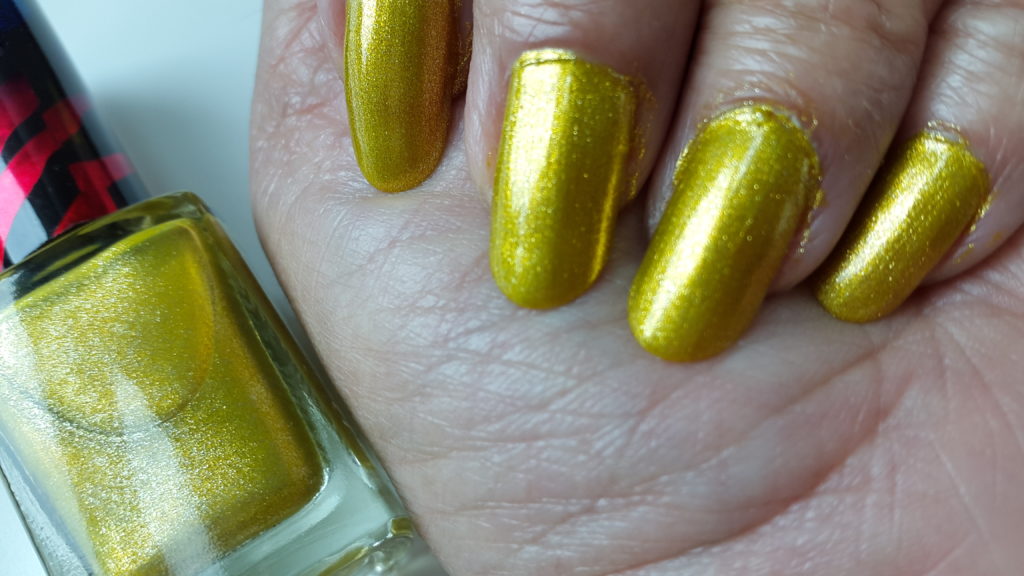 I have never purchased any Colorbar product ever and I am really impressed by the quality of these lacquers. Now I am intrigued to try some more. When I visit my Mum the next time I am definitely going to explore this brand. I have been browsing their website already 🙂
Have you tried the Colorbar Nail Polishes? There are so many different finishes available.
Which is your favorite finish and color? Let me know!
Thanks for taking the time to read. 🙂
Until next time – always shine and be bright and beautiful!