Hi! Welcome to another post. 🙂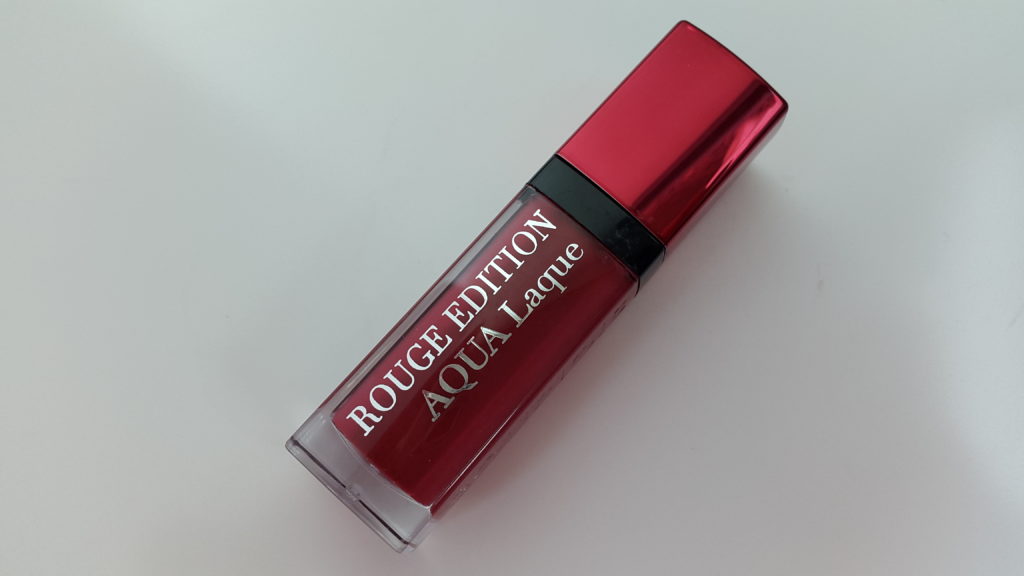 Bourjois Rouge Edition AQUA Laque were launched after the Rouge Edition Velvet liquid lipsticks. I was eager to try these and I have one shade to share. There are eight shades available in the AQUA Laque line mostly Reds and Pinks. There are a few soft nude shades and a few statement bright colors.
Product Description – The non-sticky formula glides on easily, creating a water-light sensation on the lips. And whats more, it contains Nymphaea extract to smooth and moisturize.
The packaging is identical to the Bourjois Rouge Edition Velvet a cube like sturdy plastic tube only the lid of the Rouge Edition AQUA is more pretty, metallic and shiny. The name of the lipstick is printed in Silver which will never rub off  like some do after the continuous use. Its very nice and compact and feels luxurious and heavy. It is always nice when we can see the color which makes it easy to pick the color you want. It has the regular doe foot applicator. It is pretty to have in our collection.
The consistency of Rouge Edition AQUA Laque is like water. I mean it is like a normal liquid lipstick but a little liquid-y. The application is easy. On application it feels like we are applying water on the lips. It feels cool just like water. We have to be careful during the application. If we have more product on the applicator it may spread and go into our mouth and trust me the taste is not good. I always forget that and have tasted this a few, okay many times. I would suggest to apply in thin layers. It is better to layer it a couple of times to get the full opacity during  application even though one swipe applies evenly and shiny with good pigmentation. The smell of Rouge Edition AQUA Laque is like fake fruity and a little chemically which fades away after it has dried. 
It takes 3-5 minutes to dry completely and feels like we have nothing on the lips. It does not feel sticky at all. It does give a glossy shine to the lips as if we have applied a gloss on the lipstick. The wet look is more like oily wet without feeling oily. The shine fades away after an hour or so leaving behind the color which I like. These are most comfortable and hydrating on the lips. It gives the lips juicy effect.
If you like glossy lips with some color this is for you. The lasting power is good, but we may need to re-apply after having some oily meal. It does transfer a little but does not take away the color. It fades away nicely without being patchy or crumbly.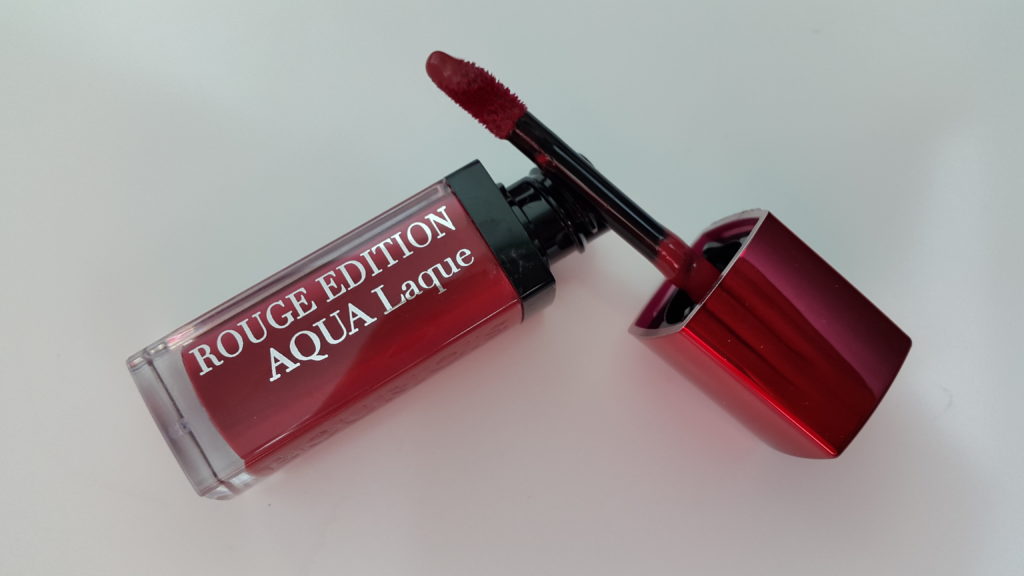 Bourjois Rouge Edition AQUA Laque-04 Viens si tu roses.
I have the shade no.4 Viens si tu roses. It is a lighter mauve nude with some red to it.  On my medium warm skin tone it looks more of  a red than mauve nude shade. It is a beautiful shade nonetheless. I wear it sheer as well as opaque quite frequently. It does stain the lips by the end of the day.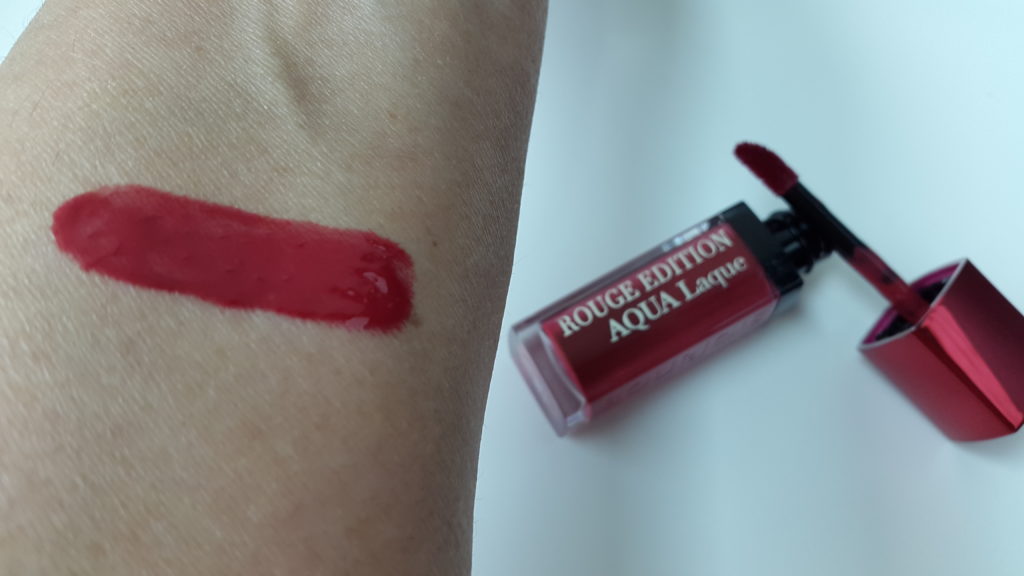 Bourjois Rouge Edition AQUA Laque -04 Viens si tu roses- swatch
Bourjois Rouge Edition AQUA Laque is very comfortable to wear, glossy and shiny to look at, with great pigmentation. This liquid lipstick feels hydrating. It is reasonably priced with brilliant wearable colors. I would love to get some more shades whenever I can as I believe these are not available in the Philippines, please correct me if I am wrong. 🙂
Have you tried these Rouge Edition AQUA Laque from Bourjois? Or have you tried any of the Bourjois lipsticks? 🙂